Advertisement Feature
Economical European Lamb Recipes For When Payday Is A Long Way Away
Lamb's not as expensive as you may think, as these recipes show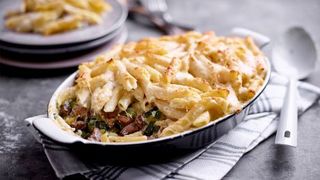 (Image credit: Unknown)
A slow-roasted leg of lamb is dee-lici-ous, but there's no avoiding the fact that it's got what you could refer to as a high upfront cost. If you know what you're doing, though, you can spin the leftovers into new dishes and before you know it you're eating a cut-price dinner. That's what you'll get with two of the recipes below, provided by the Try Lamb campaign to get people to eat more high-quality, responsibly-reared European lamb.
But that's not the only way to make lamb a smart addition to a weekly meal plan on a budget. We've already picked our favourite easy lamb mince recipes, none of which cost an arm and a leg, but the most economical cuts of all are from the neck and shank. These are fattier cuts but they shine in casseroles and curries – and if you cook more than you need for dinner and save an extra couple of portions, you should find that something magical happens to the flavours when you reheat it, making it even richer.
So get the most out of your healthy meat – and spend more time with its mouthwatering aromas enveloping you – with our favourite cost-conscious lamb recipes.
Lamb Penne Gratin With Courgettes And Two Cheeses
Lamb is perfect for a roast dinner – but if you've got a chunk of your Sunday joint left, you probably don't want to do all those veggies again so soon (not to mention Yorkshire puds). At the same time, you definitely don't want to leave leftover meat hanging around for too long, so this pasta bake is a great option for the Monday after.
Get the recipe (opens in new tab)
Lamb, Spinach and Feta Quiche
If you had said "make a quiche" to us before we read this recipe we would have looked at you funny, but this shows just how it easy it can be. That fluffy filling? That's just beaten eggs with crème fraîche. You cook the spinach briefly, then drop it into the egg mixture with the cooked lamb and feta. And the pastry? Buy it. Easy as pie.
Get the recipe (opens in new tab)
Lamb And Chorizo Casserole
Lamb has a decent claim to be the most flavourful meat, and economical cuts like the neck shine when slow-cooked, so when it's paired with chorizo – as in this recipe – you can expect a taste explosion. This casserole also uses a "bread paste", made from whizzing up croutons, garlic, white wine, vinegar, oregano, paprika and cumin in a food processor to thicken up the sauce. Make sure you've got crusty bread to hand to mop up every last drop.
Get the recipe (opens in new tab)
Lamb Curry With Spinach
Our final pick for a low-and-slow recipe will probably be the first you'll try. Lamb, as we're sure you know, has the unique ability to hold its own among the pungent spices that make curries so great. The active cooking part of this recipe is supposed to take 20 minutes, but we'd be surprised if it takes you longer than 15. Also, you may as well double the recipe and freeze a batch to see you through those last few days before you're paid.
Get the recipe (opens in new tab)
Visit trylamb.eu (opens in new tab) to find more healthy recipes, from quick and easy midweek meals to melt-in-the-mouth slow-cooked dishes.
Sign up for workout ideas, training advice, the latest gear and more.
Coach is a health and fitness title. This byline is used for posting sponsored content, book extracts and the like. It is also used as a placeholder for articles published a long time ago when the original author is unclear. You can find out more about this publication and find the contact details of the editorial team on the About Us page.