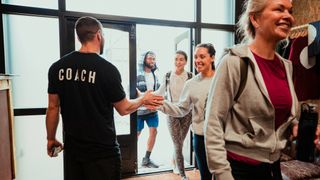 (Image credit: SolStock / Getty Images)
Coach is a different kind of health and fitness site. We believe everyone can enjoy becoming fitter and healthier so we inspire men and women to find activities they love then help them to follow their passions. We also help readers make sense of the confusing wellness scene by demystifying fads and trends with expert advice.
While we are based in the UK, we aim to serve readers around the world.
Contact Us
For editorial inquiries, please contact Jonathan Shannon, editor. We are unable to give individual training advice.
For advertising inquiries, please contact Richard Hemmings, head of commerical - sports at Future.
To use our logos, quotes and review content, contact the licensing team on licensing@futurenet.com.
For all other commercial inquiries, please contact Dave Clutterbuck, managing director.
Coach, is based in Future Publishing's London office.
Address: 121-141 Westbourne Terrace, London, W2 6JR
Telephone: +44 (0)20 7042 4000
Meet The Team
Jonathan joined Coach as website editor in January 2016, having previously worked for Time Out New York and Time Out London. Jonathan grew up playing sports, and continued midweek games of football and basketball into his 30s. Since joining Coach he has taken up running, completing the Great North Run and other half marathons using Coach's half marathon training plans. He is an advocate of active travel and gets around London on a bike.
Nick Harris-Fry is a journalist and avid runner. As a contributor to Coach he leads the coverage of running shoes, running gear and fitness trackers, as well interviewing experts and covering the latest health and fitness news.
History Of Coach
Coach was launched in October 2015 by Dennis Publishing as a free men's magazine with a distribution of 300,000 and went live with a website which it shared with stablemate Men's Fitness UK.
Coach went online only in December 2016 and continued sharing a website with Men's Fitness UK, as well as incorporating some stories from Women's Fitness UK and Health & Fitness UK, until those three titles were sold to Kelsey Media. You may find archive stories on the Coach site that reference those other brands, but we are always revising and improving what's on the website to make sure everything is relevant to a modern audience.
In December 2021, Coach was acquired by Future Publishing.
How We Review And Recommend Products
One of the most important parts of our service is helping you find the right product to help you get more out of the activity you love, so we publish honest reviews and buying guides based on our own experience using products. Advertisers can not buy reviews or recommendations.
To find out more, read our explanation of how we review and recommend products.
Affiliate & Advertising Disclosure
We always aim to provide unbiased editorial created by our journalists and writers. We also need to pay our teams and website costs so we make money in a number of ways. We sometimes use affiliate links to products and services on retailer sites for which we can receive compensation if you click on those links or make purchases through them. From time to time we also publish advertorials (paid-for editorial content) and sponsored content on the site. When this is the case the content is clearly marked as sponsored or promoted, so you'll always know which content is editorial and which is not. Future PLC is our parent company and has an in-depth terms and conditions page with a lot more information.
Regulation
Coach Is Regulated By IPSO
Coach is a member of the Independent Press Standards Organisation, which regulates the UK's magazine and newspaper industry. We abide by the Editors' Code of Practice and are committed to upholding the highest standards of journalism.
If you think that we have not met those standards and want to make a complaint please contact us by emailing editorial@coachmag.co.uk, calling +44 01225 442244 or writing to us at Future Publishing, Quay House, The Ambury, Bath, BA1 1UA, UK.
If we are unable to resolve your complaint, or if you would like more information about IPSO or the Editors' Code, contact IPSO on +44 0300 123 2220 or visit www.ipso.co.uk.
Privacy Policy
Coach is part of Future PLC. We are both committed to protecting your privacy. Read our privacy policy to find out more.
---
Future Publishing Limited and/or members of its group are the owners or the licensees of all intellectual property rights in this website, and in the material published on it. Registered office: Future Publishing Limited, Quay House, The Ambury, Bath BA1 1UA. All rights reserved. England and Wales company registration number 2008885.
Sign up for workout ideas, training advice, reviews of the latest gear and more.