The Best Running Gear For Men And Women, And What to Know Before You Buy
Get all the gear and an idea of what to look for when buying running shoes, tops, shorts, T-shirts, jackets and water bottles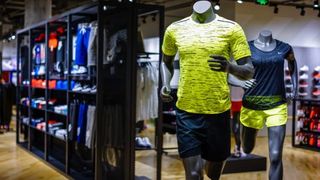 (Image credit: unknown)
One of the best things about running is that its appeal isn't limited by pricy membership costs or the need to have fancy equipment. Having said that, while you can easily get a few kilometres done in an old T-shirt, shorts and trainers, kit designed for the task will enhance your running experience by instantly making you feel and look better doing it. Let us explain the basics.
Jump to: Running Shoes | Running Accessories | Women's Running Gear | Men's Running Gear
Running Shoes
Buying a pair of running shoes can seem complicated thanks to technical features with names NASA would reject for sounding too space age. Don't worry – it's simple when you know what to look for.
Get the Right Size: Do the laces up tight and walk around the shop. Your heel should have no room for movement and toes should be naturally spayed out, not pushed against each other, even slightly. Make sure it's perfect by feeling around your toes in a sitting, standing and forward-leaning position. If length and width feels fine but your toes are cramped, ask to try shoes with a roomier toe box.
Know Your Features: All modern shoes have a breathable upper, but vary in cushioning and grip. Running off-road? Go for a trail shoe. Its grippy sole will keep you stable on rocky terrain. Sticking to the pavement? Get a road shoe. Its lightweight foam sole will reduce the energy you expend on each stride.
And Finally: Have your gait analysed at a running shop to determine the type of support you need. Most of us are neutral runners, but if your foot rolls overly inwards (overpronation) or outwards (underpronation) you might need a shoe that compensates for it.
RECOMMENDED: The Best Road Running Shoes
Top-of-the-range running shoes can now set you back north of £150, which is a lot of money even if you get 800km-plus out of them. Fortunately you can still get bargains, either by checking out budget options or being smart in the sales.
Get The Right Size: Just as with all running shoes, it's best to try them on before buying if at all possible. You want room in the toe-box but a secure fit around the midfoot, although if you're opting for a racing shoe expect a tighter fit.
Know Your Features: The weight of the shoe and the amount of cushioning it has are key to determining its best uses, whether that's a plush but heavy shoe for easy training runs or a stripped-back speedster for race day.
And Finally: There are great deals to be had in long-running shoe lines that are updated every year. Go back one or two generations and you'll often find a cut-price shoe that differs little from the newest model.
RECOMMENDED: The Best Budget Running Shoes
If you've committed to train for and run a marathon, it's worth indulging in a top-notch pair of shoes to help you on your way.
Get The Right Size: When running further than 30km it's crucial to find a shoe which fits you comfortably. Start by ensuring there's enough room in the toe-box, because if the upper of your shoe irritates you even slightly in the first kilometre of a run, it will be absolute murder by the 42nd.
Know Your Features: The star attraction of top-end marathon shoes right now is a carbon plate, which provides propulsion to keep you running at your best through the whole race. However, these plates don't make for great training shoes, so you'll need to also get your hands on a comfortable, cushioned shoe for your months of training. There are shoes that balance weight and cushioning so they're great for training and racing in, if having two pairs of running shoes strikes you as preposterous (give it time, you'll come around).
And Finally: It's not always best to mimic what elite marathoners run in – they are lightweight, superbly conditioned athletes and usually have excellent technique, so their stripped-back shoes might not be comfortable enough for the average runner.
RECOMMENDED: The Best Marathon Running Shoes
Heading off-road for your runs is a great way to clear your head and swap tough-on-joints pavements for more forgiving terrain. However, you need the right shoes to enjoy a trail run, otherwise you'll spend the whole time trying to avoid slipping over.
Get The Right Size: As with regular running shoes, you want a close fit around the heel and midfoot, with a bit more room for your toes. A wide fit might feel more comfortable in the shop but consider the trails you'll be tackling, because a wide shoe can be a little clumsy on narrow, rocky paths.
Know Your Features: First, pick the length of lug you want on the outsole of the shoe. Longer lugs give more grip in wet and muddy conditions, while shorter lugs are better for rockier, dry trails. If you are regularly running on stony trails, a rock plate is essential – these thin, hard plates protect your feet from hard edges.
And Finally: You can get any level of cushioning you want on trail shoes, but generally they are firmer than road running shoes because you don't need the same level of protection on the uneven, soft ground you'll encounter off-road as you do when hammering out long distances on pavements.
RECOMMENDED: Trail-Running Shoe Picks
If you're running regularly on boggy ground then a dedicated pair of trail shoes designed for muddy tracks is an investment well worth making.
Get The Right Size: If you're on slippery ground then a locked-down fit is vital, but at the same time you don't want it to be uncomfortably tight, especially around the toes. Try before you buy – even by walking around a store you'll get an idea of how the shoe will feel on the trails.
Know Your Features: The outsole is the key characteristic of a trail shoe designed to handle mud. You want the lugs on the bottom of the shoe to be 6mm or even 8mm deep to ensure they can cut through the mud to find purchase.
And Finally: If you want to use your trail shoes on harder ground as well, there are options with deep lugs that are closer together and wider than the studs common on shoes for the mud. This will make them more comfortable and better at finding traction on hard ground.
RECOMMENDED: The Best Running Shoes For The Mud
Never tried running in barefoot shoes before? Then choose a shoe with minimal cushioning rather than none at all. Veteran barefooters will want a shoe that acts as a second skin, protecting your foot from the surface it's running on. The former are called minimal shoes (and are available for all sorts of training, not just running) and the latter are oxymoronically referred to as barefoot shoes.
Get the Right Size: The same guidelines for standard running shoes apply to minimal footwear, but you also need to think about whether you will wear it with socks or not (we recommend doing so) and try it on accordingly. The shoe should literally fit like a glove, with no baggy or tight bits.
Know Your Features: For a barefoot shoe consider whether you need a thick sole to protect from potential hazards such as broken glass. Just going minimal? Pay attention to the heel drop – the difference between the height of the shoe's heel and toe. A low drop is what encourages the midfoot strike that barefoot running is built on. Standard shoes usually have a 10–12mm drop, so we recommend starting with an 8mm drop to ease yourself into a barefoot running style.
And Finally: Vibram and VIVOBAREFOOT are the two biggest names in the barefoot industry. However, all the major brands have a range of minimal shoes, mostly focusing on trail running.
RECOMMENDED: The Best Barefoot Running Shoes
Running Accessories
Runners routinely spend three figures on trainers then pair them with budget socks, which is absolute madness. Proper running socks are crucial to running in comfort because they'll keep your feet dry and help you avoid blisters.
Get The Right Size: You know the size of your foot, right? That will be all you need – unless you opt for compression socks, in which case you'll need to also know you calf size to get the ideal sock for your needs.
Know Your Features: All running socks use fabrics that wick sweat away to keep your foot as dry as possible, helping to prevent blisters. Some models also have more dedicated anti-blister properties like double-layered fabric, which are designed so the layers rub against one another rather than the foot itself. If you opt for long socks, reflective details are always handy.
And Finally: If you like to make a fashion statement with your running gear, Stance has quickly become the go-to brand for many people thanks to its impressive range of designs and collaborations with pop-culture figures and franchises.
RECOMMENDED: The Best Running Socks
Some runners swear that wearing compression gear improves their performance, while other use the socks to speed up their recovery after an especially tough session. The jury is still out in terms of scientific evidence, but even a placebo effect is welcome when you're running.
RECOMMENDED: Does Compression Gear Work?
Get The Right Size: This is vital with compression socks, because a loose fit won't have the desired effect in pushing blood up the leg, while a sock that's too tight will be impossible to get on. Measure the widest part of your calf and match it up against the size guides on compression brands' websites.
Know Your Features: Along with compression, many socks offer additional benefits like anti-blister fabrics and reflective features to make you more visible when running at night.
And Finally: If you take to compression but don't like wearing a full sock, you can pick up sleeves that just compress the calf. Most of the top compression brands like CEP, 2XU and Compressport sell both calf sleeves and full socks.
RECOMMENDED: The Best Compression Socks For Runners
Whether it's music, podcasts, audiobooks or the radio, some audio entertainment is a vital part of running for many people, making a good-quality set of headphones an essential purchase.
Get The Right Size: Fit is perhaps the key factor when choosing running headphones; it doesn't matter how impressive they sound if they drop out of your ear as soon as you pick up the pace. Headphones with over-the-ear hooks offer maximum stability, while in-ear buds often have wingtips you can attach to affix them more securely inside your lugs.
Know Your Features: As well as fit, look out for the water resistance rating – some will only be suitable for the amount of sweat produced by light running and showers, while others can handle your sweatiest sessions and full-on thunderstorms. Sound quality is important, of course, as is battery life if opting for a wireless set. If you're running on roads you'll also want to check how much external sound you can hear while wearing the headphones, as you don't want to block out the sound of traffic entirely.
And Finally: Many running events ban all headphones bar Aftershokz's bone-conducting Trekz range, which leave the ear entirely open to external sounds and deliver sound by sending vibrations through your cheekbones.
RECOMMENDED: The Best Running Headphones
The easiest way to carry essential gear like your phone and keys with you on the run is in a running belt, and they're also great for stashing gels on race day.
Get The Right Size: Most belts come with an adjustable band so you can tighten or loosen it as required, although some you simply slip on. Take the time to get the size right to avoid discomfort or slippage.
Know Your Features: Storage space is critical – if you want to carry a large phone or phablet with you, check the dimensions carefully to ensure it will fit. You also want the belt to hold your gear tightly against your body so it doesn't bounce around on the run.
And Finally: If you're tackling a race, a belt with clips for your number can be a handy extra, since you won't have to faff around with safety pins affixing the bib to your vest.
RECOMMENDED: The Best Running Belts
Whether you're planning on running to work, or need a daypack to carry essential supplies on long runs, a regular backpack just won't cut it. Running-specific bags have adjustable straps to stop them bouncing as you run, pockets in handy locations to grab stuff on the move and ventilation to avoid your back getting too sweaty.
Get The Right Size: You can get away with a five- or ten-litre backpack if you're planning on only using it for long runs where you just need a drink, snacks and maybe some waterproof gear. If you want to commute with the backpack, you'll probably need a 15- to 25-litre bag to have room for a laptop and clothes. Some backpacks will have a range of sizes to fit different torsos and it's worth trying a few on to work out which is the most comfortable for your shape.
Know Your Features: A key feature for running backpacks is the capacity to hold an accessible drink – either space for a water bladder in the main pocket or smaller pockets in the straps for 500ml bottles. A ventilation system is also important – look for mesh panels on the straps and raised sections on the back of the rucksack itself. No-one likes a sweaty back.
And Finally: If you're about to start commuting on foot, a major problem can be finding a backpack that won't crease your clothes while running. There are specialised packs like the IAMRUNBOX Backpack, which have hard cases to stop neatly folded shirts acquiring wrinkles.
RECOMMENDED: The Best Running Backpacks
The golden rule of hydration when running is simply to drink when you're thirsty, rather than trying to follow some ridiculous [ml/kg of bodyweightXpace] equation you saw on some forum. Depending on how long you're going out for this may mean needing to drink mid-run. Thankfully, running specific bottles make carrying water less of a chore than you might think.
Get the Right Size: Bottles go up to a litre in capacity but it's unlikely you'll need that much, unless you're running for hours (in which case you should have a bag of essential supplies). Most handheld bottles carry between 200ml and 500ml – that might not sound much but will let you take a sip every few minutes of a 10k, which is enough to replace any water lost through perspiration.
Know Your Features: Going for a metal bottle keeps water cool for longer. Some running water bottles go for an oval loop shape to make then easier to hold, while others have a material part that acts as both hand strap and holder for things such as keys and bank cards. It's all down to preference.
And Finally: Unless you're buying from dodgy overseas sellers, it's unlikely you'll come across any bottles without a BPA-free stamp.
RECOMMENDED: The Best Running Water Bottles
Night running brings with it the danger of not being seen by other road and pavement users, so it's wise to stock up on gear with reflective sections that light up like a Christmas tree when headlights hit them.
Know Your Features: Pretty much all running gear now comes with reflective details, but check that this extends beyond a small logo. Ideally you want large reflective patterns or seams that are impossible to miss. Since night running is usually chillier than heading out in the daytime, make sure your reflective gear is also going to keep you warm without being so toasty as to make you sweat excessively.
And Finally: The biggest name in reflective gear for both runners and cyclists is Proviz, which sells jackets made entirely out of reflective material to ensure 360° visibility.
RECOMMENDED: The Best Reflective Running Gear
A sleeveless jacket might seem like a luxury, but it's actually one of the most versatile bits of kit you can have in your running wardrobe. Gilets are especially handy in the spring and autumn when you want a little extra protection from wind and rain without the warmth of a full jacket.
Get The Right Size: A fairly tight fit is best with a gilet – you'll generally only wear it over a top or base layer, so it doesn't need to leave much room for other layers underneath, and a loose gilet will flap in the wind annoyingly.
Know Your Features: A gilet should be windproof and water-resistant or even waterproof. This might seem odd – your arms will be exposed to weather anyway – but it helps keep the core warm and dry and that's important for comfort on long runs in the rain.
And Finally: Pocket space is handy on a gilet, as are reflective sections to make you more visible at night.
RECOMMENDED: The Best Running Gilets
Don't let dark nights stop you from running. Invest in a headtorch and keep on keeping on.
Get The Right Size: Headtorches have adjustable bands so you can set them up to be comfortable and secure.
Know Your Features: The amount of lumens a light puts out is generally the vital number to look for. If you just need a little extra light to run on city pavements that have streetlights, then a 100- or 200-lumen light will work fine, while those heading off-road will need 300-plus. Check the battery life too, because the higher the lumen count the faster your juice will drain.
And Finally: Most headtorches are now rechargeable, but some have battery packs, which allow you to venture further afield knowing that you can carry some extra power.
RECOMMENDED: The Best Running Headtorches
If you want to – or have to – take your kid with you on the run, a dedicated running buggy ensures a safe and smooth ride.
Get The Right Size: Running buggies have an adjustable handlebar that can be set to a comfortable height for each user. If you're especially tall then check the specifications carefully to make sure you won't have to hunch over to push the pram.
Know Your Features: A suspension system and large wheels with air-filled tyres are the essential features of a running buggy, which should also have a handbrake on the handlebars so you can stop in a hurry. A fixed front wheel is also important to keeping you running in a straight line, though if there is the option to change the wheel to swivel mode this will make the buggy easier to use when not running.
And Finally: The general advice is not to run with a baby until they can hold their own head up, around six months old. Some manufacturers recommended waiting until they're nine months if you're running on uneven trails.
RECOMMENDED: The Best Running Buggies
Women's Running Gear
Comfort is key with any bit of running gear, but that's especially the case with your bra, which has to provide the support you need without being intrusively tight around the chest. In general you'll need to opt for a high to super-high level of support with your running bra.
Get The Right Size: The two most common types of running bras are compression bands that flatten the breasts and encapsulation bras that have separate cups for each breast. Larger-breasted runners in particular will probably need the latter, because the compression-style bra might not offer enough support.
Know Your Features: Some running bras are just pulled on over the head, but there are also hook-and-clasp bras and some with a zip on the front, both of which are easier to take off when sweaty than one you have to yank over your head. Racer or cross-over strap designs are worth splashing out for, as they will help the bras stay in place better than a standard shoulder strap.
And Finally: Mesh sections and cut-outs are great for helping you to stay cool on the run, but in the summer they can lead to strange tan lines.
RECOMMENDED: The Best Running Bras
If you've stuck with an old cotton T-shirt for all your running up until now, a proper technical top will be a revelation.
Get The Right Size: If you're planning to slip a base layer under your top sometimes then a slightly looser fit can be useful, but in general a cut that's close to your body will be the most comfortable, reducing the risk of chafing and avoiding any annoying flapping in the wind when you hit top speed.
Know Your Features: Technical fabrics will wick sweat from the skin and dry quickly, so you stay cool and comfortable on the run – no more wringing out that cotton tee after an especially sweaty run. This again stops chafing and helps to keep your body at the right temperature, cooling you when it's hot and keeping you warm when it's chilly.
And Finally: Look out for anti-odour properties in a running top, with fabrics that have natural odour resistance like Merino wool being best. This can allow you to wear a top several times between washes, which is good for the top's longevity, good for your laundry load and good for the environment too.
RECOMMENDED: The Best Women's Running Tops
The workhorses of your running wardrobe, your leggings need to be comfortable on every run, keep you warm on cold days and keep you cool on hot days. That's asking a lot, but fortunately there are plenty of pairs that are up to the job.
Get The Right Size: Once you've decided on whether you want full or ¾ length tights you need to get the right fit. If leggings are at all loose they become a chafing concern, but you don't want them to be so tight that they become restrictive. Compression leggings are designed to be tighter than most to increase blood flow, but even then they shouldn't cramp your running style at all.
Know Your Features: Moisture management is key – the leggings need to wick sweat away and dry quickly. Anti-odour properties are also useful to save on washing, and it's worth checking what kind of storage they offer for your essentials: some leggings just have a small zip pocket on the back for keys, a bank card and gels, while others will have drop-in pockets that hold your gear close to the thigh to stop it bouncing while you run. This type of pocket is ideal for heavy items like phones.
And Finally: A little reflectivity goes a long way to boosting your visibility when running at night. Small reflective sections on leggings around the ankle are particularly good in this regard.
RECOMMENDED: The Best Running Leggings
A running jacket can be the difference between enjoying and not enjoying a run, so it's one area where it's worth investing a little more, because pricier jackets will offer more protection from the weather while also being breathable so you don't end up overheating.
Get The Right Size: A running-specific jacket will be cut close to the body to allow complete freedom of movement during your activity. This close fit is essential for comfort on the move too, but there should still be a bit of room underneath for extra layers when it's cold out.
Know Your Features: The big decision is whether to go for a waterproof or a water-resistant jacket. The former offers more protection from the elements, but is less breathable and can make you very hot when running. Water-resistant jackets will usually shrug off a shower, block the wind and tend to be more comfortable and breathable, so are a better pick for your go-to jacket, even if you do keep a proper waterproof in reserve for truly horrendous weather.
And Finally: A running jacket that can be packed into its own pocket and brought with you in a rucksack is very useful if you run in a place where the weather can change in an instant.
RECOMMENDED: The Best Women's Running Jackets
Whether you're a runner who only switches to shorts at the height of summer, or one who sticks with them through the worst of the winter months, having a good-quality set in your wardrobe is a must.
Get The Right Size: You have two main options when it comes to the fit of running shorts: loose and breezy, or compression. A subset of the latter are 2-in-1 shorts, with a compression inner plus a looser outer. Compression gear minimises the risk of chafing and supports the muscles, while a loose fit can feel less restrictive, especially on hot days.
Know Your Features: Along with sweat-wicking fabrics, shorts should offer some kind of storage, even if it's only a small zipped pocket on the back for your keys or office ID card.
And Finally: Consider the risk of chafing above all with your running shorts, and if you have a big event like a marathon lined up, make sure you try the pair you plan to use on race day on a long run beforehand to make sure they don't irritate.
RECOMMENDED: The Best Women's Running Shorts
Men's Running Gear
A T-shirt designed for the rigours of running will regulate your temperature, draw moisture away from your skin and do everything in its power to ensure your nipples don't bleed during a marathon. Everything.
Get the Right Size: This is the important bit when it comes to nipple abuse prevention. Fits vary from superhero tight to school PE-kit baggy. The looser and heavier the material, the more likely chafing is to happen. Go for whatever you feel most comfortable in, but remember you may need a tighter fit, or Vaseline, for longer runs.
Know Your Features: If running gives you an aching back consider going for a tight T-shirt with compression built in. Otherwise, the main thing to consider is how the material will keep you cool and dry. Moisture-wicking and breathability are pretty much standard and should be first on your tick list. More advanced features include material that's treated to prevent bacteria from forming (perfect if you can't change right after a run), cooling metal inserts (see top pick, below), and shiny linings (like the space blankets you get given after a race) that retain body heat in vital areas.
And Finally: An old cotton T-shirt might be fine for a few laps round the park, but the latest technical training tops make any distance over a 5k far more comfortable. Also, never underestimate how much looking like a runner makes you feel like one and pick whatever you feel (and look) best in.
RECOMMENDED: The Best Running T-Shirts
You might think nothing of chucking on any old pair, but shorts made for running are a must. Ergonomic design reduces chafing to a minimum, tech-laden materials regulate temperature (particularly important down there) and smart pockets keep essentials out the way.
Get the Right Size: Short shorts are the choice of the elites because they provide the best airflow and ease of movement. Not worried about shaving minutes off a marathon PB? Longer ones are available. In terms of fit, elasticised waists makes it super easy to shop for them.
Know Your Features: Lightweight, breathable material is essential, but the rest is down to personal needs and preference. Compression shorts encourages even blood flow, aiding performance and recovery – consider investing in this type if your glutes (bum) or quads (thighs) often ache after runs. Thankfully, you can get 2-in1 shorts with compression built in so no one has to see your moose knuckle. Need a pocket? Get shorts with a small zip pocket – enough to carry a key and card – at the top of your rear/small of your back.
And Finally: To go commando or not? That is the question you probably weren't asking, but lose the underwear if your shorts have compression or an inner pant. It will eliminate chafing, which – trust us – can be a very big deal on long runs. Got shorts without those features? It's underpants for you, mate.
RECOMMENDED: The Best Running Shorts
When it's too chilly out for a T-shirt and not horrendous enough to warrant a jacket, you need a long sleeved top.
Get the Right Size: A good running top should fit more like a model's T-shirt than a skater's hoody. The baggier it is, the more drag you'll create and the less warm it will be.
Know Your Features: If you often run at night, go for a top that's big on reflectivity. A zip is useful if you get hot quickly, while thumb loops are a nice touch to keep hands warm and stop cold air going up your sleeves. Get a hood if your ears are prone to icing up and a neck gaiter if you want maximum skin coverage.
And Finally: We've selected our favourite running specific tops from sports companies, but outdoor brand such as Rohan and The North Face also have excellent technical tops that tick all the boxes for comfortable outdoor runs.
RECOMMENDED: The Best Running Tops
Looking for a running jacket can feel like browsing a list of recently-approved patents, but getting one makes it possible (and comfortable) to run in most weather. While there are differing qualities, they all essentially offer varying levels of this holy trinity of element protection: windproofing, waterproofing and breathability.
Get the Right Size: The majority of running jackets have a fitted cut that's ergonomically designed to compliment your movements rather than restrict them. Try jackets on in shops, making sure to flap your arms about as if you're really going for it – imagining you're on the final stretch of a nasty hill ought to do it. You don't want any tightness across your chest or upper back, and it shouldn't be baggy around the waist.
Know Your Features: The main thing running jackets do to keep you comfortable is nullify the effects of wind and rain. Breathability is also essential, unless you're trying to lose weight like that guy with the cling film in The Full Monty (pro tip – don't do that). Most are spectacularly light and thin; great for stowing away or even just holding in your hand on days with unpredictable weather. However, thicker jackets – and ones with fancy material that's good at retaining heat – are also available for days when the mercury just isn't rising.
And Finally: Even if you run on the pavement in a city, there will likely be times when you're crossing roads at a quicker pace than usual (likely wearing earphones) so it's a good idea to make yourself as visible as possible. The good news is modern technology means jackets with high reflectivity generally keep it on the down low. Test them by taking a picture on your smartphone with the flash on. You might be surprised.
RECOMMENDED: The Best Running Jackets
The first top you put on before your run – don't underestimate the importance of the right base layer. It'll keep you warm, dry and comfortable on runs in all weathers.
Get The Right Size: You're going to be wearing a T-shirt or jacket over the top of your base layer anyway, so don't be afraid to go for something nice and tight. If it's baggy, it won't be as effective at keeping you warm and wicking away sweat.
Know Your Features: The material makes all the difference with a base layer. Merino wool is very popular because it's warm, wicks sweat away and is naturally odour-resistant. However, synthetic fabrics are often cheaper and can outshine merino, drying faster and wicking sweat away more effectively. Other fabrics with similar properties to merino wool include bamboo, which is perhaps the most comfortable to wear. One material to steer clear of is cotton, which absorbs moisture to leave you cold and wet.
And Finally: If you're worried about the terrifying prospect of nipple-chafing – and you should be – many people find a tight base layer can prevent the problem occurring on long runs because the material doesn't move around and rub the sensitive area.
RECOMMENDED: The Best Base Layers
Too many men write off running tights on the mistaken basis that they think they'll look foolish wearing them. Try one run in a good pair of tights and you'll never worry about how they look again, because the snug, comfortable feeling they create is… well… it's just lovely.
Get The Right Size: As with base layers, you don't want to shy away from a revealing tightness – you can always protect your modesty with shorts. A snug fit is vital for the tights to keep you warm and wick away moisture. You might also want to go beyond snug and check out compression tights, which improve circulation and can help recovery if worn after tough runs.
Know Your Features: Winter running tights need to be thick enough to keep you warm, but also breathable and stretchy so they don't restrict your movement at all. Some will also have wind-stopping fabric on the front of the legs to shelter your pins from freezing gusts. Compression models offer something different: their tight fit will help your muscles warm up at the start of runs and is proven to aid recovery if you wear them afterwards. Many runners also wear them during runs as a potential performance aid, but that comes down to personal preference, rather than a strong evidence base.
And Finally: The debate over whether men should wear shorts over running tights is a long and surprisingly bitter one. Don't believe us? Try Googling it and be prepared to read some strange forum posts. The upshot is, of course, run in whatever makes you feel comfortable, although we'd definitely recommend shorts in cold weather if you don't have windproof tights.
RECOMMENDED: The Best Running Tights
Sign up for workout ideas, training advice, reviews of the latest gear and more.
Thank you for signing up to Coach. You will receive a verification email shortly.
There was a problem. Please refresh the page and try again.