The Best Running Gels And How To Use Them In Your Training
What are they, why do you need them and which energy gels taste the best?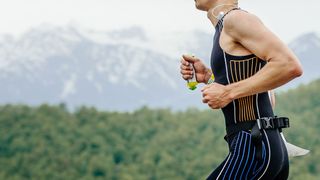 (Image credit: Shutterstock)
Running becomes a very different proposition when you cross the 90-minute mark. Instead of stepping out the door with the bare essentials and the freedom to run wherever you like, you need to plan your nutrition and tailor your route to include stops for refuelling.
Planning your nutrition for before, during and after any long run is key to getting you through it in both the speediest and most enjoyable manner possible. That's especially true for races, where you might well be shooting for a PB. It's vital to plan your nutrition for any road race of half-marathon distance or more, and even for shorter trail races if they're going to last longer than 90 minutes.
In the past people endured long events just by swigging water and eating a chocolate bar at the halfway mark. Nowadays even amateur runners can enjoy the benefits of professional-level products, with running gels the go-to option for many people keen on getting through long runs in the most efficient manner possible.
The Best Running Gels
1. SiS GO Isotonic Energy
Best all-round running gel
Reasons to buy
+
Lots of flavours
+
Easy to take without water
+
Widely available
Reasons to avoid
-
Bigger than carb-only gels
SiS's gels are easy to find in shops and online, come in a wide range of flavours and are pretty cheap, especially if you buy in bulk. They contain 22g of carbs and there are also variations that have added electrolytes or caffeine. The isotonic style means you can take them without water, though we found it is still best to have some on hand to wash them down and their bulky size might mean opting for a bigger running belt to carry them.
Taste test: SiS has a huge range of flavours, including loads of caffeinated options and some with added electrolytes. The texture is somehow both watery and lumpy, which sounds worse than it is, and they slip down the throat with minimal fuss. The flavours are less sharp than in the carb-only gels, so your teeth won't start tingling from the sugar hit.
Our favourite flavour: Berry Caffeine Gel
---
2. Torq Energy Gel
Best tasting running gel
Specifications
RRP:
$35/£26.25 for 15 gels
Reasons to buy
+
Enjoyable dessert-based flavours
+
High amount of carbs
+
Added electrolytes
While it's the taste of these gels that puts them in a different league, the underlying numbers are also excellent. Each 45g gel contains 30g of carbohydrates in a 2:1 maltodextrin-to-fructose ratio, which allows you to absorb more carbs per hour, and there are also five electrolytes thrown into the mix to help replace what you lose in sweat.
Taste test: Torq has absolutely smashed it on the flavour front, with a range of interesting options that means you're not going to get sick of the gels even on a long run where you take several. Along with perennial pudding favourites like cherry bakewell, apple crumble and lemon drizzle, there are caffeinated options such as caramel latte and banoffee. We've yet to try one we don't like – black cherry yogurt is another excellent option – and the gels were easy to get down while running, though we'd recommend having water with them.
Our favourite flavour: Cherry bakewell
---
3. High5 Energy Gel Aqua
Tasty and easy-to-swallow gels
Specifications
RRP:
$32.34/£26.29 for 20 gels
Reasons to buy
+
Fluid texture
+
Tastes nice
+
Widely available, and often in deals
High5's gel range covers all the bases: isotonic gels, straight up energy gels and caffeinated gels, each containing 23g of carbs. The gels are even batch-tested to ensure you won't accidentally fall foul of doping regulations, if that's a concern for you.
Taste test: You have to hand it to High5 here – even its non-isotonic gels are pretty fluid and easy to consume, and none are so sugary as to make you wince. The isotonic gels, which High5 has recently renamed Energy Gel Aqua, are the tastiest: more like a drink than a gel, making them very easy to get down while running.
Our favourite flavour: Energy Gel Aqua Berry. A triumph – up there with the best-tasting gels out there.
---
4. Maurten Gel 100
The choice of elites
Specifications
RRP:
$43.20/£32.40 for 12 gels
Reasons to buy
+
Can reduce gastro issues
+
Neutral taste
+
Pretend you're Eliud Kipchoge
Reasons to avoid
-
No flavour options
-
Thick texture
The gel used by Eliud Kipchoge when he broke the world marathon record in Berlin is a little different to everything else on this list. Part of that is the strange consistency – it's firm enough to bite off chunks, rather than sipping a syrup, but the key difference is that the hydrogel does not upset your stomach like a standard gel because it passes straight through and is absorbed in the small intestine instead. If you avoid using gels because of past gastrointestinal problems, Gel 100 is well worth trying, though it is more expensive than other options. Each 40g gel contains 25g of carbs and Maurten claims the ratio of glucose to fructose used in them means you can absorb up to 100g of carbs an hour.
Taste test: The texture will divide opinion, but we enjoyed biting off a bit of the gel and letting it dissolve a little in our mouth before swallowing. For one thing this removes the risk of getting sticky syrup on your hands during a run, which is infuriating. The gels only come in one variety and don't really have much of a taste, just a vague sweetness, and they don't need to be washed down with water to clear your mouth of any residue.
---
5. OTE Energy Gel
Gels you can sip or gulp
Reasons to buy
+
Dual opening system
+
Nice flavour and texture
The Leeds brand that helps fuel the Brownlee brothers has come up with a canny idea: two different tear points on the top of the packet. One creates a small hole you can sip the gel through, while the other makes a big hole for a quick gulp, so you can consume according to your preference at the time. The range of seven gels available contains two caffeinated options and each gel provides 20g of carbohydrates.
Taste test: Although there isn't a huge range of flavours – five in total: apple and orange energy gels, pineapple caffeine gel, and lemon and lime and blackcurrant, which are both available in caffeinated and non-caffeinated forms – OTE has done well to create a mix that isn't at all sickly and slips down easily.
---
6. Precision Fuel PF30 Gel
A compact, inoffensive gel
Specifications
RRP:
$45/£33.71 for 15 gels
Reasons to buy
+
Small size
+
Neutral taste
These gels keep things simple. There's only one flavour, which is so mild as to be essentially neutral, and it's not hard to ascertain the amount of carbs they contain, with 30 in the name and "30g carb" in big letters on the front of the packaging. Those carbs come in a 2:1 ratio of glucose to fructose to make them easier to absorb. Precision Fuelling & Hydration also has a useful carb calculator on its website so you can work out how much you're going to need for your event. The gels are pleasingly small, making them one of the more efficient ways to carry 30g of carbs with you.
Taste test: The gels are slightly sweet and slightly citrusy, but their predominant feature is that they don't taste of anything much. They are best taken with water, though in a pinch it's possible to get them down without.
Our favourite flavour: Original
---
7. SiS Beta Fuel
Best high carb gel
Specifications
RRP:
$19/£13.80 for 6 gels
Reasons to buy
+
40g of carbs per gel
+
Easy-to-absorb maltodextrin-to-fructose ratio
Reasons to avoid
-
Larger than most gels
-
Not many flavours
These gels are a convenient way to carry a lot of carbs. Each of them contains 40g of carbs per 60ml serving – almost double the standard 22g you get from most brands. The carbs are provided in a 1:0.8 ratio of maltodextrin to fructose, rather than the standard 2:1, and SiS says this makes it easy for the body to absorb the carbs in the gel. Along with the standard Beta Fuel gel there is a nootropic version, which contains 200mg caffeine, plus other ingredients to help you stay mentally sharp during your endurance events.
Taste test: The gel comes in two flavours: orange, and strawberry and lime, and the latter is surprisingly tasty. It's not too sweet and the fluid texture slips down easily on the move even if you don't have water to hand.
Our favourite flavour: Strawberry and lime
---
8. OTE Super Gel
High-carb gels with added electrolytes
Reasons to buy
+
40g of carbs per gel
+
Maltodextrin-fructose mix
+
Added electrolytes
Reasons to avoid
-
Only two flavours
-
Takes getting used to
OTE's Super Gels double the carb count of its normal gels while keeping the pack size fairly small, making them a highly convenient way to carry a lot of fuel with you on long runs. The carbs come from a mix of maltodextrin and fructose so you can absorb more per hour, and the gels also contain magnesium and sodium to help you stay hydrated.
Taste test: Despite being so high in carbs, the gels aren't too thick and slip down quite easily. It's easiest to take them with water, though, and make sure you sip them slowly rather than downing the gel in one – 40g is a lot of carbs to suddenly hit the stomach while you're running.
Our favourite flavour: Tropical
---
9. Gu Energy Gel
Tiny gels with loads of flavours
Specifications
RRP:
$38.40/£48 for 24 gels
Reasons to buy
+
Wide range of flavours
+
Small and easy to carry
Reasons to avoid
-
Sticky
-
Sickly taste of some flavours
These tiny shots of gel that contain 22g of carbs are the best pick for those keen on minimising the amount of weight they carry on the run.
Taste test: Gu stands out for the originality in its range of flavours, which includes the likes of Salted Watermelon and Chocolate Outrage. There are also caffeine-rich options available. The Gu gels are, however, essentially impossible to get down without water owing to their stickiness, so make sure you time them right on race day.
Our favourite flavour: Espresso Love. Gu's concentrated gels can be very sickly, and this coffee-flavoured option is the least so.
---
10. Lucozade Sport Energy Gel
Best gel for London Marathon runners
Reasons to buy
+
Available on the London Marathon course
+
30g of carbs
There's nothing particularly special about the Lucozade Sport gels, which provide 30g of carbs in a serving, sourcing those carbs from a mix of fructose and glucose to maximise the amount you can absorb. However, they do have one unique feature, which is that they are the only gels handed out to runners on the London Marathon course. You can pick one (or more) up at miles 14 and 19, which will reduce the amount of gels you have to carry yourself. Don't suddenly switch to these gels on race day if you've not used them before, but it might be worth practising with them in advance.
Taste test: The flavour will be familiar to anyone who has tried Lucozade's orange drinks in the past, and the texture is fairly sticky. It's a gel best taken with water.
Our favourite flavour: Orange
---
11. Wiggle Nutrition Energy Gel
A more affordable option
Specifications
RRP:
$15.86/£12.99 for 20 non-caffeinated gels
A low price isn't the only reason to consider these energy gels from Wiggle, as in our tests they were the easiest non-isotonic option to take on the move. They're fluid enough to eat without water, though you should always have water with them if possible, and contain 22g of carbs.
Taste test: There are lots of different flavours, including caffeinated options. The Wiggle gels are not too sticky, but you still need to take them slowly – a sip at a time, rather than in one quick gulp.
Our favourite flavour: Lemon And Lime. They taste like Calpol, delicious Calpol.
---
12. KMC NRG Gel
Best refillable gel
Specifications
RRP:
£13.99 for 700ml (10 servings)
Reasons to buy
+
Comes in pouch to refill soft flasks
+
Added electrolytes
+
Refreshing flavours
Reasons to avoid
-
Need to use up pouch before it goes out of date
-
Not good if you don't like mint
If there's one thing runners envied hikers and mountaineers, it was that they got to chow down on delicious Kendal Mint Cakes on the go. Sure, you could try scoffing the sugary treat during a run, but it wasn't ideal. Fortunately that sweet minty stuff has now been released in gel form. As you can imagine, it's all about the mint: choose between mint, raspberry mint, citrus mint and chocolate mint flavours. The 70g gel contains 27g of carbs and sweetens the deal with electrolytes to help keep you hydrated, and there is a caffeinated version available.
One neat addition to the Kendal gel range is a large pouch of the stuff, which you can use with refillable soft flasks – a less wasteful option than single-serve gels. You can buy a suitable soft flask with the gel, but most flasks will work because the gel is fluid enough to get through sports lids with valves. Do make sure it's a leak-free top though – you don't want sticky gel escaping into your pockets or running belt.
Taste test: The Kendal gels are pleasingly fluid and although it's best to take them with a drink, they're easy to swallow on the move even if you don't have water to hand. Of the flavours chocolate mint is our favourite – the citrus mint was frankly a little much.
Our favourite flavour: Chocolate Mint
---
13. Veloforte Energy Gel
Best running gel with natural ingredients
Reasons to buy
+
Natural ingredients
+
Small size
+
Interesting flavours
Reasons to avoid
-
Flavours can be a little too interesting
Most running gels are designed to provide fast-release carbohydrates in the simplest and cheapest manner possible, which tends to mean they use artificial ingredients. There's nothing inherently wrong with that, but some people find them unpalatable and have stomach problems with standard gels, which might be resolved by switching to a more natural option like these gels from Veloforte. They're highly portable thanks to their small size and the range of flavours is a little more adventurous, with beetroot, and lemon and ginger options. Despite the dainty 33g serving, they still pack in 22g of carbs.
Taste test: Having not checked the flavour before gulping the Primo gel down we were a little startled by the savoury beetroot taste, but it's not at all unpleasant. The Tempo gel will suit those who prefer a sweet offering, with the dates in it offset by lemon and ginger, while the Doppio gel, which also contains 75mg of caffeine, is our pick of the bunch with its maple and coffee flavour. Despite its compact size the consistency wasn't too viscous either, though these are still best quaffed with an accompanying swig of water.
Our favourite flavour: Doppio
---
14. 33Fuel Chia Energy Gel
A unique, all-natural gel
Specifications
RRP:
$29.64/£23.99 for 10 gels
Reasons to buy
+
Natural ingredients
+
Resealable lid
+
Nice taste
Reasons to avoid
-
Only 11.3g of carbs
-
Fiddly to make and use
-
Only one flavour
These all-natural gels offer something completely different from everything else on this list. They come as a dry powder that you mix with water, or coffee/juice/whatever else you have to hand. You wait 10 minutes and then suck down the gel. It's not quite as inconvenient as it sounds and can be made mid-run, although when it comes to races it's more suited to ultra-distance events where you have a backpack to carry it.
It's designed to be a stable release of energy rather than the usual spike you get from a gel. The gel contains only 11g of carbs compared with the usual 20g, but we've found the energy benefits seem to be similar, and it's more palatable than most options – great news if you're not a fan of the usual super-sweet gels.
Taste test: The texture of the gel is unusual, with an almost porridge-like consistency with crunchy chia seeds adding even more texture, and the vanilla flavour is mild but pleasant.
Our favourite flavour: Vanilla
---
15. Nutrition X Energel+
A tasty, no-frills gel
Reasons to buy
+
Fluid texture
+
Added electrolytes
There's nothing that makes Nutrition X's Energel+ gels stand out from the pack but there's nothing wrong with them either. They're pretty much as standard as gels get, offering added electrolytes and a caffeinated option, and delivering 24g of carbs per serving.
Taste test: The consistency of the gels is pretty fluid but they need to be taken with water, and the stand-out flavour is the caffeinated cola gel, which contains 80mg of caffeine. The standard options are very sweet, which makes washing them down with water a must to avoid the flavour becoming sickly.
Our favourite flavour: Cola
---
16. Rawvelo Energy Gel
Organic, natural gels that are easy on the stomach
Reasons to buy
+
Natural ingredients
+
Interesting flavours
+
Lower risk of GI distress
Reasons to avoid
-
Not the highest in carbs
-
Few flavours
They might have "velo" in the name, but we can assure you the energy gels from this company work just as well for runners. There are three gels in Rawvelo's range, two without caffeine – blood orange, and passionfruit and coconut – and a blueberry and hibiscus gel that contains 50mg of caffeine. All of the gels are made from natural, organic ingredients, delivering 20g of carbs via rice syrup and fruit juices.
Taste test: The Rawvelo gels slip down easily. The flavours are a little less dramatic than they sound but still very tasty and different from the norm – aside from blood orange, which just tastes of orange.
Our favourite flavour: Passionfruit and coconut
17. Vala Energy Gel
A natural gel made with date paste
Reasons to buy
+
Natural ingredients
+
Natural replacement for normal gels
Reasons to avoid
-
Flavour will divide opinion
-
Grainy texture
Vala is one of several companies that eschew artificial ingredients to provide all the energy you need through natural sources like maple syrup and date paste. It may lay it on a little thick when it comes to decrying "chemical-laden" gels (everything in food is chemicals, folks), but if you do have trouble stomaching things like maltodextrin on the run, it offers an alternative that might sit a little easier.
Taste test: The flavour says citrus, but really what you taste is dates – a whole lot of mashed-up dates. The texture is thicker than isotonic gels as well, being closer to something like a Gu gel. It's not an unpleasant flavour, though very sweet, but we can't imagine you'd want more than two of these on a long run unless you were really into dates.
Our favourite flavour: Citrus
---
18. Precision PF90 Gel
A massive, resealable gel for long events
Specifications
RRP:
$19.99/£14.99 for 3 gels
Reasons to buy
+
90g of carbs
+
Can reseal gel
+
Neutral taste
When tackling long events like a marathon, many people aim to consume around 60g-90g of carbs every hour to ensure they don't run out of fuel. That quickly adds up to a whole lot of 20g-30g gels that you have to carry if you're running or cycling for several hours, and carrying this 90g pouch of Precision Fuel & Hydration's gel can be a more efficient approach. You can sip on the gel aiming to finish it over a period of time in line with your fuelling targets, and reseal it with the twist lid in between.
Taste test: The gel has a neutral, slightly citrusy flavour and a fairly fluid texture that means it is possible to take it without water, but usually it's best to wash it down.
Our favourite flavour: Original
Running Gels Explained
Why do people use running gels?
It hardly needs saying that running for a couple of hours or more requires a lot of energy, and the main source of muscle fuel over the course of a long event is carbohydrates, which your body stores as glycogen. Your body can store about 90 minutes' worth of glycogen if you stock up via pre-race carb-loading, but after that you face the risk of running out so you need to take on some extra fuel during the race.
There are many ways to do this. Sports drinks, energy bars and dried fruit are all options, but many people find that the best method of refuelling is using energy gels. These generally contain 20-30mg of carbs, are easy to slip into a running belt and can be consumed quickly without breaking your stride.
What kinds of gel are there?
All energy gels have the same purpose, to help fuel your run, and while they come in different shapes and sizes, there are two main types: isotonic gels and energy gels.
Isotonic gels come pre-mixed with water, which means not only that they're more fluid and easier to take on the go, but also that you don't have to worry about carrying water or eating the gels near a water stop during a race. The downside of this is that they're a little bulkier.
Energy gels, on the other hand, just pack in a load of carbs. This type might be stickier – some of them are tough to get down without water – but you can pack more into a small race belt and reduce the weight of what you have to carry. The trade-off is timing them around water stations in races, or having to carry water with you on long training runs.
Both of these kinds of gels also have options that contain caffeine too, for a little extra mental boost, which can be very welcome in the latter stages of a marathon.
How many will you need for a race?
The first thing to know about gels is that if you wait until you start feeling knackered before you take one, it's already too late. You need to maintain a steady stream of energy, starting well before your reserves run dry.
"Runners need to add in 30 to 60 grams of carbohydrate each hour when running for longer than 75 minutes," says ONE PRO nutritionist Christine Bailey.
"Begin fuelling within 30 minutes of starting the race. Energy gels are a convenient option. Accompany them with sips of water as you run. Remember your gut can only absorb 60g of carbohydrate an hour – taking more than this is likely to cause stomach upsets."
Most gels contain 22g of carbohydrates, so with the above in mind you can max out at three per hour and absorb almost all the carbohydrates they contain. We aim to hit that max ourselves when running an event, but if you ever experience stomach issues then taking fewer gels per hour might help.
So the maths is simple: two to three gels per hour, starting at the 30-minute mark. However, focussing on this alone can result in you carrying a lot of gels – if you run a four-hour marathon, for example, you'll need 10 or so.
Fortunately, the gels you bring with you won't be the only carbs available. Almost all marathons will have stands where you can grab a carb-rich sports drink and some even hand out gels. For example, at the London Marathon you pass by three Lucozade Sport gel pick-up points en route, so that's three less you need to carry yourself.
Make sure to test your gels before race day, including the type you plan on grabbing on the course. Different people react differently to each product, so you need to make sure your stomach can handle the brand you opt for and how often you take them. And while swigging water to wash down a gel generally makes them easier to take, don't use a sports drink for this purpose – you're just asking for an unpleasant sugar overload that your stomach won't welcome.
Do energy gels work?
Yes. Energy gels deliver a hit of carbohydrates that are easily absorbed, and they're just what your body needs to fuel hard exercise.
When should you use running gels?
Gels are best used just before you start running or during longer runs to ensure your body has enough carbs to fuel your exercise.
How often should you use running gels?
During long bouts of exercise such as a marathon, it's advisable to consume around 60-90g of carbs per hour, which would typically be two to five gels, one taken every 15-20 minutes or so. In practical terms this can be a bit too much to carry and consume, so many runners aim to take a gel every 30-40 minutes or so, starting from about 30-45 minutes into their run.
Do pro marathon runners use gels?
Elite marathoners do use gels, but because they have dedicated drink stations where they can take on their preferred pre-mixed carbohydrate drinks without having to carry them, the bulk of their fuelling during a race is often done through drinks. Energy drinks are easier to absorb on the run than gels and often contain more carbs per serving, but it is hard for amateurs to carry drinks with them because they are much bulkier and heavier than gels.
Do you need gels for a 10K?
Most runners will complete a 10K in under 75 minutes, and if you have fuelled well in the days before the race you will have enough carbs stored in your body to get through a 10K without needing to use a gel. That said, many runners like to use a gel just before a 10K to top up their fuel stores, and if you are taking over an hour to complete the race and want to use a gel halfway through, it's not going to hurt, even if it might only provide psychological benefits.
Are running gels good for you?
Running gels are not "bad" for you per se, but they are designed to be used before or during long bouts of intense exercises – they're not meant to be eaten at other times. Gels contain a lot of sugar and you need to make sure you're doing the running to merit their use and burn through those carbs. They can be a little sickly and lots of runners experience gastrointestinal distress when first using gels, so you need to train your gut to tolerate the sugary hit they deliver.
How do you get used to energy gels?
Many runners struggle with energy gels, so it's important to train with them. We spoke to David Dunne, a performance nutritionist and the co-founder of tailored sports nutrition app Hexis, about sports supplements. He talked us through the best approach to training your gut to handle energy gels.
"The biggest thing with taking on carbohydrates during exercise is to have a plan," says Dunne. "Know what volume of carbohydrate you need to have, and then know over what time period you should be distributing it.
"When you work out what the ideal scenario is, you've got to train your gut. If you decide you need to consume 60g of carbohydrate per hour and you're not used to taking gels, you're in for a world of pain. Over a three-, four- or five-week period, start with half a gel, then a bit more and so on, and train yourself to that ideal strategy.
"People are good at having enough gels at a race, but their guts just aren't used to tolerating that much. We do need to expose our stomachs to it and practise how we fuel. Not every session is going to need that high volume of fuelling, but you might have one key session during the week where you use those race fuelling patterns."
---
More About Running Supplements
Sign up for workout ideas, training advice, reviews of the latest gear and more.