The Best Sports Drinks And Mixes To Fuel Your Exercise
Reach for one of these energising beverages and get the boost you need to nail your workout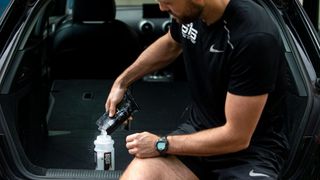 (Image credit: SiS)
When you're in need of some fast fuel before or during a tough training session there's no better source of energy than a sports drink. The carbs and electrolytes they contain will hit your system quickly to replenish your body's reserves so you can keep on keeping on, and it's generally more enjoyable to gulp down a sports drink from your water bottle than to take a gloopy energy gel during training.
You need to be a little wary of using sports drinks willy-nilly, however. They're designed to provide a lot of energy, so the carb and sugar count is high. If you're only going out for a 30-minute easy run you probably don't need that kind of energy hit, especially if you're running to lose weight.
Along with carbs, a good sports drink will also contain electrolytes to replace those lost in sweat during a workout. This is especially important during sessions that last more than 90 minutes, when just rehydrating with water won't get the job done.
You can obviously buy sports drinks like Lucozade ready-made, but picking up a powder to mix with water yourself is often more portable, especially if it's a single-serve sachet you can take with you to mix up just before a workout.
We've tried a lot of sports drinks and powders and chosen the best to include below.
1. Maurten Drink Mix
The best sports drink for marathons
Specifications
Carbs:
40g in 160, 80g in 320
Reasons to buy
+
High carb content
+
Easy to digest
+
You can pretend to be Kipchoge
Reasons to avoid
-
More expensive than others
-
No real flavour
We've used these to fuel the last three marathons we've run and the most important training sessions leading up to the race, and we rate them as the best available. You don't have to take our word for it either: Maurten was also used by Eliud Kipchoge when he ran the first sub-2hr marathon in history, and many other elites use it too.
Crucial to the success of Maurten's mix is that it forms a hydrogel when it hits the stomach, which means it's absorbed more slowly. This makes the high-carb drink easier for the body to take in without causing gastrointestinal distress. The 320 mix contains a substantial 80g of carbs for a 500ml drink, and it's ideal for longer events like the marathon, while the 160 contains 40g of carbs in a 500ml drink and will help fuel shorter events and short training sessions. The Drink Mix 320 CAF 100 is the latest addition to the range, adding 100mg of caffeine to the 80g of carbs for an extra boost during your exercise.
All the powders have a neutral, faintly sweet taste, which is unlikely to either delight or disappoint – just get it down you and enjoy the results, we say. The only downside is that Maurten products are comparatively expensive, so be prepared to use them sparingly.
---
2. SiS Beta Fuel 80
A great high-carb option for your longest-lasting activities
Reasons to buy
+
High carb content
+
Easy to digest
+
Two flavours
Reasons to avoid
-
More expensive than others
Like Maurten, SiS's Beta Fuel drink provides a mammoth 80g of carbs per serving and it even comes in a similar-looking black sachet. However, the new, revamped Beta Fuel has a key difference from both Maurten and the original product, and that is the ratio of maltodextrin to fructose. The first Beta Fuel drink stuck with the standard 2:1 ratio you'll find in many products, but this has now been tweaked to 1:0.8. According to SiS, this results in more of the carbohydrates being used or "oxidised" by your muscles, taking the percentage up from 62% to 74% compared with a 2:1 ratio drink. Even if all that sounds a little too elite and marginal gains-y to you, the Beta Fuel drink is a great way to get all the carbs you need during endurance activities, and we've found it's easy on the stomach even when running.
---
3. Bulk Vitargo
A budget-friendly Maurten alternative
Reasons to buy
+
High carb content
+
Great value
Extremely high-carb drinks like Maurten's mixes and SiS's Beta Fuel can be a game-changer for endurance athletes, but they cost a pretty penny so you might not want to use them regularly during training. Bulk's Vitargo is the first alternative we've come across that provides similar benefits without breaking the bank.
Each 75g serving contains 69.8g of carbs, in the form of Bulk's patented Vitargo S2, which is formulated from barley starch. The drink created is unflavoured, and the absence of taste makes it extremely odd to consume without adding some kind of flavouring (we used squash), but if you want a whole load of fuel for a long run or ride it gets the job done, and we haven't had any gastric distress using it. You can pick up a kilo (just over 13 servings) of Vitargo for £19.99, which is substantially less than the £40-£50 you'll pay for 14 sachets of Maurten.
---
4. Torq Energy Drink
Best-tasting sports drink
Reasons to buy
+
Range of refreshing flavours
+
Added electrolytes
+
Easy to scale up for more carbs
Reasons to avoid
-
Not as high in carbs as others
We always appreciate it when a brand works in round numbers, because it helps when working out how to reach a macro target. Each 500ml serving of Torq's powder provides 30g of carbs, 10g of which are sugars, and 120 calories, in a 2:1 ratio of maltodextrin (glucose) to fructose that allows you to absorb as many carbs per hour as possible. There are also five electrolytes thrown into the mix to help replace those you'll lose in sweat during hard training. The range of flavours includes all the usual fruity options as well as an unflavoured powder; but our favourite is the delightfully sharp Pink Grapefruit, which makes a welcome change to the predominantly very sweet sports products.
---
5. Bulk Hydration Drink
An all-rounder at a great price
Reasons to buy
+
Great value
+
Added electrolytes
+
Pleasant taste
Reasons to avoid
-
Not as high in carbs as others
Each 40g serving of this drink contains over 35g of carbs, from mixed sources to improve uptake, and it also contains a range of electrolytes including sodium to ensure you're well hydrated for your workout. It's also a great-value powder, working out to 55p per serving, and both the flavours available – mixed berry and orange – are pretty tasty. It's one to stock up on ahead of a busy training plan, while perhaps saving more carb-rich options like Maurten's mix or SIS's Beta Fuel for one or two key training sessions and race day.
---
6. Lucozade Sport
It's a classic for a reason
Reasons to buy
+
Convenient
+
Tastes good
+
Added electrolytes
Reasons to avoid
-
Not as high in carbs as others
-
Less sustainable than mixing your own
It's sold everywhere, usually available in some kind of deal, and comes in a range of tasty flavours, so if you're in need of a sports drink at short notice there's nothing better than a trusty bottle of Lucozade Sport. There are 32g of carbs in each 500ml bottle, with 18g of sugars, plus sodium to top up your reserves after a sweaty session. You'll be glugging down 130-140 calories depending on the flavour, of which raspberry is the best. No need to debate us on that.
---
7. Veloforte Electrolyte Powders
Refreshing drinks in unusual flavours
Reasons to buy
+
Interesting and tasty flavours
+
Added electrolytes
+
Caffeinated option
Reasons to avoid
-
Not as high in carbs as others
-
More expensive than others
These folks lose a little credit for championing the use of Himalayan pink salt in the electrolyte powders, since it has no real benefits compared with standard salt, but that credit is clawed back by an impressively unusual range of refreshing flavours for its drink mixes – Wild Strawberry and Basil being the tastiest in our book. The drinks available offer different sporting benefits: Attivo, which is the Wild Strawberry and Basil flavour, contains electrolytes, 22g of carbohydrates and 75mg of caffeine, while Vivo (Peach, Raspberry and Rosehip) and Passo (Mango and Passionfruit) pack in electrolytes and carbs, and Solo (Golden Apricot and Sage) is just electrolytes. All the sachets are small enough to slip into a running belt so you can mix your drinks on the move.
---
8. Tailwind Endurance Fuel
Handy pocket-sized packs
Reasons to buy
+
Easy-to-carry pack
+
Nice range of flavours
Reasons to avoid
-
Not as high in carbs as others
These handy packs are the same shape as a gel sachet so they fit into a pocket easily, making them ideal for runners in long-distance events to carry until a water source is reached. Each stick pack contains two servings – you can buy single-serving packs in the US – and each serving contains 25g of carbs. There is a good range of flavours including several caffeinated options.
---
9. KMC ISO MIX
Minty refreshment packed with carbs and electrolytes
Reasons to buy
+
Refreshing flavour
+
Added electrolytes
Reasons to avoid
-
Only one flavour
-
Not as high in carbs as others
As great as Kendal mint cakes are, they're not always what you want to hydrate and fuel intense exercise, and they're somewhat tricky to eat during a hard run. That's why Kendal Mint Company made this refreshing drink, which retains the minty flavour of the cakes (with added citrus notes) and delivers 34g of carbs plus electrolytes in each serving. It tastes great, especially on hot days, and we've found that it doesn't upset our stomach during runs.
---
10. Rawvelo Organic Hydration Drink Mix
Fruity drinks made with natural ingredients
Reasons to buy
+
Great flavours
+
Added electrolytes
Reasons to avoid
-
Other options have more carbs
-
Expensive
As soon as you see Himalayan salt mentioned in an ingredient list you know you're going to be paying through the nose, but it might be worth it for these all-natural powders because both the lemon and raspberry flavours taste fantastic. The carb count isn't the highest at 21-23g per serving, depending on which flavour you opt for, but it's a useful hit of energy to get alongside the hydrating electrolytes.
---
11. Gnarly Sports Nutrition Fuel2O
Most refreshing sports drink
Reasons to buy
+
Light and refreshing
+
Fun flavours
+
Added electrolytes
Reasons to avoid
-
Not as high in carbs as others
The Gnarly Fuel2O powder might have a name that makes little sense, but we'll forgive that because of the impressive flavour of the drinks. The cherry cola caffeinated powder is the best, but there are also limeade and tropical options (caffeine-free), with all three creating a lightweight drink that quenches thirst and provides energy.
A standard serving contains 25g of carbs and 250mg of sodium to replace what you lose in sweat, but you can also add more scoops to your drink to get more carbs, though this will make the texture thicker. You can get a sack of the powder or buy single-serve sticks that are handy for making drinks during endurance events.
---
12. OTE Super Carbs
Best-tasting high-carb drink
Reasons to buy
+
80g carbs per serving
+
Forms gel in stomach
+
Added electrolytes
Reasons to avoid
-
More expensive than others
Following Maurten's success, high-carb drinks are becoming more popular with endurance athletes and OTE's Super Carb drink provides 80g of carbs per serving. It forms a gel when it comes into contact with your stomach acid to potentially reduce gastrointestinal distress. The drink also contains electrolytes to aid in hydration during your longest activities.
Unlike Maurten, however, the OTE drink is flavoured: you can choose blackcurrant or lemon and lime. Both are a little more palatable than Maurten's inoffensive but blandly sweet drinks. They're also nicer than SIS's Beta Fuel, so if you're struggling to choose between the high-carb options, OTE has the edge in the flavour stakes.
More About Supplements
Sign up for workout ideas, training advice, reviews of the latest gear and more.