The Best Exercise Bikes
Spin your way to better fitness without leaving your front room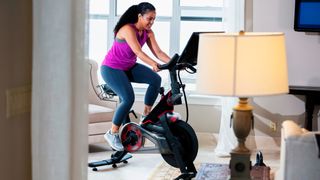 (Image credit: kali9 / Getty Images)
In many ways an exercise bike is the best piece of home cardio fitness equipment you can buy. They're more compact than a treadmill, rowing machine or elliptical, and you don't have to spend quite as much to get a sturdy, high-quality machine.
We've picked the best exercise bikes to suit a range of budgets below, from cheap and cheerful to money-no-object splurges. The bikes are in price order so you can zero in on the ones that suit your budget quickly, and you'll also find a buyer's guide to help you pick the right bike for you.
How We Test Exercise Bikes
We test exercise bikes the only way we know how: by riding them a lot. Generally we get a bike on loan for several weeks and we use it for a variety of workouts, from easy rides to heart-pumping HIIT sessions. If the bike has a partner app or Bluetooth connectivity to third-party apps we also test those out, to get the full experience.
The Best Exercise Bikes
RRP : £1,999 (plus £60 delivery) | Flywheel weight: 9.28kg | Size (cm) : 124 (L), 50 (W), 150 (H) | Max user weight : 135kg | Connectivity : ANT+, Bluetooth, FTMS, connects to multiple apps
Connects easily to Zwift and other apps
Detailed technique analysis
Great for serious cyclists
No built-in screen
Guided training sessions less engaging than classes
Expensive
Smart exercise bikes like the Atom can link up to training apps like Zwift and The Sufferfest, which make your experience far more immersive and entertaining. You pay a premium for the connectivity, but I've found the Atom is one of the better-value options. It connects seamlessly with Zwift and mirrors gradient changes in the app quickly. The Atom is also quiet as a mouse, is highly stable even when you're riding out of the saddle, offers a realistic cycling feel and displays a wealth of stats on your session if you have a tablet to rest on the handlebar stand.
The Wattbike app also contains training plans and workouts you can use to prepare for a sportive, or to focus on one aspect of your cycling, such as power, speed or endurance. The app can also analyze your pedaling technique live to help you become more efficient, and I found trying to improve on this front surprisingly engaging despite having no real aspirations of becoming an excellent outdoor cyclist.—Nick Harris-Fry
Read our Wattbike Atom review
---
Best budget folding bike for beginners
RRP : $170 / £169 | Flywheel weight: 8.8lb / 4kg | Size (cm) : 107 (H), 46 (W), 81 (L) | Max user weight : 250lb / 110kg | Connectivity : None
Great value
Compact and easy to store
Feels stable when riding
Smooth pedalling action
Quiet
No built-in programmes
No phone or tablet holder
No wheels to move it around
Light flywheel means at high intensity the floor vibrates
I used this compact folding exercise bike during rehab after a foot operation and found it a convenient way to get a low-impact workout at home. The bike feels sturdy and comfortable to ride, and the well-padded seat can be adjusted to suit a range of rider heights—roughly from 5ft 1in to 6ft 3in (155cm-190cm). It runs quietly and I wasn't worried about annoying the neighbors unless I really upped the pace, when the floor began to vibrate—something that wouldn't be an issue with a heavier machine. There are no programmes to follow here and this simple budget bike doesn't offer any connected features. The eight levels of resistance should be challenging enough for a beginner, but those looking for higher-intensity workouts would be better off spending a bit more on a more heavy-duty upright or Spinning-style bike.—Camilla Artault
---
Best for home spinning classes
Peloton bike RRP : £1,350, app subscription £39 a month | Flywheel weight : 18kg | Size (cm) : 135 (H), 58 (W), 149 (L) | Max user weight : 135kg | Connectivity : Bluetooth, WiFi, ANT+ wireless, uses Peloton app
Built-in HD screen
Enjoyable workouts in partner app
Cheapest Peloton option
Still expensive
Can't connect to third-party apps
If you've ever taken a Spinning class in a gym or specialist studio and thought you'd love to have that experience at home, the Peloton bike is your best bet. Though imitators are springing up everywhere, I'd still say the quality of Peloton's set-up is unrivaled, with a quiet, smooth-riding bike that boasts a large HD screen on its handlebars showing live classes as well as thousands of on-demand video classes.
The experience is impressively immersive, especially during live classes, and there are workouts to suit all abilities and goals. Motivation is never in short supply—the onscreen instructors beseech you to keep on pushing through every interval and to the end of every class, while the onscreen leaderboard shows where you rank for that class overall and against people of the same sex and age. As a highly competitive person, I found the leaderboard definitely kept me engaged through classes.
And a Peloton subscription gets you more than just indoor cycling videos: there are classes for all kinds of things, including strength, cardio, yoga and outdoor runs.
The only reason to hesitate is the price of the bike and monthly subscription, although it's comparable to a gym membership. If you're all about the supreme home indoor cycling experience, however, Peloton can't be bettered.—NHF
Read our Peloton Bike review
---
Best all-round exercise bike
Bike RRP : £1,990, app subscription £29 a month | Flywheel weight : 17.4kg | Max user weight : 160kg | Size (cm) : 138.2 (H), 58.9 (W), 121.4 (L) | Connectivity : Apps and streaming, WiFi and Bluetooth
Built-in HD screen
Enjoyable workouts
Screen can use apps like Netflix
Expensive
Can't connect to Zwift
The Technogym Bike is the most convincing alternative to Peloton I've come across, and actually improves upon the Peloton experience in several ways. The bike itself is an impressive bit of kit, with a 17.4kg flywheel that provides a smooth and stable ride even as you crank up the resistance and get out of the saddle, and it has a 22in (56cm) HD touchscreen on the handlebars that opens up a world of in-ride entertainment.
If you opt for the £29 monthly membership you can access live classes from London studio 1Rebel and Milan studio Revolution. However, unlike on other smart bikes, there are more sessions available to follow for free. This includes Technogym's on-demand classes, which are engaging and almost as good as a live studio session in my experience, plus scenic rides set all over the world and total-body workouts for when you're done with cycling.
One welcome difference from Peloton that has nothing to do with fitness is that you can access streaming apps like Netflix through the screen. When I wasn't in the mood for a peppy PT's HIIT session or scenic tour, I could instead stick on a favorite TV show and enjoy it on the massive HD screen. The bike can also connect to devices like Google's Chromecast to stream from your devices, unlocking even more entertainment options.—NHF
Read more in our Technogym Bike review
---
A great home spinning bike
Bike RRP : £1,199, app subscription £39.99 a month | Flywheel weight : 13kg | Size (cm) : 140 (H), 51 (W), 140 (L) | Max user weight : 136kg | Connectivity : Connects to Echelon app and HRM
Connects to partner app for workouts
Cheaper than Peloton
Enough resistance to challenge all users
No built-in screen
Expensive monthly sub
The simplest way to explain this bike is that it's a bit like Peloton – the archetypal indoor cycling bike and app service (see below) – but without the built-in monitor, although you need a device to follow the companion app. That might sound like a bad thing, but the Echelon bike is considerably cheaper than the Peloton, so you can use the saving to buy yourself a very nice tablet to slip into its holder to follow the live and on-demand classes in the app. And then you have a very nice tablet as well as an exercise bike.
You will need a subscription for the app though, and like Peloton's it costs £39.99 a month. It also includes other classes like strength and yoga sessions, and videos of scenic routes you can watch while cycling, which I found invaluable when I needed a break from the motivational spiel of the instructors.
If you enjoy the Echelon experience and do want a bike with a built-in screen, you could consider the EX-5S ($1,500/£1,349) and EX-7S (£1,999, UK only), both of which have screens.—NHF
Read more in our Echelon EX-3 review
---
Keiser m3i Lite
Home spinning classes with a communal feel
Bike RRP : $2,460 / £1,999 | Flywheel weight : 3.6kg | Size (cm) : 112 (H), 66 (W), 130 (L) | Max user weight : 136kg | Connectivity : Bluetooth connected
Smooth, quiet ride
Works with multiple apps
No built-in screen
Less slick than Technogym, Peloton, Echelon and others
A terrific bit of kit, the Keiser m3i Lite is a studio-quality bike with a heavy flywheel that provides a smooth and near-silent ride, and the resistance can be jacked up easily with the lever on the handlebars that allows you to select a "gear". It's a simple system that allows for more precision than twiddling a knob.
The pedals have both toe-cages and clips, so you can use normal shoes or cycling cleats if you have them, and there's a tablet holder on the handlebars. The console is a little basic but the bike will link up to any indoor-cycling app. There's no built-in screen to follow workouts on so you'll need to provide your own device. I found the bike itself excellent, but the lack of a built-in screen is disappointing given the price.
I tested the bike as part of London studio Digme's At Home service, which offered an option to buy or rent the bike and subscribe to the studio's service offering live and on-demand classes. Digme doesn't offer a way to acquire the bike any more but it's readily available from other retailers and is compatible with a variety of workout apps.—NHF
---
An affordable Peloton alternative
Bike RRP : £1,200, app subscription £30 a month | Flywheel weight : 4kg | Size (cm) : 122 (H), 61 (W), 122 (L) | Max user weight : 140kg | Connectivity : Connects to Apex App (iOS users only)
Connects to partner app for workouts
Easy to move bike around
Cheaper than many home spinning options
Lightweight flywheel
No built-in screen
App less impressive than rivals'
With this Peloton alternative you save not only on the cost of the bike but on the subscription to the app too, which is £30 a month rather than the more typical £40 it costs to subscribe to Peloton or Echelon. There's no built-in screen with the Apex bike, just a tablet holder on the handlebars you can use with a device to show the Apex app.
The app contains both live and on-demand workouts with a range of instructors. I found a few of them annoying, but there is enough range that you can find some to suit your style. The flywheel is light at just 4kg but I found that the bike still provides a fairly smooth ride at high speeds, and there are 30 levels of magnetic resistance so even fitter riders will be challenged.—NHF
Read more in our Apex Bike review
Exercise Bikes Buyer's Guide
What are the different types of exercise bikes?
There are a few types of home exercise bikes. The first is upright bikes, which are designed for comfort and good for beginners (as well as usually being cheaper).
Indoor or spinning bikes mimic the forward-leaning riding position of a racing bike and are great for more intense sessions and getting in shape for outdoor cycling. You'll be familiar with them if you frequent spinning classes, and there's a relatively new subset of these bikes designed to work in tandem with glossy subscription apps that stream live or on-demand spinning classes. It makes for a much more engaging experience, if a more expensive one with continuing costs, especially if you opt for a bike with a built-in screen to display the classes.
The third, and least common, kind of exercise bike you might consider is the recumbent cycle. This is the most comfortable of all thanks to the laid-back riding position, but they do require more floor space.
How much do exercise bikes cost?
You can find exercise bikes that cost under £100/£100, but they are generally folding options that aren't very sturdy and are only meant to be used for very light exercise. You certainly shouldn't attempt any kind of HIIT or spinning on them.
Good upright bikes start from around $150/£150 and are generally cheaper than indoor cycles and recumbent bikes—almost all options are under $1,000/£1,000. The cheapest indoor cycles cost $250/£250, and the price can rise to over $3,000/£3,000 if you want the most realistic ride experience.
The key extra features that you tend to get with more expensive bikes are heavier flywheels, greater connectivity (including to partner apps with guided workouts in some cases), and more preset workouts and resistance levels.
Sign up for workout ideas, training advice, reviews of the latest gear and more.
Thank you for signing up to Coach. You will receive a verification email shortly.
There was a problem. Please refresh the page and try again.