How We Review And Recommend Products On Coach
Find out how we test and rate products, as well as why you can trust us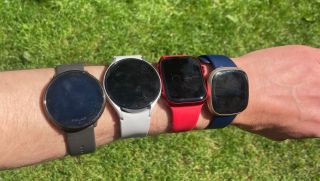 (Image credit: Jonathan Shannon / Future)
We think exercise and activity should be enjoyable, and the right product can help you get more out of your leisure time as well as supporting you in pursuit of your fitness goals. We want to help you identify a type of product that could make a positive impact on your life and understand the differences between models to find one that fits your needs.
We don't offer you the objective truth about a product because what one person may love, another may hate. But we do offer honest, informed opinion based on in-depth knowledge and real-world experience.
There are four principles that underpin our approach to testing and recommending products:
1. We are independent and give you our honest opinions
We take our role as service journalists seriously and want to help you make well-informed decisions. Advertisers can never buy a review, and reviewers are kept separate from commercial discussions.
We believe nothing is perfect and actively search out the flaws so you can decide if you're prepared to live with them.
We receive products to test from manufacturers, PR agencies and third-party retailers, but don't promise positive reviews. We don't worry about negative reviews affecting access to future releases, because we've been plenty negative up to this point without issue.
2. We find out how the sausage gets made
Have you ever wondered what "sweat wicking tech" in gym wear actually is? Or what the UVA star rating means on sun cream in the UK? Of course not, you're a normal person, but we have, and we search out the answers to these questions so we can better assess products.
We also interview independent experts and product designers to better understand the limits of what's on offer. So, for instance, we ask doctors about SpO2 monitors on fitness trackers and dietitians about supplements (we prefer dietitians to most other nutrition experts because they are regulated by law and abide by an ethical code of conduct).
This makes our buying advice distinctive and illuminating. Our party chat less so.
3. We use the product extensively
A review means we have received the product and used it. We spend an extended period of time using a product as it is intended to be used in the real world.
We don't confine ourselves to "labs", because unless you are an overworked scientist you don't live in one. We also don't overstate our ability to test with the utmost accuracy because we can't control conditions in the real world, but we will give our general observations.
We're very active individuals, especially senior writer and chief tester Nick Harris-Fry, who prides himself on running at least 30miles (50km) in every pair of running shoes. We'll also detail the extent of our testing in our review so you know we've put the product through its paces.
4. We have dedicated reviewers for product areas
Using a product is one thing; being able to compare it with the competition and earlier generations is quite another.
Taken individually, the best running watches from Garmin, Polar, Coros and others will help you make more of your leisure time and train towards a new PB – but only someone who's tried them all can draw out the differences and help you decide which will suit you best.
We endeavour to develop expertise in a product category by using the same reviewer in that category wherever possible.
How We Rate Products
We use a five-star rating system for our reviews. In almost all cases we don't give a star rating for something we don't have a stand-alone review for (the exception is healthy meal delivery services and recipe boxes, where we run mini reviews on the round-up pages).
All star ratings should be read within the context of the price and competition. A $20 pair of workout headphones and a $200 pair may both receive 4.5 stars, but they are not equivalent.
Here's what each rating means.
5 - Excellent. Best in class. The yardstick by which we measure the competition. Any flaws are very minor.
4 - Good. Meets and exceeds expectations for the product category. Has flaws you may or may not choose to accept.
3 - Adequate. Meets the basic expectations for the product category, but fails to distinguish itself.
2 - Poor. Doesn't reach the basic expectations for the category.
1 - Very poor. Rarely used because we don't cover non-functioning products. The only exception would be covering a popular product from a recognisable brand that we believe readers should be warned about.
Editorial Awards
We have two awards we may give to products we have tested.
Editor's Choice is reserved for products in an area where we have a wide range of in-depth reviews. As well as the very best, the award recognises features that make it stand out from the competition in some way.
Recommended is used to mark products which excelled in a group test. These will not have stand-alone product reviews.
Contact Us
If you have any comments about how we review products or don't think we've kept to the standards we've set, please feel free to let us know. Our contact details can be found on the About Coach webpage.
Sign up for workout ideas, training advice, reviews of the latest gear and more.
Jonathan Shannon has been the editor of the Coach website since 2016, developing a wide-ranging experience of health and fitness. Jonathan took up running while editing Coach and has run a sub-40min 10K and 1hr 28min half marathon. His next ambition is to complete a marathon. He's an advocate of cycling to work and is Coach's e-bike reviewer, and not just because he lives up a bit of a hill. He also reviews fitness trackers and other workout gear.