The Best Massage Guns Reviewed And Ranked
We took a pummelling in order to pick the leading percussive therapy gadgets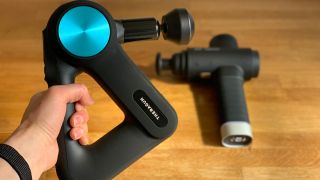 (Image credit: Sam Rider / Future)
Massage guns are next-generation foam rollers: devices designed to activate muscles before exercise and accelerate recovery afterwards. They draw on a technique called percussive massage therapy, where pressure is rapidly applied to the soft tissue of a muscle to help break down knots and boost blood flow, flexibility and mobility.
Since the launch of the Theragun, the first successful device of its type, in 2016, rivals have waged an arms race to compete with the US brand. Yet the benefits of percussive therapy aren't particularly well established. "There's no scientific, PubMed-based evidence on the Theragun itself," Claire Small, clinical director of Pure Sports Medicine, told us.
In fact, there's very little gold standard, peer-reviewed research on percussive soft tissue massage, with a machine or otherwise, and Small goes into more detail below, along with her colleague Andy Stanbury, head of soft tissue therapy. Yet that hasn't deterred an army of athletes and sports stars who use them to gain an edge on their opponents.
While the jury might still be out on their benefits, massage guns are certainly more fun to use than foam rollers. If you have the funds to add a massage gun to your exercise arsenal, we've found the key points of difference are battery life, noise, power and range of attachments. Here we've taken a pummelling to bring you our thoughts on the best massage guns in the recovery range right now.
The Best Massage Guns
Travel-friendly massage that still packs powerful percussion
Specifications
Interchangeable heads:
No
Reasons to buy
+
Useful app offers helpful guidance
+
Compact
+
Lightweight
+
Ergonomic grip
+
As powerful as top-end mode
Reasons to avoid
-
Not the most elegant-looking
Don't let looks deceive. This is mini by name but mighty by design. Theragun's travel-friendly massage gun can deliver a wallop with three speeds of 1,750, 2,100 and 2,400 percussions per minute. Despite its size, it's actually less discreet than some of the more robust alternatives – which we discovered to our horror when our bag started vigorously vibrating on a recent commute to work – but almost half as heavy as the Hypervolt. It also lasts longer with a battery life of 2½ hours.
Read more in our Theragun Mini review
---
Expertly engineered massage gun for the everyday user
Reasons to buy
+
Expertly engineered
+
Ergonomic multi-grip handle
+
Clever app with step-by-step guidance
Reasons to avoid
-
Elite price
-
Relatively long charge time
Theragun Elite is a premium percussive therapy tool, just one rung below Therabody's top-end PRO model. It features the same signature multi-grip triangular shaped handle to make it easier to target the back of the legs and upper back, the same OLED screen and five in-built speed settings, ranging from 1,750 to 2,400 percussions per minute.
An 80-minute charge will power up the Elite for 120 minutes of life, enough for almost two weeks if you adhere to Therabody's recommended five minutes of use, twice a day. It also comes in a robust, hard-shell carry case and with five closed-cell polyurethane foam head attachments that strike the perfect balance between hard and soft.
The Elite is a joy to behold, a pleasure to use and, crucially, £174 cheaper than the PRO. For us, it's the massage gun to beat in a fiercely competitive field.
Read more in our Theragun review
---
Power, battery life and app-friendliness combine to great effect
Reasons to buy
+
Elegant machine
+
App easy to navigate
+
Excellent routines and guidance
+
Impressive power and battery life
+
Significantly cheaper than main rival
Reasons to avoid
-
Expensive
-
Overkill for amateur use
-
Pressure alert light visible only from behind
The Hypervolt 2 Pro is built for elite-level athletes with a price to match. The latest evolution of the Hypervolt Plus, its speed settings have jumped from three to five, ranging from 1,700 percussions per minute to a sector-leading 2,700 PPM. In comparison, the rival Theragun PRO tops out at 2,400 PPM. A swish digital dial replaces the old push button for switching speeds and there's a new pill-shaped handle, although we found we preferred the old design on both counts. More usefully, the Hypervolt 2 Pro's battery life has also been upgraded to keep going for three hours, up from 2.5. However, its best feature is the accompanying Hyperice App, which boasts a vast library of Bluetooth-enabled guided routines to help you make the most of your expensive new toy.
Read more in our Hyperice Hypervolt 2 Pro review
---
---
Professional-grade pummeling
Reasons to buy
+
Beautifully designed
+
Versatile multi-grip handle
+
Intuitive app and guidance
+
Dynamic, customised routines
+
Dual batteries for continuous use
Reasons to avoid
-
Expensive
-
Noisier and significantly more expensive than main rival
-
Offers similar features as next model down
The Theragun PRO is an exquisitely crafted, pleasingly tactile device that provides five built-in speeds from 1,750 to 2,400 PPM and a range of professional-grade features. Its limitless run time, thanks to two interchangeable 16V rechargeable batteries, and versatile multi-grip handle help it stand at the pinnacle of the massage gun market, while the Therabody app guides users through the optimum grip, force, frequency and technique to target each muscle. But can it justify that eye-watering price? It should deliver tangible ROI for serious athletes and massage therapists, but it's a harder sell for everyday gym-goers and runners when the Theragun Elite (£375) and Prime (£275) offer similar features.
Read more in our Therabody Theragun PRO review
---
A great value elite-level massage gun
Reasons to buy
+
Fantastic value
+
Comparatively quiet
+
Huge battery, broad speed range
+
Robust carry case
Reasons to avoid
-
Disappointing attachment heads
-
Basic user guide and accompanying app
-
Lacks integration with third-party health apps
-
Handle is cumbersome
This UK brand's sleek, minimal, top-end massage gun is one of the fastest, lightest elite-level devices around. Its industrial-grade, energy-efficient brushless motor allows the gun to fire at 1,400, 1,800, 2,200, 2,600 and a supersonic 3,200 PPM, while weighing less than a kilo and delivering a notably lower, more tolerable sound than its direct competitors. One single hour of charge returns an impressive five hours of use – twice that offered by the industry-leading Theragun PRO, and it comes in a smart, compact carry case.
Despite its impressive hardware, its four basic attachment heads let it down somewhat, and its app falls short of the interactive functionality offered by Therabody and Hyperice. Nevertheless, at almost a third of the price of the PRO and 10.5oz (300g) lighter, it punches well above its weight.
Read more in our MuscleGun Carbon review
---
Best mid-range massage gun
Reasons to buy
+
Beginner-friendly
+
Compact and portable
+
Easy to handle
+
Long-lasting battery
+
Broad range of speeds
Reasons to avoid
-
Lacks power for advanced gym-goers
-
Inferior head attachments
-
No compatible app for guided massage
At a smidge over three figures, yet capable of delivering percussion 800ppm above some of the leading contenders, the R3 Mini could be one of the best pound-for-pound massage guns on the market. Its five speed settings start at 1,800ppm and max out at 3,200ppm, while registering a pleasingly discreet 45 decibels. Combined with its desk-friendly dimensions and mere 680g in weight, the R3 is equally suitable for use at home, in the office or on your travels. The only drawbacks are a lack of Bluetooth-enabled apps for guided routines and suitable head attachments to help users make the most of this compact, modestly-priced massage gun.
Read more in our Renpho R3 Mini review
---
7. Core Balance Massage Gun
Big on power but light and portable, this is a budget-friendly contender
Reasons to buy
+
Lightweight
+
Portable
+
More interchangeable heads than most
+
Excellent battery life
Reasons to avoid
-
Lacks design flourishes of pricier models
Core Balance might not carry the cachet of a Theragun or Hypervolt, but this massage gun more than holds its own. It's light and portable at just 600g, delivers up to 2,400 percussions per minute and comes with six interchangeable heads, plus its rechargeable battery goes for six hours – longer than any other here. It has also been designed to cut off after 10 minutes of continuous use so you don't get overstimulated. How considerate.
---
8. HoMedics Pro Physio Massage Gun
Versatility is the name of the game with a gun that does hot AND cold
Reasons to buy
+
Detachable hot and cold heads
+
Solid battery life
+
More interchangeable heads than most
HoMedics' Massage Gun adds an extra dimension to percussive massage therapy with the introduction of heat therapy. Its three intensity settings range from 2,100 to 3,000 percussions per minute and a full charge will run for 3½ hours, but its standout features are detachable hot and cold heads. The heat head can be warmed up to 47°C within two minutes to help alleviate tightness and increase blood flow to stiff muscles. The removable gel head goes in the freezer before use to gently cool your muscles after especially spicy sessions.
The Expert Take On Percussive Therapy
Is it really worth splashing out on a massage gun? Here's an expert take on the science behind percussive therapy from Claire Small and Andy Stanbury, clinical director and head of soft tissue therapy respectively at Pure Sports Medicine.
What is percussive therapy?
"Percussion is a method within the realm of soft tissue therapy," says Stanbury. "It can be done using your hands with tapotement, which is just rapid movement of the hands in different shapes to create a vibration effect in the tissue.
"It creates a wave of vibration. The tissue in the body responds to different types of pressure, and really it [percussive therapy] is creating a rapid pressure, the closer to the skin the harder it is. You can get a similar effect from a massage, or fascial cupping.
"The aim is to improve things like blood flow, flexibility, mobility, and general freedom of movement and recovery, through the removal of byproducts that sit in the tissue because of restrictions preventing them from flowing as they should do through the body."
What is the scientific evidence like behind the Theragun and percussive therapy?
"From a scientific perspective, there's no scientific, PubMed-based evidence on the Theragun itself," says Small. "And there's very little specifically on percussive soft tissue massage, with a machine or anything else.
"There is a bit on vibration therapy, and it does show that it can have an effect on products like creatine kinase and blood lactate, which are byproducts of muscle damage and breakdown, and it can have an influence on cortisol levels. Using a tennis ball, or a foam roller will also produce those sorts of results."
Elite athletes use the Theragun, so is it fair to assume there's some kind of benefit to it?
"There are a lot of elite athletes who have it, but it's not used in isolation," says Stanbury. "What we see in adverts and on social media is the claim that this is what allows them to turn up and play on the weekend, and break records, but really it's just 1% of what's underpinning that. They all have access to medical practitioners, strength and conditioning coaches, soft tissue therapy… This is the tail end of it to give them that marginal gain, that 1%, but they're also doing the other 99% consistently. What you tend to get with the general public is this kind of technology is used as the 99%."
"We used to have people trying to sell us products and the argument was, 'This is used by AC Milan, or Manchester United'," says Small. "But they have unlimited budgets, and they're looking for anything that can make a 1% difference, which is understandable. If you can give every player a Theragun and say to use it for ten minutes a day, and that gives you some slight difference, you're going to do that aren't you? But if a normal person is spending that money out of their own pocket, there are better things they can spend it on."
If you have a massage gun how should you use it?
"To get the most value out of the device, go and see a clinician and get ideas about how to use it effectively for you," says Small. "It's like everything – you get more effective results if you individualise it. What works for you won't necessarily work for someone else. Buying a Theragun is like buying a TRX. It's just equipment. What you need to know is how to use it effectively."
"Because there isn't an abundance of research we don't know what the carry-over is in performance vs everything else," says Stanbury. "If you believe that it [the Theragun] has an impact, then as long as it doesn't negate your performance I don't see what the problem is, but what you need to appreciate is that it's not a standalone tool to improve performance."
Sign up for workout ideas, training advice, reviews of the latest gear and more.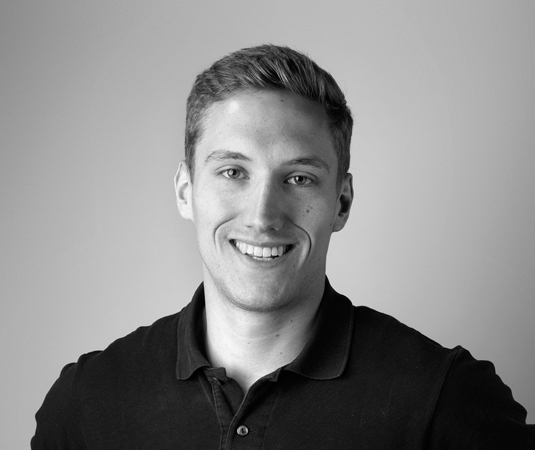 Sam Rider is an experienced freelance journalist, specialising in health, fitness and wellness. For over a decade he's reported on Olympic Games, CrossFit Games and World Cups, and quizzed luminaries of elite sport, nutrition and strength and conditioning. Sam is also a REPS level 3 qualified personal trainer, online coach and founder of Your Daily Fix. Sam is also Coach's designated reviewer of massage guns and fitness mirrors.