The Best Foam Rollers
Ease your aching muscles after exercise with a spot of self-myofascial release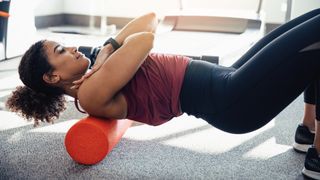 (Image credit: Vitapix / Getty Images)
Everybody's foam rolling these days. Runners, cyclists, weightlifters… you name it, they're doing it. That's because once you know how to use a foam roller it's apparent how it helps the body recover from tough bouts of exercise.
If you've embraced the idea of foam rolling, then you need to get a foam roller. And although the effects of rolling are largely similar with different rollers, they come in many shapes and sizes. So to help you decide which is right for you, we've listed some of our favourite options and put together a buyer's guide below with contributions from soft-tissue therapist Anna Gardiner.
The Best Foam Rollers
TriggerPoint Grid Roller
Best traditional foam roller
Specifications
Size:
13in x 4.7in / 33cm x 13cm
Reasons to buy
+
Different patterns on surface
+
Portable
Reasons to avoid
-
Hollow core may be less durable
This traditional foam roller design features three patterns on the surface to mimic different parts of a massage therapist's hands. There are large flat sections which stand in for the palms, tubular bits for the fingers and nobbles for the fingertips. The EVA foam used is pretty firm and the roller itself is 33cm long, which is long enough to accommodate any muscle while still being short enough to make it easy to manoeuvre around your back.
---
Hyperice Vyper 3
Best vibrating foam roller
Specifications
Size:
13in x 5.4in / 33cm x 13.7cm
Reasons to buy
+
Three levels of vibration
+
Two-hour battery life
+
Partner app
Even on the lowest of its three settings the Vyper 3 delivers a powerful level of vibration that helps to boost your recovery during rolling sessions. The shape of the roller has been redesigned from the Vyper 2 with contours to make it more comfortable when working areas like the spine. The Vyper 3 lasts two hours on a charge and has a partner app that contains guided routines and general advice on how to get the most from the roller, which you will want to do given its high price.
---
Amazon Basics Foam Roller
Best budget foam roller
Specifications
Size:
2in / 18in / 24in / 36in (30.4cm / 45.7cm / 61cm / 91.4cm)
Reasons to buy
+
Good value
+
Range of lengths
Reasons to avoid
-
Not always in stock
-
Maybe too firm for some
While textured and vibrating rollers with partner apps are all very exciting, there's no real need to get too fancy with your foam roller, so the Amazon Basics range of solid rollers is worth checking out. The rollers come in four lengths – 12in, 18in, 24in and 36in – and there's even a range of colours. The main downside is that the rollers are so popular that they're often out of stock, so you may not always have access to the exact length and colour you want. They're also firmer than a hollow roller, and a softer hollow option may be a better starting point for those new to foam rolling.
---
Riixo Ice Ball
An icy massage ball for cooling relief
Reasons to buy
+
Liquid core can be frozen
+
Silicone side to hold
+
Stays cold for six hours
Reasons to avoid
-
More expensive than other massage balls
This massage ball has a liquid core that you can freeze for a side of ersatz cryotherapy alongside the self-myofascial release as you roll your aching muscles on it. The ball will remain cold for up to six hours after a couple of hours in the freezer, and it has a textured silicone side to hold so your hand doesn't get frostbite as you roll it.
Foam Roller Buyer's Guide
To help you understand what foam rolling can and can't do for you, we sought expert advice.
About Our Expert
Anna Gardiner is a soft-tissue therapist with a practice based in the south-west of England, treating recreational athletes as well as those who compete nationally. She holds a BTEC Level 5 qualification in soft-tissue therapy from the Institute of Sports and Remedial Massage and additional qualifications in kinesiology taping, dry needling and strength and conditioning. Anna is also a writer and contributor to Coach.
Why foam roll?
"Muscular aches and pains come with the territory when we participate in sports regularly and, indeed, are part of the process of load and strengthening adaptation," says Gardiner. "It's normal for our muscles to be fatigued from training and to feel some discomfort or tightness in the soft tissue. We need to help the tissue repair so that overload injuries don't occur. The recovery process is as important a part of training as the actual exercise session, and there are many recommended aids to enhance recovery including sports massage, nutrition, sleep, compression clothing, cryotherapy (ice baths) and foam rollers.
"As a soft tissue therapist I'm a big fan of sports massage and use a combination of massage, neuromuscular/muscle energy techniques, and soft tissue release that targets muscles, tendons, ligaments and fascia to relieve tension and speed up recovery. Of course, this isn't possible after every session, and so I often recommend foam rollers as another option.
"The scientific jury is out on the efficacy of rollers but I'm an advocate for the placebo effect—if it feels like it's helping then it is. Foam rolling does cause some stress to soft tissue and should be used cautiously and with advice or guidance from a professional. If it's actually painful then you may be doing more harm than good. There are various types of foam rollers on the market and it's helpful to know which ones are worth investing in."
What are the different kinds of foam roller?
"The key differences between foam rollers relate to their size, firmness and surface pattern—smooth or knobbly," says Gardiner. "Then there are vibrating foam rollers, which mimic massage more closely. Longer rollers are good for working on large muscles and your back, while smaller (sometimes handheld) rollers can target smaller muscle areas and are, obviously, more portable."
Types Of Foam Roller In-Depth
Smooth Foam Rollers
"These are generally the cheapest and most commonly available, and they have different densities—soft, medium or firm," says Gardiner. "Soft rollers have more give and so are suitable for more comfortable massages, those times when we're feeling more sensitive to discomfort, or when our soft tissue is particularly sore. Medium-density foam rollers are for those who feel they need a deeper massage but with some cushioning, and the hard density type is for people who have a just-get-in-there attitude."
Knobbly Foam Rollers
"These are textured with raised ridges or knobs that are designed for targeting pressure points or trigger points," says Gardiner. "There's some discussion as to what trigger points actually are but they're often described as areas of tightly contracted skeletal muscle tissue which can be hypersensitive and the act of targeted massage can help to 'deactivate' them. They can give a more intense, varied, deep tissue massage than smooth foam rollers and are great if you have specific points of tension.
"However, it's possible that what you might think is a trigger point is actually a small muscle tear, in which case applying excess pressure could do more harm than good. Knobbly foam rollers can only provide an intense experience which isn't always ideal post-workout when the body is already stressed."
Vibrating Foam Rollers
"Vibrating foam rollers combine the benefits of conventional foam rolling with the added feature of vibration, which some studies have shown to be twice as effective as traditional foam rolling," says Gardiner. "The vibrations help to soothe the feeling of tightness in muscles and soft tissue and can feel more relaxing, making them suitable for times when you're experiencing physiological tension from lifestyle factors other than sports.
"The settings allow for a more or less intense experience depending on how you're feeling that day. Vibrating rollers come at a greatly increased cost but it's worth spending a little more for an experience more closely resembling an actual treatment from a sports massage therapist."
---
More Recovery Tools
Sign up for workout ideas, training advice, reviews of the latest gear and more.