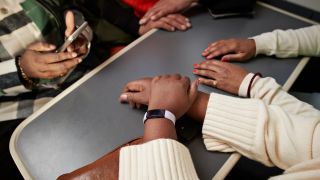 (Image credit: Getty Images / Klaus Vedfelt)
Whether you're considering buying your first fitness tracker or planning to upgrade your current one, it's worth familiarising yourself with what's available and what these devices can now do. Fitness trackers used to be glorified pedometers, and by the number of articles still written about 10,000 steps you'd be forgiven for thinking they still are. But even the most basic tracker now tracks your heart rate and will tally any activity that counts towards the 150 minutes of cardio the WHO, NHS, CDC, American Heart Association and others recommend. And it'll track your steps too.
The more expensive devices have the ability to record and estimate all kinds of metrics across almost every sport and healthy activity, and guide you towards better health and possibly improved performance. That's a dizzying array of promises and features, and we can help you make sense of it and find the best fitness tracker for you.
The Coach team have been testing all manner of fitness trackers, GPS multisport devices and smartwatches for in-depth reviews since 2017, giving us practical, hands-on experience of using devices from all the major brands and familiarity with generations of the most popular lines.
Below you'll find our top fitness tracker picks, based on years of testing, for people who are looking for an all-rounder. We've included a few GPS sport watches and smartwatches that fit the bill and stand out from the competition, but if you're after something specific, you may well find it out with our selections of the best running watches, best fitness smartwatches or best swimming watches.
The Best Fitness Trackers
Our favourite Fitbit fitness tracker
RRP: $129.95 / £109.99 | Battery life: 5 days | GPS: Connected GPS
Stylish
Easy to use
Helps to form healthier habits
Small, hard-to-read screen
Lacks on-board GPS
A sleek, stylish tracker in a stainless steel case, the Fitbit Luxe goes beyond keeping tabs on your general activity and sleep, adding a stress management score out of 100 and a meditation function.
The Luxe offers basic sports tracking, piggybacking on your phone's GPS, but the small screen means it's not the easiest to see data while exercising. The Fitbit app, however, is a treasure trove of data, although it requires a Premium subscription ($79/£79 a year) to get the most out of it.
One of Fitbit's three-strong line-up of bands, the Luxe is less expensive than the chunky Fitbit Charge 5 ($149.95/£129.99), which offers GPS and more smartwatch features. If you're looking for better battery life than the five days the Luxe offers, the Fitbit Inspire 2 ($99.95/£84.99) has similar features plus 10 days of battery life, although it's not nearly as chic.
Read more in our Fitbit Luxe review
---
RRP: $279.95-$299.95 / £249.95-£279.95 | Battery life: 30 days | GPS: Connected GPS
Attractive hybrid design
Health tracking features including ECG
Long battery life
Intuitive to use
Small screen for stats and notifications
Sports tracking is not great
If you prefer the look of an analogue watch but still want top-notch health tracking then the ScanWatch is the obvious choice. The understated, stylish design and slim build of the watch belie the clever tech it contains: it can track your heart rate and blood oxygen saturation, and take a medical-grade ECG measurement. It will also record your activity and track your exercise and sleep too. While the sports tracking is basic compared with a dedicated watch, the detailed sleep tracking is up there with the very best.
A small circular screen on the top half of the watch face shows essential stats, with more detailed information available in the partner Withings Health Mate app. It syncs seamlessly with the watch and explains clearly what the watch records, so you can interpret what's good or bad. To top it all off, the battery lasts 30 days on a charge, so the illusion of an analogue watch isn't undone by daily trips to the charger.
Read more in our Withings ScanWatch review
---
Xiaomi Mi Band 6
The best fitness tracker under $50 / £50
RRP: $44.99 / £39.99 | Battery life: 14 days | GPS: Connected GPS
Great value
Bright AMOLED display
Slim and lightweight
No built-in GPS
Battery life not as long as listed
The Xiaomi Mi Band 6 offers a huge amount of features for such a small and cheap tracker. As well as tracking your everyday activity and 30 different sports, it also has a blood oxygen saturation sensor and measures your stress levels throughout the day. All the info it records is displayed to great effect on the bright 1.56in (40mm) AMOLED screen, which is the main upgrade on the Band 5, which had a 1.1in (28mm) screen.
Naturally there are some drawbacks which you'd expect at this price. The tracking is not always perfectly accurate and there is no built-in GPS, though the Mi Band 6 can link up to a phone to use its GPS when recording outdoor activities. It's also worth noting that the battery life will be considerably shorter than the 14 days given if using the band regularly to track exercise, though it will still last a week on a charge with heavy use.
---
The best fitness smartwatch
RRP: From $399 / £419 | Battery life: 18 hours | GPS: Yes
Improved software for sports tracking
Great design
New temperature sensor
Half the price of the Apple Watch Ultra
One-day battery life
Only works with iOS
The Ultra has better sports features
If you have an iPhone to use it with, the Apple Watch is the best smartwatch to get, and while the Apple Watch Ultra is a bit sportier than the Series 8, the latter is half the price and we prefer its sleeker design. As well as being a great smartwatch, the Series 8 offers excellent daily activity tracking and great sports tracking since the watchOS 9 software update improved the native app.
The key advantage of the Apple Watch is the App Store, which contains a fantastic array of activity and sports tracking apps, and even sleep tracking apps to improve the basic native tracking available on the watch.
Read more in our Apple Watch Series 8 review
---
The fitness tracker disguised as a discreet, analogue watch
RRP: $179.99 / £159.99 | Battery life: 5 days | GPS: Connected GPS
Stylish analogue looks
Lightweight and comfortable
Provides helpful snapshot of overall health
Fiddly touchscreen controls
Small screen is hard to read while exercising
Garmin app hard to navigate
The most affordable device in Garmin's Vivomove range, the Vivomove Sport has a minimalist analogue watch face that will suit casual exercisers who don't want to look like they're wearing a fitness tracker.
The Vivomove Sport is a solid fitness tracker with good health and activity tracking and access to a wealth of data free of charge in the Garmin app (Fitbit, take note). As well as basic health data and sleep tracking, the device can monitor your stress levels and the body battery score rates your reserves out of 100 – a helpful reminder to rest when you're getting run down.
You can strap on similar features for less with the Garmin Vivosmart 5 ($149.99/£129.99), but we were put off by that device's monochrome screen.
Read more in our Garmin Vivomove Sport review
---
RRP: $149.95 / £129.99 | Battery life: 7 days (5 hours GPS) | GPS: Yes
Improved design with AMOLED touchscreen
ECG and EDA measurements
Great sleep and activity tracking
Inaccurate GPS and HR tracking
Big jump in RRP from previous generations
Uncomfortable silicone band
The Charge 5 is the first in Fitbit's popular line of bands to have a colour screen, and it's also 10% thinner than the Charge 4, with a more appealing, rounded design. It adds new sensors that allow it to take electrocardiogram (ECG) measurements and an electrodermal activity (EDA) scan. It will also feature Fitbit's forthcoming Daily Readiness Score. It has most of the features on Fitbit's Versa and Sense smartwatches, but in a more compact design.
We have had some problems with the accuracy of the built-in GPS during outdoor activities, and you will need a Fitbit Premium subscription to get the most out of the Charge 5 (a six-month membership is included, then $9.99/£7.99 a month). However, it is still a top-notch fitness tracker and the most feature-rich band Fitbit has ever made.
Read more in our Fitbit Charge 5 review
---
A Fitbit Charge 5 alternative with a sensational screen
RRP: £129.99 (UK only) | Battery life: 7-10 days | GPS: Yes
Great value
Attractive design with bright screen
Good sleep and activity tracking
Music storage (if using an Android phone)
HR and GPS inaccuracy
Some features unavailable on iOS devices
The Huawei Watch Fit 2 is packed with features and on paper looks to be a great sports watch, smartwatch and fitness tracker all rolled into one. It is a terrific activity and sleep tracker with an attractive design, although we found its sports tracking a little lacking. The smart features are limited as well, although the fact Android users can load music on it gives it a palpable edge on similarly-priced trackers.
The AMOLED screen in particular stands out as larger and brighter than the display on the Fitbit Charge 5, which the Watch Fit 2 provides stern competition too thanks to the rounded feature set it offers, though the Fitbit has a slicker user experience.
Read more in our Huawei Watch Fit 2 review
---
Best beginner running watch
RRP: $199.99 / £149.99 | Battery life: 14 days (20 hours GPS) | GPS: Yes
Comfortable, light design
Suggested workouts
Good battery life
No navigation features
Limited training analysis
No music storage
The Forerunner 55 is Garmin's entry-level running watch, but that description undersells it because really it has all the essentials runners of all levels need to track their training, plus some useful extra features on top. It has built-in GPS and a heart rate monitor, offers structured workouts and guided training plans you can follow from your wrist, and tracks several other sports alongside running – though it doesn't have a triathlon mode, which the Coros Pace 2 (below) does at the same price.
Compared with its predecessor the Forerunner 45, the 55 has several helpful new features for runners. These include Garmin's Track Run mode, a recovery advisor which estimates how long your body will need to recover from its exertions. There are also suggested workouts each day, so you can outsource all the planning of your training to the watch. The 55 also gets a battery boost , offering 20 hours of GPS tracking as opposed to 13 on the 45. However, if those new features don't excite you then it's worth looking for the 45 in sales since its price often drops.
Read more in our Garmin Forerunner 55 review
---
Best all-round sports watch
RRP: $349.99-$399.99 / £249.99-£299.99 | Battery life: 14 days (30 hours GPS) | GPS: Yes
Superb sports tracking
New size options
Lightweight design
Price rise
Didn't get Garmin's new training readiness feature
Battery life is just OK
The price of the best running watches can top four figures, but there's little need for even the most ardent runner or triathlete to look beyond the Garmin Forerunner 255. It offers accurate and detailed tracking for a range of sports, has multisport and open-water swimming modes for triathletes, and will also analyse your training and provide workout suggestions to help you keep improving.
It's also a great general activity tracker, and will feed the data it tracks on your sleep and general activity into its recovery analysis to help you plan your workouts. The Forerunner 255 also has other useful features like breadcrumb navigation with turn-by-turn directions, plus music storage and the ability to link up with Spotify on the Music versions of the watch.
---
A stylish and sporty watch with excellent sleep tracking
RRP: $329.95 / £289 | Battery life: 5 days (30 hours GPS) | GPS: Yes
Attractive and light design
AMOLED screen
Useful sleep tracking
Laggy software
Poor GPS accuracy
Short battery life
Awful strap
We have some reservations about the Polar Ignite 3, which sometimes frustrated us during our testing owing to laggy performance and inaccurate GPS tracks, but for the most part it's a great fitness tracker with a stylish design. The AMOLED screen is impressively bright and the Ignite 3 is very thin and lightweight, which makes it comfortable to wear at all times (as long as you swap out the silicone strap it comes with, because that did irritate our skin).
The Ignite 3 will suggest workouts to you daily based on how rested and recovered you are, prompting you to do cardio, strength or supportive sessions like stretching. It's one of the best sleep trackers out there too, even telling you the times you're likely to be more alert each day based on your previous night's sleep.
Read more in our Polar Ignite 3 review
---
Best entry-level multisport watch
RRP: $199 / £179 | Battery life: 20 days (30 hours GPS) | GPS: Yes
Great battery life
Useful training analysis
Excellent value
No navigation features
No music storage
This lightweight sports watch offers an awful lot for under £200, matching the features of Garmin and Polar devices that cost twice as much. The Pace 2 even outdoes them on the battery front, providing 30 hours of GPS and lasting a couple of weeks on a single charge.
If you're a runner or a triathlete, this is the most full-featured budget sports watch you'll find, with accurate tracking, training plans, structured workouts, running power measured from the wrist and the ability to connect to pretty much any external sensor. The Pace 2 will also track everyday activity like steps and calories, but it doesn't have any smart features or the more fashionable design of devices from the likes of Fitbit and Apple.
Fitness Tracker Features Explained
Step counting
Before heart rate monitors became standard, keeping track of your steps was the reason you'd wear a device all day, rather than just strapping one on for a workout. An accelerometer in the device senses movement and software translates certain movements into steps. It's an imperfect method to say the least, as anyone whose fitness tracker has buzzed to celebrate a step goal while you're sitting on the bus will know.
That's not to say counting steps is pointless. Movement – steps or otherwise – is good and more movement is better, and it's the little encouragements and challenges to induce you to move more and move regularly that can be beneficial to your health.
Heart rate monitoring
It was once a feature restricted to high-end trackers, but most wearables now offer 24/7 optical heart rate tracking.
With heart rate tracking comes a wealth of other information, including an estimate of your VO2 max and resting heart rate, both of which are good measures of your overall cardiovascular fitness. High-end sports trackers also use heart rate tracking to provide info on the effect of your training session and how long you should spend recovering afterwards.
Optical tracking is usually pretty accurate during day-to-day life, but is more hit and miss during exercise, especially intense workouts. That can be especially problematic when certain tracker brands offer training sessions to follow that rely on you working on certain heart rate zones. Getting a tight fit with your tracker can help, but don't expect miracles – if you want more accurate heart rate tracking it's wise to link your device to a chest strap via Bluetooth or ANT+ if possible.
ECG measurements
There are several fitness trackers available now that can take a medical-grade electrocardiogram (ECG) measurement from your wrist, which you usually do by holding your finger against one part of the device for 30 seconds. These ECG scans can detect atrial fibrillation, ie an irregular heartbeat – a common condition, but one you will want to get checked out by your GP if a device does detect it.
Watches with the ability to take an ECG reading also often be able to monitor your heartbeat proactively to detect abnormally low or high heart rates, or prompt you to take an ECG if they spot any signs of an irregular heartbeat.
ECG-enabled fitness trackers require a CE mark in the UK and Europe, and an FDA certificate in the US. This means some devices that can technically do it don't actually offer the feature yet while this certification is pending. Those that already have both a CE mark and FDA approval include the Apple Watch, the Fitbit Sense 2, and the Withings ScanWatch.
Stress tracking
Fitness trackers that have the ability to measure your heart rate variability – the time between your heartbeats – can use that info to rate how physically stressed you are. The higher the variability in this time the better, because it means your body is in relax mode, whereas low variability means your body is in action whether that's because you're digesting food, processing alcohol or just heading into an important meeting.
This state of physical stress is completely normal, but it does need to be balanced with downtime, which is usually when you're asleep. Devices with stress tracking use your heart rate variability to give you a stress score, usually a simple number out of 100, which can be helpful in identifying whether you're giving your body the chance to relax and recover regularly.
Sleep tracking
Sleep is just as important as exercise and diet when it comes to your overall health. Many trackers now record how long you spend asleep and break that down into periods of deep, light and REM sleep, allowing you to gauge your sleep quality.
This information can be useful if you pay attention to what might be responsible for a bad night's sleep (eg booze) or a good one (eg no booze), but there is a limit to how useful this information can be. It's not like steps where you can actively try harder to get more. However, the better devices can help nudge you towards better habits, allowing you to set reminders for a consistent sleep schedule.
GPS tracking
The addition of a GPS chip in the device means your tracker will accurately record speed, distance and elevation during outdoor activities like running and cycling. Cheaper trackers will use an accelerometer to estimate distance covered, with mixed results – see the perennial "fitness tracker doesn't accurately track a marathon" story that comes out before the London Marathon every year. That exposé uses an accelerometer, while virtually every runner in the London Marathon will be using a GPS tracker. Some trackers offer an in-between option that connects to your smartphone and uses its GPS signal to offer more accurate tracking, which obviously means you need to have your phone on your person throughout your session.
A device with built-in GPS capability will be far more accurate in measuring distance than an accelerometer's estimate, but it's still not perfect. A manufacturer may decide to take readings less frequently to save the battery, which is why when you zoom into a map of your tracked route it can look as if you've passed through a building. Since a GPS signal is reliant on line of sight between your device and a satellite, it also means clouds and running in built-up urban areas can skew readings. If you're committed to exceptionally accurate tracking, look out for trackers that offer "all systems on" or multi-band GPS tracking. The former means the device can use several satellite systems to track you, such as GLONASS and Galileo alongside GPS, while multi-band means it can use multiple frequency bands (usually two) to get a more precise fix on your location.
Customisable workouts
Having an intervals mode on your fitness tracker is useful for guiding you through not just interval runs but all types of workouts, if only because it will stop you extending your rest sections beyond what they should be. You'll find a simple intervals mode on most fitness trackers, but for more complex customisable workouts you'll generally need to spend more on a sports watch. Running and triathlon watches often have the ability to set up more complex workouts too, with work periods based on targets like distance, heart rate or pace, rather than just time.
Some sports watches will go beyond that and actually make suggestions for the training you should do each day. Polar watches offer this through the FitSpark feature, which analyses how well you recover at night and then suggests workouts based on how fit you are to train on that particular day. Garmin also offers suggested workouts for running and cycling on most of its sports watches.
Navigation
If you're keen on exercising outdoors then navigation is a great feature to look out for. It will not only stop you getting lost mid-run, hike or ride, but it'll also help you to explore new places and avoid repeating the same routes near your house until you're thoroughly bored with them. You can find basic breadcrumb navigation – where you get a line showing a preloaded course and pointer to show your position – on mid-range watches, while the best sports watches like the Garmin Fenix 7 offer full maps and on-the-go route mapping.
Swim tracking
Almost all trackers offer some degree of water resistance, which means you can run in the rain or take a shower with them on, but if you're a keen swimmer you need not only a fully waterproof design, but also a dedicated swim tracking mode.
We recommend settling for nothing less than the ability to track your laps in the pool automatically. More advanced watches will also offer stroke recognition and record stats like stroke rate and SWOLF – a measure of your efficiency in the water. Triathletes will also want an open-water swimming mode that uses a device's GPS.
Play music
Having space for music on your tracker provides one more reason to leave your phone behind when exercising. Most smartwatches offer this feature now, and while all can stream stored tracks, some – like the Apple Watch – can handle their own data connection through either Wi-Fi or, if you're happy to pay a monthly data fee to a mobile network, a 4G Sim.
We think the ability to sync with streaming services wirelessly is a key feature to look out for here. Being able to transfer over your favourite exercise playlist via wires is useful, but you can end up listening to the same music over and over again because let's face it, plugging things in is a pain. If you can link to Spotify (which Garmin, Apple, Samsung and Android watches do), Apple Music (Apple Watch) or Deezer (Garmin and Fitbit) and update that playlist wirelessly it's much easier to put new tracks on your watch. However, you'll need a premium account for those streaming services to use this feature, no matter which watch you use.
NFC payments (contactless)
With the ability to make payments from your watch, you can also leave your wallet behind when exercising outdoors. Smartwatches from tech companies like Apple and Samsung have got this down, having partnered with all the big banks when bringing payments to smartphones, but Santander is the only high street bank working with Garmin and Fitbit. More challenger banks are signed up, though, and there are third-party services available that are the digital equivalent of pre-paid debit cards.
Best Fitness Trackers FAQs
Which fitness tracker is the most accurate?
We test every fitness tracker we review thoroughly and this often throws up some inaccurate readings, whether that's for daily activity like steps and calories burned, or when tracking distance and pace during workouts. With regards to activity tracking stats we've found that devices across a wide range of brands are similarly accurate, unless they use a different method for counting steps (for example Polar will award steps based on other activity, like swimming).
For sports tracking the most accurate GPS trackers we've used are Garmin's sports watches with dual-band GPS, such as the Forerunner 255, Epix 2 and Fenix 7. Apple's latest watches are also highly accurate for GPS.
For heart rate monitoring most fitness trackers will struggle at times during workouts to maintain a reliable reading using an optical monitor. But in general smaller, lighter watches that you can tighten snugly against your wrist usually get the best reading.
Nick Harris-Fry is a journalist who has been covering health and fitness since 2015. Nick is an avid runner, covering 70-110km a week, which gives him ample opportunity to test a wide range of running shoes and running gear. He is also the chief tester for fitness trackers and running watches. At the last count, he had reviewed more than 75 devices for Coach.