The Best Compression Boots For Recovery Tested During Tough Marathon Training
Sit back, relax, and let these pneumatic compression boots help your legs recover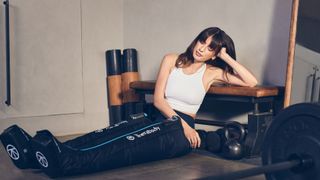 (Image credit: Therabody)
Like massage guns before them, compression boots are making a move into the mainstream. Having started as a medical device to aid circulation, the boots have become popular with sportspeople as a way to speed up their recovery.
For all the tech wizardry involved, the idea behind the boots is simple. They fill with air to squeeze your legs and promote better blood flow, getting rid of metabolic waste generated by your training. This can help to reduce soreness and swelling, and get you back on your feet sooner to train again.
The benefits of compression to aid recovery are well established and there's no real risk to using boots unless you ramp the pressure up until your legs tingle or go numb – don't do that.
However, the boots can cost a lot, and you should think very carefully about whether the outlay involved is really going to be the difference in your training regime. Could you, for example, do a bit more stretching and get to bed earlier rather than spending serious money on a set of compression boots?
We'll let you make the call, but having tested several sets of the boots during a tough block of marathon training comprising 70-mile (110km) weeks, we are certainly fans. Being able to kick back and let them squeeze your legs better while watching TV is the easiest way to boost recovery we've yet tried.
The Best Compression Books Tried And Tested
Best compression boots for convenience
Specifications
Pressure range:
25, 50, 75 and 100 mmHg
Battery life:
240 minutes
Reasons to buy
+
Wireless design
+
Fast flushing for more cycles
+
Can be controlled by the app
Reasons to avoid
-
More expensive than others
There are three sets of compression boots in Therabody's range, with the Jetboots sitting between the RecoveryAir Prime ($699/£599) and RecoveryAir Pro ($1,299/£1,129). All three sets inflate and deflate to aid recovery, but the Jetboots' key feature is that they don't need to be plugged into a console, with integrated pumps on the base of the boots and mini console to control them on the top.
This wireless design is highly convenient and while you get more customisation options on the RecoveryAir Pro boots, we rate the portability of the Jetboots as a more valuable feature, especially since they are cheaper. The boots connect to the Therabody app and can be controlled from there rather than on the console, and they are easily cleaned and come with a soft drawstring carry case.
A notable advantage of all the Therabody boots is that they can inflate and deflate quicker than other sets. This means you get more cycles of pressure for the time spent in the boots, which means faster recovery. It's all about the cycles, says Therabody.
Read more in our Therabody RecoveryAir JetBoots review
---
Long-lasting boots with lots of customisation
Specifications
Pressure range:
30-150 mmHg
Battery life:
300 minutes
Reasons to buy
+
Lots of preset routines
+
Wide pressure range
+
Long battery life
+
Quiet
The Recovapro Air boots offer a great range of modes, along with time and pressure customisation, and the five-hour battery life means you'll get through a week or two of sessions without having to charge the console.
Along with warm-up and recovery modes for athletes, there are several modes designed more for general health, like the Flow mode which is designed to prevent varicose veins. The boots don't connect to an app, but the console is well designed and makes it simple to select the mode, duration and pressure you're after. It also runs surprisingly quietly so having the boots on didn't impair my ability to hear the TV.
The boots come with a gym-bag-style carry case that has sections to make it easier to pack them away with the console.
Read more in our Recovapro Air review
---
Best compression boots for customisation
Specifications
Pressure range:
Seven levels, 110 mmHg
Reasons to buy
+
Lots of customisation options
+
Partner app
+
ZoneBoost to target individual areas
Reasons to avoid
-
No carry case
-
Rivals have higher max pressure
-
Short battery life
The Normatec 3 Legs let you customise your massage session down to the finest detail. The boots link to a partner app where you can set the time, pressure and number of cycles you want to help you recover (or use one of the many preset routines). The ZoneBoost feature even allows you to target one muscle area to get some extra time under higher pressure.
Although they don't have a hoseless design like the Therabody pair, the Normatec 3 Legs are easy to set up and use, and you can adjust the pressure and ZoneBoost feature on the console during your session. The max pressure is only 100 mmHg (110 mmHg with ZoneBoost), which was enough for us, but those seeking a tighter squeeze will prefer the Recovapro Air boots. One gripe – there's no carry case included despite the high price, and it's an extra $150/£195 if you want to buy the Normatec one.
Read more in our Hyperice Normatec 3 Legs review
---
Best budget compression boots
Specifications
Pressure range:
Four levels
Reasons to buy
+
Great value
+
Can target areas to massage
Reasons to avoid
-
Mains powered
-
Less effective than full boot
-
Have to manually adjust Velcro
Compression boots are typically very expensive, so we'll gladly overlook some shortcomings compared with pricier models to get a workable set for under three figures. The Renpho leg massager uses three panels, rather than full boots, and you have to set the size by adjusting the Velcro fastenings.
They also need to be plugged in, rather than running off a battery, which means the spots you relax in are restricted to those in range of a wall socket. In our experience, not having a full boot also means the pressure doesn't feel as effective in massaging the muscles.
All that said, the massager still does a good job of getting the blood flowing, and it costs so much less than most other boots that it's a worthwhile option. There's also a version of the massager that has a heater in the calf and upper leg sections, which sounds very pleasant indeed.
Read more in our Renpho Air Compression Leg Massager review
---
More Recovery Products And Guidance To Consider
Sign up for workout ideas, training advice, reviews of the latest gear and more.