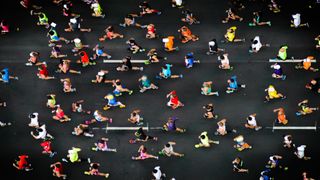 (Image credit: iStock / Getty Images Plus)
You've only gone and done it. You've committed to running the big one. A marathon. The full 42.2km. And make sure you keep that 0.2km in mind, because trust us when we say that you won't believe how long the final 200m can feel on race day.
For many people, their first marathon is a genuine life highlight. And it'll be a real test of your physical and mental strength. Once you cross the finish line, you'll feel a sense of euphoria that's hard to match – but you have to get there first.
Assuming you have at least four or five months before race day itself, you have plenty of time to get yourself into shape for a marathon, but it's always better to start as early as possible to give your body time to adapt to the rigours of regular running. If you're still six months or more away from race day you don't necessarily have to dive straight into a full training plan yet – but getting out for one or two runs a week now, and gradually increasing the distance over time, will make starting a plan so much easier when you do begin to ramp up your mileage in preparation for the race.
This guide contains everything you need not only to finish a marathon, but to finish it in grand style. For some that means flying over the finish line with a huge new personal best; for others it means not having to crawl the last two (point two) kilometres.
Marathon Training Plans
Find the right training plan – one that suits both your target time and current fitness – and you're halfway there. The other half is following that training plan closely, which is admittedly a lot harder than picking it.
You might wonder why you can't just go out and do whatever running you want when training for a marathon. It's just running after all, so doing a load of running in the build-up will help you, right? Not quite. A structured plan involves a variety of runs that prepare you to complete 42.2km in as smooth a fashion as possible. It also builds up gradually to reduce your risk of injury. If you just go out and run at the same (probably too fast) pace all the time, your training will become a real chore and you're likely to burn out or get injured well before your race.
Coach has a range of 14-week marathon training plans for all aims and abilities, and each of them involves several types of run. There are interval sessions to help build your speed, tempo runs to improve your ability to sustain your marathon pace, and long runs to build the endurance required to complete 42.2km in one go. Each plan also includes a lot of easy running, which helps to condition your body for the marathon while also allowing it to recover from your harder runs. The balance of all these is key – even if you're an experienced runner, that balance is very easy to get wrong if you're simply winging your preparation for an event.
Now you're presumably convinced by the merits of following a marathon training plan, it's time to pick yours. Below you'll find more info on all our free training plans to help you find the one that's right for you.
14-Week Beginner Marathon Training Plan
You don't need to be running already to tackle this plan, but you do need to be active in some way, as you run a steady 5K at the end of the first week of training. It's ideal for an especially busy marathoner, as you only need to commit to three runs a week plus one core workout. The target marathon finish time is five hours, but you can run much quicker on this plan if you discover an innate running talent.
See the beginner marathon training plan
14-Week Intermediate Marathon Training Plan For A Sub-4hr Finish
This plan is good for both regular runners tackling their first marathon and those who are looking to bring down their time. You do four runs a week including a couple of sprint or hill sessions – just the ticket for improving your marathon pace.
See the intermediate marathon training plan
14-Week Advanced-Intermediate Marathon Training Plan For A Sub-3hr Finish
If you have the time and existing fitness to tackle five runs a week, you can fit in a variety of quality sessions – including hills, sprints, easy runs and long runs – which will stand you in good stead whatever your target marathon time is.
See the advanced marathon training plan
Picking Your Marathon Running Shoes
Let's start at the bottom. You're going to be spending a lot of time in the shoes you use for your marathon training, so it's important to get the right ones. If you already have a preferred style and brand, then stick with them – if it ain't broke, don't fix it. If it is broke, in that you are uncomfortable in your shoes or pick up a lot of injuries, or if you're a beginner runner with no shoes at all, then it's worth getting your gait analysed.
Many running shoe shops perform a gait analysis free. A quick run on a treadmill will help an expert ascertain if you overpronate (where your foot rolls too far inwards when it lands) or underpronate (it doesn't roll far enough), or if you are a neutral runner. More advanced gait analysis will also look at how your entire body moves when running, but this is probably only worth doing if you are suffering from a lot of injuries and then it's best to visit a physio for advice.
Once you know the right type of shoes for you, test some on a treadmill in the store if possible. Going for whatever feels best is a good rule, even if it runs counter to advice from others.
You want a well-cushioned shoe for marathon training, because you'll be racking up a lot of distance. If you can stretch to more than one pair, it may also be worth buying a lighter, less cushioned pair for faster interval sessions in training and maybe race day itself.
One last point in this section: do not, under any circumstances, buy a shiny new pair of shoes at your marathon expo and wear them for the first time on race day. That goes for all your gear – you want tried-and-tested stuff that won't annoy, chafe or injure you.
Are Carbon Plate Running Shoes Worth It?
If you have any interest in the world of running you'll no doubt have taken note of the carbon plate racing shoes that have come to the fore in recent years. At the time of writing we've tested (or are testing) all the carbon shoes out there bar two and have logged many a PB in them. We're convinced they do offer a performance edge, especially over longer events like the marathon.
However, before you rush out and buy a pair, it's worth knowing a few things. Firstly, carbon shoes are very expensive and don't tend to be very durable, so you will need to save them for the odd crucial training run and races. That means buying at least one other pair of shoes on top of the £170-£260 you'll fork out for a carbon plate pair.
Secondly, the high stacks of cushioning in most carbon shoes are mostly made from a soft and springy foam. That's lovely on race day because it protects your legs and keeps you moving, but it makes for a more unstable platform, so if you have pronation problems this kind of shoe may not be for you. Some carbon shoes are better on this front than others though, so use our review run-down to pick out the firmer options that could be better for you.
There's also debate about whether the shoes perform for every runner. Some suggest that it's really only elites who benefit from the technology. However, there certainly seems to be enough evidence – both anecdotal and more scientific – that suggests amateur runners can enjoy significant performance gains with something like the Nike Vaporfly. Although, of course, it's hard to decipher exactly what is down to the shoes and what is down to better training, or favourable conditions on a given day.
If you intend to buy yourself some shiny new carbon shoes it's also worth noting that, as good as they are, they won't do the running for you. You need to train hard and view them as the cherry on top. We can certainly attest to the fact that hitting the wall while wearing the Vaporfly hurts just as much as hitting the wall wearing any other shoe.
RECOMMENDED: The Best Carbon Plate Running Shoes
The Running Gear You Need For A Marathon
When it comes to your marathon outfit, it's worth investing in technical garb that wicks sweat away and doesn't irritate. Don't forget to extend these principles to your socks and underwear. You might only run one marathon in your life, so it's worth splashing out on some top-quality kit to make sure the memory isn't ruined by blisters or *shudders* chafing.
You'll also need a method to carry some kind of sustenance with you while you run. There will be drinks on the course, but if you're using energy gels or bars, you should bring ones that you're used to with you to avoid any stomach… unpleasantness. A running belt with space for your gels, water bottle, phone and headphones is a useful purchase. You could buy a running armband instead, but in our opinion belts are better.
RECOMMENDED: The Best Running Gear
How Can Tech Help You?
When you're preparing your body to complete a marathon you should follow a training schedule set by a qualified run coach. This plan will invariably have you running multiple times a week and doing different types of runs – some long and slow, some fast and short, and various other combinations of distance and pace. It pays to follow a plan as closely as possible, and that's where tech can help.
To follow a beginner marathon training plan like Coach's, you could easily get by with nothing more than a stopwatch to make sure you're sticking to the time the training plan is asking you to run for and a GPS run tracker on your phone to make sure you're sticking to the distance asked of you. GPS is the American satellite system that phones, sat navs and the like use to establish your location. A GPS run tracker simply uses this information to map your progress, telling you how far you've gone and how quickly.
If you don't mind spending the money, fitness trackers offer a highly convenient combination of stopwatch and basic run tracker. Just make sure to buy one with connected GPS (where the fitness tracker connects to your phone and uses its GPS signal) or built-in GPS. Virtually all fitness trackers have that capability now but it's worth double-checking.
When you're training by running sessions at different paces, it's extremely useful to have that information on your wrist. A tracker with a heart rate monitor – again, virtually standard – can help you gauge if you're putting in the right amount of effort in, even if you're struggling to hit the required pace that day for whatever reason (a hilly route, a bracing headwind, feeling a bit run down, etc).
The more you spend – trackers go up to close to four figures – the more likely it is that your device will offer other features like coaching you through each run, providing insights into your running form and the effect of your training, and helping you to tweak it for the better.
If you're new to running and are taking a fundraising, one-and-done approach to a marathon, free running apps like Strava, Runkeeper or Nike+ Run Club that allow you to track your runs and review them later are your best bets.
If you have been running for a while and want to make the step up to marathon distance or are training towards a target time, we'd recommend a basic GPS running watch like the Garmin Forerunner 55 ($199.99/£179.99) or Coros Pace 2 ($199/£179.99). These reasonably priced watches are able to track all your stats and coach you through guided workouts and training plans, although Garmin is yet to release a full marathon training plan.
Spend around £300 and you'll get a tracker with not only a vast array of running stats but also smart features including music storage and streaming. Pair it with wireless running headphones and you can cover all the training mileage with your choice of entertainment and without your phone. The best best running watch at this price is the Garmin Forerunner 245 Music (£299.99), a terrific device that will satisfy the key needs of any runner as well as having space for music and the ability to wirelessly sync playlists if you have a Spotify Premium account.
Most will find all they need for less than £300, but if you want to treat yourself to more advanced navigation features and training feedback, check out the high-powered watches available. The Garmin Forerunner 955 ($499.99 / £479.99) and Garmin Epix 2 ($899.99-$999.99 / £799.99-£999.99) are our top picks for runners if money is no object. Both will give detailed feedback on whether your training is productive or if you're overdoing it (we strongly recommend pairing a chest strap heart rate monitor to get the most out of this feature), and what kind of training you should do more of – interval work or recovery runs, for example.
On top of that, these watches have music and full colour maps on board, so you can always find a new route to liven up your training – trust us, it can be a real shot in the arm when you're running three or more times a week. Both also include Garmin's PacePro feature, which will help you pace your race perfectly, providing individual mile or kilometre split targets to keep you on target for your overall goal.
RECOMMENDED: The Best Running Watches
How To Fuel Your Running
During your training the main general dietary advice is to ensure you're eating enough carbs to fuel your exercise, protein to help your muscles rebuild and recover, and fruit and vegetables to keep your immune system in good shape – especially if you're training in the winter.
When we spoke to Ali Nolan about her book on marathon training for women, told us that "every nutritionist, dietitian and sports medical doctor I talked to said in general, when marathon training, women are eating too few calories and don't realise."
You need to also start thinking about in-run nutrition and hydration when your training runs are longer than 90 minutes. Make sure you increase your carb consumption before those runs, and consider carrying gels or another source of carbs with you to restock during the run. Running gels are popular because they are easy to carry and consume on the move.
Staying hydrated is also vital, and this means topping up electrolytes like sodium as well as glugging down plenty of water. Sports drinks contain electrolytes as well as carbs, or you can buy hydration tablets you dissolve in water to create an electrolyte-rich drink.
For your final few long runs before the marathon you should be trying to replicate the nutrition you will be using on race day itself so your body gets used to the gels and drinks. Gels in particular can upset your stomach, and how they affect you varies from brand to brand, so keep trying till you find one that works for you.
RECOMMENDED: Running Supplements For Marathon Runners
How To Avoid Injury
When training for a marathon most people do a lot more running than they have ever done before. Hopefully this should not be news to you. Given that the most common cause of running injuries like plantar fasciitis, runner's knee, shin splints and achilles tendonitis is a rapid uptick in the amount of running done, it's not surprising that lots of would-be marathoners are struck down with injury during their training.
A gradual, managed increase in your training mileage is key to avoiding injury. If you're following a training plan, this will be taken into account. If you don't follow a particular plan, try and avoid massive increases in your total weekly distance – making consistent increases of around 3-5km is a good rule to follow when marathon training.
If you miss a couple of weeks for whatever reason, you'll also need to adjust your plan accordingly. It's unwise to go in at week eight, for example, if you missed six and seven. Instead look at what you did in week five and build a little faster than on the plan, maybe catching up with the plan by week 12 or so. This is especially true for your long runs. If you haven't run for two weeks and try to knock out the 25km listed on your plan when you're not ready, you are asking for trouble.
Strength training that focuses on your legs and core will also help prepare your body for the demands of running a marathon. Exercises like squats, calf raises and lunges will strengthen your legs, while yoga and Pilates are good options for both stretching your tired muscles and building core strength. You'll also find a foam roller becomes essential.
Another thing to check if you are picking up niggles constantly is whether you're wearing the right kind of running shoes for you.
Some injuries are completely unavoidable, of course, and even if you do everything you can to prepare your body for the demands of marathon training it can break down. Be sensible about it if that does happen – go and see a physio, and don't worry if it ultimately means that you can't run your marathon. There will always be another race, as long as you don't destroy your body by running through the pain.
Strength Training For Marathon Runners
Adding some strength training to your routine brings with it two major benefits to your running.
"Number one is robustness and injury prevention," says Sean Kazab, trainer for fitness app Fiit, which has a Marathon Prep collection of strength, stretching and Pilates sessions to help support your training. "Then number two is performance."
The kind of strength work you should do is similar to what you'll see everyone else doing at the gym, with a focus on improving your leg and core strength through fundamental movements like squats and lunges. However, your ultimate aim of running a marathon means you should avoid really heavy lifts like the back squat, which can really fatigue you.
"Your strength training should involve a lot of unilateral work," says Kazab. "You can stress muscles with less systemic fatigue – you can really smash those legs with a lunge, for example, but you will use less overall weight so your nervous system will get less fatigued. And unilateral work also will help iron out any imbalances that you get from running."
How much strength training you do will depend on your level of experience. "The good news is that for most beginners, you can do very little and get results," says Kazab. If you're new to resistance training one to two times a week should be plenty, but whatever your starting point it's important to not to go overboard. Kazab recommends letting soreness be your guide: "If you're sore from your strength training going into your long runs, you're probably training with too much volume or too much intensity."
Lastly, when it comes to fitting strength training around your running, it's best not to use your recovery days to do strength work. Keep those entirely clear so you get a break.
"We talk a lot about physical fatigue but there's also mental fatigue, and stepping away from training is really important," says Kazab. "Do your strength training on an easier run day, and do it as the second session of the day rather than the first."
RECOMMENDED: The Fundamentals Of Strength Training For Runners
What Should You Do Besides Running?
Cross training is a key part of any marathon training plan. We've touched on how strength training, yoga and Pilates can reduce your risk of injury, but that isn't the only reason to add some cross-training to your weekly schedule. Strength and mobility work will also improve your performance when running, so they are essential for anyone training to beat their best time.
You can also swap some of the running in your training plan for other cardiovascular exercise like cycling, swimming or the cross-trainer. As long as the session is intense enough, you'll get the same cardio benefits as you would from running, and it might help break up your training so you don't get bored. Furthermore, if you're starting to feel a niggle it might be worth swapping your run for a session in the pool or on the exercise bike, which will allow you to get your training done while giving your body a break from the specific impacts of running. And if you're training during the UK winter, you'll probably be only too glad to head indoors for a workout once in a while.
RECOMMENDED: Cross-Training For Runners
Should You Join A Running Club?
The long road of marathon training feels a lot shorter if you're travelling it with others, whether you manage to find a buddy working towards the same race as you, or just getting out for the odd group run here and there with a club.
Many traditional running clubs put on special marathon training groups ahead of major events like the London Marathon, and you often don't need to be a full club member to join in with these. You'll generally have to pay to join them, but the cost will be minimal and in return you'll get training buddies along with a whole lot of invaluable advice from experienced runners who have done one or more marathons already. United Kingdom Athletics can help you find your local club.
There are also some free running clubs. Usually these are created in partnership with a brand, though this type are all in London to our knowledge, or through a running shop like Runners Need. While the training might not be marathon-specific, you'll be able to join in with others for a couple of runs a week, reducing the solo workload you have to face.
Any run you can do with others will be a little easier, and having committed to meeting people to run will help you find the motivation to turn up in the first place. Joining a running club is by no means essential when training for a marathon, but we will say that there's a good chance you'll enjoy the process more if you do and are less likely to make rookie mistakes. And if you have any plans to continue running after completing your marathon, joining a club will help keep your passion burning for the sport.
Sign up for workout ideas, training advice, reviews of the latest gear and more.