The Best Energy Bars To Fuel Your Exercise
Avoid running out of gas by chowing down on these energising treats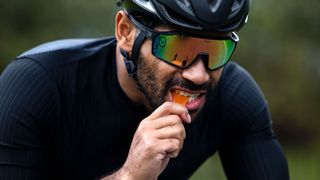 (Image credit: Science in Sport)
While energy gels have become the go-to source of fuel for most runners and cyclists, there are times when the craving for solid food is insatiable. Energy bars might be a little less convenient than gels, especially if you're trying to eat them mid-run or ride, but they make up for that by being altogether more satisfying – and many people also find they're less likely to cause stomach issues.
Energy bars, by their very nature, are high in calories and carbohydrates, which means that (a) you should do some exercise before or after eating them and (b) they tend to be delicious.
For most exercise that lasts less than 60 minutes you can get all the energy you need from your normal diet, but if you're tackling long training sessions, or working out a couple of times a day, then a little extra boost is no bad thing.
Here are some great options to consider if you're on the hunt for a bar to fuel your training.
---
Maurten Solid 225
Performance-focused bars for immediate energy
Specifications
Flavours:
Classic, chocolate
Reasons to buy
+
Low in fibre
+
Easy to eat quickly
Reasons to avoid
-
Sweet
-
More expensive than others
The Maurten Solid bars are made from a mix of oats, rice and sugar and are focused on sports performance, rather than being a satisfying snack for general use. They are low in fibre to reduce the risk of gastrointestinal distress if you eat them just before a run, and the fructose-glucose syrup they contain is easier for the body to absorb quickly than the complex carbs used in some bars.
While you're less likely to reach for the Maurten Solid bars when feeling peckish in the office – especially given the high price – they still taste pretty good, if very sweet.
---
OTE Anytime Bar
Best snack bar
Where OTE's other energy bar, Duo, is made with simple carbs and is ideal for wolfing down before a hard training session, the Anytime bar is better as a general daytime snack. It's a flapjack-style oat bar that comes in 10 flavours, with the chocolate-orange and apple and cinnamon bars standing out in our testing. The nutritional info varies with each bar, but they are all high in carbs and calorific, so they're not the smartest snack choice on sedentary days. But they're great for keeping energy levels topped up during tough training weeks.
---
SiS Beta Fuel Energy Chew
Best energy chew
Reasons to buy
+
Gummy texture
+
Small size
+
Glucose/fructose mix
Reasons to avoid
-
Cheaper options available
-
Less satisfying than a bar
The texture of a chew is closer to a gummy sweet than a traditional bar, which makes it easier to eat during an event or training session. Each 60g Beta Fuel bar contains 46g of carbs, and those carbs come in a 1:0.8 glucose:fructose ratio. SiS says this proportion, which is found across the Beta Fuel range, makes it easier for the body to use than the more common 2:1 ratio. What's undeniable is that you're getting a substantial dose of carbs in a small bar that's also tasty and easy to eat during exercise, though still best consumed beforehand.
---
Kendal Mint Co KMC NRG Bar
A modern take on the classic mint cake
Specifications
Flavours:
Mint, chocolate mint
Reasons to buy
+
Minty flavour
+
High in carbs
+
Added electrolytes
Reasons to avoid
-
Only minty flavours
-
Pure sugar
Kendal Mint Cakes have gone modern. This new energy bar adds electrolytes and B vitamins, as well as ditching the word "cake" in favour of initials to really appeal to the next generation of outdoor activity enthusiasts. Of course, the one thing no-one can change is that the sugary, minty bars are delicious no matter what they're wrapped up in.
There's a classic plain (or White) bar or a chocolate-covered version and both pack in glucose-y goodness, to the tune of 83g of carbs in the 85g mint bar and 48g of carbs in the 50g chocolate-mint bar. With almost all those carbs coming from sugars, this isn't a snack to satisfy your sweet tooth in the middle of a working day – it's best saved for when you really need the energy, like when you're halfway up a mountain and realise there aren't any pubs around for lunch.
---
Clif Bar
Best energy bars overall
Reasons to buy
+
Big flavour range
+
Great taste
+
Easy to find
Reasons to avoid
-
Easy to overeat
-
Hard to chew during intense activity
When it comes to flavour, there are very few energy bars you'd genuinely opt for over a more hedonistic snack like a Snickers, but Clif Bars are among the exceptions to the rule. The range of flavours is magnificent, including such superb options as white chocolate macadamia nut and blueberry crisp, and new options are appearing all the time. All the classic bars are satisfyingly chewy and there are now nut butter-filled options that are perhaps even more enjoyable during a hike or when you take a break in a long run or cycle.
The nutritional content of Clif Bars varies with the flavour, but generally you're getting over 40g of carbs, 3-4g of fibre and around 7-10g of protein. And sure, they're pretty sugary at around 20g per bar, but when you're using them to fuel epic outdoor activities you don't need to worry about that too much.
---
OTE Duo Bar
Next-level rice crispy cakes
Specifications
Flavours:
Vanilla, chocolate
Reasons to buy
+
Two portions
+
Easy to eat and digest quickly
These aren't your grandma's rice crispy cakes, although you could be forgiven for thinking otherwise when you first unwrap them. However, the two Rice Krispies-like bars contained in each packet have been designed by professional sports nutritionists to deliver what you need to excel in your exercise endeavours. There are 20g of carbs in each bar, so 40g in the 65g packet in total, plus 7g of protein.
There are vanilla and chocolate flavours, both of which are sweet though bland by design – OTE also has the Anytime snack bar, which is more flavourful and designed to be eaten anytime, while the Duo bar is more performance-focused.
---
Lucho Dillitos Bocadillo
Guava energy blocks in biodegradable packaging
Specifications
Flavours:
Classic guava, coffee guava, raspberry guava, acai guava
Reasons to buy
+
Natural energy source
+
Biodegradable packaging
Reasons to avoid
-
You need to like guava
-
Lower in carbs than others
From Colombia comes a product that's sure to give you a quick energy boost. Bocadillos are made from the guava plant and not much else – the only other ingredient in the original flavour is sugar (15%), with raspberry, acai and coffee versions also available. As to the taste, it's jelly-baby sweet, as befits a product that has 22.4g of carbs per block, of which 100% is sugars. There's not much else except a trace of salt, plus vitamin C, calcium and iron (plants FTW). And the whole thing is wrapped in a biodegradable banana leaf.
---
High5 Energy Bars
Fruity bars that are easier to eat on the go
Specifications
Flavours:
Banana, berry, caramel, coconut
Reasons to buy
+
Easy to eat while exercising
+
Mostly natural ingredients
+
One of your five-a-day
Reasons to avoid
-
Lower in carbs than others
These bars are made from a mix of oats and dried fruit, and there's enough of the latter to count as one of your five-a-day, which is a bonus for an energy bar. They're designed to be eaten before or during exercise, which means they're easier to chew and swallow than the other bars on this list.
There are five bars in the range but we've not included the peanut bar here because it's different from the others, with more protein and calories but fewer carbs, so stick to the four listed to fulfil your energy needs.
---
Veloforte Natural Energy Bar
Best-tasting energy bar
Specifications
Flavours:
Classico, Ciocco, Di Bosco
Reasons to buy
+
Tastes great
+
Natural ingredients
Reasons to avoid
-
More expensive than others
-
Chewy
For an altogether classier energy bar experience, look to Veloforte. The all-natural bars are stylishly packaged and have fancy names for each flavour. The taste is fantastic, with the Classico and Di Bosco bars even picking up Great Taste Awards in 2017. Fruity and nutty are the two words that describe the flavours best, and the texture is on the chewy side – you'll struggle to get a bar down mid-activity, but they're a top option beforehand or during breaks. Each 70g bar contains around 40g of carbs, 3-5g of fibre and 5g of protein.
---
There are plenty of fancy ideas and newfangled recipes on this list, and 80-year-old baking company Soreen isn't getting left behind – oh no. It's taken the malt loaf it's famous for and made it into a malt loaf… bar. As the maxim should go, if it ain't broke, make it fit in a pocket. And it certainly ain't broke: the slow-release carbs, B vitamins and amino acids make the squidgy, sweet treat a favourite of athletes from disciplines as varied as running and rugby. The bar contains 24g of carbs per 42g serving, but weighs in at a surprisingly light 124 calories for what is a dense, heavy snack.
More About Supplements
Sign up for workout ideas, training advice, reviews of the latest gear and more.