The Best Phone Armbands For Running
Strap your gear to your arm for hassle-free running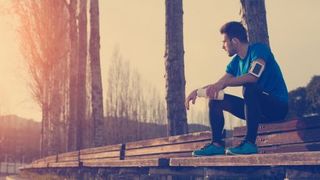 (Image credit: Unknown)
You have a few different options if you want to carry some essentials with you while you run, none of which are perfect. Carrying stuff in your hands is annoying, as is putting it in a pocket where it will slap against your thigh with every step, while a running backpack is overkill most of the time.
A running belt can be a good solution if you have to carry a few things, though they can also irritate if they bounce around while running. But if you're just looking to carry a phone, card and keys on your run, an armband is probably your best bet.
They sit right against the arm so they don't move around as you run, and although the increasing size of phone screens can make them a little unwieldy when strapped to your arm, in our experience you get used to it. All in all, an armband is probably the least intrusive option for carrying a few essentials during a run.
Here are the best armbands you can buy right now.
---
Lululemon Fast And Free Run Armband
If you've found that cheaper armbands chafe your arm, it may be worth investing in this more comfortable option. It's made with lightweight Ultralu, a combination of nylon and Lycra that's delightfully soft, and the double hook fastenings are both secure and easy to adjust. It's a good option if you use your phone to listen to music while you run, because there's a gap to connect wired headphones and you can use the touchscreen through the mesh pouch, although you can't read the screen easily so you're limited to skipping to the next track. The main flaw, though, is that it's really designed to carry just a phone and not much else. The mesh pocket is really designed to carry just a phone – it has a lip that will keep it from popping out – so if you put anything else in there, we wouldn't guarantee that it won't fall out.
Buy from Lululemon | £35
---
Adidas Run Media Arm Pouch
The back of this pouch is a mesh fabric, which will help you avoid the build-up of sweat on your arm that can happen with some bands, making it more comfortable to wear for long periods. It's not great for those whose phones or upper arms are very large: the hook-and-loop strap doesn't accommodate bulging biceps, so if you're a keen gym-goer as well as runner you should consider other options.
Buy from Adidas | £38 (currently reduced to £19)
---
Proviz Classic Y-Fumble Reflective Arm Pocket
This drop-in pouch comes in yellow or black, and both benefit from the reflective Proviz logos on the outside that make you more visible on night runs. The slip-on design means it's imperative you get the right size to fit your arm securely, but once you do (rest assured returning and exchanging is easy) you'll find that the band holds your stuff tight against your arm so it doesn't bounce around while you run.
Buy from Proviz | £14.99
---
Kalenji Big Smartphone Running Armband
There's no beating around the bush here. Have a big smartphone? Then you need a big smartphone running armband. Plus-sized iPhones and Samsung Galaxy Notes will fit in this budget armband from Kalenji, which has a transparent front so you can see and operate a touchscreen. The zip seal at the top keeps water out and there are small holes on the bottom you can squeeze your headphones plug through.
Buy from Decathlon | £6.99 (currently reduced to £3.99)
---
There are some products it's probably not wise to buy from eBay, but small running accessories are definitely worth checking out on the auction site, because you can get very solid options for next to nothing. This band costs £2.99 and comes in a range of colours and sizes – you can even select your exact phone model to make sure you get a band big enough to hold it. It's not one to use in heavy rain, but it's cheap and will get the job done.
Buy from eBay | £4.45
---
See related
Unless you have a very small phone this pocket won't be big enough to take it, but not all of us want to carry a phone on every run – sometimes a pouch that takes a card and a house key is enough. The Ronhill pocket stretches to sit tight to the arm so you'll quickly forget it's there, and the fabric wicks sweat away from your skin so it doesn't become uncomfortably clammy to wear.
---
If you buy a Quad Lock case for your phone (not included if you buy the armband) you'll be able to mount it quickly by twisting it onto either this armband or your bike handlebars (you'll need the separate bike mount for that). It's pricy to get all the pieces of the system, but it does offer a very secure mount for your phone that allows you to access the screen without clear plastic getting in the way.
---
The price for this armband is £35, but you also have to spend £39 on the compatible Couple case to use it – a pretty substantial outlay given how cheap other options are. However, the Nolii system is an impressive choice for iPhone owners who admire smart design, and there are two clever attachments to consider once you have the Couple case that may swing it.
The armband is easy to use since you can just twist and lock your phone on rather than having to use a slip-in pouch, which is more fiddly and makes it trickier to use your phone when on the run (although of course it won't shield your phone from a sudden downpour). The other two attachments are a small card wallet and a portable battery that comes with a built-in cable so you can charge your phone while it's on your person.
Buy from Nolii | £74
Sign up for workout ideas, training advice, reviews of the latest gear and more.