The Best Running Backpacks For Long Runs Or Commuting
Top picks for running to work and tackling long runs, as well as backpacks designed for women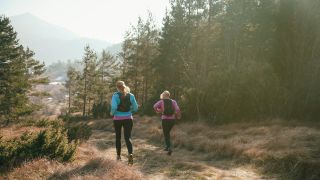 (Image credit: Getty Images)
There are two main types of runner that require a backpack: the commuter and the long-distance runner. The first needs a pack that holds all the gear they require for a day at the office while still being comfortable enough to wear while running. The second needs a lightweight pack to carry the water and food they need to fuel long runs, as well as some basic safety gear if they're heading for the trails.
While there is some overlap, those two different types of runner require two different types of running backpack, so we've picked out the best of each. We've also highlighted those which are designed for women.
And if you are looking to start running to work, make sure to check out our tips from five dedicated run commuters. No time? Then we'll say this at least: make sure you pack spare underwear.
The Best Running Backpacks For Long Runs
Evadict 10L Trail Running Bag
An affordable option for ultramarathons
Reasons to buy
+
Cheaper than most running vests
+
Secure fit with adjustable straps
+
10 pockets to divide up kit
Reasons to avoid
-
Will need more capacity for longest events
It's commonly said that ultramarathons are eating competitions as much as running ones, and this bag is all about giving you easy access to fuel on long runs thanks to the range of pockets on the straps, which can accommodate two 500ml bottles plus several gels or bars. The main 10L compartment has room for all the other important gear you need for long stints on the trails.
---
Rab Tensor 5L
A small, lightweight option for running and more
Reasons to buy
+
Light and comfortable
+
Stretchy outer pockets increase capacity
Reasons to avoid
-
Small capacity
-
No strap pockets
This small, lightweight pack is a great option for a range of activities. It will work well both for run commuters who don't need to carry much stuff to the office and for trail runners who need a lot of gear for their long runs. The pack has two chest straps to keep it still as you run and along with a large main compartment, it has a small zip pocket on top and stretchy water bottle pouches on the sides. One downside is that the straps themselves don't have any pockets, so it's not as easy to access food and water on the run as with some backpacks.
---
Osprey Duro / Dyna 6
Terrific running vests with gender-specific fits
Reasons to buy
+
Men's and women's designs
+
Comfortable fit
Osprey's Duro and Dyna running vests come in 1.5L, 6L and 15L sizes – the Dyna vest is designed to fit a female frame and the Duro is the unisex version. We've tested the 6L and 15L backpacks in recent years and both are comfortable to wear for long runs and, in the case of the 15L, commuting. The main pockets are supplemented by a stretchy web on the outside into which you can stuff things, and the straps have multiple pockets for easy access while on the move.
Buy Duro from Osprey | Buy Dyna from Osprey
---
Montane Gecko VP12+
Best running backpack for long runs
Reasons to buy
+
Comfortable fit
+
Polygiene anti-odour treatment
+
Easy to adjust Velcro strap
Reasons to avoid
-
Cheaper options available
-
Takes some getting used to
The Montage Gecko VP12+ backpack hugs the body so snugly it feels more like a running top than a bag, and thanks to the three straps across the chest – two that hook in and one easy-to-adjust Velcro strap – you can get a very tight fit with no bouncing even when pounding down hills.
There are so many pockets on the Gecko VP12+ it can actually get confusing when you're running, so we'd advise having a system in place so you know which of the numerous pouches and zip pockets to reach for when hunting for a certain item. You can put soft flask water bottles in the front straps, or a hydration bladder in the back, and the fabric of the backpack is treated with Polygiene so it won't start to smell even after several sweaty runs.
The Best Running Backpacks For Commuting
Stolt Alpha Business Backpack
Best for commuters
Specifications
Capacity:
20L (expands to 25L)
Reasons to buy
+
Large capacity
+
Comfortable even when full
+
Lots of pocket dividers
Reasons to avoid
-
Expensive
-
Will be too large for some
This is hands-down the best commuter backpack we've tried. It has a large capacity of 20 litres that can be upped to 25 litres if you use the expandable front pocket, which is ideal for shoes. It also has a 15in laptop pocket and a spacious central compartment that can handle everything you need for a day in the office and then some.
Even if you fill all these pockets, we found the backpack still sits comfortably against your back and you can tuck in the various straps so they don't flap around and annoy you. There are four adjustable straps that you can tighten to eliminate bouncing, and the waist strap has zipped pockets on either side that can take keys, an ID card or a small wallet, although not your phone.
The material has anti-odour properties, so it won't start to smell even if you're storing sweaty gear inside. The rucksack is water-repellent and will keep its contents dry in a rain shower, though you might want to duck inside if caught in a downpour.
It's a popular backpack that is often out of stock, but if that's the case when you check you can sign up to be notified when it's available.
---
Vango Lyt 15
Best budget running backpack
Reasons to buy
+
Great value
+
Small and comfortable to wear
Reasons to avoid
-
No waist strap
-
No pockets on straps
This is a terrific little backpack and an absolute steal at £20. The Vango Lyt 15 is just about large enough to take your office essentials, including a small laptop or tablet, and has an outer zipped pocket for the gear you need close at hand. The backpack has no waist strap – there's only a sternum strap – but given its small size it still sits securely on your upper back when running. There's also the Lyt 20 if you need a bigger rucksack, but if you load that to the brim, the lack of a secure waist strap might be more apparent.
---
Proviz REFLECT360 Running Backpack
Best reflective running backpack
Reasons to buy
+
Reflective design
+
Chest and waist straps
Reasons to avoid
-
Not the biggest capacity
-
Not the best fit for a petite frame
Throughout the long British winter – and even in the spring and summer if you work long hours – run commuting often means running in the dark. Making yourself as visible as possible on busy city streets is a savvy move and this unisex reflective backpack is your best bet for ensuring you can be seen by drivers and cyclists bearing down on you from behind. Its 10-litre capacity isn't huge but it's big enough for work essentials, and there are two zipped pockets on the waist straps for easy access to the things you need most often.
---
Saysky Running Commuter Backpack
Best lightweight backpack for commuting
Reasons to buy
+
Comfortable and secure fit
+
Waterproof
+
Useful for normal runs too
Reasons to avoid
-
Some will need more capacity
The Saysky Commuter Backpack is a great option for runners who want one bag for both long runs and commuting. It has a 12L capacity and has a laptop sleeve in the main pocket, which is enough for most commuters if you don't need to pack a big coat or change of shoes, but is light enough to wear for normal runs as well, with waist strap pockets for easy access to essentials like gels.
It's easy to tighten the straps to get a comfortable and secure fit for all kinds of runs – our tester even wore this bag during a fast interval session – and it's fully waterproof so you can run in all weathers.
---
Osprey Syncro/Sylva 12
His and hers rucksacks with a comfortable fit
Reasons to buy
+
Gender-specific fit
+
Ventilation system
These multisport backpacks aren't specifically designed for run commuting, but the adjustable strap system and roomy main pocket mean they'll do a grand job of carrying your gear to and from work without bouncing around too much. The Syncro is the men's design and the Sylva is the women's, and there are also five- and 20-litre versions of the rucksacks, so you can pick the size required to accommodate your essentials.
The Syncro and Sylva backpacks are particularly good for commuting in the summer thanks to the ventilation system and open-yoke design, allowing as much air as possible to flow down your back so you avoid (or at least limit) that horribly sweaty feeling that can arise when running with a rucksack.
Buy Syncro 12 from Osprey | Buy Sylva 12 from Osprey
---
Nathan Trail-Mix 12L
A great backpack for trails and the commute
Specifications
RRP:
$150 / €124.95 (approx £105)
Reasons to buy
+
Large rolltop main pocket
+
Strap pockets
+
Hydration bladder compatible
Reasons to avoid
-
Might need more capacity for commute
While this 12-litre rucksack is primarily designed for trail running, it's also a great commuter option because the rolltop-fastened main compartment is roomy enough for a laptop, a change of clothes and all the other essentials required for a day at work. The straps also have easy-access pockets that are large enough for your phone, wallet, keys and work ID card, and can be tightened quickly so the rucksack sits comfortably against your back for the entirety of your run commute. The rucksack comes with a two-litre bladder, which you'll probably want to leave at home when commuting, but can be easily slotted back in for a long trail run at the weekend.
Best Running Backpacks For Women
Most unisex running backpacks are designed for men, so it's hardly surprising women often find them uncomfortable. Perhaps they're too long in the back, the straps don't quite sit right, or the weight is carried too high or low. Not to mention that when devising chest straps, many designers seem to forget that women have breasts. Here's our pick of the best running backpacks for women.
---
Gregory Maya 22
Best for women
Reasons to buy
+
Women-specific design
+
Comfortable, adjustable fit
A backpack designed for women is one thing, but we're all different shapes, so having an adjustable backpack is key to achieving a better fit. Gregory has perfected this with the Maya, which offers a seemingly infinite number of ways to modify the fit, resulting in a backpack that clings to your back like a baby monkey. The bag has a lot of thoughtfully placed pockets, including on the waist strap, but its smartest trick is an easy-access sunglasses clip on the shoulder strap. A hydration pocket can accommodate a bladder and the side pockets fit water bottles too. The 22-litre pack is well suited to a commute, while the 16-litre and 10-litre versions are ideal for trail runs.
---
The OMM Ultra 15
Best for long trail runs
Reasons to buy
+
Large capacity
+
Comfortable even when fully loaded
Designed for serious training and racing, this technical 16-litre model from Original Mountain Marathon will serve you as well in an ultra at altitude as it will on an urban commute. Padded shoulder and waist belts keep things as comfortable as possible when carrying up to 10kg and, with a single wide-opening zip offering easy access to all the contents, you won't waste time fumbling for your gloves at the bottom of the bag. There's an extra zip pocket with a key clip on the waist belt, and angled water bottle pockets at the sides. It's also compatible with a two-litre hydration bladder.
Running Backpacks Buyer's Guide
What backpacks are good for running in?
Running backpacks are generally lighter than normal backpacks, and often sit a bit higher on the back. The best running backpacks have a chest strap, and sometimes also a waist strap on larger bags, that you can tighten to eliminate any bouncing while you run. Many are also waterproof, since runners will head out for long runs or commutes in all weathers.
Other key features on a running backpack include external pockets for quick access to items like gels, or your keys and phone, and most will have reflective details on the back to make you more visible on night runs.
Running backpacks designed for commuting tend to be larger than backpacks for long runs, and they will often have a laptop sleeve and other internal pockets to help you organise your stuff for the office.
What size backpack for running?
Your intended use determines what size running backpack you should get. If you want a minimal pack just to carry some water and gels or bars to eat on your run, the capacity can be as small as 1-2L. For longer trail runs you'll also need to carry a waterproof jacket and other essentials, which means a 5-12L backpack will be best, and those tackling multi-day ultramarathons might need a backpack with 25L capacity.
For commuting you need a larger backpack, typically 12L and up, in order to carry everything you need for a day in the office. Those who need to carry a full change of clothes into work, plus a laptop and maybe even shoes will need a 20-25L backpack. Look for options that have expandable pockets so you can cram even more stuff in when required.
Sign up for workout ideas, training advice, reviews of the latest gear and more.