Start Running To Work: Tips And Kit Essentials To Help You Run Commute
Think you're ready to run your commute? Not until you've read this you're not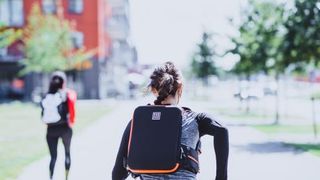 (Image credit: unknown)
There are many good reasons to run to work. It saves you money, lets you avoid the brutal crush of public transport or the teeth-grinding frustration of traffic jams, and clears space in your free time to enjoy hobbies other than exercise.
If you opt for a morning run-commute, you'll arrive at work having blown the cobwebs away and smug in the knowledge that you've done all the exercise you need to do for the day already. On the other hand, decide to run home instead and you should clear the day's stresses from your system so you can enjoy your evening.
Below you'll find five tips for running to work from Team GB triathlete Gordon Benson, who spoke to Coach at a Red Bull Million Mile Commute (opens in new tab) event. But before we get to that, let's talk about kit – and who better to ask for advice than five dedicated run commuters? SportsShoes.com (opens in new tab) did just that and shared the results with us. Here's what the runners said.
Essential Kit For Running To Work
Pictured: What Alice Tate packs when she runs to work
The backpack: "Running with a rucksack is something you get used to and the secret is keeping it as light as possible. I swear by the Deuter Lite 10 Speed rucksack (opens in new tab) – it's comfy and fits in more than you'd think. It also sits really comfortably while running. There's nothing worse than a rucksack that jiggles about. It's got a handy small top compartment that's good for keeping keys, a phone and a debit card in. I always try and keep what I take to a minimum. It is hard at colder times of year as you often have to sacrifice a coat!" Alice Tate, @alice_tate (opens in new tab)
Million Mile lights (opens in new tab): "These lights are amazing! They are powered by movement as you run, which means you never run the risk of forgetting to charge them or running out of battery on a dark night." Bethan Taylor, @aprettyplacetoplay (opens in new tab)
Packable down jacket: "For anyone looking to run to work and use public transport for the journey home (or vice versa), a lightweight down jacket that packs down into its own pocket is a useful addition in the winter." Cat Simpson, @cat_simpson (opens in new tab)
Work clothes: "I try to choose work clothes that are as light as possible because during the run you definitely notice the extra weight on your back. I've noticed that a shirt keeps its shape a bit better if you do the buttons up before folding and packing it." Max Joseph, @jaxmoseph (opens in new tab)
Pictured: What Max Joseph packs when he runs to work
Waterproofs and a headtorch: "I always pack a waterproof jacket and a buff for those days when the heavens open. Plus, when the nights are longer I run with a headtorch and modify my route to stay on footpaths rather than any unlit paths to ensure that I stay safe." Lucja Leonard, @runningdutchie (opens in new tab)
Arm warmers: "I find these extremely useful for spring and summer run commuting, when it's chilly in the morning but warm enough to run home in just a short-sleeved T-shirt." Simpson
Microfibre towel: "I have loads of these towels and love them. They pack down small but it doesn't feel like you're drying yourself with a washcloth, and they dry quickly. Plus, you're never going to be that person with a towel draped over their chair in the office." Taylor
Merino wool/anti-odour gear: "Pretty much all my run commuting involves running both ways and I find gear that can be worn multiple times before it needs to be washed is really handy, with the added bonus of offending your colleagues a little less if you have to hang it off your chair to dry during the day." Simpson
Pictured: What Cat Simpson packs when she runs to work
Collapsible bowls: "Perfect on the days when you're running home from the office, these silicone bowls collapse down once you've eaten your lunch, saving loads of space. The lids also have a great seal, so there's no chance of your pasta sauce leaking." Taylor
The get-clean regime: "I can't shower at work so I joined a local pool to shower there after running in. The showers there are decent and I also find that a swim is a good warm-down. You obviously need to pack everything to make yourself look and smell presentable after exercise." Joseph
Sandwich bags/plastic bags: "Useful for separating dirty clothes from clean ones, carrying food and protecting your phone from the rain." Simpson
Spare underwear: "Always keep a spare set of underwear at work! I've been caught out on a few occasions." Leonard
Elastic band: "To silence those jangling keys." Simpson
See related
Five Running Tips To Help You Start Running To Work
Plan Several Different Routes
Running to work opens up a world of tiny side streets, towpaths and parks. With a bit of research you can create a few different routes to choose between depending on how you're feeling.
"You'll have your standard 'get to work as fast as you can' route," says Benson. "That's for when you want to be active but you're not feeling particularly energetic.
"Then if you're half an hour early, you want to log some extra miles or you're just feeling good, find a park and add a loop in on the way to work."
If You're Going To Run Your Commute Once A Day, Run In The Morning
There are three options for run commuting: mornings, evenings or both. There are no bad choices here, but running in the morning sets you up for the day.
"When I went to uni I always trained in the morning," says Benson. "Then you don't feel twitchy sat at your desk – you've already done something. You can focus on your work."
Head Off-Road When Possible
Avoiding main roads not only makes for a quieter, more pleasant run, but also reduces the strain on your legs.
"I tend to do the majority of my running off-road," says Benson.
"Look for cut-throughs or parks you can run through. It's a lot nicer to run there than on busy pavements and it takes some of the load off your shins."
Save Your Breakfast For After Your Run
While you might fancy a quick snack before setting off on your run commute, wait until afterwards for your breakfast.
"You can have two slices of toast beforehand maybe, and a quick coffee, but I like to have a proper breakfast post-exercise. That's what I'd suggest for commuting," says Benson.
Take A Golf Ball To Work
Don't worry, we're going somewhere with this.
"Get something like a golf ball and have that under your desk to roll the arch of your foot, says Benson. "It's like active stretching while you're working, to help loosen up the muscles. And it's quite therapeutic."
Find out more about Red Bull UK's #MillionMileCommute club on Strava at visitredbull.com (opens in new tab)
Sign up for workout ideas, training advice, reviews of the latest gear and more.