The Best Men's Running T-Shirts
Whether it's your first time or a continuing obsession, these tees will make you look and feel better while running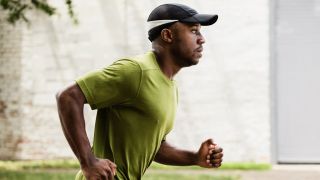 (Image credit: Getty Images / Roberto Westbrook)
In recent years, fabric technology has advanced so much that today's running T-shirts probably pack more tech than the spacesuits used to walk on the moon back in the day. Well, maybe not, but a decent one can definitely make running a more comfortable and fun experience thanks to lab-tested materials developed by years of research. But what are the differences between them and, of the countless options available, which is best for you? I've tested the best from all the major brands, so you can find the perfect T-shirt to meet all your needs.
If you're giving your running kit a refresh I can also recommend some excellent running shorts, long-sleeved tops, vests and jackets.
How I Test Running T-Shirts
I am a keen runner with a 2hr 28min marathon PR who logs around 50-60 miles of training each week. That gives me plenty of opportunities to test running T-shirts, and I usually do three or four runs in a shirt before writing it up here.
The Best Men's Running T-Shirts
Allbirds Natural Run Tee
A comfortable tee made from sustainable materials
Reasons to buy
+
Sustainable materials
+
Loose, casual fit
Reasons to avoid
-
Better value elsewhere
-
Less performance-focused than others
Allbirds is renowned for its sustainable running shoes, so it makes sense that the company has now expanded into environmentally friendly running gear as well. The Natural Run Tee is made from a mix of three sustainable materials: Merino wool, recycled polyester and Tencel Lyocell, which is made from sustainably sourced wood. Those materials also have useful properties for sports like temperature regulation, and I found the T-shirt highly breathable and comfortable to wear, with a looser fit than most running tees.
---
Janji Runterra Bio Tee
Limited-run biodegradable T-shirt
Reasons to buy
+
Biodegradable design
+
Odour resistant
Reasons to avoid
-
Limited run so can be out of stock
The key feature of this T-shirt is nothing to do with its performance on the run, it's the fact that it biodegrades in four years (in oxygen-poor environments like landfill sites, that is—rest assured it won't break down in your wardrobe between runs). The tee is made from a mix of Supima cotton and 37.5 polyester—a soft material that helps to regulate your body temperature on the run. It also has anti-odor properties and I found it can manage a couple of runs without smelling.
---
Higher State S/S Running T-Shirt 2.0
Best budget running T-shirt
Reasons to buy
+
Great value
+
Lots of colours
Reasons to avoid
-
Starts to smell quickly
-
Cut short at the front
Another great option for bargain hunters, the Higher State running tee is always reduced to less than £10. It's a classic synthetic tee that wicks sweat and dries quickly, though there are no anti-odor properties here and you will certainly want to wash it after one run based on my experience with it. I also found that the front of the T-shirt has a fairly short cut, so it might ride a little high if you have a long torso.
---
Montane Dart T-Shirt
Best odor-resistant T-shirt
Reasons to buy
+
Resists odors
+
Good range of colors
Reasons to avoid
-
Cheaper options available
The Dart tee is designed as a running top but works well for pretty much any kind of activity thanks to the looser cut and simple style. It's still closely fitted enough to not flap about on the run, and the Polygiene treatment means that the fabric resists odors, making it ideal for longer runs, multi-stage events or just cutting down the amount of kit-washing you do at home. There's a good range of colors and the T-shirt is good value at its RRP. Top marks all round—this is one of my favorite running tees.
---
Tracksmith Van Cortlandt Tee
A stylish technical tee
Reasons to buy
+
Stylish designs
+
Lightweight mesh
The Van Cortlandt is the most stylish running tee I've come across, and while it's also close to the priciest, it's a piece of kit that makes me smile whenever I wear it. The T-shirt comes in a range of designs and there are also vests and long-sleeved versions available with the same look, so fans of the sash can get completely kitted out. It's not just easy on the eye either—the Van Cortlandt is made from a comfortable, lightweight mesh and it has had an antimicrobial treatment that keeps odors at bay.
---
Mountain Warehouse Endurance Active T-Shirt
Best budget tee for hot and sunny days
Reasons to buy
+
Great value
+
UPF 50 rated
Reasons to avoid
-
Smells after one run
-
Can chafe
This lightweight tee offers UPF 50 protection and wicks sweat away to keep you cool on the hottest of days. It's a great budget pick for those training outdoors regularly, though it tends to absolutely stink after one sweaty run in my experience and can rub a bit more than other tees, especially if you use it with a backpack.
---
Nathan Dash Short Sleeve Shirt 2.0
The softest running tee I've come across
Reasons to buy
+
Very soft
+
Range of colours
Reasons to avoid
-
Absorbs sweat more than others
The Dash is exceptionally comfortable for a running T-shirt, without the scratchy feel of a cheap technical tee. It also stretches well and works for other activities thanks to the slightly looser fit. The downside of the soft fabric is that I found it soaks up a bit more sweat than other tees. The Dash still dries fairly quickly, but on sweatier runs I noticed the difference compared with more lightweight options that allow the perspiration to evaporate faster.
---
Kalenji Dry Running T-Shirt
As cheap as it gets for a good running tee
Reasons to buy
+
Outrageously cheap
+
Made from recycled polyester
+
Dries quickly
Reasons to avoid
-
Smells after one run
-
Not as comfortable as other tees
A lightweight tee made from 100% recycled polyester that costs less than a fiver. What's not to like? This simple Kalenji tee does all the sweat-wicking of fancier options and comes in a range of pleasing colors.
---
Brooks Distance Short Sleeve
A reliable option for your daily training
Reasons to buy
+
Comfortable and quick-drying
+
Not too expensive
There's nothing particularly exceptional about this tee, but there's nothing not to like either. It's comfortable and breathable on hot days, it has a fit that hugs the torso nicely without getting clingy, and of course it wicks sweat and dries quickly. I wouldn't dare mention a tee that didn't. It's also made from 88% recycled fabrics, which is good, although not as good as 100%. One thing to be aware of is that it's cut quite short on the front. It only just covered the top of my shorts, which could be a concern for anyone with a long torso.
---
Saysky Classic Combat T-Shirt
Show off your style with this performance tee
Reasons to buy
+
Regularly updated designs
+
Comfortable and breathable
Reasons to avoid
-
Not the cheapest
-
New styles can sell out fast
Saysky's classic combat tee is a winner in any color, but it's always worth keeping your eyes peeled for new releases from the Danish company, because some of the styles are far more adventurous and eye-catching than those you'll see from most running brands.
For my money the best design available at the moment is the Flower tee, which came out in spring 2023, and there are usually a couple of good options for those who like camo patterns. Just be aware that new looks can sell out quickly in common sizes. Still, there are always a few colors of the combat tee going and it performs just as well on the run even if it isn't covered in flowers.
---
Nike Dri-FIT Run Division Rise 365
Best Nike running T-shirt
Reasons to buy
+
Comfortable fit and fabric
+
Reflective details
Reasons to avoid
-
Not as light and breathable as others
There are far too many words in the name of this T-shirt, but it is an excellent soft running tee that has a comfortable loose fit. There aren't many designs but the simple style will appeal to everyone, and there are reflective details on the front and back of the tee to make you more visible at night. On faster runs I found it less breathable than other tees, as well as a little heavier than some, but it's great for easy runs and doesn't look out of place if worn outside your training as well.
---
On Cyclon-T
A fully recyclable running T-shirt
Reasons to buy
+
Completely recyclable
+
Comfortable
Reasons to avoid
-
Requires On subscription
-
Expensive
The Cyclon-T is available to people signed up for the On Cloudneo recyclable running shoe subscription, and is made from the same castor bean material as the shoe, meaning the T-shirt can also be fully recycled once you're finished using it. Unlike the shoe you don't get a new T-shirt every six months. Instead, you buy one, use it until it's worn out, then send it back to On which will recycle it to make new shoes and T-shirts, then buy another tee.
It's a good idea, but the price is too high at the moment in my opinion, especially because you can't just get the T-shirt but have to be signed up for the Cloudneo shoe as well—a shoe I didn't rate particularly highly when I tested it. The T-shirt is a good one for running, though it does smell after one run in my experience, so you'll need a few of them if training regularly.
---
BAM Seamless Active Top
A soft, seamless top with sustainable credentials
Reasons to buy
+
Soft against skin
+
Resists odors
+
More eco-friendly than others
This T-shirt is mostly made from bamboo viscose, which not only has a lower carbon footprint than other materials including cotton and polyester, but is also naturally very soft and odor-resistant so you can wear it multiple times between washes. I've used a lot of BAM's kit in recent years and it's always comfortable to wear on long runs, with a seamless design that helps to ensure nothing chafes, but it does tend to dry more slowly than more lightweight tees.
Sign up for workout ideas, training advice, reviews of the latest gear and more.