The Best Men's Running Jackets
Our top picks for both waterproof and water-resistant running jackets so you can head out whatever the weather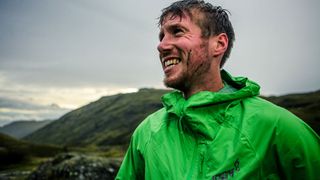 (Image credit: Inov-8)
Aside from shoes and a running watch, a running jacket is one of the most expensive pieces of running gear you are likely to buy. It's also one of the most important, especially for winter running or running in the rain if you don't have a treadmill to jump on when conditions are bad.
While there are good cheap running jackets, quality does usually align with price, and the most expensive tend to offer the most protection while being the most breathable so you don't overheat. Some runners will find that running in any jacket is too hot, and while I'd wager part of that is because they don't take their easy runs easy enough, there is value in looking at a running gilet or top instead if that's the case – these will also be better for fast runs when a full jacket can feel bulky.
How We Test Running Jackets
I am a keen runner who normally logs around 70-110km a week and since I live in London, I am rarely short of opportunities to test jackets in the wind and rain. Occasional forays up to Edinburgh's Pentland Hills to see family also allow me to test jackets on longer, usually wetter trail runs. Along with breathability and protection from the cold, wind and rain, I always focus on a jacket's storage options.
Should You Get A Waterproof Or Water-Resistant Jacket?
I've split up my best running jacket picks based on whether or not they are waterproof, because that's the key question when buying one. If you opt for full waterproofing the jacket will generally be less breathable and more expensive than one that's only windproof and water-resistant. At the same time, you won't care much about breathability if you're caught in a proper storm in a jacket that offers only token resistance to the rain.
My advice for most road runners would be to opt for a water-resistant jacket first, since they are more comfortable and will keep you dry enough on the vast majority of runs. If you're a frequent user of remote trails then a fully waterproof jacket is essential, and it's also worth getting one if you're a committed runner living somewhere with a rainy climate.
The Best Men's Running Jackets That Aren't Waterproof
On Weather Jacket
Most breathable running jacket
Reasons to buy
+
Breathable and warm
+
Stylish
+
Water resistant
The On jacket comes at a hefty price, but it's ultra-light and breathable, and I've found it to be one of the most comfortable jackets to wear even when pushing the pace in inclement weather. The water-resistant jacket can be packed down into its chest pocket and its hood is more adjustable than most, so you can set it up to fend off the rain without obscuring your vision. While it's not fully waterproof, this jacket has kept me dry on hour-long rainy runs, and it's one of the more stylish options to wear when not running too.
---
Kalenji Run Wind
Best budget windproof jacket
Reasons to buy
+
Great value
+
Ventilated design
Those looking for a cheap and cheerful extra layer will find it in the Kalenji Run Wind, which doesn't offer any water resistance but will keep the wind out and breathes well so you won't overheat. The thin material left me slightly cold on easy runs when it was very chilly, but the Run Wind is a good pick for in-between days when you could overheat with a thicker jacket.
---
Nathan Stealth Jacket
Best windproof jacket
Reasons to buy
+
Very lightweight
+
Quiet
+
Easy to pack while running
Reasons to avoid
-
Not that water-resistant
Thanks to the soft material used, the Stealth jacket lives up to its name by not rustling at all as you run, something I do find annoying at times with other jackets. It's windproof and has a water-resistant coating, but don't expect too much protection from rain. Instead the Stealth works best in providing just enough warmth to help get you out of the door on chilly, windy days, and when I found it too hot during runs it was easy to pack it into its pocket while on the move.
---
Tracksmith NDO Jacket
A jacket you'll never want to take off
Reasons to buy
+
Comfortable and warm
+
Relaxed fit
+
Lots of pockets
Reasons to avoid
-
Not completely waterproof
-
Very expensive
The Tracksmith NDO Jacket is breathable yet still warm, windproof and highly water-resistant. The loose fit meant I could pack in other layers beneath it when it was really cold, and its variety of useful pockets include an internal chest pouch ideal for a phone.
A handy feature is that the zip works from both top and bottom, so when I was feeling warm I could open the jacket in both directions to cool off, and there's a large reflective sash on the back to increase visibility.
The stylish design also sets the NDO Jacket apart, since you can wear it outside of runs as well as during them to help make you feel a little better about the high cost. I basically used it as my only jacket for runs and general use for a couple of weeks, so it's lucky it resists odours like a champ.
---
New Balance Printed Impact Run Light Pack Jacket
Best packable jacket
Reasons to buy
+
Good value
+
Packs into pocket with waist strap
+
Range of designs
Reasons to avoid
-
Not the warmest
-
Name is way too long
Just the ticket for runners who want an extra layer on hand, this jacket can pack into its own chest pocket to be worn as a belt, or slipped into a rucksack. It doesn't offer much in the way of water resistance, but it's kept me pretty warm in all conditions – much more so than you'd expect given the lightweight fabric.
---
Nike Repel Run Division
A lightweight water-repellent jacket
Reasons to buy
+
Packable with waist/shoulder strap
+
Water-repellent
+
Reflective strips
Reasons to avoid
-
Baggy fit
-
Larger than others when packed
This jacket has a good balance of breathability and water resistance, using a water-repellent fabric to keep showers at bay. Its side pockets are handy whether you're running or not, while it also has large reflective strips to increase visibility and a hood you can tighten so it doesn't flap around your head.
I did find the jacket quite baggy in my normal size, and even if sizing down you can expect some loose fabric that catches the wind during runs. It packs down easily into its back pocket, which has a long strap so you can wear the jacket as a shoulder or waist bag. When packed it's quite large compared with other options, but the strap does make it easy to carry.
---
Brooks Canopy Jacket
Best lightweight jacket
Reasons to buy
+
Can be packed up and worn as a rucksack
+
Water resistant
+
Made from recycled materials
Reasons to avoid
-
Items bounce in chest pocket
This is another featherlight jacket that offers a good level of protection from wind and rain to see you through chilly runs without the risk of overheating. The Brooks Canopy has a pouch inside the hood that you can pack it into, enabling you to transport it easily in a rucksack or even a spacious pocket, and you can also roll up and tie the hood in place on runs when you're not concerned about rain. There are two zip pockets on the sides and one on the chest, with the latter the best option to use on the run because I found that anything stored in the side pockets tended to bounce around.
---
Under Armour Storm OutRun The Cold Jacket
Best-value jacket
Reasons to buy
+
Interesting, reflective design
+
Warm and water-resistant
+
Good value
Reasons to avoid
-
Not fully waterproof
-
Rustles on the run
This jazzy jacket isn't fully waterproof, but it's so water-resistant that it shrugged off rain throughout even hour-long runs, and I also found it warmer than expected given how thin it is. If you can avoid truly torrential downpours, it should be waterproof enough, and it's a lot cheaper than most fully waterproof jackets. The reflective design helps keep you visible at night, and you can pack the jacket into its own pocket.
---
Proviz REFLECT360 Running Jacket
Best reflective jacket
Reasons to buy
+
Reflective material
+
Water resistant
Proviz's reflective cycling jacket is a common sight on cyclists in winter, but runners can benefit just as much from wearing a top made from the same fabric to ensure other road and pavement users spot them at night. The front of this jacket is made entirely from reflective fabric, which also covers the arms and some of the back for 360° visibility. The rest of the back and arms is made of a breathable mesh to help you avoid overheating, but I still found it was warmer than most other water-resistant jackets, so a Proviz top or gilet might work better for milder night runs.
---
Higher State All Over Reflect Jacket
The best budget reflective jacket
Reasons to buy
+
Reflective material
+
Windproof and warm
+
Water resistant
If reflectivity is what you're after, this jacket offers it in spades and it does so at a great price (ignore the RRP because Higher State's range is invariably reduced on Sports Shoes). The jacket offers all-over reflectivity, and it's windproof and highly water-resistant – in fact it's essentially waterproof in my experience. The drawback of this is that it gets pretty hot and I only found it comfortable to use for very easy runs, along with warm-ups and warm-downs.
---
Mountain Warehouse Force Reflective
A useful budget pick for running and cycling
Reasons to buy
+
Great value
+
High visibility
+
Breathable
Reasons to avoid
-
Not very water-resistant
-
Not that warm
The Force Reflective jacket is a lightweight and breathable option for runs when you just need a little extra protection from the elements. It's also great for increasing your visibility, with reflective piping, and the yellow version helps you to stand out in the daytime as well. It's usually reduced from its UK RRP, putting it firmly in the budget category.
It didn't keep me dry in serious rain, but the jacket can handle a light shower and will keep the wind off your torso effectively. It also has a long back that makes it suitable for cycling as well as running, and the reflective elements are handy for night-time rides.
---
Soar Winter Anorak
Very warm and water-resistant
Reasons to buy
+
Very warm and waterproof
+
Can wear on its own
Reasons to avoid
-
Expensive
-
No zip for ventilation
This smock-style jacket is ideal for your coldest runs – it has kept me warm on sub-zero outings with just a base layer underneath. You can also wear the anorak by itself since the fabric used is comfortable to wear next to the skin, and while it's not technically waterproof since it doesn't have a liner, the double application of a water-repellent finish means it has proven practically waterproof in my testing. The anorak has a high neck and hood to help you cover up when it's really coming down, and pockets on the chest and back to store essentials.
---
The Best Men's Waterproof Running Jackets
Evadict Trail Running Waterproof Jacket
Best budget waterproof jacket
Specifications
Waterproof rating:
10,000
Reasons to buy
+
Fully waterproof
+
Great value
+
Fairly breathable
Reasons to avoid
-
Hotter than pricier options
-
Stuff in side pockets bounces
This jacket has a high waterproof rating of 10,000 and taped seams, which means it hits the standards required on mandatory kit lists for most trail ultramarathons. That's rare to find on a jacket that costs well under £100, and it's even more unusual to find it in a jacket that doesn't become uncomfortably hot as a result. It breathes well and I found it wasn't too warm to wear on milder days, though I recommend wearing a long-sleeved top underneath because it can stick to the skin as you start to work up a sweat on your run.
---
Saysky Element 3L Waterproof
A stylish three-layer waterproof
Specifications
Waterproof rating:
20,000
Reasons to buy
+
Looks good when not running
+
Warm and breathable
During testing I found the Saysky Element jacket a good option for wet days whether I was running or not, the close cut and simple design meaning it's stylish enough to wear at any time. The back of the jacket is ventilated to stop you overheating, and there are two pockets on the sides, though I found putting anything too heavy in these would lead to bouncing.
---
Ciele Elite FLRJacket
A breathable waterproof for those with deep pockets
Specifications
Waterproof rating:
20,000
Reasons to buy
+
Lightweight and breathable
+
Internal pockets
+
Packable with carabiner attachment
The Ciele Elite waterproof jacket is as breathable as they come and has several useful features, such as a carabiner to clip it to a running backpack or belt when it's packed into the chest pocket. All the pockets on the jacket are internal to help keep your stuff dry, and there's a snap button on the chest I found handy since I could unzip to cool down while keeping the jacket in place.
---
The North Face Lightriser Futurelight Jacket
Highly breathable and fully waterproof
Specifications
Waterproof rating:
Not given but 100% waterproof
Reasons to buy
+
Waterproof but highly breathable
+
Not too hot even when it's dry
Reasons to avoid
-
More expensive than most
-
Poor storage options
The North Face's Futurelight fabric is the real deal, in that it's among the most breathable waterproof materials I've come across in a running jacket. As a result, the Lightriser is a fantastic lightweight option, providing reliable and long-lasting protection from precipitation without creating an uncomfortable amount of perspiration. On dry days in low double-digit temperatures it also proved effective at keeping the wind off without causing me to overheat, and even when the temperature dropped to just above zero the jacket was still warm enough with just a base layer underneath.
Although it scores highly on the running jacket's key feature – keeping you dry and warm without being too hot or sweaty – it could improve its storage options. The only pocket is an internal one at the small of your back, and it's mainly useful for packing the jacket into rather than carrying anything – a chest pocket for a phone would be a great addition.
---
Keela Saxon Jacket
Best for runners who also cycle
Specifications
Waterproof rating:
Not given
Reasons to buy
+
Hood fits over helmets
+
Good value
+
Packs down small
Reasons to avoid
-
Pockets not well placed for running
A good option for runners who cycle, or indeed cyclists who run, the Keela Saxon has a high neck and an adjustable peaked hood that will fit over helmets, and a curved rear hem that's longer at the back to keep your rear end dry. While breathable, I found it a fairly warm option for running – it might get a bit sweaty in mild and wet conditions, but it's great for winter.
---
Montane Phase Nano Jacket
Most breathable Gore-Tex jacket
Specifications
Waterproof rating:
15,000
Reasons to buy
+
Very lightweight and breathable
+
Gore-Tex liner and taped seams
+
Close fit for running
Reasons to avoid
-
No chest pocket
-
Expensive
The Phase Nano jacket is astonishingly breathable given that it has a Gore-Tex liner and is fully waterproof. I've been able to use it on fairly mild and dry days without finding that it made me uncomfortably sweaty, even throwing it on after a hard track session for a long warm down without it being too hot. The side pockets are useful but only for lighter items, since heavier ones will bounce around on the run, and I did long for a chest pocket for my phone, but otherwise the Phase Nano is as good as waterproof jackets get, which you'd expect given the high price.
What To Look For In A Running Jacket
For a deep dive into running jackets and the magical materials used to make them waterproof while still being breathable, we spoke to Matt Kemp, design manager at British outdoor brand Montane.
What's the difference between waterproof, water resistant and windproof jackets?
Waterproof refers to the fabric's ability to resist penetration of water. It's creating a barrier between the elements and yourself.
Water resistant resists the penetration of water at low levels – it's enough for light drizzle – but water will get through if pressure is applied to the fabric, for instance by a backpack strap.
Windproof is the fabric's ability to resist the penetration of air. It can be done through the construction of the fabric or it can be achieved through applying a windproof membrane or coating to the fabric.
What are hydrostatic head ratings for waterproofing?
Fabrics are tested to see if they meet certain standards of waterproofing, and the test method that's used is a hydrostatic head test. It's a measure of the fabric's resistance to penetration of water. You set up the fabric on a hydrostatic head, then you apply a volume of water under pressure to the fabric. When the water penetrates the fabric for the first time, you take your measure of the volume of water in millimetres.
What hydrostatic head rating should you look for?
The higher the hydrostatic head rating the harder it is for water to penetrate the fabric. A 10,000mm rating is good and meets all current race criteria, but 20,000mm will resist higher pressures in tougher conditions for longer.
How do you create a waterproof fabric?
There are a couple of ways that you can create a waterproof fabric. A waterproof fabric can be created using a coating. The downsides are it is not as soft as other methods, and harder to make it as breathable. Montane limits the use of this technique to jackets designed for slower-paced activities.
The second is using a membrane. That's the preferred option for us. Applying a membrane to the fabric can be done in a number of ways. You can have a two-layer fabric, where you have a face [outer] fabric and then the membrane is simply bonded to the back of that. With those garments, you tend to have a drop liner or something inside the jacket to protect the membrane.
You can also have a 2.5-layer laminate, where you have a face fabric, a membrane bonded to the face fabric, and then you have a print to protect the membrane and lift it off the skin. Our Minimus jacket has that construction.
The third option is three-layer which adds an inner layer. This is probably your most durable construction, because you're fully protecting that membrane.
How long will a waterproof jacket last?
A good-quality waterproof jacket with a membrane construction should last a long time. It's hard to give a specific time frame because it depends on use.
One of the big misconceptions that people have with waterproof jackets is when they see their jacket looks very wet and the water is not beading off like it did when new, they think the jacket's not waterproof anymore. It's not just a visual thing – the jacket can also feel a little bit more clammy, a bit heavier, and bit colder to wear.
This is the jacket "wetting out" but it does not mean that your jacket is no longer waterproof. It's very unlikely that the water will be penetrating the waterproof membrane that's in the jacket. It's just the outer fabric that's wetting out. The DWR (durable waterproof repellency) is a treatment applied to the outer of the jacket and it has basically worn off. That means the outer fabric is soaking up a bit more water.
When that happens you need to reproof your jacket. Follow the wash care instructions on the jacket, but effectively, it's washing your jacket and then you apply some heat. So tumble dryers are a really good method, on a very low heat. That can reactivate the DWR.
At some point, you do also need to reapply the DWR. So you can do that through buying products that you can apply to your jacket through wash or spray. Again, you'll need to activate those with heat.
Keeping it clean will also help extend the life of the jacket. Your body oils – the sweat and grease that you create – will eventually block up holes in your jacket and stop it functioning as well as it should. By washing and looking after the jacket properly, it can help get rid of that and extend the life of the product.
What are taped seams and why are they important?
When we talk about waterproof products, it's not just about the fabric. A lot of it is about the construction and design. When building a product you've got lots of separate panels that you sew together. When you're sewing two panels of fabric together, you're punching holes in the fabric with a needle and thread. We use seam tape to seal those holes. It's basically a tape applied to the back of the product through heat and pressure. I would say a waterproof product should have taped seams. It's specified in a lot of running race's kit lists because a product is not really classified as waterproof unless it has taped seams.
What other factors are important in a running jacket?
Low weight and packability.
Why are running jackets so expensive?
The type of fabric that's used will change the cost dramatically. If you're paying more, it could be that you're getting more durability, or it could be that the fabric's really breathable but super-waterproof as well.
Then it's down to the design. Is it just a very simple jacket? Is there ventilation? When you're wearing the hood, is it going to come off in high winds? Does it turn with your head when you're wearing it? What's the articulation of the arms like for a runner? Does it move with you, or is stretching? Is it tight across your back? There are lots of fit, construction and design elements that go into a style and as you go up in price, those things will be considered more and more in the jacket's design.
---
More Winter Running Gear
Sign up for workout ideas, training advice, reviews of the latest gear and more.