The Best Running Singlets And Vests For Men
If you prefer a little less fabric and a little more freedom in your running tops, the vest is best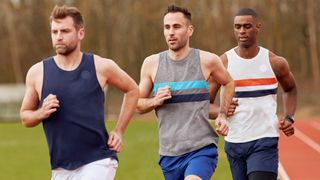 (Image credit: Iffley Road)
Watch any elite running race and you'll quickly notice that when it comes to gear, skimpy is very much the style. The shortest of running shorts or half tights are paired with a singlet, no matter the weather.
Given the slight build of most elite runners it's safe to assume that they're not choosing vests to show off their hulking upper bodies. Sleeveless tops are the norm because they offer better air circulation than running T-shirts, keeping the pros cooler when the pace heats up. But you don't have to be running at elite speeds to enjoy those same benefits—running vests are a great pick for anyone on race day or just when it's hot, and by wearing one in the summer you'll avoid the T-shirt tan lines sported by regular runners during the warmer months.
How I Test Running Vests
I am a keen runner who logs 50-60 miles a week while training for regular races at distances from 5K to the marathon, giving me plenty of opportunities to test vests. I am based in the UK, which sometimes means I go months without using a singlet in training when it's cold and wet, but I race in them all year round and once the summer does come, it's vests all the way.
The Best Running Vests
Soar Race Vest
The best vest
Reasons to buy
+
Very light
+
Comfortable over any distance
+
100% recycled fabric
Reasons to avoid
-
More expensive than others
This lightweight vest is pitched as the fastest option on the market, and it's certainly a top option for PR-seeking speedsters—but no matter what pace you're running at, the Soar Race Vest is a joy to wear. It weighs just 44g and is well ventilated, and I've worn it for multiple marathons and many other races in all conditions without any chafing concerns arising.
---
Nike Dri-FIT ADV AeroSwift
As seen on the chest of the best
Reasons to buy
+
Worn by Nike's elites, including Kipchoge
+
75% recycled
+
Range of simple designs
Reasons to avoid
-
More expensive than others
In recent years many amateur runners have found that by using the same shoes as elites—namely carbon plate racers like the Nike Vaporfly—they have been able to chip minutes off their PRs. It only stands to reason, then, that picking up the race vest worn by the likes of Eliud Kipchoge will have similar benefits… doesn't it? Well, I've not managed to run a sub-2hr marathon in it yet, but the AeroSwift singlet is a lovely, lightweight vest made from 75% recycled fabric.
---
Tracksmith Van Cortlandt Singlet
Stylish and speedy
Reasons to buy
+
Great design
+
Antimicrobial treatment
It's only when you come across a sash that you realize more clothes should have sashes. The Van Cortlandt vest is gorgeous in pretty much any color combo and there are several to pick from. It's also lightweight and has had an antimicrobial treatment that stops odors developing too quickly. It's a pricy bit of kit, but I love pulling on the Van Cortlandt vest and probably use it more than any other singlet during training.
---
Saysky Logo Flow Singlet
A lightweight vest for fast runs
Reasons to buy
+
Very light
+
Fast-drying
+
Highly breathable
I've long enjoyed using Saysky's Combat Singlet, which comes in a terrific range of designs, and the new Flow Singlet now offers another great option from the Danish brand. The Flow vest is very lightweight at 46g in a men's medium, and the racerback design and thin fabric helps to create a barely-there feel that's ideal for racing or for training on hot days.
The only downside is that Saysky has stuck to plain, one-color designs so far. However, given its track record for eye-catching patterns, I expect the options in the Flow Singlet range to liven up soon.
---
New Balance Impact Run Singlet
A lightweight vest designed to keep you cool
Reasons to buy
+
Good value
+
Special editions for events
+
Cooling fabric
The NB ICEx tech used in the material for this singlet helps it to dry rapidly and keep you cool, so you can be sure it won't make you overheat on the run. There is also a special London Marathon edition of the Impact Run top launched each year while New Balance sponsors the event, and it's a great souvenir from the race that you can use regularly.
---
Kalenji Run Dry Tank Top
The best budget vest
Reasons to buy
+
Amazing value
+
Dries quickly
Reasons to avoid
-
Not many colors
-
Smells after use
-
Not as comfortable as others
Unsure if running in a vest is for you? Give it a try with this insanely cheap top from Decathlon's in-house brand Kalenji. Despite the low price, I still found this tank breathable and sweat-wicking, and while it starts to smell after one outing and isn't as comfortable for long runs as more expensive options, you can forgive a lot given the low price.
---
BAM Origin Air Training Vest
Best for running and other workouts
Reasons to buy
+
Soft bamboo fabric
+
Great for all workouts
+
UPF50 rating
Reasons to avoid
-
Warmer and heavier than others
-
Dries slowly
The Origin Air vest is made from a mix of bamboo viscose and cotton, and the material is much softer on the skin than any synthetic vest I've tested. It's a little heavier than other vests, though, and takes a long time to dry, but it doesn't start to smell after one run—hang it up to use again and you can save on your washing. The vest has a UPF50 rating and the relaxed fit makes it a good option to use for gym workouts and other training, alongside your runs.
---
More Running Gear Recommendations
Sign up for workout ideas, training advice, reviews of the latest gear and more.