The Best Running Water Bottles
Here are the finest and most convenient ways to stay hydrated on the move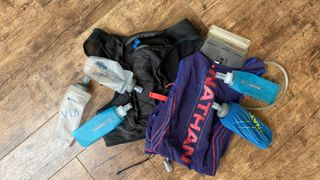 (Image credit: Nick Harris-Fry / Future)
Committed runners will happily splash out big money on the best running shoes and running gear, and those tackling longer events like marathons will also carefully consider the carbs such as running gels they need to complete the distance.
However, all that stuff will end up being irrelevant if you don't hydrate properly on the move, because not taking on enough water is pretty much the quickest way to guarantee that your race or training run will go off the rails.
To help you avoid that, we've picked out the best running water bottles of several different types, from soft flasks to running belts and backpacks. Below you'll also find a buyer's guide to help you decide what kind of water bottle will suit you best.
The Best Running Water Bottles
Ultimate Performance Runners Bottle
Best budget handheld bottle
Reasons to avoid
-
Holding a bottle is tiring
This simple plastic bottle is a good budget option for shorter runs, and the 580ml capacity will be enough to keep you hydrated for longer outings too, but in our experience it can start to get a bit tiring having to grip a bottle for anything over an hour. The lid has a cover to prevent any leaks, though that is less of a risk in general when you're carrying the bottle upright in your hand compared with shoving it into a bag or belt.
---
Nathan SpeedDraw Plus Insulated Flask
Best handheld water bottle
Reasons to buy
+
Insulated bottle keeps drinks cool
+
Attaches to your hand
+
Pocket for other essentials
You can get a good running belt or backpack for the price of this handheld, but if you're fully committed to holding a drink in your hand on the run then this is the best bottle we've come across. The straps on the flask means that you can loosen your grip on the bottle and it won't drop, which is less tiring than holding a bottle tightly for your entire run. The two-wall design keeps your drinks colder for longer, and there is a large pocket on the flask that can take a phone or other essentials like gels and keys.
---
Montane Soft Flask
Best collapsible water bottle
Specifications
Capacity:
12.6oz / 360ml or 16.9oz / 500ml
Reasons to buy
+
Wide opening
+
Anti-leak valve
+
Variety of straws
Reasons to avoid
-
More expensive than others
Montane has two soft flasks on offer: a 12.6oz/360ml version and a 16.9oz/500ml version. We've found that the former is the perfect size to use with a running belt, since it's smaller and less likely to bounce. Both models have a wide opening that makes them easy to fill and clean. You can get either short or long straws to use with the bottles too, so they will sit in the strap pockets of a variety of hydration packs. The standard sports cap they come with has a reliable anti-leak valve.
---
Evadict Trail Running Bottle Holder Belt
Best belt water bottle
Reasons to buy
+
Good value
+
Secure fit
+
Velcro straps
Reasons to avoid
-
Still some bouncing
-
Doesn't collapse down
You have two water bottle belt options: a single bottle at an easy-to-grab angle, as on the Evadict Bottle Holder Belt, or two bottles, one positioned on each hip. The not inconsiderable advantage of the latter is that you feel like a gunslinger, but generally we prefer the single bottle approach because you can place the bottle tight against the small of your back, which minimises bouncing.
The Evadict Bottle Holder Belt comes with a 500ml bottle and also has another large pocket to take your phone, along with a smaller key pocket. The belt comes in two sizes to help you get the right fit, and it's adjusted using Velcro straps, which are easier to fiddle with on the run than a buckle.
---
Salomon Soft Speed Cup
Best collapsible cup
Reasons to buy
+
Clips to backpack
+
Collapses to small size
This handy cup collapses to a tiny size so you can slip it into the smallest pocket of your backpack or running shorts, or attach it using the clip. It's ideal for whipping out when you come across an aid station or water source during your longer runs, or when camping overnight during multi-day adventures. If you're likely to have a range of drinks in it at various times, it's better than a soft flask or water bottle because the cup is easier to clean.
---
Osprey Duro/Dyna 1.5L
Best hydration vest
Reasons to buy
+
Comfortable fit
+
Handy pockets
Reasons to avoid
-
Not the largest capacity
-
Hard to fit phone and water bottle
You have a couple of options with your hydration approach with this vest. The one Osprey suggests is to pop a soft flask inside the large pockets on each strap, and that works very well with 250ml or 500ml flasks. But you can also put one larger bladder in the main pocket on the back of the vest and feed the tube over your shoulder.
Along with the pockets for the flasks there are smaller pouches on the straps you can use for keys, headphones and gels, and a zip pocket on the side of the left strap into which you can easily slip a large smartphone, though this does make also pushing a full bottle into that strap a bit of a squeeze. The fit of both backpacks – the Duro is designed for men and the Dyna for women – is excellent.
---
Nathan VaporKrar 2 Insulated 12L
A great hydration vest for marathon training
Reasons to buy
+
High capacity
+
Comfortable fit
+
Easy-access pouch pockets
Reasons to avoid
-
More expensive than others
Preparing for a marathon can mean you frequently need to head away from civilisation for a 30km run, so you need to take a lot of stuff with you. The VaporKrar 2 makes carrying all that stuff easy and comfortable. The large bladder has room for enough water to get you through your longest training runs, and there is a kangaroo pouch into which you can shove extra layers for quick access – exceptionally useful when training in the UK.
There are also pockets on the front to pop gels and other snacks in, plus a water-resistant pocket that will hold a smartphone. Shove everything in, then tighten the pack against your back and you'll barely know it's there.
Running Water Bottle Buyer's Guide
Specialist running water bottles are lighter and easier to carry than a classic bottle of Buxton or a standard refillable bottle. A handheld runner's bottle can have straps that secure it to your hand or body, or have a hole in the middle so you can grasp it easily.
Many running water bottles are also shaped so they can easily be slipped into a pocket, belt or backpack. Soft flasks are great for this because they collapse when empty to make them easier to stash.
For marathon training your best bet is usually a full hydration vest, because you need to take quite a lot of water and carb-based snacks with you during the 30km-plus long runs you'll be logging. That's unless you can schedule several stops at shops along the way (and don't mind taking a break to hydrate).
If you're aiming for race pace in your long runs, however, a vest might be a bit much. When we've trained for and run marathons, we usually opt for a couple of collapsible bottles that we shove into a large running belt – this holds them tight against the body to avoid bouncing. If that sounds appealing, use our round-up of the best running belts to find one which suits you.
The cheapest handheld bottles cost less than £10, but those with straps that make them easier to hold will be more like £20 or £30. Soft flasks are also cheap, usually around £10, though it's wise not to go for the very cheapest because they're more likely to leak.
Hydration running belts and backpacks are more expensive and backpacks in particular can set you back close to three figures. The best running backpacks will have a comfortable, adjustable fit and cleverly placed pockets that allow you easy access to your preferred running supplements and essentials on the move.
Sign up for workout ideas, training advice, reviews of the latest gear and more.