Best Carbon Plate Running Shoes 2023
Get set to log some PBs with the best carbon plate running shoes, the fastest shoes on the market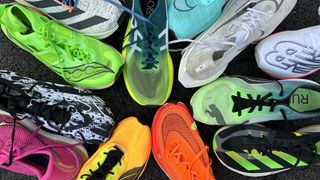 (Image credit: Nick Harris-Fry / Future)
Just a few years ago, keen runners would line up at the start of races wearing stripped-back shoes that prioritised being lightweight above all else. You got just enough cushioning to make sure your legs didn't fall off, but everything else was sacrificed.
These days, however, the preferred racing option for many is a shoe with an almost comically high stack of foam and a carbon plate in the midsole. New proprietary foams that are soft and springy but very light allow brands to cram a huge amount of them into a shoe without making it too heavy to race in, providing more comfort so your legs are fresher in the closing stages of a race, which makes more of a difference the longer the event is. At the elite level these shoes have led to records tumbling, and the same is true of PBs at amateur level.
After a couple of years in which the Nike Vaporfly line was the only show in town, in the form of first the Vaporfly 4% and then the NEXT%, most major brands released a carbon plate running shoe in 2020. Now in 2023 we're seeing second and third generation models – some refine success stories, while others hit after an initial miss.
Black Friday Deals
Given the high price of carbon plate running shoes, it's certainly worth trying to find a discount on them in the Black Friday sales. While they're often excluded from wider sales on brand websites, there are still deals to be found, and I'll be highlighting the best of them right here. You can also find deals on Nike shoes in our Nike Black Friday round-up.
US Deals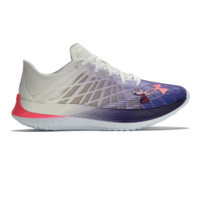 Under Armour Flow Velociti Elite: was $250, now $175 with code UAHOLIDAY
Save $75 There are two colors and lots of sizes available of the Velociti Elite on Under Armour's website, and by using the code UAHOLIDAY you get 30% knocked off its $250 price. It's the best deal I've seen on the shoe, though I don't rate the Velociti Elite as highly as carbon racers from other brands.
UK Deals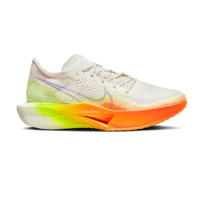 Nike Vaporfly 3: was £235, now £152.75 at Pro:Direct
Save £82.25 The latest version of the Nike Vaporfly is included in Pro:Direct's Black Friday sale, with different discounts available on certain colors of the shoe. This is the biggest discount available, but if you'd prefer another color or need a different size to the one's available in this color then there are offers on several versions of the Vaporfly 3.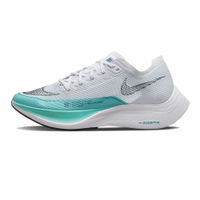 Nike Vaporfly 2: was £224.95, now £168.71 at Nike with code BLACKFRIDAY
Save £56.24 With the Nike Vaporfly 3 launching this year we were hoping to find the Vaporfly 2, in the sales. There's a lot going on with the Vaporfly 2 on the Nike website, with certain colors reduced by more than this, with limited sizes, but this 25% off deal covers a wide range of colors and sizes, and it's a great discount on what is still one of the best racing shoes available.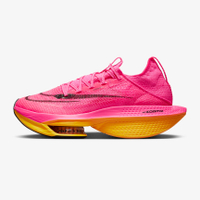 Nike Alphafly 2: was £279.95, now £209.96 at Nike with code START23
Save £69.99 You can knock 25% off full price styles when using the code START23 at checkout in Nike's sale. Top carbon racing shoes like the Nike Vaporfly and Alphafly are generally exempt from this kind of sale, but for some reason the women's Alphafly 2 in pink is currently included, so you can get it for just £209.96.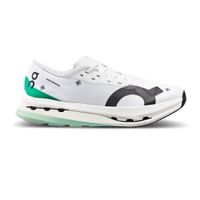 On Cloudboom Echo 3: was £260, now £181.99 at Wiggle
Save £78.01 This 30% discount on the Cloudboom Echo 3 racing shoe is entirely unexpected and it's such a good deal that the shoes are selling fast. The men's shoe is all but sold out, but there are several sizes of the women's shoe available still, so if your feet fit the bill move fast to get your hands on an excellent carbon plate running shoe at its lowest price ever.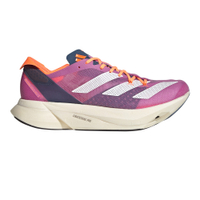 Adidas Adios Pro 3: was £219.99, now £149.99 at SportsShoes
Save £70 There are lots of colors of the Adios Pro 3 reduced to £160 in SportsShoes' BlackFriday sale, but this pink one is the cheapest available at £150. It's also one of the best colors, in my opinion, and obviously just as fast as any of the more expensive colors. The Adios Pro 3 is Adidas's top legal racing shoe and one of the best marathon shoes available.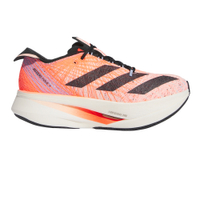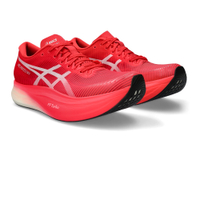 Asics Metaspeed Sky+: was £219.99, now £164.99 at SportsShoes
Save £55 The Metaspeed Sky+ and Metaspeed Edge+ are reduced to this price in SportsShoes' sale, with a wide range of sizes available. Asics says the two shoes suits different running styles, but if in doubt I'd recommend going for the Metaspeed Sky+ as the superior super-shoe regardless of running style, in my opinion.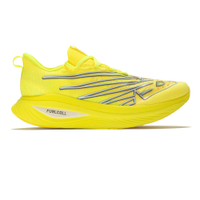 New Balance SuperComp Elite v3: was £220, now £165 at Pro:Direct
Save £55 Of course it's the 'cosmic pineapple' color of the SC Elite v3 that has the biggest discount on it in the sales, but if you find the all-yellow color a little too much for you then you can get more understated versions of the shoe for £175 from SportsShoes or Pro:Direct.
How I Test Carbon Plate Running Shoes
I am Coach's main running shoe reviewer, and as an obsessive road racer I love testing the best carbon shoes. I have a 5K PB of 15min 30sec and a marathon PB of 2hr 28min (both set in the Nike Vaporfly NEXT% 2, if you were wondering), and I'm constantly training and racing trying to better those times, which gives me plenty of opportunities to test carbon shoes.
I'm one of the few running journalists to have tested almost every carbon plate running shoe out there, which means I can compare each new release with the best options on the market. I aim to race, or at least do an all-out parkrun (which we all know is not a race but a friendly weekend run), in any carbon plate running shoe I review, and I also put them to the test with fast training sessions on the track and road.
I've tested almost all the carbon plate shoes available and ranked those still available to buy here. I've also linked to our longer reviews for each so you can dig deeper.
The Best Carbon Plate Running Shoes
Specifications
Weight:
7.3oz / 206g (UK 9)
Reasons to buy
+
Bouncier than the Vaporfly 2
+
Comfortable but lightweight
+
Good for all distances
Reasons to avoid
-
More expensive than the Vaporfly 2
Nike didn't dump the Vaporfly 2 formula with the Vaporfly 3, just made small but important updates that make the shoe lighter, while adding more ZoomX foam to the midsole. The upper is also more breathable, and while the outsole is thinner than on the Vaporfly 2—which may reduce durability—the Vaporfly 3 has gripped well for me throughout my testing.
The result is a super-shoe that strikes the perfect balance between weight and energy return, making it the top pick for any distance in my opinion, though some may prefer the heavier but more cushioned and propulsive Alphafly 2 for the marathon.
Read more in my Nike Vaporfly 3 review
Nike Vaporfly 3 Video Review
---
Specifications
Weight:
7.3oz / 207g (UK 8.5)
Reasons to buy
+
New upper is more comfortable
+
Springy ZoomX midsole with carbon plate
+
Great for races of any distance
Reasons to avoid
-
Expensive
-
Some runners find it unstable
Despite all the new kids on the carbon plate block, including the Vaporfly 3, there's a good case for sticking with the Vaporfly 2 as a better-value alternative because it is often in sales for less than $200/£200.
The Vaporfly NEXT% 2 is still an outrageously good shoe, and the one I have my 5K and marathon PRs in. It's firmer and more grounded than the Vaporfly 3, but still cushioned enough for longer events and it excels over shorter distances. While I prefer the Vaporfly 3, it's hard to say it delivers more than marginal performance benefits, so grabbing the older shoe in sales before it disappears is a wise move.
Read more in my Nike ZoomX Vaporfly NEXT% 2 review
---
Specifications
Weight:
8.2oz / 233g (UK 9)
Stack:
39mm heel, 33mm forefoot
Reasons to buy
+
Lightweight
+
Cushioned design
+
Bouncy ride
+
Great grip
Reasons to avoid
-
Not the most stable shoe
-
Demands a particular running style
There are a lot of carbon shoes available and most follow a similar design pattern, which means it takes something special to stand out. The Mizuno Wave Rebellion Pro is something special, with a unique design that delivers a bouncy, propulsive and comfortable ride that will help you speed around your races.
The heel-less, rocker design works best for mid-forefoot strikers, but even as a heelstriker I loved using it for fast runs of any length, even if it's primarily pitched as a marathon shoe. It worked a treat during a 5K race in my testing. In the UK, the Wave Rebellion Pro is also a relative bargain with its RRP of £200, making it even more tempting to give this distinctive shoe your attention.
Read more in my Mizuno Wave Rebellion Pro review
---
Specifications
Weight:
8.6oz / 244g (UK 9)
Reasons to buy
+
Efficient and fast ride
+
Comfortable over long distances
+
Extra foam under forefoot
Reasons to avoid
-
Heavier than original
-
Less impressive on twisty courses
-
More expensive than rivals
The most expensive carbon plate running shoe lives up to its hefty price tag by offering a spectacularly bouncy ride, with the combination of Nike's ZoomX foam, a carbon plate and the Air Zoom pods under the forefoot coming together to provide maximum energy return. At its best – when on straight roads with good surfaces – the Alphafly is unbeatable, although on twisty courses it can feel cumbersome, since it's larger and heavier than many carbon shoes. But it's a particularly good pick for marathons, where the cushioning and efficiency gains from the plate provide the most benefit in protecting your legs deep into the event.