The Best Carbon Plate Running Shoes
Get set to log some PBs with the fastest shoes on the market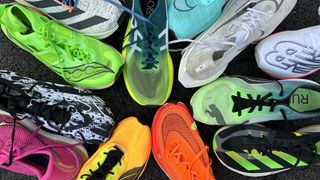 (Image credit: Nick Harris-Fry / Future)
Just a few years ago, keen runners would line up at the start of races wearing stripped-back shoes that prioritised being lightweight above all else. You got just enough cushioning to make sure your legs didn't fall off, but everything else was sacrificed.
These days, however, the preferred racing option for many is a shoe with an almost comically high stack of foam and a carbon plate in the midsole. New proprietary foams that are soft and springy but very light allow brands to cram a huge amount of them into a shoe without making it too heavy to race in, providing more comfort so your legs are fresher in the closing stages of a race, which makes more of a difference the longer the event is. At the elite level these shoes have led to records tumbling, and the same is true of PBs at amateur level.
After a couple of years in which the Nike Vaporfly line was the only show in town, in the form of first the Vaporfly 4% and then the NEXT%, most major brands released a carbon plate running shoe in 2020. Now in 2023 we're seeing second and third generation models – some refine success stories, while others hit after an initial miss.
We've tested almost all the carbon plate shoes available and ranked them here. We've also linked to our longer reviews for each so you can dig deeper.
It's worth noting that the latest shoes are rarely in stock for very long, so shopping for them can be a bit frustrating at times. It's best to sign up for alerts on availability, check major online retailers regularly, and move fast when you do see the one you want in stock.
The Best Carbon Plate Running Shoes
Despite all the new kids on the carbon plate block, there's a good case for sticking with the original kingpin, especially since Nike has dropped the price of the Vaporfly when releasing the latest version.
The Vaporfly NEXT% 2 has the same engine as the original NEXT%, with identical midsoles and outsoles. The big stack of ZoomX cushioning paired with a carbon plate provides a lightning-fast ride that's also slightly more stable than that of Nike's Alphafly.
What's been tinkered with on the NEXT% 2 is the upper, where a breathable knit replaces the original's VaporWeave material. This change brings more room and comfort to the toe box, but we did find that this new design rubbed at the heel. Nothing major, but worth thinking about if you're planning to use it to run marathons.
Read more in our Nike ZoomX Vaporfly NEXT% 2 review
---
There are a lot of carbon shoes available and most follow a similar design pattern, which means it takes something special to stand out. The Mizuno Wave Rebellion Pro is something special, with a unique design that delivers a bouncy, propulsive and comfortable ride that will help you speed around your races.
The heel-less, rocker design works best for mid-forefoot strikers, but even as a heelstriker I loved using it for fast runs of any length, even if it's primarily pitched as a marathon shoe. It worked a treat during a 5K race in my testing. In the UK, the Wave Rebellion Pro is also a relative bargain with its RRP of £200, making it even more tempting to give this distinctive shoe your attention.
---
The most expensive carbon plate running shoe lives up to its hefty price tag by offering a spectacularly bouncy ride, with the combination of Nike's ZoomX foam, a carbon plate and the Air Zoom pods under the forefoot coming together to provide maximum energy return. At its best – when on straight roads with good surfaces – the Alphafly is unbeatable, although on twisty courses it can feel cumbersome, since it's larger and heavier than many carbon shoes. But it's a particularly good pick for marathons, where the cushioning and efficiency gains from the plate provide the most benefit in protecting your legs deep into the event.
Read more in our Nike Air Zoom Alphafly NEXT% 2 review
---
The Saucony Endorphin Pro 2 is a great racing shoe, and yet the Endorphin Pro 3 manages to be an improvement in every way. It has a higher stack than the Pro 2, which creates a more cushioned and comfortable ride, and is also lighter than its predecessor. However, the Pro 3 still has the speed for shorter events like the 5K. Over longer distances the extra cushioning on the Pro 3 really comes into play, as does the smooth ride from the Speedroll rocker. It's the best competitor on the market to Nike's Vaporfly and a fantastic option for fast running at any distance – and as a bonus, Saucony has improved the grip on the shoe for races in slick conditions.
Read more in our Saucony Endorphin Pro 2 review
---
Asics has come the closest to toppling Nike from its perch at the top of the carbon leaderboard with the Metaspeed Sky+, which ticks a lot of boxes for those chasing PBs. It's light, it has a nylon-based midsole foam, plus it has that carbon plate. We did indeed set a PB in it in our first proper run in the shoe.
The Sky+ is one of two Asics super-shoes, along with the Edge+ (review to come soon). The Sky+ is aimed at bounding runners who increase their stride length when running fast, and the Edge+ for runners who have a more shuffling style and increase their cadence in races. Both are great options for those seeking a super-shoe without a swoosh.
Read more in our Asics Metaspeed Sky+ review
---
It may no longer be Nike's top dog, but it still stacks up well and will probably be included in sales now the second generation has been released. It has a lower drop (difference in height between heel and toe) than the Vaporfly at 4mm compared with 8mm, and its stack of ZoomX cushioning is even more exaggerated. But the most marked difference in the shoes is the Air Zoom pods under the forefoot of the Alphafly, which provide more punch to your toe-off than ZoomX foam alone. The extra weight, size and cost of the Alphafly may mean that many runners still prefer the Vaporfly, but for our money the Alphafly is the best marathon shoe if you're on a a budget, and lightning-fast over shorter races too.
Read more in our Nike Air Zoom Alphafly NEXT% review
---
The SC Elite V3 is billed as the long-distance racing shoe in New Balance's line-up, while the SuperComp Pacer is the low-stack, short-distance option. However, the SC Elite V3 is the only true super-shoe in the line-up and would be our pick from New Balance for any distance.
With the third version of the shoe New Balance has created a faster, more aggressive ride thanks to the pronounced rocker shape. The SC Elite V3 is a great racing option for events of any distance – it feels nimbler and faster than the RC Elite V2 over 5K or 10K and is still cushioned enough for the marathon.
Read more in our New Balance FuelCell SC Elite V3 review
---
The Adios Pro 3 is heavier and more expensive than the Pro 2, both of which are unwelcome developments. However, it's also more stable, more comfortable and bouncier than its predecessor, and a better option for the marathon in particular as a result. It's still pretty good over shorter events, too.
Adidas clearly hopes that runners will pick up the Takumi Sen 8 for their shorter events and use the Pro 3 for longer ones, and that is one hell of a racing shoe combination. However, there is better value to be found in picking up a more versatile carbon racer like the Vaporfly or Endorphin Pro 3. If you're a committed marathoner, though, the Adios Pro 3 is worth looking at in detail. A word of warning on the fit: this shoe can be small and narrow at the forefoot, so try before buying if possible, or go a half size up.
Read more in our Adidas Adizero Adios Pro 3 review
---
Saucony's new top racing shoe is firmer and bouncier than the Endorphin Pro 3, with the Speedroll rocker in the Elite creating a faster and more aggressive transition from heel to toe. It's a remarkable shoe and a joy to run fast in, especially over shorter distances, but the ride is a little harsher than many carbon shoes and may prove too uncomfortable for many runners over the course of a marathon.
The other problem with the Elite is its price: only the Nike Alphafly NEXT% 2 is as expensive. You can get brilliant carbon shoes that match the Elite for a lot less, so until it starts cropping up in sales it's hard to recommend over the likes of the Nike Vaporfly NEXT% 2 or Asics Metaspeed Sky+.
Read more in our Saucony Endorphin Elite Review
---
(opens in new tab)
We're not entirely sure that the EnergyRods in the midsole of the Takumi Sen 8 are actually made of carbon, because they are thinner and more flexible than the rods on the Adios Pro 3 and could be glass fibre. However, the result is a similarly propulsive ride and the Takumi Sen 8 is worth investigating if you're looking for a racing shoe packed with tech.
It is a little different from most super-shoes, though: the stack is lower than the Adios Pro 3's at 33mm compared with 39.5mm, and it's also far lighter at 194g vs 231g. This makes the Takumi Sen 8 well suited to shorter events like 5K or 10K races, while the Adios Pro 3 offers more comfort and protection for half marathons and marathons. That said, the Pro 3 is still a good short-distance racer and if you already have a carbon shoe it's not worth picking up the Takumi Sen 8 just for shorter races. If you haven't pulled the trigger on a high-stack super-shoe and favour short events, it's a fantastic new option.
Read more in our Adidas Takumi Sen 8 review
---
The Puma Deviate Nitro 2 isn't quite the match of the best carbon shoes when it comes to flat-out speed, especially for longer events, but it has other impressive qualities that make it a great shoe.
It is more stable and grounded than other carbon shoes, partly because of the lower stack height of 36mm at the heel. This, in conjunction with the outstanding grip from the outsole, means it is a top pick for short races with twisty courses or even mixed terrain events where super-shoes often come unstuck or feel unstable around corners.
The Elite 2 can also be used as a trainer/racer because the ride feels comfortable at a range of paces. While it's not cheap, it is good value compared with other super-shoes – and actually cheaper than some plated training shoes, such as the New Balance SuperComp Trainer.
Read more in our Puma Deviate Nitro Elite 2 review
---
The Puma Fast-FWD Nitro Elite is built for short-distance events – most runners won't enjoy racing more than 10K in it. That's because of the unique design which pushes you to land on your midfoot before the aggressive rocker flings you forwards onto your toes. It feels great when you're running well, but the ride lacks the support you need for longer events.
We found that even in short races the Fast-FWD could start to feel awkward at times, but when you're in control and feeling good it's a very efficient racing shoe for 5K and 10K. The price is high for a fairly niche shoe, however, and other carbon shoes match the performance of the Fast-FWD over short distances while being suitable for longer races too.
Read more in our Puma Fast-FWD Nitro Elite review
---
The most comfortable carbon plate racing shoe we've tried, the RC Elite 2 has a huge stack of soft FuelCell foam that actually makes it enjoyable to use for easy training runs as well, though we wouldn't recommend wearing the soles down on junk miles given that it costs £210. The shoe really comes to life when running at pace though, when the springy foam combines with the carbon plate to make it feel easier to hold efforts for longer. The RC Elite 2 is especially good for longer events like half marathons and marathons, whereas its larger size make it less suited to 5Ks and 10Ks when nimbler, lighter options like the Vaporfly NEXT% 2 or Metaspeed Sky work better. However, the RC Elite 2 is certainly one of the very best marathon options for runners seeking a blend of comfort and speed.
Read more in our New Balance FuelCell RC Elite v2 review
---
(opens in new tab)
While the Pro 3 is now available, it's still worth bearing the Pro 2 in mind because it's a lighter, more versatile racing shoe than Adidas's latest, which is built mainly for marathons – and it's also frequently discounted. The midsole of the Adios Pro 2 is full of innovative tech designed to help you run more efficiently. This includes two layers of Adidas's bouncy Lightstrike Pro foam, a small carbon plate under the heel and five carbon-infused EnergyRods running under the forefoot to provide the propulsive feel that other brands produce with a full plate. It also features a midsole cut-out that reduces weight and a slim layer of rubber on the outsole, which provides surprisingly good grip on the road. The performance of the Pro 2 is impressively fast and comfortable, though it falls short of the standards set by the best carbon shoes. It is, however, significantly cheaper than many super-shoes, especially now it's likely to pop up in sales.
Read more in our Adidas Adizero Adios Pro 2 review
---
The Fast-R is a pretty extraordinary-looking shoe that showcases the variety of tech Puma has crammed into it to make a top-notch carbon racer. The decoupled midsole reveals the carbon plate running through, and the shoe uses two foams – a firm EVA foam at the heel helps you to transition rapidly to the softer, PEBA-based Nitro Elite foam under the forefoot. In this shoe Puma has made the Nitro Elite using castor bean oil for performance reasons but it's also sustainable, which is always a bonus.
While the Fast-R feels awkward at slower paces it does come alive when running fast, and the transition from heel to toe is undoubtedly rapid. We enjoyed racing a half marathon in the shoe but that might be the furthest distance we'd use it for, since it's firmer than other super-shoes that would be better for the marathon. One downside here is that the Fast-R is more expensive and heavier than the Deviate Nitro Elite, and we reckon that is still the pick of the Puma carbon shoes to try.
Read more in our Puma Fast-R Nitro Elite review
---
Decathlon's first carbon-plate super-shoe has the key ingredients you expect, including a full-length plate and a PEBA-based midsole foam. Where it strays from the classic template is that it's much cheaper than most carbon shoes, and more durable – Decathlon says the Kiprun KD900X should last 1000km.
The ride is pretty firm, especially at first, but does soften a bit after a couple of runs, and the KD900X doesn't have the dramatic squish and bounce of the best carbon racers. However, it's still undeniably quick, and the firmer ride makes it more stable than other super-shoes. It's one we'd mark down as a great trainer/racer, rather than a top-class racer that's ready to take on the best in the business.
---
One of the best budget carbon shoes, the 361° Flame is modelled on the Nike Vaporfly's design. It can't match the performance of Nike's super-shoe, but the Flame holds its own against other shoes around its price.
The midsole is made of a polyurethane foam called QU!KFLAME, which is firmer than many rival foams in carbon shoes though still comfortable and responsive, if not as springy as materials like ZoomX of Asics's FF Turbo. The Flame also grips well in the wet and, given the lower price, works well either as your racing shoe or as a fast training shoe to pair with something like the Vaporfly.
Read more in our 361° Flame review
---
The SuperComp Trainer has a stack height that blows the 40mm limit set by World Athletics, so it's illegal for road racing. However, that giant stack of New Balance's FuelCell foam, combined with a carbon plate, makes the SuperComp Trainer the bounciest shoe we've come across and because of that it's a fun option for training runs.
When you're not on good roads the big stack makes the Trainer wobbly and worrying to run in, but if you stick to well-maintained asphalt it protects your legs well and adds a huge spring to your step. It's also good for fast training, despite being quite heavy, though we did find that weight started to tell on longer runs (over 15 miles). The main problem with the shoe, however, is its price. It's way too high for a plated training shoe, and you'll find better value in the nylon-plated Saucony Endorphin Speed 3.
Read more in our New Balance FuelCell SuperComp Trainer review
---
(opens in new tab)
---
(opens in new tab)
The Deviate Nitro 2 is the plated training shoe in Puma's range, and it uses a mix of 70% carbon and 30% TPU in its plate so it's not as stiff and firm as a full carbon one. That makes it better for regular use, and the Nitro 2 is a great daily trainer that's comfortable enough for easy runs while still having a little extra pop for fast workouts, even if it doesn't feel as bouncy and propulsive as the top super-shoes.
One of the shoe's best features is its PUMAGRIP outsole, which grips well on wet roads and also works on light trails like park paths and canal towpaths. That outsole does add weight to the shoe and marks it out as more of a trainer than a racing option, but it's great to be able to take your daily runs off-road when you fancy it without worrying about grip.
Read more in our Puma Deviate Nitro Elite 2 review
---
(opens in new tab)
Altra has earned a loyal following among runners seeking a foot-shaped toe box and a zero-drop midsole design to promote a more natural gait. The Vanish Carbon is the brand's first attempt at a super-shoe, with a three-quarter-length Carbitex plate in the midsole, which is made of Altra's lightweight, response Ego Pro foam.
All the ingredients for a super-shoe are there, with an unusual zero drop design that doesn't feel all that flat thanks to the aggressive toe taper, which provides a rolling sensation to your toe-off. The Vanish Carbon is an effective shoe that can handle a range of training as well as races, but the midsole lacks the propulsive feel of the best carbon shoes; at this price it's hard to recommend it over the likes of the Vaporfly, especially since the outsole wears down worryingly quickly.
Read more in our Altra Vanish Carbon review
---
The Pacer is the first shoe from New Balance's new SuperComp line, which will include a carbon plate training shoe and a marathon racer. The Pacer is designed for racing 5K to half-marathon distances, and has a lower stack height in order to be more nimble and lightweight for those shorter events.
It has a full carbon plate in the midsole and New Balance's springy FuelCell foam, but it doesn't feel as soft as the more cushioned RC Elite 2. The Pacer is a great shoe and built to compete with the likes of the Takumi Sen 8 and Nike Streakfly in the short distance racer category; however, we'd still generally prefer to pull on a high stack super-shoe, even for 5Ks.
Read more in our New Balance FuelCell SuperComp Pacer review
(opens in new tab)
The first Hyperion Elite was not a great shoe, being much firmer than most carbon shoes and only performing at its best for 80-160km according to Brooks. However, the Hyperion Elite 2 is a great shoe. The key change is the midsole foam used: the nitrogen-infused DNA Flash foam is responsive, quick and comfortable, and pairing it with a carbon plate produces a fast ride alongside the support you need to finish races strong. The Elite 2 also feels more like a traditional racing shoe than the other high-stack options.
Read more in our Brooks Hyperion Elite 2 review
---
The Echo is On's third attempt at a carbon shoe and it's easily the best. It's more comfortable than the original Cloudboom and Cloudflash, with a higher stack of cushioning, and thanks to the enhanced rocker and extra curve on the plate in the midsole it also provides a smoother, more efficient ride. It's still firmer than most carbon shoes, but avoids being too harsh and runners who don't like the squishy, unstable feel of shoes like the Vaporfly might well enjoy the Echo more. However, the Echo's price makes it hard to recommend when the more impressive Vaporfly 2 and New Balance RC Elite 2 cost the same, and the Endorphin Pro 2 is a touch cheaper while offering a similar ride.
Read more in our On Cloudboom Echo review
---
The Endorphin Edge aims to bring the magic of Saucony's Endorphin road shoes to the trails and uses the same PWRRUN PB foam with a Carbitex carbon fibre plate, which is more flexible than the plate in the Endorphin Pro 3. This makes the Edge better suited to uneven ground. It's not as nimble as the Hoka Tecton X carbon trail shoe when you are on technical terrain, but the Edge delivers a more propulsive ride on harder, flatter trails, and it offers excellent traction on a range of surfaces. We're not convinced that you need a carbon plate trail-racing shoe, since the benefits are not as pronounced as on the roads, but if you want one the Edge is our top pick.
Read more in our Saucony Endorphin Edge review
---
The Tecton X is Hoka's first carbon plate trail-running shoe. We rate it as the best carbon trail racer we've tested, since it is more nimble and adept on technical terrain than the North Face Flight Vectiv.
In the midsole are two carbon plates that run in parallel down the sides, which make the Tecton X less stiff and clumsy on uneven ground than a shoe with a full plate. The ProFly+ midsole delivers an energetic ride, though it isn't soft and springy like a road shoe – this would be unstable on the trails.
The Tecton X doesn't feel as propulsive as a carbon road shoe, and the benefits of its plates only come into play on harder, smoother trails, but it's an appealing new option for off-road runners keen to see what the fuss around carbon shoes is all about.
Read more in our Hoka Tecton X review
---
(opens in new tab)
The Speed Elite Hyper sits between old-school racing flats and today's high-stack super shoes, but feels more like the former underfoot. The stack height is 23mm, which is low enough to use for track races over 800m and a far cry from the 40mm limit many carbon shoes bump up against.
There is a carbon plate but only under the forefoot, which stops the ride being too harsh despite the relative lack of foam. That foam is Skechers' Hyperburst material, which is a nitrogen and carbon dioxide-infused EVA. It's very light – the Speed Elite weighs just 180g in a UK 9 – and has plenty of pop, but feels firmer than the soft foams you'll find in shoes like the Nike Vaporfly and New Balance RC Elite v2.
While it will be too firm and minimal for most to use for a half marathon or marathon, the Speed Elite Hyper is a lightweight option for short races and speed sessions.
Read more in our Skechers GoRun Speed Elite Hyper review
---
(opens in new tab)
Given the success of high-performance road shoes with carbon plates, it was only a matter of time before the technology hit the trails as well. It's perhaps unexpected to see The North Face leading the charge, though, since it's not a brand primarily associated with running shoes.
The Vectiv's plate works with a rocker design and a generous stack of bouncy foam in the midsole to help protect your legs and propel you forwards during off-road runs. That's similar to the tech in most carbon road shoes, but there are tweaks to make it better for the trails. The foam is not very squishy for one, because you need more stability on uneven ground, and there's a panel in the midfoot to further increase stability. There are also other standard trail shoe features like a toe cap and an outsole with 3.5mm lugs for extra grip, though it's worth nothing the Flight Vectiv is really built for harder trails – we found it soon came unstuck in the mud.
We're not convinced the performance benefits of a carbon trail shoe will match those you get on the road, where your stride is more consistent and the efficiency gains from a plate are clear. We also experienced some foot pain when using the shoe, to the point where we had to halt one run to change shoes. However, assuming you don't experience that problem, the Flight Vectiv is an enjoyable and fast shoe for long trail runs in particular, and sets the standard for the many carbon off-road shoes we expect to follow in its wake.
Read more in our The North Face Flight Vectiv review
---
The third version of Hoka's long-distance carbon racing shoe uses a slightly softer and bouncier midsole foam, improving the ride. It's also more stable and comfortable to use for regular training than many carbon super-shoes. However, it lacks the top-end speed of the best carbon racing shoes, and wouldn't be our pick for races up to marathon distance, though it might be better suited to running road ultramarathons thanks to its more stable design. One criticism we do have of the latest version of the shoe is that the fit of the new knit upper can be a little sloppy when running fast, but overall the X3 is an upgrade on the X2.
Read more in our Hoka Carbon X3 review
---
Reebok makes one of the best value running shoes available: the Floatride Energy 4, which is a superb daily trainer that costs $110/£75. We were hoping the Floatride Energy X would be similarly impressive in offering great value as a carbon plate shoe, but unfortunately it fell short of our expectations.
While the Energy X is comfortable and has a smooth ride with a little extra pop coming from the plate under the forefoot, it's a bit heavy and the Floatride midsole foam lacks the bounce to make up for that weight.
Read more in our Reebok Floatride Energy X review
---
The Zoom Fly 5 is the plated training partner to Nike's top racing shoes, the Vaporfly and Alphafly, but it fails to deliver the magic of those shoes. The midsole is made from a mix of recycled ZoomX and SR-02, an EVA foam that protects the ZoomX "core". Sadly, the shoe has a dull and unimpressive ride. The Zoom Fly 5 is also heavy, and not well suited for fast running, so don't pick it up hoping for a cheaper alternative to the Vaporfly for your races. It is a decent daily trainer that is comfortable on easy and long runs, and the outsole grips well on roads and light trails in the summer. However, whether you're looking for a plated fast training shoe or a daily trainer, there are many better options than the Zoom Fly 5.
Read more in our Nike Zoom Fly 5 review
---
The Bondi X offers a different experience from most carbon plate shoes by taking its cues from the classic Hoka Bondi, a maximally cushioned shoe built primarily for comfort rather than speed. It's a more stable carbon plate option that works best for everyday training and we found it performed at its best for easy to steady running, rather than anything particularly quick thanks partly to the bulky design. Whether you actually need a carbon plate shoe for that kind of running is unclear, but if you're keen on the idea of investing in a carbon shoe but want something a little less aggressive than the carbon racers most brands make, then the Bondi X is an interesting option.
Read more in our Hoka One One Bondi X review
---
The Rocket X 2 is comfortably the best carbon shoe Hoka has made and it competes with the best racers from other brands too. If you prefer a low-drop racing shoe, it's definitely one to test out, though I have a couple of concerns with it that relegate it slightly behind the top tier of super-shoes.
One is heel rub – the Rocket X 2 rubbed my left achilles raw if I didn't heel-lock the laces and bandage the area before running. The other is that the stack is lower and softer than other shoes, and I found it lost a little of its spring deep into runs. It was still great, but you get a more propulsive feel from higher-stack shoes that have firmer foams.
Read more in our Hoka Rocket X 2 review
How We Test Carbon Plate Running Shoes
Senior writer Nick Harris-Fry is Coach's main running shoe reviewer, and as an obsessive road racer he loves testing the best carbon shoes. Nick has a 5K PB of 15min 30sec and a marathon PB of 2hr 28min (both set in the Nike Vaporfly NEXT% 2, if you were wondering), and is constantly training and racing trying to better those times, which gives him plenty of opportunities to test carbon shoes.
Nick is one of the few running journalists who has tested almost every carbon plate running shoe out there, which means he can compare each new release with the best options on the market. He aims to race, or at least do an all-out parkrun (which we all know is not a race but a friendly weekend run), in any carbon plate running shoe he reviews, and also puts them to the test with fast training sessions on the track and road.
Carbon Plate Running Shoes Buyer's Guide
Do carbon shoes make a difference?
There now seems little doubt that carbon plate shoes do make runners more efficient and help them log faster times, with scientific studies and a vast amount of anecdotal evidence from pro and amateur runners attesting to that. Not all carbon shoes are created equal (opens in new tab), though, and it seems that some runners respond more to the shoes than others.
What does the carbon plate in running shoes do?
Carbon plate running shoes usually have a large stack of soft, bouncy foam in the midsole, and the plate helps stabilise that foam. It also helps to return energy with each footstrike, creating an efficient transition onto your toes and then propelling you on your way.
What are the key features of carbon plate running shoes?
For the most part, carbon shoes have a high stack of midsole foam with a full length carbon plate running through it. In shoes used for official racing, this foam stack can be no higher than 40mm according to World Athletics regulations. There are some shoes that go as high as 50mm, though these are mainly designed to be used in training.
Advances in foam technology have been just as important to creating modern super-shoes as the plate. The foams are very bouncy and very lightweight, which means they protect the legs and boost energy return without making the shoe too heavy to race in.
The midsole is where all the key tech of a carbon shoe is found. The uppers are usually designed to be as lightweight as possible while holding the foot securely, and outsole rubber is also kept to a minimum to provide grip without adding much weight.
What are the different types of carbon plate running shoes?
The Nike Vaporfly, which kicked off the carbon trend, and the super-shoes that initially followed it were built purely for road racing at any distance. Since then, several categories of carbon shoes have emerged. There are carbon shoes designed for long-distance road races such as the marathon and beyond, and these are more cushioned and heavier than carbon shoes specifically built for shorter events like 5K and 10K.
There are now also carbon plate trail-running shoes for off-road races, and many brands also sell plated shoes for training. These sometimes don't have carbon plates, instead using nylon or TPU, or a mix of those materials with carbon, in order to be more comfortable for regular training runs.
What shoes do the fastest elite runners wear?
If you watch elites race regularly you could be forgiven for thinking only Adidas and Nike make carbon shoes, since their sponsored runners dominate the podiums. Eliud Kipchoge is the fastest marathoner of all time, and he used the Nike Alphafly NEXT% 2 to set the world record in Berlin in 2022.
Adidas and Nike do make brilliant carbon shoes, but just picking up what the likes of Kipchoge wear is not necessarily the best idea. Having the marketing budget to sponsor the best runners in the world doesn't necessarily mean they make the best shoes. That said, we do think Nike makes the best shoes, for now at least.
Do carbon plate running shoes cause injury?
Carbon shoes are very stiff and, by design, change your running gait a little. While there's no established evidence they cause injury, many runners at all levels are wary of using them too much. They're also quite unstable because of the soft foam used, which can cause problems for runners who overpronate; they would be better off with one of the best stability shoes.
What are the downsides of carbon plate running shoes?
Along with the possibility of an increased risk of injury if you use them too much, partly because they are quite unstable, the main downsides of carbon plate shoes are that they are very expensive and usually not the most durable.
How long do carbon shoes last?
That depends on both the shoe and the runner, but in general carbon shoes are less durable than training shoes. If you tend to get 300-500 miles from a pair of training shoes, you're likely looking at 200-300 miles from a carbon shoe before it's past its best – though it will still be usable after that.
Carbon shoes are less durable largely because they have thinner uppers and outsoles that show wear faster, but the midsoles can also compress and lose some of their spring. This happens in all shoes, but in your racing shoe you want the best performance, so many runners will relegate a carbon shoe to training use after a couple of hundred miles and get a fresher pair for racing.
Why are carbon plate running shoes so expensive?
The price of carbon shoes has been high since the original Nike Vaporfly and has only been increasing since – the latest shoes from Nike and Saucony cost around $280/£280 at RRP. The shoes tend to have brands' latest and best technology in them, and a lot of research goes into making them. The materials involved might also be pricier than those used for standard training shoes, but the high price is also down to demand – serious runners are prepared to pay top dollar for a premium product.
However, the market is now saturated with carbon shoes and older versions are regularly in sales, including some of the best available like the Nike Vaporfly NEXT% 2 and Saucony Endorphin Pro 3. Even as the price of new releases continues to rise, carbon shoes in general are now more accessible and cheaper than they've ever been.
Sign up for workout ideas, training advice, reviews of the latest gear and more.