The Adidas Terrex Agravic Speed Ultra stands out from other attempts at trail super-shoes thanks to the lack of compromises in its design. It's fast and bouncy and rolls your foot through efficiently, although the narrow back of the shoe and soft midsole means it won't work for every runner.
For
Fast, rockered ride
Comfortable and breathable
Reliable grip
Against
Narrow midfoot and heel
Not as stable as other shoes
Expensive
Adidas kept its powder dry for most of 2023 with regards to new racing shoe releases, then announced flagship super-shoes for the road and trails in the space of a month. The Adidas Adizero Pro Evo 1 looks set to be among the best carbon plate running shoes, if outrageously expensive, while the Adidas Terrex Agravic Speed Ultra is a super-shoes for the trails, built to rival the likes of the Nike Ultrafly.
Several brands have now launched off-road super-shoes, but the Agravic Speed Ultra is the first to capture the feeling of road shoes, and one of the best trail-running shoes you can get for races at any distance. However, its speedy design means it lacks stability, and it may not work so well on certain terrains. Some runners might not get on with its aggressively rockered design, either.
Adidas Terrex Agravic Speed Ultra: Price And Availability
I was able to get hold of the Adidas Terrex Agravic Speed Ultra before its release date in spring 2024 by attending an Adidas event in Chamonix at Ultra Trail du Mont Blanc 2023. While the shoe was still being described as a prototype, I believe it is the version that will go on sale. It will cost $230 in the US and €230 in Europe (UK price yet to be confirmed), which is a little more affordable than the Nike Ultrafly but still among the most expensive trail shoes I've tested.
How I Tested This Shoe
I've run just under 70 miles (112km) in the Adidas Terrex Agravic Speed Ultra, including one 30-mile run, which was the first six laps of a 10-lap, 50-mile ultra-marathon of which I did the final 20 miles in the Nike Ultrafly to compare the shoes. I've also done faster, shorter runs in the shoe, using it mostly on tame and dry trails in a forest near London, with one run on rockier, trickier terrain in Chamonix.
Design and Fit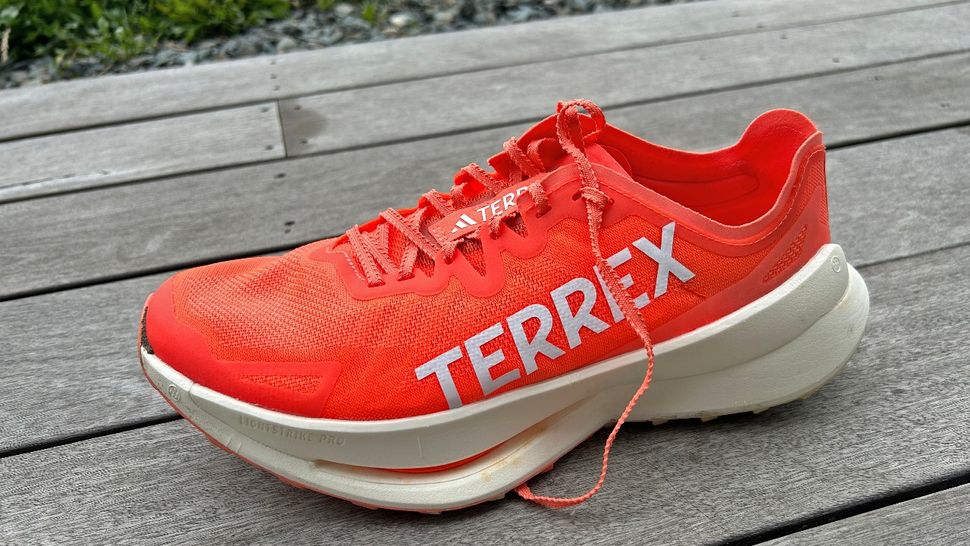 The most important feature of the Agravic Speed Ultra is its midsole, which is made from Adidas's springy Lightstrike Pro and has EnergyRods running through it to add both stability and propulsion to the soft foam.
The Agravic Speed Ultra's rods are different from those in the road shoe, which has five prongs running under the forefoot. The Agravic Speed Ultra has four, and these are spread across the wide forefoot of the shoe to increase stability without being as inflexible as a plate on uneven ground. There are also two rods extended back into the heel of the shoe.
The shaping of the Agravic Speed Ultra's midsole is dramatic in several ways. The rocker is pronounced and encourages a forefoot strike, something also demanded by the varying width along the length of the shoe. The forefoot is wide, with a narrow pinch-point at the back of the midfoot and a relatively narrow heel section. As a result the shoe will be more stable for forefoot strikers, and potentially a little wobbly for heelstrikers, given the soft foam used.
Adidas hasn't confirmed the stack height or drop of the shoe, though it's not a low-profile shoe. The highest point is actually at the midfoot because of the rocker shape. Despite the large amount of foam, the shoe is light for a trail shoe at 9.7oz/274g in my UK size 9. That's partly down to the woven upper, which is lightweight and breathable and designed to not absorb water. There are only minimal overlays on the shoe, with extra protection around the toes, and there's not much padding around the collar and tongue.
The shoe fitted well in my normal running shoe size, whereas sometimes with Adidas running shoes I go half a size up. It also proved to be a comfortable upper over long distances for me, with no rubbing or other concerns at all on my 30-mile run in the shoe.
The Agravic Speed Ultra has a Continental rubber outsole with lugs ranging from 2.5mm to 3.5mm in length. It's built to handle a range of terrain and I found it gripped well on everything I tested it on, including dry grass and forest trails, and wet rocks and rooty trails. It's not built for deep mud but should handle most other terrains, and it feels comfortable for extended spells on the road as well.
Running Performance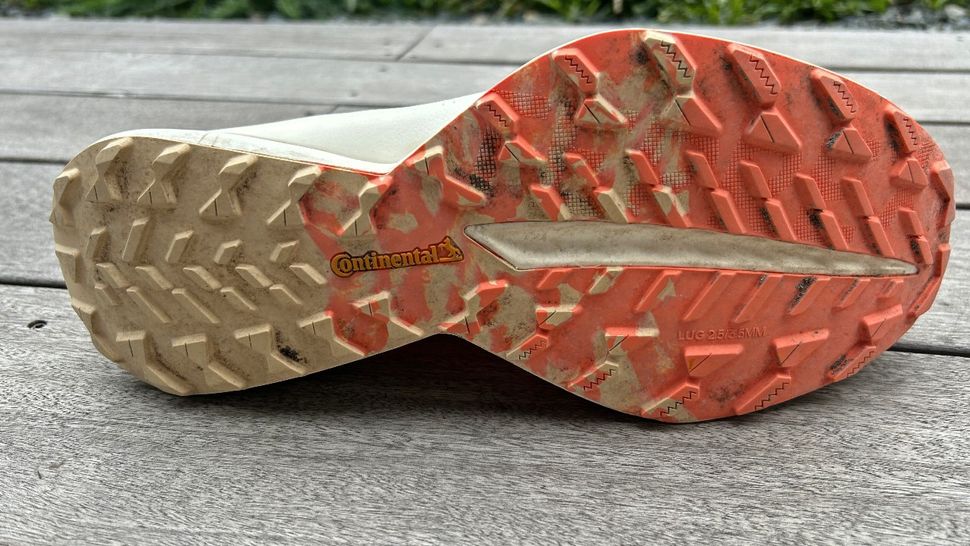 I was concerned before my first run in the Agravic Speed Ultra that it wouldn't suit me. As a shuffling heelstriker, the forefoot-focused design seemed like it may be unstable and I worried the rocker would feel unnatural.
However, after a few weeks running in the shoe those concerns were long gone. It felt comfortable and fluid at a range of paces, ticking over nicely at slow speeds and then being more bouncy and propulsive when I did push the pace. I did an hour-long progression run of just over 10 miles on undulating forest trails and the shoe had the springy, efficient feel of a carbon road shoe.
The big distance test I did was to use the shoe for the first 30 miles of my first ultra-marathon: The Orion Harriers Epic Epping Forest 50-mile event, which involved 10 laps of a five-mile route on a variety of forest trails. Most of these were dry and well-groomed paths, with a few sections of the loop on rooty single-track and grass to mix it up a little.
Throughout the 30 miles the shoes felt great. It was comfortable and, at a slower pace of around 8min/mile, the rocker felt like it helped to keep me ticking over and maintain a high cadence. Although I'm a heelstriker, the shoe felt natural and didn't place any unusual strain on my body because of its distinctive shape.
I retain some concerns about the shaping of the shoe, though that would come more into play on steep descents on more technical trails, with rocks and lots of twists and turns. I'm still unsure if it would be a good shoe for me in those conditions because if you land in the wrong spot on the narrow midfoot or heel it could be a recipe for a rolled ankle.
On the run I did in Chamonix on a route with rocky and rooty sections and sharp descents I felt less secure in pounding downhill in the Adidas shoe than in something like the Nike Ultrafly, which is heavier and feels less quick, but has a wider base to land on and feels more stable and reliable to me on downhills. More experienced trail and mountain runners will have less to worry about with the Adidas shoe.
Is The Adidas Terrex Agravic Speed Ultra Worth It?
Once it launches, and assuming it sticks to the design I've tested here, the Adidas Terrex Agravic Speed Ultra will be one of the best trail-running shoes available. For long-distance events it's the closest a trail shoe has come to feeling like a road super-shoe for me, and it's comfortable and speedy.
The Nike Ultrafly is less speed-focused but more stable and comfortable, making it better for those starting out in trail running. It's even more expensive though, and there is a case for looking at cheaper plated trail options like the Hoka Tecton X2 or Saucony Endorphin Edge.
An even more compelling alternative is the Asics Fujispeed 2, which is $160/£160, lighter than any of the shoes above and quick, due to the carbon plate in its midsole. The Fujispeed 2 is less comfortable than the Adidas and I wouldn't like to go to ultra-marathon distance in it, but if you're sticking to shorter trail events it's the one I'd get, since it is so much cheaper.
I'd also say that while you'll feel the benefits of the plates/rods in trail shoes, they are less pronounced than with road shoes, where the even ground allows for longer, stiffer plates and softer foams that add more bounce. There are great trail-racing shoes without plates that are much cheaper than the Adidas Terrex Agravic Speed Ultra, like the Saucony Xodus Ultra 2 or Hoka Speedgoat.