The New Adidas Adizero Pro Evo 1 Is The Lightest Super-Shoe Ever, And The Most Expensive
Its featherweight design might be a game-changer for racing shoes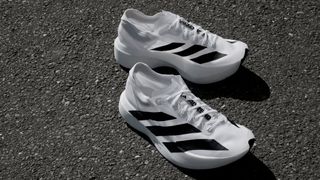 (Image credit: Adidas)
The super-shoe era has seen the best carbon plate running shoes completely replace traditional racing flats for runners tackling events of any distance. Super-shoes like the Nike Vaporfly are better than flats in pretty much every way, being more cushioned and propulsive thanks to new foams and carbon plates.
One thing racing flat purists could point to, however, was that their minimal shoes were lighter than high-stack super shoes. Not anymore. Adidas has just announced the Adidas Adizero Pro Evo 1, which weighs just 138g (4.86oz), despite having a stack height of 39mm at the heel and 33mm at the forefoot. That's the lightest carbon super-shoe I've ever heard of, and I've tested most of them. Few super-shoes weigh less than 200g in my UK size 9, with notable exceptions being the Skechers GoRun Speed Elite Hyper (6.3oz/180g) and New Balance FuelCell SuperComp Pacer (7oz/199g)
To achieve this Adidas looked at every aspect of the existing racing shoes in its range, like the Adidas Adizero Pro 3, which until now was the top pick for its elites. The Pro Evo 1 has a lighter upper, a new outsole design which again saves weight, and uses a new version of Adidas's Lightstrike Pro that's lighter, but also provides greater energy return.
Adidas has also removed the sock liner from the shoe to save weight, but it still seems to have some version of the brand's EnergyRods system to create a propulsive ride. The rods weren't mentioned at the launch of the shoe but do appear in imagery showing the components involved.
The Pro Evo 1 also has a forefoot rocker that starts further back than in other shoes, which Adidas says helps to improve running economy. The shoe has a 6mm drop.
Adidas's athletes are set to use the Pro Evo 1 for the upcoming marathon season, including at the Chicago Marathon, where two-time World Marathon Major winner Benson Kipruto will use it.
"Knowing I have the lightest racing shoe Adidas has ever created on my feet, packed with all the technology I need gives me the confidence on race day to just focus on the running," says Kipruto. "I know that they will help me achieve the fastest times of my career and I can't wait to put them to the test in Chicago."
Limited quantities of the shoe in a white colorway with black stripes will be available from September 14, with the next release date set for November.
It's all very exciting, but here comes the bad news: the Adidas Adizero Pro Evo 1 will cost $500/€500, making it the most expensive super-shoe by a large margin. It might prove a game-changer for super-shoes, but it might also spearhead a move to make these shoes even more expensive, because if one shoe successfully sells for $500, you can be sure other brands will start releasing shoes that cost that much.
Sign up for workout ideas, training advice, reviews of the latest gear and more.