The Best Running Shoes Of 2023
Find the right running shoes for you with our recommendations of road running shoes, stability shoes, trail shoes and more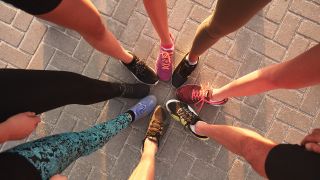 (Image credit: iStock / Getty Images Plus / Jacob Lund)
When embarking on a running kick, the one piece of kit it's worth putting some time into selecting is a top-notch pair of running shoes.
You can, of course, run in any old shoes, but that could well put you on the fast track to injuries, sluggish times and an unpleasant experience. In contrast, the right pair of shoes will help you find the motivation to get out there and pound the pavements.
What makes for the perfect pair depends on an individual's aims, speed, running style and even fashion sensibilities. Don't disregard the last factor – you want to feel good in these shoes if you're going to be covering hundreds of miles in them.
Below you'll find our favourites in different categories, the vast majority being road running shoes. We've included a trail-running shoe, but if you're planning to do most of your running off-road, we have lots more recommendations for different kinds of terrain in our round-up of the best trail-running shoes.
Everything is based on our experience of running at least 50km in them, and we've tried such a range of shoes that we're confident in calling out pairs that have something special about them with an Editor's Choice badge.
All the same, different runners will get different things from every shoe, so make sure to factor in your own experience when picking your new kicks. But hopefully somewhere on the list is a pair that's set to carry you to PBs across every distance.
The Best Running Shoes
---
The Saucony Endorphin Speed line was designed to be the training partner to the carbon-plated Endorphin Pro, but it turned out to be the best all-round running shoe on the planet. If you want one shoe for easy plods, marathons and everything in between, it's our top pick.
By using a nylon rather than a carbon plate, with a big stack of Saucony's PWRRUN PB foam, it's almost as fast as a full carbon shoe, while being more comfortable to use regularly. It also has the same Speedroll geometry as the Pro, which creates an effortlessly smooth ride.
With the third edition of the Endorphin Speed, Saucony has made some small but important updates, widening the base and adding wings to the nylon plate, both of which make the shoe more stable. The fit has also been tweaked to accommodate wider feet better. Both these improvements don't detract from the impressive ride, and the Speed 3 effortlessly takes the title of best all-rounder from its predecessor.
Read more in our Saucony Endorphin Speed 3 review
---
If you're new to running and unsure which shoe to go for, Nike's Pegasus line is always a safe bet, and that's true of the 39th edition of the shoe, which offers a comfortable and versatile ride for a reasonable price (and is often in sales).
The Pegasus 39 is lighter than the 38 with a more breathable upper. It also has a redesigned midsole that uses two of Nike's Air Zoom pods encased in durable React foam to create a ride that may not be the most bouncy or exciting in the world, but is stable, protective and speedy enough to work well for a variety of runs.
Read more in our Nike Air Zoom Pegasus 39 review
---
The ForeverRun Nitro uses a dual-density midsole where a firmer rim of foam surrounds a softer core to create a ride that is stable, but still enjoyably comfortable and bouncy. It's light for such a well-cushioned shoe with stability elements, and has an impressive outsole that grips well on light trails as well as wet roads.
It's a shoe that will work particularly well for new runners who want a supportive, stable option to protect the body during their first forays into running, as it can handle a variety of runs. The ForeverRun is also a solid, easy and long run option for runners of any type who want extra stability, providing more support than many other highly cushioned shoes.
Read more in our Puma ForeverRun Nitro review
---
Mizuno arrived a bit late to the carbon super-shoe party with the Wave Rebellion Pro, but it offers a highly enjoyable, bouncy ride that stands out even in today's crowded racing shoe market. It's at its best for longer events, like the marathon, but also works well for shorter events, with the design pushing you onto your midfoot before propelling you off your toes.
While the design may not suit every runner, and it's awkward to use when you're not at race pace, once you speed up and settle into the way the Wave Rebellion Pro wants you to run it has a thrillingly fast ride, and it's also comfortable even in longer events.
Read more in our Mizuno Wave Rebellion Pro review
---
The Floatride Energy 4 makes a mockery of its £75 price by offering a versatile ride that's easily the match of daily trainers that cost £130 or £140. The Floatride Energy foam in the midsole does a good job of protecting you from the impact of pavement pounding and while it's not the bounciest or most exciting foam, it feels responsive when you up the pace.
Compared with the Floatride Energy 3 the main change on the 4 is the new upper, which is lighter and holds the foot better. The drop in weight is significant and actually changes the feel of the shoe, making it more enjoyable to use for speedy runs. If you're just looking for the best bargain available, it's without doubt the Floatride Energy 4, especially since Reebok often has codes available to bring the price down further.
Read more in our Reebok Floatride Energy 4 review | More of the best budget running shoes
---
It's not just racing shoes that now come with a carbon plate as standard. Many training shoes have a carbon or nylon plate in the midsole to boost efficiency and propulsion, including our favourite all-rounder, the Endorphin Speed 3.
However, if you're against plates on principle, or prefer a more natural and flexible ride, then there are still great speedy all-round shoes available, and top of the list is the Hoka Mach 5. It's lightweight and has a dual-density midsole that delivers comfort and speed, and the rockered ride is smooth and ideal for long runs in particular.
The Mach 5 is also relatively cheap compared with plated trainers like the Speed 3, although the lack of a rubber outsole means it may not last as long. The exposed foam outsole no doubt contributes to the enjoyable ride, but it does reduce durability.
Read more in our Hoka Mach 5 review
---
The Saucony Endorphin Speed 3 is our favourite all-rounder shoe, but the Asics Magic Speed 2 runs it very close: it's slightly less good for easy efforts but a little speedier for fast training sessions. The ride is comfortable but fast, aided by the carbon/TPU plate found in the midsole and the responsive FF Blast+ foam that sits on top of that plate.
Underneath the FF Blast+ is a layer of Flytefoam, which is a firmer and more durable material that makes the Magic Speed 2 better suited to racking up a lot of training runs. It also works as a cheaper racing option than full carbon super-shoes like the Asics Metaspeed Sky+ and Edge+.
Read more in our Asics Magic Speed 2 review
---
The Hoka Mach 5 is our favourite all-round shoe that doesn't have a plate in the midsole, but the New Balance Rebel v3 comes very close. Runners who prefer a soft and springy ride over the smooth rocker of the Mach 5 might well prefer the Rebel.
New Balance increased the stack height of the third version of the Rebel, which makes it more comfortable and suitable for longer runs. Despite the slight increase in weight, though, it's still a very light shoe that's great fun to use for speed sessions.
Read more in our New Balance FuelCell Rebel v3 review
---
The Velocity Nitro 2 could have its pick of several titles: it's perhaps the best cushioned shoe, the best value shoe and the best beginner shoe all rolled into one. We've settled on value because the price stands out in today's running shoe market. Keep an eye out in sales and you'll probably be able to get the Velocity Nitro 2 for a lot less than $120/£100.
The key to the shoe's success is the bouncy Nitro foam used for the top layer of the midsole, which creates a lively and comfortable ride that's great for cruising through daily training but has the pace for speedier stuff as well. The outsole is terrific, with Pumagrip material that grips well on roads and light trails, and lasts a long time.
The only concerns we have about the shoe are that some runners may find it slightly unstable compared with the more traditional ride you find on something like Nike's Pegasus 39, and that the upper can leave your feet feeling warm on hot days.
Read more in our Puma Velocity Nitro 2 review
---
The Glycerin has long been our top pick for runners who value comfort over everything else, and so we were a little worried about the 20th edition because Brooks opted to update the midsole with a new version of its DNA Loft foam. The DNA Loft v3 foam used in the Glycerin 20 is a nitrogen-infused material designed to be lighter and bouncier than the cushioning on past Glycerins, while still being just as soft.
Fortunately the changes made only improved the Glycerin. The shoe is still a comfort-first cruiser, but we noticed that the ride was a little more energetic and bouncy on long runs in particular, and it's a shoe we loved to put on any time we had an easy run scheduled. It doesn't feel so good if you try to up the pace, and the high price might be hard for some to swallow. But if you're all about comfort, the Glycerin remains the best in the business.
Read more in our Brooks Glycerin 20 review
---
The max-cushioned Asics Gel-Nimbus 25 is a direct competitor for the Nike Invincible 2. Within this bracket we probably prefer the Nike shoe, but it is extremely squishy with a ride that's not particularly stable, so for most runners the Gel-Nimbus 25 is the smarter all-round pick for comfort on your easy runs.
It has a soft ride, but it's not unstable and it rolls through smoothly to feel lighter and smaller than it is when ticking along at a relaxed pace. It's a great long run shoe in particular, and the perfect shoe for an extended Sunday outing after a hard week of training.
The downsides are that it's less versatile than traditional cushioned shoes like the Brooks Glycerin 20 and, in the UK, that the price has been hiked by £10 compared with the Gel-Nimbus 24. It's a lot of money for a shoe that only does one job, but it does that job exceptionally well.
Read more in our Asics Gel-Nimbus 25 review
---
(opens in new tab)
The original Nike Invincible was an expensive but tremendously enjoyable cushioned shoe to use for easy runs, with the giant stack of ZoomX foam in the midsole creating a uniquely bouncy ride.
None of the above has changed with the second version, which has a little more foam in the midsole and a tweaked upper, but running in it feels the same. It's as good as any cushioned shoe out there, if a little less stable than other favourites like the Brooks Glycerin 20. T
The Invincible 2 remains our pick despite the fact Nike has launched the Invincible 3. The newer version is heavier and not quite as fun to run in, and the Invincible 2 is often in sales so offers better value as well as performance.
Read more in our Nike ZoomX Invincible Run Flyknit 2 review
---
The More v4 may lack versatility – this is not a shoe that works well for speed sessions and races – but its real job is to protect the legs and feel comfortable on easy and long runs, and it does that job as well as any shoe on the market.
With a pronounced rocker and a fairly low 4mm drop, the More v4 has a very smooth ride and makes ticking along at a relaxed pace feel almost effortless at times. The Fresh Foam X midsole is soft without being at all unstable, and the outsole is hardy and grips well on wet pavements. If you have a shoe rotation and are looking for a pure easy run option to soak up a lot of miles, the More v4 is one of the best available.
Read more in our New Balance Fresh Foam X More v4 review
---
The Cloudmonster is something new from Swiss brand On, which has generally produced firm, relatively low-stack shoes in recent years. The Cloudmonster lives up to its strange name by being huge and offering a fairly soft ride. It's still a little firmer than many max-cushioned shoes, but that's not a bad thing here, since it is still comfortable and the firmer feel makes it more stable.
Like many cushioned shoes it lacks a little in the way of versatility, even though it's lighter than most of its rivals owing to On's holey midsole design, but the Cloudmonster is a comfortable easy run shoe that can handle most of your daily training too.
Read more in our On Cloudmonster review
---
It's so outlandish and expensive – even for a high-stack carbon plate super-shoes – that the Alphafly NEXT% 2 really has to deliver the goods to be worth considering. Fortunately, it does – and then some.
The combination of the huge stack of ZoomX foam, a full carbon plate and the responsive Air Zoom pods under the forefoot creates a ride with so much energy return that it feels effortless to pound out fast miles, especially when cruising along at marathon pace.
You do need good roads to get the best from the Alphafly 2, and ideally courses with few turns since it isn't that stable when rounding corners at speed, but in the right conditions it's unbeatable.
Read more in our Nike Air Zoom Alphafly NEXT% 2 review | More of the best marathon running shoes
---
(opens in new tab)
The Vaporfly 2 offers the same incredible ride as the original NEXT% – bouncy and lightning-quick – while tweaks to the upper have made more room in the toe box. It's a supreme racing option for races from 5K to the marathon, with the efficiency gains from the carbon plate and springy midsole foam having helped runners of all levels to set PBs and world records in recent years.
There is stiff competition from other carbon shoes. We love the Alphafly and rate it as the better shoe for marathons – but there's really not much in it, and the Vaporfly is cheaper and more versatile in that it's more stable around corners when pushing the pace over 5K and 10K distances.
Read more in our Nike Vaporfly NEXT% 2 review | More of the best carbon plate running shoes
---
The Nike Vaporfly is so popular that all carbon shoes are compared with it when evaluating their performance, and most fall short. The Saucony Endorphin Pro 3, however, runs the Vaporfly very close. It's a lightweight, comfortable and versatile racing shoe that's great for events of any distance.
Saucony has made sweeping changes to this generation, moving away from the firmer feel of the Pro 2 that many found too harsh for longer events. The Pro 3 has a higher stack of Saucony's springy PWRRUN PB foam, and the same Speedroll rocker geometry that works with the plate to create a smooth and efficient ride. It's a fast shoe that's also more versatile than the Vaporfly in that it's comfortable enough to use for a lot of training runs as well, which will be attractive to those who don't want their $200/$200+ shoe to sit on the shelf for months between races.
Read more in our Saucony Endorphin Pro 3 review
---
Several brands have brought out low-stack super-shoes like the Takumi Sen 8 of late, offering a lighter, more stable ride that's better for short events than high-stack options like the Vaporfly and Adios Pro 2. We're not entirely convinced by this argument – the Vaporfly remains the top short-distance speedster for us – but the Takumi Sen 8 is still an outstanding shoe that shines in races where there are lots of twists and turns, or when you're running on cracked or uneven roads.
We've tested it in races from 5K to a half marathon and it's become our go-to option for track workouts. It's a hard sell when it only costs a little less than a proper carbon super-shoe, but if you mainly stick to shorter races and find a good deal on the Takumi Sen 8, it's well worth purchasing.
Read more in our Adidas Adizero Takumi Sen 8 review
---
As a low-stack, moderately firm carbon plate racer, the Speed Elite Hyper is a fairly niche shoe, since most runners will find it too minimalist to use for racing and training. However, it excels in its niche, being a little more protective and propulsive than a traditional racing flat while not as high and soft as modern super-shoes like the Vaporfly.
It is incredibly light and feels fantastic when running all-out, and the relatively low stack makes it one of the few carbon shoes that's legal for track races over 800m. The actual plate is carbon-infused and is positioned only under the forefoot, so it doesn't deliver the pop of a full-length plate, but the Speed Elite is still very fast – just better suited to shorter events than anything over 10K.
Read more in our Skechers GoRun Speed Elite Hyper review
---
The Metaspeed Sky+ is an absolutely terrific carbon plate racing shoe and we rate it as the best available option not made by Nike. We chalked up a half marathon PB in the Metaspeed Sky+ in our first proper run in it, and it's light enough to make a great 5K and 10K racer while still having the support and comfort required to take on full marathons as well.
We have a couple of small qualms with the Sky+, the main one being that the outsole rubber doesn't extend back far enough, so heelstriking runners will damage the exposed foam quickly and reduce durability. The other is that the 5mm drop is lower than most racing shoes and it's one reason the Sky+ suits bounding runners better than those with a shuffling style, who might want to look at the Metaspeed Edge+ instead.
Read more in our Asics Metaspeed Sky+ review
---
(opens in new tab)
The Tempus is the softest, bounciest and most enjoyable stability shoe we've used, and manages to be all those things without sacrificing the support that runners who overpronate need. The midsole uses two foams: the light and springy PEBA-based PWRRUN PB material also used in Saucony's top racing shoes, and the brand's firmer PWRRUN foam, which forms a frame around the softer foam to ensure a stable ride.
It's a great daily trainer that works well for all runners, since it's relatively light and the stability elements aren't really noticeable if you're a neutral runner. The only downside is the high price, and those who don't need a stability shoe will find better value in neutral daily trainers like the Puma Velocity Nitro 2. That said, if the price doesn't put you off or you do need the stable design, then the Tempus is certainly one to have near the top of your list.
Read more in our Saucony Tempus review | More of the best stability running shoes
---
Most stability shoes are pretty hefty numbers, with the anti-pronation features added to the midsole adding more weight than is ideal for race day. The Fastwitch 9 bucks that trend, offering a touch of extra stability while still being a bona fide race shoe, weighing under 200g and providing just a little cushioning to help protect your legs in events like the marathon while remaining lightweight and nimble.
---
In general the right trail-running shoe to choose will depend greatly on both the terrain you run and the kind of running you do on it – but if there's one shoe that works for almost everything off-road, it's the Hoka Speedgoat 5. It's very comfortable, and the rocker design and lightweight EVA foam in the midsole creates a smooth ride that's enjoyable for running at almost any pace, bar perhaps all-out speed in short races.
The Speedgoat 5 is best known as an ultramarathon shoe, and it's an excellent option for that, but even if you have no plans to take on a mega-distance event and just enjoy cruising around a variety of trails, it's the shoe to put at the top of your list.
Read more in our Hoka Speedgoat 5 review
---
Carbon plates have yet to impact the world of trail running the way they have the road-racing scene, simply because uneven or muddy terrain mitigates the benefits. But there are more carbon trail shoes emerging and the Hoka Tecton X is the pick of the bunch.
The Tecton X actually has two plates running in parallel through its midsole, which create some extra propulsion when you're on relatively flat ground without making the shoe too stiff and cumbersome on uneven terrain. The ride doesn't deliver the wow factor of a carbon road shoe, but the Tecton X is undoubtedly speedy while still being agile on tricky trails and comfortable on longer off-road runs.
Read more in our Hoka Tecton X review
---
Like the Puma Velocity Nitro, the Liberate Nitro offers fantastic value. The cheaper shoe has the same nitrogen-infused EVA Nitro foam in its midsole, but is a more stripped-back and lighter shoe than the Velocity, with less cushioning underfoot and barely any padding on the upper. The ride is still pretty comfortable, though, and if you generally stick to runs of up to around 10km the Liberate Nitro is a good all-round option. Its lack of weight makes it great for faster running too.
The Velocity is more comfortable and although it's heavier it's still proved a fast shoe in our experience. In fact it gets the nod from us as the better shoe of the two, because we found the Liberate Nitro's heel design did rub on the achilles when we used it for longer runs.
Running Shoes Buying Advice
We have a dedicated article of expert advice about how to choose running shoes, but here we'll run through some of the key terms and types of shoes, as well as explaining why some running shoes cost so much.
Understanding what's on offer will help you find something suitable for the kind of running you intend to do. It can be especially useful for people new to the sport, helping them to avoid more specialist shoes intended for serious runners who use different pairs depending on the type of run they're doing.
A running shoe rotation of two or three shoes is obviously a bigger expense up front, but if you're in it for the long term and have the resources, consider that three pairs of shoes bought all at once will last you the same amount of time as three pairs of shoes bought in sequence (as long as you use them roughly equal amounts). Having dedicated shoes for different parts of a running training plan may also help you perform better in speed sessions and better protect your body through an ever-increasing volume of easy miles. Using different shoes also slightly changes the impact being placed on your body with each run, which – anecdotally at least – can reduce your risk of injury.
A typical three-shoe rotation would comprise of a well-cushioned option for easy and recovery runs, a speedier training shoe for tempo and interval workouts, and a racing shoe that's saved for setting personal bests (PBs), since racers are typically less durable than training shoes.
Types Of Running Shoes
Road running shoes vs trail-running shoes The crucial difference here is grip. Take a road shoe on mud, and you will slip and fall. If you are planning on doing a mix of road and trail running, road-to-trail shoes can handle both terrains adeptly.
Stability shoes Most running shops offer free gait analysis that can tell you if you overpronate when running, which means your foot rolls excessively inwards on landing. If so, a shoe with stability elements to counter overpronation can be a worthwhile purchase, essentially to reduce the risk of getting injured. As well as full-stability shoes, you can buy neutral shoes with some extra features to increase stability, like a wider base or a substantial heel counter.
All-rounders Designed for runners who have only one pair, these try to be both comfortable on easy runs and still light and quick enough for faster running, either during training or when racing.
Cushioned shoes For those who maintain a running shoe rotation, a well-cushioned option is used for easy and recovery runs, while runners focusing on comfort over pace in general might find that a cushioned shoe is all they need, especially when first starting out.
Racing shoes Built for setting PBs, racing shoes focus on being lightweight and speedy ahead of durability, grip and comfort. What kind of shoe you go for can depend on the distance you're racing – marathoners will need more cushioning than those tackling 5K. Whatever distance you race, one key feature to look for in this category now is a carbon plate, usually paired with a soft and springy midsole foam.
Running Shoe Jargon
Stack height The height of the cushioning of the shoe, usually measured at the heel. This is limited to 40mm in road racing shoes by World Athletics.
Heel-to-toe offset Also known as a shoe's "drop", this is the difference in the height of the cushioning at the heel and the toe. High-drop shoes usually have an offset of between 8-11mm, while low-drop shoes are under 4mm and barefoot-style shoes are often zero-drop. There is no "correct" drop, it's about what works for you, so if you find a shoe you love it might be worth noting the drop as something to look for in the future.
Midsole The middle part of the shoe that falls between its upper and the outsole. The midsole provides the cushioning, with other elements like carbon plates usually packed inside it.
Heel counter A firmer section on the upper that runs around the heel to create more stability. Sometimes it will be a plastic clip, but it can also just be a reinforced part of the upper.
How Much Do Running Shoes Cost And What Do You Get For Your Money?
New launches in popular lines of running shoes will generally cost three figures, and £130-£160 is typical. Top racing shoes with carbon plates are even more expensive, usually between £170 and £230.
You don't have to spend that much, however. There are many excellent shoes available for around the £100 mark, and several great options that cost a lot less than that. Discounts on running shoes are also frequent, and it's worth looking at older generations of popular shoe lines because they will cost significantly less than the latest editions while often having minimal differences in performance. We collect a running list of likely candidates on our budget running shoes (opens in new tab) article.
There are a few reasons for the variation in price. While there is certainly a degree of "paying for the name" of a shoe from Nike or Adidas over a budget brand like Kalenji, there are also more solid reasons. Shoe brands invest big money into researching materials for the midsole foam in their shoes, as well as other technology like carbon plates or stability features, and the shoes that contain the very best stuff tend to cost more. Also, while paying more is generally not a guarantee of better durability, shoes that cost around £20 to £30 will probably not last you as long as most £100-plus shoes, racing shoes aside.
How We Test Running Shoes
Nick Harris-Fry is Coach's runner-in-chief and writes all the running shoe reviews on the site (with a few exceptions, such as the women's Adidas UltraBoost 22). Nick is an obsessive runner with PBs of 15min 40sec for 5K and 2hr 29min for the marathon, and logs around 70-110km of running each week for his training.
That training means a lot of opportunity to test running shoes – more than most other professional journalists – and Nick has run in hundreds of them. That breadth of experience gives him a uniquely informed opinion on whether a new release really is the best option available.
The downside of this approach is that we don't have a range of runners sharing their opinions on shoes. It's inevitable that people will have different opinions on a shoe, but Nick does tailor the testing he does for each shoe to its stated purpose, allowing him to give his take on whether it lives up to its billing and is worth the price.
Nick will also cover around 50km-70km in each shoe to see if its performance changes after a bedding-in period, and do a range of runs in each shoe to see how it handles fast, slow, long and short runs.
Sign up for workout ideas, training advice, reviews of the latest gear and more.
Thank you for signing up to Coach. You will receive a verification email shortly.
There was a problem. Please refresh the page and try again.