The Best Running Sunglasses
Sweat in style instead of squinting at speed with these lightweight sunnies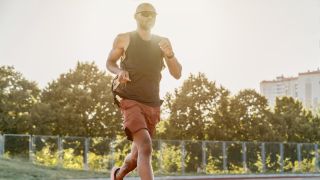 (Image credit: iStock / Getty Images Plus / Inside Creative House)
Even if you live somewhere that isn't renowned for its sunny weather, regular runners will know that it's worth having a top-quality pair of running sunglasses.
The best running sunglasses serve the same basic function as standard sunnies – protecting your eyes from harmful UV rays – but they need to be lightweight, fit securely and have a ventilated design that stops the lenses fogging up when you get sweaty. Those are the basics, but you might also consider getting sunglasses with interchangeable lenses suited to different conditions. And if you normally wear glasses, you may want running sunglasses with an Rx option – prescription sunglasses, in other words.
Running sunglasses can cost a pretty penny, especially the top options from the likes of Oakley, but rest assured there are also great-value options in this round-up of the best running sunglasses available.
How I Test Running Sunglasses
I usually run around 70-110km a week, and while almost all of that running is done in the UK – where the sun is certainly not always shining – it does allow me to test running sunglasses thoroughly over several runs. The key features I look for are a secure and comfortable fit plus UV protection, and I also like to take them on trails to see how they fare in dappled light as well as in full sunshine.
Best Running Sunglasses
1. Oakley Corridor
Best running sunglasses overall
Specifications
Interchangeable lenses :
No
Reasons to buy
+
Wide field of vision
+
Great fit
+
Range of Prizm lenses
Reasons to avoid
-
No interchangeable lenses
Although Oakley makes many of the best sports sunglasses, including several great options for running, it didn't actually have running-specific sunnies in its range until 2023 when it launched the Corridor and Actuator sunglasses. The Corridor is the sportier set of the two, with a lightweight design and a large lens that allows for a wide field of vision.
When the Corridor landed I was surprised at how stylish the design is, to the point where I was happy wearing them as casual sunglasses too, though that might depend on how spicy a frame/lens colour combo you opt for. The Prizm lenses are excellent, with each best suited to certain conditions and landscapes – I tested the Prizm Road lens with the Corridor, which helps you spot hazards like cracks and potholes on the road ahead.
---
(opens in new tab)
2. Higher State Half Frame Interchange 4 Run Sunglasses
Best budget running sunglasses
Specifications
Interchangeable lenses :
Yes
Reasons to buy
+
Great value
+
Four sets of lenses
Reasons to avoid
-
Fog up more than other sunglasses
These sunglasses offer unbeatable value to bargain-hunting runners. I found the lightweight frame comfortable to wear on long runs, and you get four different sets of lenses with it: clear and yellow lenses for darker days, and blue and black ones for when the sun is out. It's fairly easy to swap the lenses in and out too, so I can choose whatever best suits the conditions without wasting time wrangling with the frames.
---
(opens in new tab)
3. ND:R Sports Sunglasses
Best prescription sunglasses for running
Specifications
Interchangeable lenses :
Yes
Reasons to buy
+
Great value
+
Variety of lens choices
+
Very lightweight and comfortable
First and foremost these are excellent-value sunnies – the cheapest frame/lens combination costs just £40. The frame is very lightweight and it fit me beautifully, staying in place no matter how sweaty I was. They never fogged up on me either, despite a fairly close fit that blocked glare effectively.
There is also a large range of lens options, from the cheapest plain grey pair to the most expensive ultimate Reactolite lenses, which are brilliant for those who like to wear glasses all year round. They are photochromic, so they work in blazing sunshine and heavy clouds, with a yellow tint to brighten up low light conditions and a blue mirror finish to reduce glare.
I tested them during some changeable spring weather, wearing them in rainy, sunny and cloudy conditions at various times of day, and always had a clear view. The versatile lenses are great for prescription glasses users too, and ND:R offers this with the sports frame as well.
---
(opens in new tab)
4. SunGod Ultras
Best lightweight running sunglasses
Specifications
Interchangeable lenses:
Yes
Reasons to buy
+
Light and sturdy frame
+
Customisable design
+
Lifetime guarantee
I've tested and enjoyed running in SunGod's cycling-focused sunglasses before, like the Airas and Vulcans, but the running-specific design of the new Ultras gives a more secure fit when pounding the pavements, and they are now the top option in the SunGod range.
If you like the style, they are essentially perfect running sunglasses. The fit is excellent, they weigh just 26g, and the variety of lenses is impressive – plus you can customise the design of the frame at no extra cost. SunGod also offers a lifetime guarantee (though note that this doesn't cover scratches on the lenses, but that shouldn't matter much because they're impressively scratch-resistant in my experience), and you can choose a frame made from 100% recycled materials.
---
5. Oakley Actuator
Most versatile running sunglasses
Specifications
Interchangeable lenses:
No
Reasons to buy
+
Stylish design
+
Non-slip fit
+
Range of frames and lenses
Reasons to avoid
-
No interchangeable lenses
-
Heavier than others
The Oakley Actuators are sunglasses you can use for everything, especially if you opt for a prescription version. The simple frame is stylish enough to wear anywhere, while the nose-pads and rubber sections on the arms mean that they stay in place during sweaty runs. They're not as light as sportier sunnies but the frame is still comfortable to wear for long periods, and the lenses didn't fog up during any of my runs.
---
(opens in new tab)
6. Tifosi Swank
Best cheap running sunglasses
Specifications
Interchangeable lenses :
No
Rx available:
Yes (US only)
Reasons to buy
+
Large range of styles
+
Great value
+
Fit is secure for running
Reasons to avoid
-
Lenses not as hardy as others
-
Can't swap lenses
The Tifosi Swank glasses don't look like sports sunnies, which is a plus for lots of people, since that means they are great to wear when you're not running as well. But most importantly they still perform well on the run, with a secure fit and a lightweight frame that grips the skin gently to ensure there's no slippage.
Tifosi has a big range of sunglass styles and the Swank comes in a variety of frames and lenses. They are great value, though I did find the lenses were more easily scratched or marked than others I've tested. But if you treat them kindly and don't, like me, shove them into running backpack pockets with reckless abandon you'll probably be OK.
---
7. Engo 2
Sports sunglasses with a heads-up display
Specifications
Interchangeable lenses:
No
Reasons to buy
+
Heads-up display to show stats
+
Lighter than first version
+
Link to Garmin and Apple
Reasons to avoid
-
Tech makes glasses heavier
-
No lens for dark days
-
Fit isn't secure enough
The Engo 2 sunglasses have a small heads-up display that shows your running stats in the inner corner of your right eye as you run. This display is clear and easy to read on the run without the need to look down at a watch, bringing you ever closer to those all-important stats.
I still question the need for this display, since looking down at a watch isn't a great hardship, but I did find that I would rely on the display instead of using my watch when wearing the Engo 2 glasses, which are happily much lighter in weight than the previous version. You can also link to a Garmin watch and beam your chosen stats from there to the display.
There are still flaws here, however. The Engo 2 frame doesn't sit that securely for running – I had to use the included retainer strap that you can attach to the arms and pull tight at the back of your head, which is not a great look. There also isn't a clear lens, so you can't really use the glasses on dark days.
Also if you don't have a compatible watch you have to use the Engo app to track stats to send to the glasses, and limited options are available (for example, lap pace is an important stat to me, and isn't available). The glasses also don't show navigation cues from Garmin watches, which I think would be one of the most useful things to have on a heads-up display.
---
(opens in new tab)
8. Bose Frames Tempo
Best Bluetooth sunglasses for running
Specifications
Interchangeable lenses:
Yes
Reasons to buy
+
Built-in speakers
+
Range of lenses
+
Secure fit
Reasons to avoid
-
Bigger and heavier than most sunglasses
-
More expensive than buying glasses and headphones
Sunglasses can be expensive, but these are in an entirely different league. That's because you're not just getting a pair of sunglasses, you're also getting a set of headphones. The Bose Frames Tempo glasses have speakers in the sides that direct surprisingly clear and high-quality sound at your ears, while allowing those ears to remain clear so you're more aware of your surroundings. You can get both a set of the best running headphones and some sunglasses for less than the £240 these cost, but I found that having both in one package was undeniably useful at times.
Read more in our Bose Frames Tempo review
More About Summer Running
Sign up for workout ideas, training advice, reviews of the latest gear and more.