The Best Running Caps
Keep your cool in the sun with the best running hats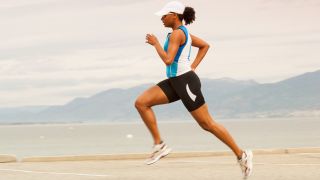 (Image credit: Getty Images / John P Kelly)
You'll know when you've found the right running cap. You'll start reaching for it before every run without even thinking about it, and you'll feel underdressed if you happen to walk out the door for a run without it.
Running caps are at their most useful when running in the heat, when they provide shade, wick sweat away from your scalp and help keep your head cool. However, they're also useful when running in the rain by keeping droplets out of your eyes, so even if you buy a hat to use in the summer you may well find you end up wearing it all year round. In which case it needs to be either easily cleaned or odor-resistant. Or, ideally, both.
I've tested lots of running headwear, and have recommended the best running caps that tick most or all of the boxes listed above—including a few that do so while looking pretty sharp as well.
How I Test Running Caps
I run almost every day and log around 50-60 miles a week, and almost all those miles are done while wearing a running cap (sometimes I'll opt for a running snood worn as a headband). As such, I get ample opportunity to test a wide variety of running caps in a range of conditions throughout the year.
---
On Lightweight Cap
The best running cap
Reasons to buy
+
Baseball cap fit
+
Ventilated and comfortable
+
Dries quickly
Unlike shallower caps like the Buff option on this list, the On cap fits like a standard baseball cap, but there the similarity ends. It's much lighter for one, and the sweatband around the rim does a grand job of soaking up the perspiration you produce on hard runs—even, in my experience, if you take it to marathon distance. The peak is long and keeps both sun and rain out of your eyes, and the ventilation holes all around the cap help on hot days too. It's available in a range of classic colors—no wild Ciele-style designs here—and it dries quickly after either a downpour or a wash.
---
Fractel
The best soft-brimmed running cap
Specifications
Sizing:
One size, adjusts to fit 54cm-66cm
Reasons to buy
+
Soft brim for easy packing
+
Sections offer UPF 50 protection
+
Made with recycled polyester
Reasons to avoid
-
Some might prefer a hard brim
Australian brand Fractel is all about headwear, and it turns out that when you commit a lot of time and resources to making really good running caps, the result is really good running caps. I found Fractel's caps to be essentially perfect: they're comfortable, they fit well and are easily adjusted, they absorb sweat like nobody's business, and they offer UPF50 protection (UPF being the more hardcore version of SPF). Fractel also makes visors, multi-use bands and legionnaire-style hats that protect your neck too.
---
Ciele GOCap
The best running caps for stylish designs
Specifications
Sizing:
One size, adjusts to fit 21.65in-24.8in / 55cm-63cm
Reasons to buy
+
Great designs
+
Machine washable
+
Breathable
+
Sections offer UPF 40 protection
Reasons to avoid
-
More expensive than most caps
If you want to cut a dash on your run then Ciele should be your first stop on your hat hunt. And it'll probably be your last stop too, because the massive range of designs on offer will satisfy all comers. The caps don't just look good: They're also lightweight and breathable, and can handle machine washing without losing their shape. My only criticism is that the sheer range of caps available is overwhelming, it's like logging into Netflix without a clear idea of what to watch—suddenly it's two hours later and you haven't started a show, or indeed picked a cap.
---
Montane Minimus Lite Waterproof
Best waterproof running cap
Reasons to buy
+
Waterproof but lightweight
+
Perforated peak
+
Cooling internal headband
Reasons to avoid
-
Still hotter than other caps
It's hard to find a waterproof cap that doesn't cause you to overheat on mild days, but the Montane Minimus Lite is that cap. I've used it for hard runs on rainy days when temperatures have been as high as 15°C/59°F, and it's kept the rain off my face without making my head unpleasantly sweaty. The cooling, sweat-absorbing internal headband helps on that front, as does the general lightweight design of the cap, which has a perforated peak to reduce weight there.
---
Janji AFO Hyperlight Cap
Lightweight, packable cap
Reasons to buy
+
Very light
+
Can scrunch up to pack
+
Easy to adjust size
Reasons to avoid
-
Smaller peak than others
-
Low profile won't suit everyone
This featherweight cap can be scrunched up quickly to fit in a pocket or running belt, and quickly regains its shape when you pull it out again. It can absorb a lot of sweat too, and it's so pliable that you can then wring it out, something I enjoyed doing. The low profile fit isn't ideal for my head shape but I still found it comfortable, and you can adjust the size easily using the bungee drawstring.
---
Buff Pack Speed Cap
Best packable running cap
Specifications
Sizing:
S/M (21-22.5in / 53-58cm) and L/XL (22.5-24in / 58-62cm), adjustable
Reasons to buy
+
Flexible and easy to pack
+
Absorbs sweat well
+
Sections offer UPF 50 protection
Reasons to avoid
-
Not great for casual use
-
Some will prefer full cap style
This soft cap can be rolled up into a ball to make it easy to pack in a rucksack or jacket pocket for your run, and it will spring back into shape ready to use as soon as it's unrolled. The wicking fabric keeps your noggin free of sweat, and the drawstring makes adjusting the size quick and simple.
---
Proviz REFLECT360 Running Cap
Best running cap with reflective details
Specifications
Sizing:
One size, adjusts to fit up to 64cm
Reasons to buy
+
Reflective fabric
+
Firm brim holds off rain
Reasons to avoid
-
Not as breathable as other caps
The USP of this hat is that, like most of Proviz's running gear, it's made of reflective material that shines like a beacon when light hits it, making you highly visible to car drivers and other road users when running at night. The cap is also breathable, though I didn't find it quite as lightweight and sweat-absorbing as some of the other, less shiny options on the list.
---
Sealskinz Waterproof All Weather Cap
Best for wet winter days
Reasons to buy
+
Waterproof
+
Useful for hiking too
There are some disadvantages to this waterproof cap—I found my head getting pretty sweaty on hard runs—but on cold and wet days it's another useful layer to keep your head warm and the rain out of your face. That's especially the case for easy runs when there's less risk of overheating, and the cap is handy to have for walking and hiking too.
---
More About Running Gear
Sign up for workout ideas, training advice, reviews of the latest gear and more.