The Best Running Apps For Beginners, For Weight Loss, For Tracking And More
All the apps a keen runner could ever need for tracking, coaching, route planning and much more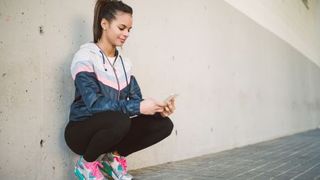 (Image credit: Unknown)
Assemble the right apps and your smartphone can become the ultimate running companion. It can track your runs, provide the soundtrack, coach you through an interval session, guide you along a route in a new city, or even amass a horde of virtual zombies to keep you on your toes during your training. Below you'll find our picks of the best running apps available in several categories.
Best Run Tracking App: Strava
Track all your runs and, more importantly, compete with the numerous other local Strava users over automatically recorded segments. No other app offers you the chance to become the world record holder(!) for the half-mile run between your house and the shops, or at least gain Local Legend status for running that stretch the most times.
The free version of Strava is worth downloading because it showcases your runs and allows you to interact with and give kudos to your fellow runners. However, Strava has moved its focus to its paid-for service in the past year or so, putting segments (apart from top 10s) behind the paywall in May 2020. Premium users also receive fairly detailed training analysis of the type you'll find on mid-range and above running watches; route planning that helps you to find good places to run by showing where other Strava users go as well as suggested loops from a point on the map; and a safety beacon feature so nominated people can check on your whereabouts.
Another feature recently added to the app is Group Challenges, where anyone can create a challenge based on distance, total activity or speed, and invite up to 24 fellow users for an asynchronous virtual race. This is also a premium feature, though people who use the free version can set up or participate in three challenges as a trial before having to subscribe.
Download from App Store and Google Play | Free, premium £5.99 a month
Best Run Coaching App: Nike+ Run Club
There are so many run tracking apps available that it takes some outside-the-box thinking to stand out from the crowd with interesting, unique features, and that's just what the Nike+ Run Club app has done. The Guided Runs section in particular is a triumph, leading you through speed sessions, long runs or beginner runs, many of which have famous athletes like Mo Farah and Eliud Kipchoge on board to provide some motivation via your headphones. There is also a Run With Headspace collection to encourage people to run mindfully and use their training as an opportunity to escape from the stresses of the day. You can also simply track your training, and people who use the app also often get early access to new Nike products, which can be the best feature of all when exciting new carbon plate running shoes like the Vaporfly are launched.
Download from App Store and Google Play | Free
Best Beginner Coaching App: One You Couch To 5K
Building up to running 5K without stopping is a terrific thing to do in and of itself, but it's also the gateway to harder drugs – sorry, longer distances. There are many apps offering guidance through the process, but we fancy the Public Health England plan is the best option out there. It's completely free (some others have the ol' "first one's free" switcheroo, followed by in-app purchases) and you are given audio support throughout each guided run from a surprising mix of people, including athletics legend Michael Johnson and comedian Sarah Millican. Start the programme today and in nine weeks you'll knock out 5K like a champ.
Download from App Store and Google Play | Free
Best Alternative Beginner Coaching App: None To Run
While trying a Couch to 5K programme is a brilliant way to get into running, it doesn't work for everyone, and None To Run offers an easier approach that has been embraced by many runners who didn't complete Couch to 5K. The 12-week programme progresses more slowly than a Couch to 5K plan, and the targets are time-based, rather than set distances. The programme also includes strength training, which can be vital in helping new runners avoid injury (and very beneficial if you are running to lose weight).
You can get the entire programme for free on the None To Run website, but the app is a handy tool in helping to guide you through each workout, especially if you also have an Apple Watch which will deliver instructions from your wrist. The app is free for the first week of the plan, and then costs £4.99 a month.
Download from App Store | £4.99 a month, £29.49 a year. Seven-day trial available
Best For Losing Weight: Weight Loss Running By Verv
There are many reasons to take up running, but for a lot of people the primary motivation is to lose a bit of weight. This app helps do just that by creating eight-week plans to help you lose weight using interval running workouts and diet advice. Each workout is guided by an audio coach to keep you on track. There are different levels of workouts based on your existing fitness, and Weight Loss Running also links to other apps like Fitbit and MapMyRun so your workouts are synced to them as well.
Download from App Store and Google Play | Free, premium £7.99 a month
Best For Treadmill Running: Zwift
Treadmill running can be a bit of a grind, but if you link up to the virtual training app Zwift it becomes far less monotonous. You'll need a footpod or treadmill sensor so your Zwift avatar mimics your running pace in the app's various virtual worlds. These include the island of Watopia, complete with mountains, a jungle and underground tunnels, plus routes in London, New York and Innsbruck among others.
You can also undertake structured workouts within Zwift: the app has several options to increase the intensity of your training, or just enjoy the scenic virtual surroundings, which are definitely nicer to look at than whatever wall your treadmill is facing.
The bigger the screen, the better and more immersive Zwift is, so a treadmill with a tablet holder is good, and a large monitor or connected TV to watch your avatar run is ideal.
Unlike cyclists, runners don't currently have to pay to use Zwift, so it's definitely worth giving it a go to see if you enjoy using it.
Download from App Store and Google | Free | How To Get Started With Zwift Running
Best Route Planning App: Komoot
When you plan a route on Komoot it will automatically take you via the quietest roads and paths, even if it means going a little out of your way, to ensure your run is as enjoyable and traffic-free as possible. The route planner is also clever enough to tell you what kind of surface you'll be running on, whether it's asphalt, gravel or "natural" (which probably means mud). This means you'll know whether you're best off in road or trail shoes.
The map you use will also suggest Running Highlights, so you can plan your course to take those in, although we'd like to see Komoot add a feature that suggests routes near you – something you can get on Strava if you're a premium member. Komoot has also partnered with Garmin and Polar so your routes will automatically sync to your account and, in the case of Garmin, transfer to your watch if it has navigation features.
When you sign up for Komoot you get your local region free, but it costs £3.99 to unlock route planning for other areas – although you can just unlock the entire world in one hit for £30, which isn't bad value at all. If you are planning on upgrading, it's worth waiting until you're out of your chosen region: once we opened the app on a trip away and were offered a discounted rate of £20 to unlock the world.
On top of unlocking the maps you can also subscribe to Komoot premium, which costs £4.99 a month (or £59.99 a year) and opens up extra features including a multi-day trip planner that can help you map out longer expeditions with advice on places to stay and the expected weather, plus sport-specific maps so you can create the most relevant routes for you.
Download from App Store and Google Play | One region free, extra region £3.99, region bundle £8.99, unlock world £29.99. Premium £4.99 a month, £59.99 a year
Best Running App For Safety: what3words
If you come a cropper during a run then it's essential that you're able to tell someone exactly where you are, whether that's an emergency contact or the emergency services. If you're standing by a street sign in the middle of a city, that's not hard, but if you're running in the countryside then the only landmark within sight might be a tree. That's why every runner, and really everyone who exercises outdoors, should have what3words on their phone.
The app has divided the world into 3m squares (57 trillion of them) and allocates a three-word code for each of those squares. These are unique and if you have the code, it's easy for anyone using what3words to find out exactly which 3m square you are in. The free app is used by over 85% of the UK's emergency services, including 100% of ambulance services, and could quite literally save your life – or at least make it easier to meet up with people outdoors. Download it now.
Download on App Store and Google Play | Free
Best Apple Watch Running App: WorkOutDoors
If you find yourself frustrated by the somewhat basic native Workout app on the Apple Watch, there's a world of third-party options that can upgrade your running experience. The best of them is WorkOutDoors. The app offers all the stats you get from a dedicated running watch on a series of customisable data screens, and you also get a colour map that shows the route you've run to make navigation easier. You can even download maps to the watch, letting you run without your phone, and zoom in and out on the map using your fingers like you would on a phone.
You can sync structured workouts to WorkOutDoors, too – it really does match or even exceed the features you get from most running watches. The only downside is that the always-on screen on the Apple Watch does not work with third-party apps yet, so you'll still have to raise your wrist to wake the screen. There are cheaper apps available, but to our minds it's worth it and a small price to pay if you're a keen runner who prefers using the Apple Watch over a dedicated device like a Garmin Forerunner watch.
Download from App Store | £5.99
Best Running Pace Calculator: Running Pace
When you have a target time in mind for a specific race it's always useful to see how it breaks down into your required pace per mile or kilometre. This free app will do all the calculations for you, and you can also break races down into smaller chunks – for example you could see what time you need to hit the 10km, 20km 30km and 40km marks of a marathon to ensure you achieve the overall time you're chasing.
Download from App Store | 99p
See related
Best Running Game App: Zombies! Run
Many have tried, but no fitness app has nailed gamification as successfully as Zombies! Run, which casts you as a survivor of a zombie apocalypse, running missions to help ensure the continuined existence of the human race. A first-class story and the ultimate motivation to run faster – zombies chasing you – make this an app every runner should try.
Download from App Store and Google Play | Free, premium £2.29 a month
Best Reward App: Running Heroes
Apps that reward you for your exercise are only successful if (1) it's easy to record your exercises and (2) there are rewards that are actually worth earning. Running Heroes succeeds on both counts, linking easily with apps like Fitbit, Strava and Garmin Connect to count all your activities. which count towards worthwhile prizes like substantial discounts on running gear and races, as well as free treats like craft beer or avocado toast. It's also possible to earn the prizes within a couple of weeks via commuting by bike or running, so prizes arrive frequently enough to keep you interested.
Download from App Store and Google Play | Free
Sign up for workout ideas, training advice, reviews of the latest gear and more.