How To Get Started With Zwift Running
Make treadmill training more fun by running in Zwift's virtual world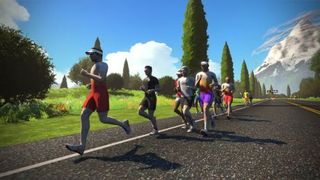 (Image credit: PR)
The treadmill gets a bad rap. Sure, running on the spot isn't the most exciting way to run, but it allows to get your training done easily when time is tight or the weather is frightful, and there are many ways to entertain yourself during an indoor session. These range from classics like sticking on your favourite playlist or podcast, to more immersive experiences like Zwift, where you watch your avatar run in a virtual world.
If that sounds like it might be complicated to set up, don't worry, it really isn't. And to help you get started, here's some advice from Zwift group run leader Tim Grose, who, when we spoke to him in April 2019, had logged 1,655km on the app and is the man behind the Power Of 10 and Run Britain results and ranking websites. We've also logged some Ks since then, and you can read about our experience once Grose shares the 411.
What You Need
To get going on Zwift you need a device to use the Zwift app on, a way to tell Zwift how fast you are going, and access to a treadmill – the good news is any one will do. You can also link a heart rate strap to see how hard you are working live on screen
Although the Zwift app is available on multiple platforms (iOS, Android, PC, Mac and Apple TV), I find the most practical device is an iPad because it has a good screen and you can easily take it to the gym or use it at home if you have your own treadmill. You'll also need a small device called a footpod which clips on to one of your running shoes to tell Zwift how fast you are going. Zwift itself sells the relatively cheap RunPod (buy on Amazon, £29.99) or you can get the more feature-packed and expensive Stryd (buy on Amazon, £213.31).
If you get really into Zwift and want to get your own treadmill, you can get smart ones like the Technogym MYRUN, which convey the treadmill's exact speed and your cadence direct to Zwift so you don't need a footpod. And if you are able to get your own treadmill you can also think about more immersive big-screen set-ups, while the really adventurous can stream their runs live on platforms like YouTube and Facebook.
How To Start Running
Open the Zwift app on your chosen device and either create an account – Zwift Run is free at the moment – or login. Then you need to pair your footpod with Zwift and, if you have one, your heart rate strap. Select which route you want to run on, click "Run" and start running on your treadmill – you should see your avatar running on Zwift.
How To Get Involved In Group Runs
My favourite part of Zwift is that you can run with other people remotely, and the best way of doing that is to join one of the several group runs that take place each week. Each run normally has four pace groups, ranging from A (fastest) to D (slowest), so most runners should be able to find a suitable one.
There are three main group runs each week. On Monday we have Monday Run Club which is a "stay together" group social run where we typically do a mild progression run, starting slow and building up the pace gradually. We try to have some chat on the way using the Zwift in-game text messaging. On Wednesday we step up the pace in Workout Wednesday Run and do a traditional interval session like 10 x 400m. Then on Saturdays there is Run in the Park, which was the first ever group run. It is also a progression run and has an optional 500m race at the end.
Each of these events is held at multiple times in the day to cater for different time zones, and these are not the only group runs. We also have a few popular run/walk events and you can even set up your own group run with the Meetup feature.
Every month we try to have a special event on Zwift which can be a race for some or just a challenge for others. In January we had a 10K race, in February a festival with both a half marathon and 5K and in March we had our first marathon event, although I have to admit I went for the easier half marathon option!
To find out more details and to sign up, you can use the Zwift Companion app (App Store and Google Play) or visit the Zwift website. Another great resource for Zwift Run is the Zwift Runners Facebook group that I help to administer. Head there with any questions or problems you may have, as well other other Zwift-related stuff and events.
The Best Running Routes On Zwift
1. Watopia 5K Run Path
Watopia is Zwift's virtual world, complete with volcanoes, glass underwater tunnels, jungles and mountains. It is also home to the largest runners-only course on Zwift. It is an exact 5K loop and has a seaside feel with a large part next to a beach and a section on a raised platform that takes you out to sea. It is the best place to meet up casually with other runners and not feel overrun by bike riders whizzing by.
See related
2. New York
The other dedicated running route in Zwift is modelled on a real-world path around a lake in Central Park called the Shuman Trail. It is not that long – you need to go round twice for 5K – but Zwift has lots of other routes that take in some of it. It is a good place to see other runners as well as experiencing the rest of the New York course, including the futuristic elevated glass roads.
3. Find Some Hills
Runners nearly always go slower than riders on Zwift, but on steep hills things can even out, especially since matching the incline of the course is only optional for runners on Zwift. So if you can't find a group run but want some company try selecting a route takes you up one of Zwift's major climbs: the Alpe du Zwift (modelled on Alpe d'Huez), the epic KOM on Watopia, or Box Hill on the London course and see how many riders you can pick off! Remember to give a Ride On – a virtual thumbs up – to each one though.
Zwift Running Review
Having access to a treadmill during the COVID-19 lockdown has led me to become very well acquainted with the world of Zwift running. After overcoming a few early frustrations, the platform has really grown on me.
The frustrations arose mostly from trying to get a reliable link to Zwift, since both the Zwift RunPod and Runn Smart Treadmill Sensor consistently let me down. The RunPod was often not found at all when setting up, and although the Runn sensor would be found so I could connect it, the signal frequently dropped during runs so my avatar kept stopping. I imagine with persistence either option could have worked, and perhaps they'd link better to a phone or tablet rather than the set-up I was using (a MacBook Pro with an ANT+ receiver in a USB port), but I was ready to give up on Zwift running full stop until I tried the Stryd footpod.
Zwift had no trouble finding and connecting to that, and I only had to calibrate it once. This meant I could take to the treadmill every day and run in Watopia knowing that I wouldn't have to spend ten minutes at the start of my run faffing with sensors trying to get them to work. I have a baby in the house, so every minute of exercise time is precious.
It was a great solution for me, but it may not be right for everyone. The Zwift RunPod is just £37.99 and the Runn sensor is £77, while Stryd costs £218. Unless you also want the Stryd for its running power measurements and reliable, better-than-GPS pace stats when outside, it's overkill for a Zwift set-up.
However, if you do have a Stryd or are able to get a cheaper sensor to work reliably, running in Zwift is great – definitely an upgrade to a standard treadmill session. With Zwift displayed on a TV in front of my treadmill, I found the colourful world of Watopia in particular surprisingly immersive.
When I arranged an ersatz group run with a friend who also uses Zwift it really came into its own. Running together on screen while chatting on WhatsApp was a lovely break from all the solo running I'd been doing during the COVID-19 lockdown. Whether I'd feel as positive about it at a time when I could just meet friends for a run outdoors, I'm not so sure, but certainly it would be a fun way to catch up with friends who don't live locally.
The onscreen stats are also presented well. You get a breakdown of each split you've run at the side of the screen, plus the time you're on track to run in your current split. At the top of the screen you see total run stats like time and distance, and you can also link up a heart rate sensor to get your heart rate and zone on screen. There are also workout options, and when you set targets you get a virtual finish line to run through at the end of each interval, which is a nice touch.
There's even a track you can use for sessions in Watopia; while I didn't think there would be much point to running in circles when the whole virtual world can be as flat and free as running on a track in the real world is, I did find myself choosing that option from time to time.
Zwift will never appeal to runners like it does to cyclists. When riding, the app can control your turbo trainer or exercise bike to account for the hills in the virtual worlds, which it can't do with treadmills.
A home indoor cycling set-up also tends to be cheaper than a treadmill. And aside from a couple of run-specific options, the routes on Zwift are mostly aimed at cyclists, which sometimes means long straights where the landscape doesn't change much. That's fine when it's just one or two kilometres of a 30km ride, but not so good when it's almost half your 5K run.
That said, if you are lucky enough to have a treadmill and a reliable sensor, Zwift is a great way to spice up your indoor running. The app itself is free to use at the moment (cyclists pay £12.99 a month) so it's definitely worth a try.
Sign up for workout ideas, training advice, reviews of the latest gear and more.