The Best Turbo Trainers: Which Direct Drive, Magnetic And Smart Indoor Trainers Are Worth Buying?
Take your bike indoors for a revolution in winter riding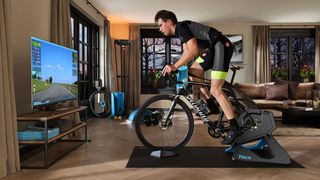 (Image credit: Tacx)
Cycling is one of the most enjoyable ways to keep fit and when the sun is shining, there's no better feeling than whizzing along a quiet country lane and exploring the great outdoors. But come winter, there's every chance that rain, sleet, wind or snow will derail your riding plans.
Enter the turbo trainer, which transforms your bike into an indoor cycling machine. It's a great way to keep your weekly mileage up even when the weather's not playing ball, or for completing a training session you don't want to attempt on open roads. There are also smart turbo trainers, which can connect to training apps so you can cycle with or against others in virtual worlds.
Turbo trainer prices range from two to four figures and the options can seem overwhelming to the uninitiated. To help, we've broken down how the main types of turbo trainers work, the advantages and disadvantages of each. We also have a beginner's guide to turbo training and a guide to how to get started with Zwift, one of the most well-known training apps. But you're here to see which models we think are the best turbo trainers, so let's get right to it.
The Best Turbo Trainers
Best budget direct drive turbo trainer
Specifications
Connectivity:
ANT+, Bluetooth
Reasons to buy
+
Cheapest direct drive turbo trainer
+
Can come pre-installed with various cassettes
+
Great specs for the price
Reasons to avoid
-
Lower power accuracy than rivals
-
Can't be folded away
I put the Zwift Hub through its paces after its launch in October 2022 and it immediately went to the top of the best turbo trainers league table. Very similar in design and specs to my previous favorite (Wahoo's Kickr Core), it matches its main competitor for maximum resistance (1,800W) and gradient (16%), while the only downside is a slightly inferior power accuracy (+/- 2.5% vs +/- 2%).
Where it outshines its Wahoo rival is in set-up and price (and even though its cost has crept up since launch, it still undercuts the Kickr Core by $100/£90). The Zwift Hub arrives with a cassette of your choice (from eight- to 12-speed) pre-installed, saving you time and money before you've even got it out of the box. Plus, installing and removing a bike from the turbo trainer is a lot more straightforward than with the Core—particularly if you've only got one road bike and don't want the fuss of switching the cassette from turbo trainer to rear wheel every time you intend to use it outside.
What's more, with a year's subscription to Zwift (worth $149.99/£129.99) currently included in the price, you're essentially getting a solid direct-drive turbo trainer for around $450/£400.
Read more in my Zwift Hub review
---
Best direct drive turbo trainer for most people
Specifications
Connectivity:
ANT+, Bluetooth
Reasons to buy
+
Amazing quality for the price
+
Ample resistance and gradient specs for most
+
Has the essential features, without pricy extras
Reasons to avoid
-
Doesn't come with a cassette
-
Can't be folded away
-
Zwift rival is cheaper
This American brand led the smart turbo trainer revolution, which turned indoor cycling on its head. While Wahoo's Kickr takes all the headlines (the latest version, the V6, will set you back more than a grand), the Kickr Core smart trainer is the better buy. The average cyclist probably won't notice the difference between the Core and the top-tier version—a 16% maximum gradient and 1,800 maximum power output is more than enough for most of us.
The downsides to the Core are that it's not as compact as some competitors when folded down, you will need to install a new cassette (or use your bike's one) before you can get started, and it has a cheaper rival in the form of the Zwift Hub smart trainer. All the same, at around half to two-thirds of the price of its big brother, it's the most cost-effective way to get your hands on a direct-drive Wahoo smart turbo trainer. Plus, like the Zwift Hub, it currently includes a year's subscription to Zwift.
Read more in my Wahoo Kickr Core review
---
Best high-end direct drive turbo trainer
Specifications
RRP:
$1,299.99 / £1,099.99
Connectivity:
ANT+, Bluetooth, WiFi, DirectConnect (requires adapter)
Reasons to buy
+
Tool-free assembly
+
Great connectivity (including WiFi)
+
Side-to-side movement
Reasons to avoid
-
Cheaper direct-drive turbo trainers are better value
Wahoo's top-of-the-range direct drive model is now on its sixth iteration and hasn't been updated since September 2022, but it's still the best of the bunch if you're looking to buy a premium turbo trainer. Why? Its headline specs—2,200W maximum resistance, up to 20% gradient simulation, and a power accuracy of +/- 1%—are tough to top, while its WiFi connectivity helps to minimize the annoying drop-outs that can sometimes plague a virtual workout or spell the end of an eRace. Its stand-out feature, which was introduced on 2020's V5, is the Axis feet. These allow for 5° of side-to-side movement, helping increase the realism when riding indoors and stopping you sitting in one position in the saddle for too long.
Read more in my Wahoo Kickr V6 review
---
Most immersive turbo trainer
Specifications
RRP:
$1,399.99 / £1,199.99
Connectivity:
ANT+, Bluetooth
Reasons to buy
+
Realistic ride feel
+
Limitless performance potential
Reasons to avoid
-
Expensive
-
Doesn't include pre-installed cassette
-
Can't be folded away
Want to truly recreate the experience of riding your bike outdoors, to the point of feeling the vibrations of virtual cobblestones and gravel? The Tacx Neo 2T smart trainer has your name written all over it. The Garmin-owned brand's top-tier turbo is a next-level piece of kit, able to simulate slopes of up to 25% and a maximum power output of 2,200 watts (professional track cyclist territory), meaning you're never going to outgrow it. It isn't perfect, though: the lack of a pre-installed cassette makes it an even more costly outlay than its RRP, while its inability to be folded away with the bike installed means it's for dedicated pain caves only.
Read more in my Tacx Neo 2T review
---
5. Saris H3
Compact, good-value turbo trainer
Specifications
Connectivity:
ANT+, Bluetooth
Reasons to buy
+
Relatively cheap and often discounted
+
Relatively compact
Reasons to avoid
-
Plastic construction
-
Doesn't include a cassette
Investing in a smart direct drive turbo trainer doesn't necessarily mean buying a piece of kit that's more expensive than the bike being used on it. The H3 from Saris is a great example. At a significantly lower price than the top-end offerings from Wahoo and Tacx, it does everything you could want from some hi-tech training equipment – maxing out at a whopping 2,000 watts and slopes of 20%. It doesn't come with a cassette but remains one of the least expensive ways to add some realism to your rides on Zwift.
---
6. Wahoo Kickr Move
Best for natural movement
Specifications
RRP:
$1,599.99 / £1,399.99
Connectivity:
ANT+, Bluetooth, WiFi, DirectConnect (requires adapter)
Reasons to buy
+
Most natural movement on a turbo trainer yet
+
Great connectivity (including WiFi)
+
Descending gradient simulation
While I'm yet to give the Wahoo Kickr Move a spin, the novel inclusion of fore/aft movement warrants its inclusion in Coach's best turbo trainer round-up. Launched in September 2023, it's Wahoo's response to the various rocker plates on the market that keen indoor cyclists have been using to add some more realistic movement to their training.
It's essentially a Wahoo Kickr V6 with an additional feature that costs an extra $300/£300, and I'm reserving judgment on whether the technology improves the overall experience enough to justify the extra outlay. However, it does require slightly more room (to account for the forward motion), which might be a problem if space is at a premium.
---
7. Pinnacle HC
Great-value direct drive turbo trainer
Specifications
Connectivity:
ANT+, Bluetooth
Reasons to buy
+
Good value direct drive turbo trainer
+
Often discounted
+
Impressive specs for price
Reasons to avoid
-
Untested
-
No pre-installed cassette
At the other end of the scale is the Pinnacle HC, another turbo trainer that I'm yet to test but that's available for a very attractive price, usually with a hefty discount on the RRP. The Evans Cycles' in-house model is much cheaper than rival entry-level direct-drive turbo trainers, while its claimed specs would put it up there among some of our top-end picks. The only downside I can see is that it doesn't come with a pre-installed cassette, but this is a minor issue when you consider the low initial investment.
---
8. Tacx Flow Smart Turbo Trainer
Best budget wheel-on turbo trainer
Specifications
Connectivity:
ANT+, Bluetooth
Reasons to buy
+
Cost-effective smart wheel-on trainer
+
Compatible with road and mountain bikes
Reasons to avoid
-
Limited gradient simulation
-
Poor power accuracy
While it might not look a lot different from the budget Halfords trainer below, the Tacx Flow Smart is a much more capable piece of kit. Not only does it feel sturdier to ride on, but it's a lot quieter than your standard wheel-on set-up too. The big benefit, though, is its smart features. You can connect it to apps such as Zwift and TrainerRoad, where resistance can be modified either by simulating a gradient (up to 6%) or a specific power output (up to 800 watts). It's the ideal bit of kit for someone who's looking to get into data-led training without a sizeable investment.
---
9. Halfords Turbo Trainer
Best cheap turbo trainer
Specifications
Resistance:
6 levels, up to 465W
Reasons to buy
+
Cheapest turbo trainer around
+
Easy to mount and remove bike
Reasons to avoid
-
Isn't "smart" out of the box
-
Very limited
While some serious cyclists might scoff at this entry-level magnetic wheel-on model, there's more to like about Halfords' in-house turbo than just its sub-£70 price. If you're new to indoor cycling, the six levels of magnetic resistance should offer enough of a challenge, although the fact its maximum power tops out at around 465 watts means you might be left wanting during all-out sprint efforts. It's worth remembering that you will need to invest in a specific turbo tyre too, although these are relatively inexpensive (Halfords' is £15).
Turbo Trainers Buyer's Guide
Magnetic wheel-on
The most basic kind of turbo trainer. With this design, your bike's back wheel is mounted on a roller and the resistance is adjusted by a dial that clips to your handlebars. Magnetic wheel-ons are the cheapest style available, but there are two downsides to consider: they are noisy and they will wear out your back tyre. The wearing problem can be solved by using a dedicated turbo trainer tyre, but that can quickly become a hassle if you plan on using your bike for both indoor and outdoor training.
Fluid wheel-on
Fluid wheel-on trainers are similar to magnetic wheel-ons, but differ in the way they manage resistance. Rather than the user manually adjusting the difficulty using a dial, resistance builds progressively – the harder you pedal, the greater the resistance.
Direct drive
These are the most expensive type of turbo trainer and are fundamentally different to wheel-on options. Rather than mounting your rear wheel on a roller, you remove it entirely and secure your bike's frame to the unit, connecting your chain to a cassette that's installed on the turbo trainer's flywheel. It results in a more realistic experience and generally delivers more resistance than a wheel-on trainer. Direct drive trainers are also pretty quiet – ideal if you live in a flat or don't want to annoy your whole house when you train.
Smart
You can get any of the above types with smart features. All this means is that the turbo trainer broadcasts an ANT+ or Bluetooth signal to communicate with training apps such as Zwift, Sufferfest or FulGaz to make training far more engaging than staring at a wall. Some smart direct drive turbo trainers take things up a gear, translating in-game gradients into increased resistance, providing a more immersive experience.
Sign up for workout ideas, training advice, reviews of the latest gear and more.
Charlie Allenby is a journalist with a passion for pedalling. He contributes features and buying advice about cycling, and is Coach's dedicated turbo trainer reviewer. He is also Coach's chief whey and casein protein powder tester, trying as many brands as possible.
Charlie's first book, Bike London, is out now. He has written for The Guardian, The Independent and BikeRadar, among others.