The Beginner's Guide To Turbo Training
When the outdoors isn't looking so great, ride your bike indoors with a turbo trainer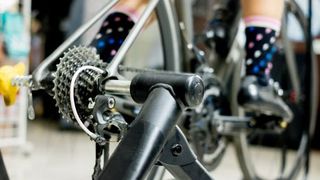 (Image credit: unknown)
Cyclists who are determined to train through the winter have four options. One is to tough it out through the frosty weather, while another is to decamp to warmer climes if you have the budget and time to do so.
Most, however, will retreat indoors, some to an exercise bike, but many to a turbo trainer. The latter has several advantages over the former – turbo trainers are smaller, cheaper and let you ride your own bike for a more realistic feel. Splash out on a smart turbo trainer and you can link it to virtual training apps like Zwift or TrainerRoad to make your indoor rides more engaging.
For all the advice you need on how to get started with turbo training we enlisted Will Bjergfelt, who has represented the Great Britain Cycling Team at the UCI Para-cycling Road World Cup and is an ambassador for Wahoo, whose excellent indoor trainers can be found in the high-end section of our picks of the best turbo trainers.
What equipment do you need to start turbo training?
Stating the obvious, a bike and a good turbo are essential! Direct drive trainers are really good because they literally remove the rear wheel from the equation, meaning you don't wear out a tyre and get slippage when doing hard efforts. Useful additions include a good fan to keep you cool, and music to keep feel good vibes flowing, of course!
Smart turbos are amazing because they link up to your computer or iPad and can run the many different training platforms now available to keep you focused and motivated while training indoors.
How much do you need to spend on a turbo trainer, and what do you get if you spend more?
A basic turbo will start at around £200, but smart trainers start at around £500-600 and can cost more than £1,200. The more you spend the more training options you will have, especially when using platforms like Zwift or TrainerRoad. Smart trainers hold their value really well too, which is a bonus.
Are there any mistakes beginners make when they start turbo training?
A beginner's mistake would be not considering how to fuel up for an indoor training session. Before you start it's worth making sure you have a drink and maybe an energy gel handy to see you through the workout. Other than that make sure you have a towel!
Could you recommend a workout people can try to get started with turbo training?
This session will take around an hour and give you a good workout assuming you know your Functional Threshold Power (FTP), which is the highest power output you can maintain over 45 to 60 minutes.
1. 10-15min warm-up
2. 4min at threshold – 90% of your FTP – with 10sec sprints every 2min
3. 4min recovery
4. Repeat steps 2 and 3 four times
5. 10min warm-down
Sign up for workout ideas, training advice, reviews of the latest gear and more.