How To Get Started With Zwift Cycling
Take your indoor training up a gear and explore the virtual worlds of Zwift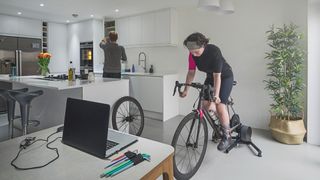 (Image credit: Getty Images / Justin Paget)
Not so long ago, indoor cycling on a turbo trainer was the preserve of masochists. There were gains to be made and maintained over winter, but the trade-off was staring at the wall of a spare bedroom or garage for hours on end. No doubt about it, training on a turbo trainer used to take a certain level of commitment.
That was until the public release of Zwift in 2015. The virtual training platform is a collection of worlds that you can explore by bike (or foot if using Zwift Run) ridden by an avatar. The pedalling you do on your turbo trainer IRL powers the legs of the virtual you and, depending on your turbo trainer set-up, the resistance you come up against will change with your avatar's surroundings, requiring real-world efforts to get up and over virtual mountains.
Throw in workouts, training plans, group rides and races, and it's easy to see why Zwift has transformed turbo training, providing an immersive and enjoyable experience that is (whisper it) sometimes more fun than actually going out on your bike.
The gamification and social aspects also makes it an engaging way for people who aren't road bike enthusiasts to get fit, as a Coach writer discovered when they reviewed Zwift. This guide is designed to help those people, with a run-down of the equipment you need and how to get started, and an overview of how you can spend your time in Zwift.
What You Need To Zwift
There are a few things you'll need before you can get Zwifting: a turbo trainer and a speed sensor (or a smart turbo trainer which contains a speed sensor), a bike, and a smart device to use the Zwift app on.
To do this on a budget, all you need to get started on your Zwift journey is an entry-level wheel-on turbo trainer (like the Halfords turbo, £69), a bike, a smartphone, and a basic sensor for your rear wheel (Wahoo's RPM Speed Sensor is one of the cheapest at £29.99).
However, we think it's well worth buying a direct drive turbo trainer, which takes the place of your rear wheel on your bike, to get an extra level of immersion in the virtual world. The majority of newer models are compatible with most road, hybrid or mountain bikes, so you shouldn't need to shell out for a new bike, either. While they are a significant investment – we're talking at least £500 – they tend to hold their value quite well, in case you decide to sell it at a later date.
Bike and turbo sorted, it's time to pair it with the Zwift app. It can be downloaded on most mainstream operating systems (iOS, Android, PC, Mac and Apple TV), although we'd recommend using a screen no smaller than a laptop so you can see the various widgets and information clearly.
From here, the variety of accessories is broad. Our top three would be a turbo trainer mat to dampen the noise and catch sweat, a heart rate monitor to add an essential data field to your workouts, and a fan because cycling indoors gets surprisingly hot, which can have a surprisingly large negative impact on your workout.
How To Start Cycling In Zwift
Open the Zwift app and create an account or log in, then pair your turbo trainer or speed sensor with Zwift and any other sensors (heart rate, cadence, controllable resistance) you plan on using.
You'll then arrive at the Zwift dashboard. At the top, you'll see you have a choice of routes and "worlds" (there are nine on constant rotation, but the home world of Watopia will always be available). At this point, you can choose to complete a free ride or workout, or sign up for a training plan. You can also join another Zwifter (handy if you want to train virtually with a friend) or sign up for an event (on which more below).
After clicking the big orange "Ride" button, you're transported to your chosen world and left to your own devices. To end your session, simply stop pedalling, click the "Menu" pop-up in the bottom left corner and navigate your way from there.
How To Join Group Rides And Races
Once you've got to grips with riding on Zwift, you might find you want to recreate some of the social aspects of cycling in group rides. The global user base of Zwift means that official Zwift-organised and community-led group rides take place round the clock.
The best way to find and join one is by using the Zwift Companion app (available on iOS and Android). You can filter rides by type (whether that's a group ride, workout, race, fondo or time trial) and ability (A rides are for the strongest riders, while D rides are suitable for those just getting started). Once you sign up for one, your avatar will automatically be taken to a virtual start pen before it sets off.
A virtual race is an experience like no other and will test your fitness to the max. It's an engaging and exciting way to train, providing the competitive carrot that can sometimes be lacking from a bog-standard workout.
How Much Does It Cost To Use Zwift?
A Zwift membership costs £12.99 per month and gives you access to all the worlds, training plans, races and group rides. A seven-day free trial is available for those new to the training platform. If you don't sign up, you can still cycle 25km a month on the platform without paying.
Sign up for workout ideas, training advice, reviews of the latest gear and more.
Charlie Allenby is a journalist with a passion for pedalling. He contributes features and buying advice about cycling, and is Coach's dedicated turbo trainer reviewer. He is also Coach's chief whey and casein protein powder tester, trying as many brands as possible.
Charlie's first book, Bike London, is out now. He has written for The Guardian, The Independent and BikeRadar, among others.