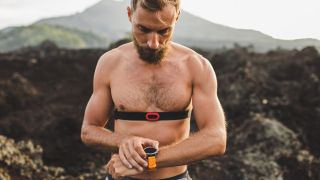 (Image credit: iStock / Getty Images Plus)
A heart rate monitor is now a staple feature on wrist-worn wearables, and these devices' optical heart rate monitors are reasonably accurate for tracking your heart rate 24 hours a day. However, optical heart rate monitors worn on the wrist during workouts can struggle to get an accurate reading, which is why I always recommend using an external heart rate monitor, usually worn on the chest or upper arm. These can link up with the best running watches and some leading fitness trackers to provide more accurate data.
You'll find a range of excellent heart rate monitors below, along with a thorough explanation from an expert from Polar, one of the industry leaders, of how the different types of heart rate monitors work and why chest straps are generally the most accurate.
How I Test Heart Rate Monitors
I use each heart rate monitor I test to track my training over a period of two to three weeks. Most of my workouts are runs—I run five or six times a week—with some cycles and strength sessions as well. If testing an armband I'll check its readings against a chest strap, and when testing chest straps I check them against an armband, though I expect a chest monitor to be more accurate, and sometimes another chest strap. This is usually the Polar H10, which I have found to be highly accurate over long-term use.
The Best Heart Rate Monitors
The most accurate chest strap heart rate monitor
Type: ECG | Battery: CR2025 | Connectivity: Bluetooth, ANT+, 5kHz | Waterproof rating: 3ATM (up to 30 metres)
Accurate
Often in sales
Comfortable
No running metrics
Cheaper alternatives
The H10 is accurate, comfortable and able to connect via Bluetooth, ANT+ and 5kHz, allowing two Bluetooth connections at a time and unlimited ANT+ connections. The battery lasts for up to 400 hours before it needs to be replaced, which means even keen athletes will get through most of a year before having to replace it (a CR2025 replacement battery is widely available and cheap).
It's also the most comfortable chest strap I've worn, a consideration that shouldn't be underestimated. I found the buckle-like attachment preferable to the usual slip and loop you get on chest straps, and I haven't had any skin irritation from the H10 while using it for runs almost every day for months.
The downside to the H10 is that most of its features are available on the cheaper Polar H9 strap, which only allows one Bluetooth connection and is a little less comfortable than the H10, though just as accurate. The H10 also lacks the advanced features of straps like Garmin's HRM-Pro Plus, which tracks running technique stats, as well as your pace and distance when on a treadmill. So, while the H10 remains the gold standard for accuracy and comfort, there is better value to be found elsewhere for most people.
Read more in our Polar H10 review
---
Best budget heart rate strap
Type: ECG | Battery: Rechargeable | Connectivity: Bluetooth, ANT+ | Waterproof rating: IP67
Good value
Accurate tracking
Long rechargeable battery life
Not as comfortable as others
Needs two apps
No swim tracking
There are cheaper chest straps in Coospo's range that offer even more value if you don't mind using a coin battery, but the convenience of the 50-hour rechargeable battery life of the H9Z means it gets my vote. It's still excellent value and has proved very accurate during my testing, even during hard interval runs with frequent spikes and dips in HR, and while it's not the most comfortable strap when compared with the likes of Polar's H9 and H10, it was fine for long runs.
The functions of the H9Z are, oddly and inconveniently, split between two apps, Coopso Ride and Heartool. You can't use the Coospo H9Z for swimming and it doesn't offer extras like workout storage or running technique stats that you do get on some more expensive straps, but for the basics of broadcasting your HR to an app, bike computer or watch it's an excellent, convenient option.
Read more in our Coospo H9Z Heart Rate Monitor review
---
Most versatile heart rate monitor
Type: Optical and ECG | Battery: Rechargeable | Connectivity: Bluetooth, ANT+ | Waterproof rating: 1ATM (up to 10 metres)
Wear on chest, arm or wrist
MyZone app gamifies fitness
Long battery life
Expensive
The MZ-Switch can be used to track your heart rate from your wrist, arm or chest. It contains an ECG sensor for measurements on the chest—the most accurate position—plus an optical PPG sensor for tracking from your arm or wrist, which many find more comfortable and convenient than a chest strap.
Wherever you wear it, you'll be earning MyZone Effort Points (MEPs) during your exercise, and these are earned at a faster rate when you're working in higher heart rate zones. It's another way to motivate yourself, particularly during HIIT sessions, and some gym chains have partnered with MyZone to broadcast your heart rate and zone to screens during classes to help you work at the right intensity.
The MZ-Switch also boasts an impressive battery life for such a small, rechargeable device, lasting three to six months (the optical sensor uses more battery than the ECG). It connects easily to any device via ANT+ or Bluetooth, and I found swapping the sensor between the included straps for your chest, wrist and arm a piece of cake.
The only real downside here is the price. It's more cost-effective to buy a separate arm and chest strap tracker if you don't plan on using the MyZone app and earning those MEPs.
Read more in our MyZone MZ-Switch review
---
Best arm strap heart rate monitor
Type: Optical | Battery: Rechargeable | Connectivity: Bluetooth, ANT+ | Waterproof rating: 5ATM (up to 50 metres)
Accurate tracking
Lightweight and comfortable
Stores workouts
Not as accurate as chest strap
No uses outside of workouts
Polar has two great armband HR trackers in its range, the OH1 and Verity Sense. The Verity Sense is more expensive, but has big advantages over the OH1. The battery life is longer, at 30 hours (vs 12), the Bluetooth range is twice as big at 150m, it has a larger memory for storing workouts, and it's waterproof to 50m (in contrast to 30m for the OH1). The Verity Sense comes with a clip so you can attach it to your goggles for measurements in the water.
Arm straps offer more accuracy than a wrist-based monitor, and they're more convenient and comfortable than a chest strap. The Verity Sense slips on easily and in my testing I found it impressively close to a chest strap's readings in running, strength and cycling sessions, with just a small amount of lag in its readings at the start and end of intervals.
It connects via ANT+ and Bluetooth, and the lights system on the device shows the three training modes available. The first is for when you want to pair it with a device like a watch, the second is for recording a workout directly on the Verity Sense itself to sync to an app later, and the third is a swimming mode.
Read more in our Polar Verity Sense review
---
Best for runners and triathletes
Type: ECG | Battery: CR2032 | Connectivity: Bluetooth, ANT+ | Waterproof rating: 5ATM (up to 50 metres)
Advanced running analysis
Works for swimming
Comfortable strap
Expensive
Similar to HRM-Pro
The HRM-Pro Plus is Garmin's top heart rate chest strap, replacing the HRM-Pro in its line-up. The Pro Plus does all the great things the Pro did, including measuring advanced running stats like running power, ground contact time and vertical oscillation, which you can see on compatible Garmin watches live during your runs. It also works in the water and will sync your HR data to the Garmin app once you've finished swimming.
There's nothing to choose between the software of the Pro and Pro Plus. The Pro Plus adds the ability to measure indoor running distance and pace, but this will come to the Pro in an update. However, the key upgrade you get here is a new battery compartment that you can open without using a screwdriver. Not only does this make changing the battery easier than on the Pro, but it also reduces the chances of you breaking the strap, which was a common complaint about the Pro and something I managed to do when using the Pro for an extended period.
Read more in our Garmin HRM-Pro Plus review
---
6. Coros Heart Rate Monitor
Most convenient heart rate monitor
Type : Optical | Battery : Rechargeable | Connectivity : Bluetooth | Waterproof rating: 3ATM (up to 30 meters)
Ease of use
Accurate
Comfortable
No extra features
Cheaper options available
The Coros Heart Rate Monitor is not as advanced a device as the Polar Verity Sense in that it only broadcasts via Bluetooth, not ANT+, doesn't have a swimming mode and can't store workouts. However, it does a great job of tracking your heart rate accurately and in my experience is the easiest monitor to use, which has made it my go-to option.
This is largely due to the buttonless design. Just slip the Coros monitor on your arm and it turns on and links up to your connected watch. Take it off and it turns itself off again. The battery life is good, at 38 hours of active tracking or 80 days in standby mode, which is slightly longer than the Verity Sense.
If you've no need for extra features and prefer an armband to a chest strap, the Coros Heart Rate Monitor is a convenient option—and cheaper than the Polar Verity Sense.
Heart Rate Monitors Buyer's Guide
To find out more about how chest straps and optical heart rate monitors work, and advice on which is more accurate, we spoke to Polar research center director Jyrki Schroderus.
How do heart rate chest straps work?
Chest straps measure electric signals arising from heart activity, which is the same thing as if you were in hospital and you put on the wires for an electrocardiogram (ECG). The strap measurement is a simplified version of the hospital measurement with only one channel, one connection, but we are able to measure the heart rate from that. In the hospital there are 12 leads, and it makes a map of your electrocardiogram activity.
The cardiac activity comes actually from your heart muscle, and the tiniest cells that we have in our heart. When they operate, very small electric activity is generated and when we combine all of them together, it's still very low, but we get a measurable signal from the skin. You can see a difference in your voltage, basically.
If you take the strap you can see the black pads, which actually receive the electric signal from your chest. You have to have a very good contact at your chest area, so that the electric signal gets into the electronics of the device.
What are the pros and cons of a chest strap?
Comfort is one issue because it results in pressure on your chest area, but it's very accurate, and it's very tolerant of disturbances which arise from motion. It's a hard environment to make the measurement: there's motion at your chest, there's lots of sweat too so all the electric characteristics of your skin are changing from dry to sweaty skin. There's also flapping of the shirt, perhaps because you are riding a bicycle and there's wind coming against you.
So even though the strap looks very simple, there is a lot of engineering behind it and the price point of the device is very low.
How do optical heart rate monitors work?
It's called photoplethysmography or PPG measurement, which is basically measuring the blood pulse in your skin.
It uses LED lights and a sensor. Light penetrates into your skin and when it's under your skin, your blood pulse changes the power of the light which comes back to the sensor. It measures your blood – it doesn't measure your heart directly.
What are the pros and cons of optical heart rate monitors?
The advantage is that you can make the measurement anywhere where you have skin – your forehead, lower arm, upper arm, anywhere. It's very handy.
The measurement is, basically, not as accurate as the chest measurement. There are a couple of reasons for that. First, the location of the sensor could be your lower arm and there is a lot of motion in your arm area. The most catastrophic place for PPG is actually your wrist – it's a very hostile measurement place. That's why there are lots of complaints about the quality of the measurement with the wrist devices. We know that and we have lots of people here solving the problem!
If you put it on the upper arm, it's almost as good as the ECG-based measurement for heart rate because the motions are not that violent.
Are optical straps accurate for taking heart rate variability (HRV) measurements?
With an ECG measurement, you can do HRV measurements in almost any situation, but if you take a PPG measurement, optical heart rate, it's practically impossible to measure that during motion. If you want to calculate some more advanced parameters, like breathing frequency, you can measure that during your run from your chest, but it's not possible with the optical heart rate.
But if you are at rest, we can measure the PPG PP interval – the separation between successive heartbeats. That's why we can measure sleep and stress parameters at night with a wrist device.
Sign up for workout ideas, training advice, reviews of the latest gear and more.