Can Zwift For Runners Make Treadmill Training Fun?
Escape the sweaty confines of your local gym by running in a virtual world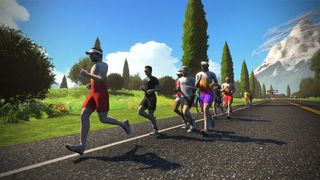 (Image credit: Unknown)
Whether it's running, cycling or rowing, doing your cardio training indoors can be challenging. That challenge is often boredom – if you do anything in one place for long enough, it becomes as much a test of mental endurance as a physical one.
Cyclists have long been able to overcome this problem thanks to an array of options to spice up their turbo training, and chief among these is Zwift, a virtual world where you can enjoy group rides with thousands of other cyclists. If you're a runner who has looked with envy at cyclists in the past, there's good news: you can now run in Zwift's virtual world as well.
The feature has been available on Zwift for a while in beta, but its official launch date is 8th February. You won't have to pay to use the running mode on Zwift for the time being, which means you just need to source a treadmill and footpod, which links to Zwift via Bluetooth or ANT+ and controls the speed of your running avatar.
We tried Zwift using a Stryd footpod (opens in new tab) (£199.99), one of the more expensive options. The Stryd pod also measures your running power – an advanced metric that can used to measure the intensity of your runs more accurately than pace or heart rate – but you don't need that for Zwift. A cheaper option like the Milestone footpod (opens in new tab) (£29.99) works just fine for speed.
RECOMMENDED: The Newbie's Guide To The Treadmill
You can also link a heart rate monitor to Zwift, which will then display your heart rate and heart rate zone during your run – useful if you're doing interval efforts.
Once you've clipped on your footpod, fired up the Zwift app and linked the footpod to it, you need to calibrate your speed by running for one minute at a comfortable pace. Then you're good to go.
You can dive straight in to Watopia – Zwift's virtual world – at random or select a certain route and/or workout from the pre-run settings. Right now there are only a few running workouts available, but more should arrive soon, along with the ability to create your own workout.
It's easy to set up and get going, but the experience of looking at your phone resting on the treadmill does leave a little to be desired. The small screen doesn't really show off the virtual delights of Watopia, which has a volcano, its own mountain range and (our favourite bit) many underwater tunnels.
It's also a bit hard to see your stats when running, especially during fast intervals when the treadmill's juddering moves your phone around. That juddering also had an annoying habit of locking our phone screen sometimes, which meant pausing and restarting the run in Zwift. No biggie – until your hands get sweaty from running.
Running in Zwift's virtual world at home would be glorious, we have no doubt, but the gym experience doesn't match up. Although if your gym's treadmills have tablet holders, that would upgrade the experience considerably.
RECOMMENDED: The Best Treadmills Of 2018
Even so, Zwift on a phone is an upgrade to simply running on the treadmill, especially when doing interval workouts. Use the preset workouts on Zwift and it will guide you through the sprint sections with start and finish lines on the roads of Watopia – a handy motivational tool. Zwift also gives the pace you should be running at during the sprint sections, which is based on the times you give it for how fast you run distances like 5K and 10K. These times should be your current estimated time for those distances, not your all-time PBs, or you'll find that you struggle to hit the paces Zwift demands.
Once you can create your own workouts on the app we think this will be the main benefit of Zwift for runners using it on a phone at the gym. There is also the option to join group runs, but that again would benefit from a larger screen and there aren't so many of them at the moment – just a handful each day.
The preset courses on Zwift are currently designed for cyclists, which means they're pretty long, though there are a few that are 10K and under. Obviously if cycling on Zwift you fly along the roads pretty quickly, but when running you can be on a long stretch of Watopia Tarmac for a while, which rather defeats the object of trying to escape treadmill boredom by using the app. Dedicated running routes are coming soon though.
Zwift is not going to be the same experience for runners as it is for cyclists, because many more cyclists will use the app at home – turbo trainers being more affordable and smaller than treadmills. However, it is something that we think every runner should try at the gym at least once while it's free – the cost of a footpod is worth it, especially as it's a useful bit of kit to have for all treadmill sessions anyway, because you can link them to a running watch to get more accurate distance readings for indoor running.
Once Zwift upgrades the running experience on the app with dedicated routes and custom workouts, it will become a very useful training tool for running during the winter. However, we still find it hard to picture paying the £12.99 a month it costs cyclists to use Zwift for running, unless you have a home treadmill or at least a tablet-friendly treadmill at your gym. Zwift is yet to confirm how much the running subscription service will cost when it rolls out in late 2018. While it's free, though, we're definitely going to enjoy moving our winter runs from the cold, wet streets of London to the sun-drenched paths of Watopia.
Sign up for workout ideas, training advice, reviews of the latest gear and more.