The Best Swimming Headphones
These waterproof headphones with built-in MP3 storage can provide a soundtrack to your time in the pool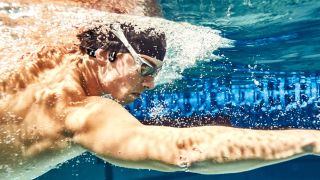 (Image credit: Shokz)
If you want to listen to music or podcasts as you rack up lengths in the pool, you don't just need waterproof headphones – most of those connect to a music player over Bluetooth, which won't work in the water. What you need are waterproof headphones with built-in music players. There are only a handful of those and we've tested all of them in the pool to help you choose the best swimming headphones for your budget and needs.
All our picks are IPX8 or IP68 rated (the second digit, the 8, conveys how waterproof the headphones are on the ingress protection code scale). IPX7, the level below this, means the headphones are protected against water entering and damaging the device in depths of less than 1m for up to 30 minutes. IPX8 is more waterproof than this, but the manufacturer can specify the depth and duration. Finally, don't assume your waterproof headphones can handle salt water – unless the manufacturer explicitly says they can, they probably can't.
Some swimming headphones use the in-ear buds you're probably familiar with, but some are bone-conduction headphones, which sit next to your ear and transmit sound through your cheekbones and into your inner ear. No, really. It can be a struggle to hear the sound delivered this way when next to a busy road, but the experience is far superior in the water. The difference between in and out of the water is pronounced – admittedly not great if you prefer breaststroke.
The final thing to say is that you'll want to fix whichever pair you choose in place using swimming goggles and a swim cap, or they'll come off when you push off the wall.
The Best Swimming Headphones
1. Jukes Solo Wave
This affordable bone-conduction pair has lots of storage on board
Specifications
Water resistance:
IP68, waterproof to 1.5m depth for 30 minutes
Supports:
MP3, WMA, WAV, APE, FLAC
Reasons to buy
+
The most storage at 16GB
+
Good value
+
Bluetooth streaming mode
Jukes makes a wearable coaching system so swimmers can hear their coach while submerged, and also produces bone-conduction headphones with a built-in music player. The Solo Wave is the latest model and includes Bluetooth streaming along with the 16GB of storage – though the charging cable used to transfer your files is on the flimsy side. The headphones carry an IP68 waterproof rating and ideally need to be worn with the supplied earplugs and with a swim cap or goggles, but we found they stay in place reliably and feel light despite being the heaviest on our list.
---
Clear sound quality from the big-name brand
Specifications
Battery life:
Eight hours
Water resistance :
IP68, waterproof to 2m depth for two hours
Supports:
MP3, WAV, WMA, AAC, and FLAC
Reasons to buy
+
Enhanced waterproofing
+
Can be worn in the sea
+
Good sound quality
+
Decent battery life
Reasons to avoid
-
Not Bluetooth compatible
-
4GB of storage is comparatively small
Shokz (formerly AfterShokz) has rebranded its Xtrainerz swimming headphones but retained the same slim, light design. It has a built-in music player and doesn't support Bluetooth so you can't connect to your phone out of the pool – a pity since the 4GB of storage is small compared with others on our list. The player works with five major file formats and there are physical controls to skip back and forwards through songs and podcast episodes. Sound quality is clear and doesn't get muffled in the water, and swimming ear plugs are included to improve sound isolation while keeping water out of your ears. The eight-hour battery life should be good for a week's worth of swimming. The Shokz have been successfully tested for use up to a depth of two metres for two hours, and Shokz says they can be worn in the sea too.
---
Comfortable, good-value headphones with Bluetooth
Specifications
Battery life:
up to three hours in non-Bluetooth mode
Water resistance:
IPX8, no further information given
Supports:
MP3, WAV, WMA, FLAC, APE
Reasons to buy
+
Bluetooth streaming
+
More affordable than Shokz
Reasons to avoid
-
Shorter battery life than Shokz
The Naenka Runner Pro offers Bluetooth streaming and a music player for significantly less money than the Shokz OpenSwim and in a similar frame. There is 8GB of storage providing space for around 1,500 songs and the sound performance is comparable to that of the OpenSwim, with good clarity in the water. Unfortunately in Bluetooth streaming mode battery life is up to three hours rather than the seven hours seen elsewhere. But if you want a slim, comfortable set of headphones that cost less than the OpenSwim and offer two listening modes, then these are the ones to get.
---
4. Tayogo Waterproof MP3 Player
A lightweight in-ear pair
Specifications
Battery life:
Up to seven hours
Water resistance:
IPX8, waterproof to 3m
Supports:
WMA, WAV, FLAC, AAC APE, OGG, DRM
Reasons to buy
+
Light – around half the weight of the others
+
Good value
+
Enhanced waterproof rating
Reasons to avoid
-
No Bluetooth
-
Average sound quality
Tayogo is one of the headphone makers you'll find only on Amazon, but don't let its less-well-known status put you off. Along with making solid bone-conduction headphones, it also makes an affordable set to wear while swimming with an IPX8 rating for depths of up to three metres. The music player component clips out of the back of the headphones so you can load audio files on it. The sound quality can be a bit muffled in places and the battery performance ranges from four to seven hours.
---
5. Sony WS410 Walkman WS Series
Long battery life and ability to withstand salt water make this in-ear pair stand out
Specifications
Battery life:
Up to 12 hours
Water resistance:
IP68 with swimming buds attached, 2m for up to 30 minutes
Supports:
AAC, Linear PCM, MP3, WMA
Reasons to buy
+
Great battery life
+
Quick-charge mode
+
Can be worn in the sea
Reasons to avoid
-
No Bluetooth
-
Average sound quality
-
Tricky to get hold of
-
Small amount of storage
Sony is the biggest brand on this list and while it might not deliver the best sound in the water, it does provide the biggest battery to play with: an impressive 12 hours from a single charge, with a three-minute quick-charge mode that delivers an hour of listening time. The headphones carry an IP65/IP68 waterproof rating, and you have to attach the swimming buds included to make them waterproof enough to swim in. While 4GB and 8GB storage options are listed, we can only find the smaller storage option available from third-party retailers.
Sign up for workout ideas, training advice, reviews of the latest gear and more.
Mike is an experienced journalist, beginning his career in 2008, and is a keen runner and swimmer. As a contributor to Coach, he covers swimming and reviews rowing machines.