How Do Bone Conduction Headphones Work?
Listen to music and podcasts while keeping your ears clear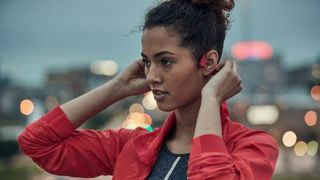 (Image credit: Unknown)
When first confronted with a pair of bone conduction headphones, you might well wonder where the bit that goes in your ear is. There is no such bit. Instead there are pads that sit on your cheekbones, leaving your ears open to the world around you.
That's key to the appeal of bone conduction headphones. The extra awareness you get from wearing them rather than in-ear buds or over-ear cans makes them particularly good for running and cycling on busy streets. Aftershokz, which is the leading brand of bone conduction headphones, even has a partnership with England Athletics, making the brand's headphones the only ones allowed in its races owing to the awareness they allow.
Bone conduction headphones certainly fill a useful niche – but how does the technology actually work and what do they sound like?
How Do Bone Conduction Headphones Work?
For an explanation on the technology involved, we asked Ken Chen, chief technology officer of Aftershokz.
"Unlike conventional headphones and earbuds that use the eardrums to transmit sound, Aftershokz headphones rest comfortably at the front of the ear and utilise bone conduction technology to transmit sound through the listener's cheekbones to the inner ear, bypassing the eardrum completely," says Chen.
"Bone conduction is all part of the hearing process. Sounds travel through our eardrums and bones simultaneously. We've taken this concept to the next level. The transducers on the headphones guide mini vibrations through the cheekbones to the inner ears, delivering sound without plugging or covering the ears."
See related
What Do They Actually Sound Like?
We've tried the last three generations of Aftershokz headphones – the Trekz Titanium, Trekz Air and Aeropex (pictured below) – and consider ourselves well versed in the pros and cons of bone conduction headphones.
The pros are more less as you expect. You really do gain more awareness of the world around you and the sound quality is pretty good, especially on the Aeropex headphones. It's loud and clear enough to listen to music and podcasts when running or cycling in London (or presumably any other city), though not quite loud enough to use on the Tube in our experience. Unless you crank the volume right up, there's surprisingly little in the way of sound leakage either, so there's no need to worry about annoying others. The band design is comfortable to wear for long periods too, and we've never had problems with it moving out of position while running or wearing a helmet.
However, while the sound quality is certainly good enough to let you enjoy music while running or cycling, it falls short of what you can expect on other wireless headphones, including truly wireless buds. So if that's a priority for you, especially for listening to music when not exercising, bone conduction headphones might not be your best bet.
Sign up for workout ideas, training advice, reviews of the latest gear and more.