The Best Workout Headphones For The Gym And Exercising At Home
Turn on, plug in and work out with the best gym headphones, featuring top picks from Beats, Jabra, Apple and others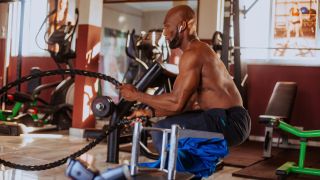 (Image credit: Getty Images / Junior Asiama)
There are three areas in which the best workout headphones need to excel: fit, sound quality and battery life. For me, fit is the most important because continually adjusting a loose bud is irritating at the best of times, but especially hard to do when holding dumbbells.
My dislike of a loose fit means that all the top gym buds below are reliably secure on this front, no matter how intense your workout is. Once you can be sure the buds stay firmly in place, then other factors like great sound quality and battery life come into play, along with useful extras like passive and active noise cancellation. You can also rest assured that all the below are water-resistant enough to stand up to sweaty sessions, and many offer waterproofing beyond that standard.
How I Test Workout Headphones
I am primarily a runner and try all the headphones I review with several runs, but I also use them for a variety of gym workouts, including strength sessions, cardio machines and yoga.
Other Types Of Workout Headphones
If you're wedded to the treadmill, or want to use the headphones in the gym and for outdoor runs, you may be better served by my selection of the best running headphones, which puts even more emphasis on fit and features that allow you to be aware of your surroundings.
If you're hoping to wear buds in the pool, you need a pair that are waterproof to the point that they can handle submersion for a sustained period and have built-in storage for music, since Bluetooth doesn't work as well in water. Coach's best swimming headphones round-up lays out your options.
The Best Workout Headphones
RRP: $119.99 / £119.99 | Battery life: 7 hours (+21 in case) | IP rating: IP57 | Weight: 5g per earbud
Good sound quality
Reliable and comfortable fit
ANC and HearThrough modes
Relatively low price
No wing tips means a less secure fit
Less customisation than pricier models
ANC is just OK
Once the preserve of the most expensive headphones, active noise cancellation (ANC) is a common feature these days. The Elite 4 Active buds offer ANC as well as Jabra's HearThrough awareness mode so you can block out or filter in the sound around you as appropriate.
ANC is just one of the many reasons it's worth considering the Elite 4 Active buds. They're certainly a contender for the best-value sports headphones available if their fit works for you—they have no wings or ear hooks, but I found they stayed in place securely during a variety of indoor and outdoor workouts.
The sound quality is good, and so is the battery life at seven hours on the buds and another 21 in the case. You can adjust the EQ in the partner app, and because they don't have wings or a hook the Elite 4 Active headphones are comfortable to wear for long stretches when not exercising as well.
Find out what else earns this pair a place on our best workout headphones list in my Jabra Elite 4 Active review
---
Best value workout headphones
RRP: $99 / £99.99 | Battery life: 15 hours (+55 in case) | IP rating: IP66 | Weight: 10g per earbud
Long battery life
Reliable fit
Good value
Weak ANC
Annoying controls
These get the fundamentals right, with a 15-hour battery life (plus another 55 hours in the case), an ear hook for a secure fit and solid sound quality. And you get all that for $99/£99.99 at most—the buds are almost always reduced in my experience.
The extra features are hit and miss: I found the active noise cancellation (ANC) blocked a disappointingly small amount of sound, but the adjustable Be Aware mode is excellent, letting just enough ambient noise in so you can hear what's going on around you without ruining your music. The poor ANC is a minor quibble given the other positives you're getting from these headphones, most notably that excellent battery life.
Read more about my experience with the best value workout headphones in my JLab Epic Air Sport ANC review
---
Best budget workout headphones
RRP: $25 / £19.99 | Battery life: 8 hours (+24 in case) | IP rating: IPX4 | Weight: 3.7g per earbud
Value
Sound quality
Excellent battery life for the price
Charging cable built in to case
Controls hard to use
Can come loose during exercise
This is a silly price for headphones as good as the JLab Go Air Pop, which offer similar features to headphones that cost five times as much. The sound quality is solid, the battery life excellent and I found the fit good too, though the lack of wings or an ear hook may mean they're not the best pick for those who regularly engage in energetic HIIT workouts with lots of jumping. If that's you, I'd recommend checking out the JLab Go Air Sport, which are a little more expensive but have an ear hook design for a more secure fit.
One feature I particularly like about the Go Air Pop and other JLab headphones is that the charging cable is built into the case so you don't lose it. Unless you lose the case, of course, but then you have bigger problems since you can't charge the buds at all without the case.
Find out more about these best budget workout headphones in my JLab Go Air Pop review
---
RRP: $299 / £279.95 | Battery life: 6 hours (+18 in case) | IP rating: IPX4 | Weight: 6.24g per earbud
Best ANC available
Great sound
Comfortable fit
Awareness mode too noisy during outdoor runs
More wing sizes costs extra
Not the loudest
The QC Earbuds II are Bose's top-of-the-range in-ear lifestyle headphones, offering best-in-class ANC and terrific sound quality as you'd expect, and the stability bands the buds come with offer a secure enough fit for sports use as well. The headphones come with bands and tips in three sizes, and you can buy a set of XS and XL tips/bands from Bose if your ear holes don't match that size range. I found that picking up the XL bands was worth doing for sports use, just for the extra security of fit they create.
As a result the QC Earbuds II are fantastic headphones for both general life and the gym. The fit is comfortable for many hours of use even when using the large stability band for extra security during workouts. The headphones also have an awareness mode and last six hours on a charge even with the ANC enabled.
Before you spend that kind of money, we're sure you'll want to know more, so read my in-depth Bose QuietComfort Earbuds II review
---
Best sound quality under $150/£150
RRP: $129.95 / £119.99 | Battery life: 9 hours (+18 in case) | IP rating: IP54 | Weight: 7g per earbud
Excellent sound quality
Secure fit
No ANC
Larger than other buds
No proper awareness mode
Sennheiser's sportiest truly wireless buds offer the fantastic sound quality you expect from the brand. The Focus EQ mode offers clear and natural sound, and the Aware mode powers up the bass.
Unlike Sennheiser's other truly wireless headphones, the Sport True Wireless have wings to create a secure fit for exercise. I found that these compensated for the chunky size of the buds, though they're not the most comfortable to wear for long periods. The battery life is up there with the best at nine hours, with another 18 in the case.
There are no ANC or awareness modes with the headphones, however, and while Sennheiser includes two kinds of ear tips—one to block more external noise and one that lets in more external sounds—I found that swapping between them didn't make much difference.
Read more about these great-sounding workout headphones in my Sennheiser Sport True Wireless review
---
Best gym headphones under $50/£50
RRP: $39.99 / £39.99 | Battery life: 8 hours (+142 in case) | IP rating: IPX8 | Weight: 4g per earbud
Great value
Long battery life in the case
Secure, comfortable fit
Fiddly controls
The Tribit Flybuds 3 are another top option for bargain-hunters, and they have a more secure fit than the JLab Go Air Pop because they come with wings in three sizes. The sound quality matches that of headphones that cost twice as much, and Tribit continues to improve the buds, which now have more battery life and a better waterproof rating than when I tested them. The battery life in particular is excellent, with eight hours on the buds and another 142 in the case.
Read more about these bargain workout headphones in my Tribit Flybuds 3 review
---
Best Beats headphones for working out
RRP: $249.95 / £219.95 | Battery life: 9 hours (+15 in case) | IP rating: IPX4 | Weight: 10.5g per earbud
Ear hook fit is rock-solid
Great sound
Long battery life
Expensive
Smaller buds can be more comfortable
Big charging case
The Powerbeats Pro are elder statesmen of the wireless headphone world, having come out in 2019, but they still more than hold their own and I prefer them to the newer Beats Fit Pro. These offer ANC and have a smaller in-ear design that uses a wing to keep the buds in place during workouts, but I found this wing uncomfortable and the fit of the Powerbeats Pro is more reliable in the gym thanks to its earhook.
Their battery life is impressive too—the buds last for nine hours before they need to go back in their case for a recharge. The ear hook design means there's no chance of the bud being dislodged during workouts, whether you're running, doing burpees or head-banging to your gym playlist. The sound quality also impresses and while the RRP seems eye-wateringly high, the Powerbeats Pro are almost always available at a big discount, and I often notice they are reduced substantially during sales periods like Black Friday.
Discover how outrageously quick they are to charge in my Beats Powerbeat Pro review
---
Adidas RPT-01
Best on-ear workout headphones
RRP: $169.99 / £89.99 | Battery life: 40 hours | IP rating: IPX4 | Weight: 213g
Excellent sound
40 hours of battery life
Washable covers
Uncomfortable to wear for long periods
The knitted ear cushions and inner headband on these headphones are removable and washable, so you can wear them in the gym confident that you'll be able to clean the sweat off afterwards. I found that the tight fit of the headset can become slightly uncomfortable if worn for long stretches at your desk, but it's ideal to keep the RPT-01 cans in place during a workout. The 40 hours of battery and excellent sound you get as a result of the bigger on-ear design is a major positive compared with in-ear options. That said, while they'll stay put for strength training, you may well find in-ear buds are more secure for plyometric exercises and treadmill workouts.
---
Best wireless headphones for the gym and the office
RRP: $249 / £249 | Battery life: 6 hours (+24 in case) | IP rating: IPX4 | Weight: 5.3g per bud
Excellent ANC and transparency modes
Comfortable fit
Great sound quality
More expensive than rivals
Can shake loose during exercise
The AirPods Pro 2 sound fantastic and offer exceptional active noise cancellation given how small they are. The battery life has been improved over the original AirPods Pro too: The buds last six hours on a charge even when using ANC, and you can now change the volume by swiping on the stem of the headphones.
I sometimes find the fit of the in-ear buds too loose during workouts, but if you don't experience this problem then the AirPods Pro 2 are simply top-notch all-round headphones you can also use in the gym. They don't come cheap, however, and there is better value out there, especially in Jabra's range of in-ear buds.
Read more in my Apple AirPods Pro 2 review
---
Best bone-conduction headphones
RRP: $129.95 / £129.95 | Battery life: 8 hours | IP rating: IP67 | Weight: 26g
Open-ear design is good for awareness
Lightweight, comfortable design
Quick charge feature
IP67 waterproof rating
No music storage
Not loud enough at times
Once known as AfterShokz, Shokz is the dominant force in the bone conduction headphones market, and the OpenRun are the best buds in its range. They're cheaper than the OpenRun Pro, have a higher waterproof rating, and sound very similar. These headphones have a lightweight open design that allows you to remain aware of your surroundings while still enjoying your audio, which is delivered via your cheekbones.
The sound quality you get from this process is not as good as with in-ear buds, but I found it's still enjoyable to listen to music and audiobooks and on the sound front the OpenRun are better than cheaper sets of bone conduction buds. The battery life is good at eight hours, and you get 90 minutes of playback from a 10-minute charge.
The OpenRun headphones come in two sizes, and the Mini version has a 0.83in (21mm) shorter band. This means it sticks out less from the back of your head, which is handy when doing exercises where you lie with your head on the floor or a bench. I prefer the snug fit of the Mini in general, and they are identical to the standard OpenRun headphones for features and battery life.
Find out why I think this cheaper pair are better workout headphones than the OpenRun Pro in my Shokz OpenRun review
---
RRP: $149.95 / £139.95 | Battery life: 8 hours | IP rating: IP68 | Weight: 30g
MP3 storage
Waterproof
Open design for awareness
No Bluetooth playback
Battery life often shorter than listed
These bone conduction MP3 headphones don't have Bluetooth, but they do have 4GB of storage for your music and podcasts, and they're IP68-rated, meaning they are waterproof enough to withstand two hours of submersion in water up to two meters deep. The bone conduction technology also works wonders in the pool thanks to the special swim EQ setting which is required to reduce the bass because of how well sound travels under the surface. It takes a moment or two to get the headphones positioned with goggles and a swimming cap, but once they're in place, there are no better buds for swimmers looking to reduce the monotony of logging laps in the pool.
Find out more about our experience with these headphones in the pool in my Shokz OpenSwim review
---
Best open headphones for sound quality
RRP: $189 / £199 | Battery life: 7 hours (+27 in case) | IP rating: IPX5, sweat- and water-resistant
Secure fit
Great sound for open buds
Case now charges buds
Open design increases awareness
Larger than rivals
Uncomfortable when worn for long periods
Unreliable app connection
If you like being aware of your surroundings during workouts but want better sound quality than you get from bone conduction headphones, then these open headphones will fit the bill. They hook over your ear, with a clip design that holds them tightly to the top of it, and a speaker rests near your ear canal rather than blocking it.
This delivers surprisingly good sound quality, and I found I could use the Cleer headphones happily outside of workouts, aside from when traveling when the open design is a bit quiet. The fit was a little uncomfortable for me when wearing them for long periods because of the tightness of the clip, but that clip does make them extra secure during workouts.
Read more in my Cleer Arc II Sport Headphones review
Sign up for workout ideas, training advice, reviews of the latest gear and more.
Thank you for signing up to Coach. You will receive a verification email shortly.
There was a problem. Please refresh the page and try again.