The Best Workout Apps
Features
Contributions from
last updated
Download a PT to your smartphone with one of the best workout apps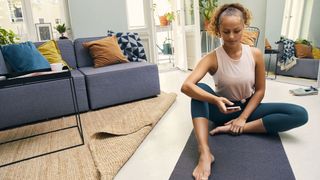 (Image credit: Freeletics)
Unless you really know what you're doing, it can be easy to waste time when working out.
You can solve this problem with a personal trainer, or do it yourself with one of our workouts or training plans. Splitting the difference between these approaches are workout apps, which offer a wide range of (mostly) paid-for content to help you get more out of your exercise.
Competition between the best workout apps became particularly fierce when the pandemic caused an explosion of interest. This rapidly cooled, but it does mean there are a lot of effective and polished services to choose from, and they all offer free trials so you can try before you commit. Speaking of commitment, you can often bring the monthly fee down by paying up front for three months or a year.
If your budget doesn't stretch beyond zero, you'll be pleased to know there are two free workout apps we rate highly and would deserve a place on this list even if they did require a monthly fee.
The Best Workout Apps
Best workout app
Specifications
Price:
$7.99/£7.99 a month, $120/£120 a year
Reasons to buy
+
Wide range of workouts
+
Training plans
+
Great instructors
Reasons to avoid
-
More expensive than some apps
-
Rep counting has limitations
Our favourite home workout app has a slick feel to it, with a wide range of on-demand and live workouts that fit into three areas: strength, cardio and rebalance, the latter including things like stretching and yoga classes. The app is well laid out so it's easy to find workouts that suit your goals and fitness level, and the instructors are uniformly excellent, providing clear advice and motivation without going overboard.
The app is constantly being updated with new types of workouts as well, and there are training plans and challenges if you're looking for a long-term fitness routine rather than a one-off session.
While there's plenty for beginners, Fiit also serves a core group of subscribers who want ever tougher strength sessions. Case in point is the Boss Level workout, which Fiit calls the hardest home workout in the world.
The majority of classes don't require any equipment, but if you're working out to build muscle a pair of dumbbells are recommended and Fiit has close to 300 sessions using that free weight. If you buy a Fiit chest strap (£45), which counts your reps of certain exercises, your effort can be benchmarked against other users and you can compete on leaderboards in live classes.
Fiit has also launched a partnership with cardio machine manufacturer AssaultFitness for a series of connected workouts for its air bikes and self-powered treadmills. If you own either of these, or your gym has these models, a subscription is a no-brainer.
Read more in our Fiit app review
---
2. Nike Training Club
Best free workout app
Reasons to buy
+
Variety of workouts
+
Celebrity inspiration
Reasons to avoid
-
Fewer workouts than paid apps
You don't have to spend any money to get good guided workouts on your phone. The Nike+ Training Club apps offer more than 200 workouts free, covering a range of activities including mobility work and yoga alongside pure strength sessions.
If you're in need of extra motivation then you can tune in to a workout hosted by your favourite Nike ambassador, with training sessions inspired by the likes of Serena Williams and Rory McIlroy on the app. The app also recommends workouts each day based on your past sessions, and has full training plans tailored to a variety of goals.
---
3. EXi
Best workout app for beginners AND it's free
Reasons to buy
+
NHS-approved
+
Takes medical conditions into account
+
Training plan builds gradually
+
Workout suggestions for all settings
Reasons to avoid
-
Not for experienced exercisers
We all start from different points and if the beginner sessions in other workout apps feel out of reach, EXi will be able to suggest an appropriate level of exercise. It's designed for people who are sedentary, as well as those at risk of developing or already have a chronic disease, and aims to build up activity levels slowly and safely, as we discovered when we spoke to chartered physiotherapist Carron Manning, co-founder and clinical director of the app, about how to start exercising safely.
That means it suggests only low- and medium-intensity exercise if, say, you tell the app you have cardiovascular disease. The app also adjusts your plan using your feedback on how hard a workout was, and can make use of GPS and heart rate data from a number of wearables and apps. If you own an Apple Watch it can also buzz to remind you to work in the right heart rate zone, so you don't push too hard by accident.
---
Best workout app for a lifestyle overhaul
Specifications
Price:
$29.99/£22.99 a month, $59.99/£43.99 for three months, $119.99/£93.99 a year
Reasons to buy
+
All-encompassing approach
+
Live like Chris Hemsworth
Reasons to avoid
-
Can feel overwhelming
-
Hard to find ingredients
-
Expensive
This is the app that helps you live like Chris Hemsworth, with workouts from his trainers and recipes from his chef, along with guided meditation and mindfulness sessions. As you might expect, living like a Hemsworth is pretty full on, and it's both the key strength and main weakness of Centr that it requires a lot of work from you. That includes several workouts a week, mindfulness sessions and a comprehensive meal plan with ingredient lists that are rarely cheap and often hard to find in smaller supermarkets.
There are plenty of bodyweight workouts, but Centr is best followed with access to a gym. Along with follow-along videos, there's the option of self-guided workouts where you scroll through images and clips at your own pace making them a bit easier to follow in a gym. For a taster, try these sessions shared exclusively with Coach: a bodyweight workout from the Unleashed plan and MMA workout from Jorge Blanco, one of the Centr trainers and also a coach of fighters like Georges St-Pierre. Blanco is an indication of the quality of trainer the Hemsworth name attracts.
If you can handle everything it throws at you, Centr is a fantastic all-round fitness app that will help you reshape your lifestyle to be healthier from every angle. You can try the app free for seven days and that's well worth doing before committing to a longer paid contract.
Read more in our Centr app review
---
Best value workout app
Specifications
Price:
$12.99/£12.99 a month
Reasons to buy
+
Wide variety of live and on-demand classes
+
High-quality, motivational trainers
+
Good value for money
Reasons to avoid
-
Peloton equipment is expensive (but is not required to use the app)
Peloton is best known for its range of connected cardio machines, like the Peloton Bike and Peloton Tread. However, the app also works as a standalone product and it offers good value for money, unlike the cardio machines since the recent price hike.
There are 11 types of class in the app and many don't require any equipment at all, like the yoga and strength sessions. You can also use the cycling and running classes with any exercise bike or treadmill (you just won't have your stats shown on screen), and there are also audio-only versions of the runs and walks so you can do them outside.
Along with individual classes, you can sign up for training programmes within the app to add more structure to your training, or pick and choose each and every time you log in. The app has enough variety that you'll never have to do the same session twice.
Read more in our Peloton app review
---
Best workout app for Apple Watch owners
Specifications
Price:
$9.99/£9.99 a month, $79.99/£79.99 a year
Free trial:
One month or three months with purchase of Apple Watch
Reasons to buy
+
Variety of workouts
+
Top-notch trainers
+
Great integration with Apple Watch
Reasons to avoid
-
Only for Apple Watch owners
There's a significant barrier to entry with the Fitness+ app, which is that you need an Apple Watch to use it (at least until autumn when it becomes accessible to iPhone users). If you have the watch, however, it's the best workout app you can get, with a wide variety of classes led by trainers who manage to motivate you without being annoying. You also get a three-month free trial when you buy an Apple Watch, so it's certainly worth giving Fitness+ a whirl.
The app integrates seamlessly with the Apple Watch, so the stats measured by the watch are shown on screen during your workouts. The classes include sessions for cardio machines so you can use Fitness+ with a treadmill, bike or rower at your gym, using an iPhone or iPad as a display, and audio-only guided walks and runs to do outside.
Classes are added every week and the app will suggest new ones that should appeal to you based on your past workouts, and there are curated workout playlists that help you hit a certain goal.
Read more in our Apple Fitness+ review
---
7. Les Mills+
Best workout app for splitting your time between the gym and home
Specifications
Price:
£12.99 a month, £35.97 for three months, £119.88 a year
Reasons to buy
+
Fast-paced high-energy workouts
+
Lots of bodyweight classes
+
Easy to cast or stream anywhere
Reasons to avoid
-
Les Mills equipment is expensive
You'll find Les Mills group workouts in gyms all over the world. The Bodypump barbell class is an intense session with lots of reps done at pace – and it's indicative of the Les Mills approach. Going straight into a Les Mills class can feel like being thrown in at the deep end so when we tried the app we found the introductory classes which walk you through the fundamental movements really valuable. Even with those primers, however, we had to keep reminding ourselves to prioritise form over keeping up with the instructors.
You don't have to buy the (rather expensive) Les Mills barbell to make the most of this workout app though. There are plenty of high-energy cardio series, rounded out with meditation and yoga sessions, as well as the recent addition of spin classes. It's great for bodyweight sessions, but if you want to graduate to working with weights other apps may be better. While you can use whatever you have to hand – we subbed in a kettlebell in place of one weight plate – the workouts are designed around Les Mills' bespoke equipment so we had to adapt workouts on the fly, which is far from ideal.
The workouts are fun, though, with plenty to choose from, and there's no doubt you'll burn calories, improve your cardio fitness and build lean muscle if you take to it. We also liked that the service isn't limited to smartphones or tablets, with a browser log-in and compatibility with a multitude of smart TVs and streaming devices.
---
8. Freeletics
Best workout app for personalisation
Specifications
Price:
£33.02 for three months, £55.12 for six months, £74.88 a year
Free trial:
None (14-day money back guarantee)
Reasons to buy
+
Tailored training plans
+
Can use whatever equipment you have
Reasons to avoid
-
No free trial
-
Minimum commitment of three months
This personal trainer app helps you to set up a six- to 12-week training plan to suit your personal goals, whether you're looking to lose weight, build muscle or simply get fitter, and then supports you through the plan by providing advice on your nutrition and mindset coaching.
The coaching is impressively adaptable within your training plan – the app can adjust your workout to suit the space and equipment you have available at any given time. As well as gym workouts and running sessions, there are always bodyweight workouts available for those who don't have access to weights.
Undoubtedly you'll get fitter if you follow the workouts, but we found the number of reps in a set to be exceptionally high. Sometimes it's worth slogging your way through all those burpees, but at times it's wiser to insert your own rest periods to make sure your form doesn't suffer and you don't strain your neck from all those forced sit-up reps. To see what we mean, give these Freeletics workouts a go.
---
9. Sworkit
Best cheap workout app for people with no equipment
Specifications
Price:
£8.99 a month, £49.99 a year
Reasons to buy
+
Flexible workouts
+
Intuitive workout selection process
+
Longer training plans
Reasons to avoid
-
May not challenge advanced users
-
Only kids' workouts are free
This excellent app splits its bodyweight workouts into four categories – strength, cardio, yoga and stretching. Once you've selected from that quartet, you pick the part of the body you want to focus on or opt for a full-body workout, and set how long you want to exercise for, and Sworkit will then guide you through a variety of exercises in a circuit.
You can also follow a six-week training plan through the app, and once you become more experienced you can build your own workouts using the exercise library.
---
10. Aaptiv
Best audio workout app
Specifications
Price:
£13.49 a month, £92.99 a year
Reasons to buy
+
Easy-to-follow audio workouts
+
Huge variety of classes
+
30-plus classes added weekly
Reasons to avoid
-
No free version after trial
Guided workouts are a great way for most people to get started in the gym, but most require you to have your phone or tablet with you, which is not always convenient in a gym. Most of Aaptiv's guided workouts, however, are audio coached so you don't have to keep stopping to unlock your device to remind yourself what's next.
Aaptiv also covers all kinds of training: cardio sessions on indoor machines or outside, strength training, HIIT, meditation – they're all there. The workouts are also set to music, and you can search for workouts by genre so you won't get stuck with tunes you can't bear to listen to. You can also search by workout type, trainer and intensity level, allowing you to get exactly what you want from your audio coaching.
---
11. StrongLifts 5x5
Best workout app for weight lifting
Reasons to buy
+
It's easy to log workouts
+
Suggests workouts and weights to use
+
Guided progressive overload
This app will take all the thought out of your weights room routine. It tells you what exercises to do, with what weight, the sets and reps, and how long to rest between sets, and it also accounts for and tracks your progression over time to ensure you're always challenging yourself. The workout plan involves three 45-minute workouts a week, and a nice motivational trick is the app's prediction of the weight you'll be lifting with each exercise after 12 weeks.
StrongLifts 5x5 is not as comprehensive in its approach as other fitness apps, instead focusing on nailing its niche – but it does a great job of that. The design is also easy to use, so you can log your workouts quickly and move on with your day.
---
12. CARROT Fit
A funny alternative to standard workout apps
Reasons to buy
+
Humorous
+
Quick workouts for beginners
Reasons to avoid
-
Advanced users might find it too easy
-
Not many workout options
-
iOS only
A welcome attempt to bring some humour into the world of workouts. CARROT Fit talks you through seven-minute workouts that use conventional bodyweight exercises renamed as dragon mating dances, celebrity face punches or something equally silly. The app's AI will also insult you – quite a lot.
It's not for everyone, and if you're already in good shape the workouts won't challenge you very much, but if you've had no success starting a fitness kick with more po-faced apps it'll cost you less than a fiver to try something very different.
Sign up for workout ideas, training advice, reviews of the latest gear and more.