How To Choose A Personal Trainer
Aaron Deere of London's exclusive KX Life Health Club explains how to find a trainer who's in it for more than just the money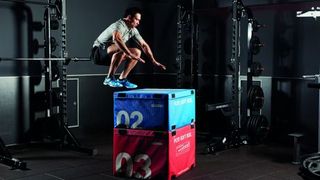 (Image credit: unknown)
Ask About Their Qualifications
"Be wary of PTs who have more than 12 months' experience but haven't added to their education. The Level 3 REPs (Register of Exercise Professionals) qualification is the bare minimum for an in-gym job, but it only represents about six weekends' worth of training. Look for university qualifications: if they have the letters BSc this means they have invested three years and more than 3,000 hours studying in their industry specific qualification, and their knowledge will be based on science, not the latest fads."
Be Reassured By A Degree In Exercise Or Sports Science
"If they have an MSc, it means they have devoted at least an extra year to their education on specialist topic. Also, ask what it's in – it could potentially help you greatly. For example, someone with an MSc in Exercise Rehab could be the right person to help you if you have back issues."
Not All Qualifications Are Equal
"If you're looking for results in athletic performance then look for a trainer with the Accredited Strength & Conditioning Coach (ASCC) certification. This means they have passed one of the toughest exams in the UK fitness industry, the UKSCA Level 1 exam, which only has a pass rate of 10%."
Workshops Aren't Always Enough
"Avoid PTs who only have 'workshops' listed on their education list – they're often only one or two days with no exam. Similarly, PTs who advertise themselves as 'celebrity trainers' don't have access to a set of special exercises or training methodologies. You're better off looking for great testimonials with photographic evidence from real people, who'll have similar time and budget constraints to you."
How To Be A Good Client
It works both ways you know. Three trainers share the inside view
Tom Wright
"The best people to work with are the ones who are there for a reason that matters to them. When you have a strong goal, like wanting to lose 10kg, or a strong purpose, like wanting to be able to run around with your kids, you work harder towards it.
"We understand that sometimes life gets in the way, but it can be frustrating when clients prioritise things like work drinks over their training – they miss a session, we miss an hour's work, and nobody wins.
"Clients who ask questions will always do better because they are learning how to do it for themselves, so use your trainer to get all the information you can and you'll have that knowledge for the rest of your ever-increasing life." @TomWright_Fit
Jessica Wolny
"Some of my best clients are the ones with the most working against them: they haven't got much free time, and they have a lot of responsibilities, but that means that they're used to planning and working around things to achieve their objectives. Also, because they'll sometimes only see me once or twice a week, they'll work hard during sessions, and do any 'homework' I give them – including mobility work or extra training.
"Everyone slips up occasionally – I work with a lot of City traders, so lunchtime or after-work drinks are part of the job – but that's acceptable. It's what you do 80% of the time that defines your results." @JessWolny
Tom Eastham
"The ideal client is someone who is open to ideas, is willing to learn and understands that it's crucial to focus on sleeping, hydration, eating and then moving – ie working out – in that order. Too many people want unrealistic results through crazy workouts without an appreciation of the whole picture.
"I like my clients to ask questions as it shows they don't think they already know everything. I would much rather work with someone who is new to training and doesn't bring their ego into the gym than someone who has been lifting or running for years and thinks they know it all. But in the end, what's most important is that you give every effort you can manage." @EasthamsFitness
Sign up for workout ideas, training advice, reviews of the latest gear and more.
From 2008 to 2018, Joel worked for Men's Fitness, which predated, and then shared a website with, Coach. Though he spent years running the hills of Bath, he's since ditched his trainers for a succession of Converse high-tops, since they're better suited to his love of pulling vans, lifting cars, and hefting logs in a succession of strongman competitions.