This MMA Workout Hits Your Glutes And Core Hard
It comes courtesy of Jorge Blanco, coach of UFC legend Georges St-Pierre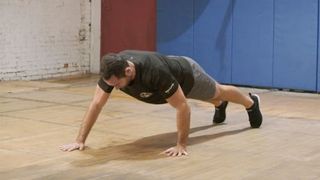 (Image credit: Unknown)
When you look at the almost comically ripped physiques of MMA fighters you have to assume it's the result of many, many hours in the gym – far beyond the time available to those of us who haven't made the sport our nine-to-five. And you'd be right, but that doesn't mean you can't get a 15-minute taste of what it takes to whip them into that shape.
That's the length of this MMA-inspired workout from Jorge Blanco, one of the trainers who contribute to Chris Hemsworth's health and fitness app Centr, and also a coach of fighters like Georges St-Pierre and celebrities like Drake.
Central to the challenge of the workout, which focuses on your glutes and core, is the very little time you get to rest as you roll from exercise to exercise without breaks so you keep your muscles under tension throughout. Enjoy!
15-Minute MMA Workout
Complete three rounds of the following exercises. Take no rest between moves and rest for only 30 seconds at the end of each round, then go straight into the next one.
1 Shadow boxing: jab + slip + left hook + right cross
Time 60sec
Stand in the fighter's position (left foot is forward if you're right-handed, knees slightly bent) with your guard up (fists in front of your face). To jab, punch your left fist straight out until your arm is horizontal, before retracting. Then slip by moving slightly to the left as if you were dodging a punch aimed at your head. Complete a left hook by turning your arm sideways and punching horizontally at face level. Then finish with a right cross by throwing a straight punch across your body.
Time 60sec
Stand with your feet slightly wider than shoulder-width apart and pointing outwards at a 45° angle, with your hands by your sides. Sink down as if you're sitting on a chair, keeping your centre of gravity over your heels and your knees in line with your toes. You can bring your arms in front of your chest to stabilise yourself. Then stand back up to the starting position.
See related
Time 45sec
Lie on your right side. Place your right elbow and forearm on the ground, with your elbow underneath your shoulder. With your left foot resting on your right foot and your core tensed, raise your body so you are supported by your right forearm and right foot. Hold this position, keeping your body in a straight line, for the duration.
Time 45sec
Repeat what you just did, but on the other side.
5 Staggered press-up
Time 60sec
This press-up variation can be done either on your knees or your toes. Begin in a regular press-up position, but with your left hand next to your body just below your ribcage, and your right hand level with your shoulder. Complete one press-up, keeping your elbows tucked in. Then switch your hand position so your left is in line with your shoulder and your right is below your ribcage. Alternate hand position with every rep.
Subscribe to Centr | £15.49 a month (cheaper packages available)
Sign up for workout ideas, training advice, reviews of the latest gear and more.