How Hard Is The Hardest Home Workout In The World?
Put it this way, your longest "rest" section is a five-minute plank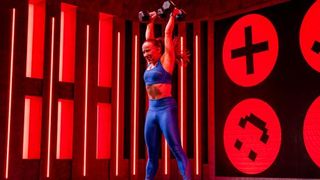 (Image credit: Unknown)
A lot of people have started doing home workouts in the past 18 months or so, and the smart ones will have at least sampled Fiit, which we rate as the best way to do guided fitness classes in your front room.
According to Gede Foster, master trainer at Fiit, this influx of new home workout fans has led to a change in the profile of its users and created a demand for ever harder sessions.
"We're seeing a lot more guys on the app," says Foster, "and we're seeing that a lot more of our users are intermediate and advanced.
"Whereas a year and a half ago comments would be things like 'the trainers move too quickly' or 'this was too hard', now it's 'that was disgusting – I love it, give us more!' We see more and more comments like that where people want to be pushed and challenged, and see what they can achieve."
Well, be careful what you wish for. In response to this demand Foster has created Fiit's Boss Level workout, which the app is calling the hardest home workout in the world. We spoke to Foster to find out exactly how hard Boss Level is, and for some tips on how best to go about completing it.
What does the Boss Level workout involve and how hard is it?
The total workout is 90 minutes, and it's an "engine" class. We're not calling it HIIT because you can't keep your heart rate that high for the full 90 minutes, so it's more about endurance. There are six circuits of different types, like the devil's workout and EMOM. Halfway through there is a five-minute plank challenge, which is your Boss Level active recovery. So even when your heart rate is recovering you're still testing muscle fatigue and your mental determination.
So it's pretty tough! We've taken the popular circuits and a finisher from some of our highest-rated classes and put 10-minute versions of those together. It's pretty intense, but because you're using weights not all of it is high impact – you're not jumping all the time. We did try a bodyweight one but the cumulative fatigue meant that people weren't doing the exercises with full range. That said, people will be deep in the pain cave at one point, if not many points, I'm sure!
How fit do you need to be?
It is tough, and since we've made it Boss Level, the upper end of our advanced classes, we don't offer regressions as we do in our other workouts. You can vary it to make it easier: instead of squatting with both weights you could squat with one, or you can slow the pace down and take breaks.
How can you prepare for the class?
We have a three-week preparation plan, and over that period you do sessions from all three studios on Fiit. You do cardio since Boss Level is cardio, you do strength because it uses weights, and then there's rebalance sessions to help recovery and mobility. The more mobile you are, the deeper you can get into main lifts like squats and deadlifts, and the more power you can generate.
Also, the classes in the training plan use the circuits we have in Boss Level. So by the time you get to Boss Level you know all those training modes and have experienced shorter classes working at the intensity you'll be working at. You could also string a couple of classes together in the prep plan to test your engine.
See related
Do you have any tips for completing the class?
Pacing is key – don't come in too hot. For the finisher, the final 10 minutes, you want to be able to go all-out and empty the tank, but that tank has to get you through 80 minutes first. And make sure your weight selection is slightly on the lighter side of medium: use a weight that you can press overhead for about 15 reps, because it is a cardio class.
Join Fiit | £20 a month, £45 for three months, £120 a year, 14-day free trial available
Sign up for workout ideas, training advice, reviews of the latest gear and more.