The Best Swimming Goggles
Pick from our favorite swimming goggles next time you take the plunge on a new pair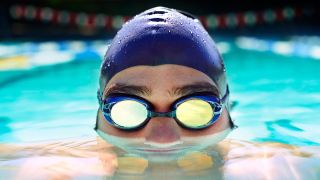 (Image credit: Getty Images)
Swimming is having something of a moment and it's easy to see why: Low-impact, accessible and packed with benefits, swimming is tough to beat as a cardiovascular exercise.
Before you take the plunge on flashy accessories like the best swimming headphones or best swimming trackers, though, it's important to equip yourself with some essential gear. As well as choosing a set of the best swimming shorts or one of the best swimsuits, you'll want to make sure that you have a good pair of swimming goggles to hand. Not only will they help to keep the chlorine, dirt or salt out of your eyes (depending on where you're swimming), but they'll enable you to see—keeping you on the straight and narrow if you're lane swimming or heading in the right direction if in open waters.
Below, you'll find our pick of the best swimming goggles. There is something for all stripes, whether you're paddling, racing or taking on an event like an open-water swim or one of the UK's best triathlons.
How I Test Swimming Goggles
I tend to swim around 2-3,000m a week. Most of that is done in an open-air lido, but there are occasions where I'll take to open-water ponds, indoor pools and even dips in the sea. The key features that I look for are UV protection and comfortable gaskets that keep the goggles in place and leak-free but don't cause discomfort during longer swims. Good peripheral vision is always a bonus, but not essential if just swimming lengths.
I've tested all but the last two sets of goggles, which were recommended by a previous reviewer.
The Best Swimming Goggles
1. Tyr Performance Special Ops 2.0 Polarized
Best triathlon swimming goggles
Specifications
Gasket material:
Durafit silicone
Reasons to buy
+
Wide field of vision
+
UVA/UVB protection
+
Leak and fog-free
Reasons to avoid
-
Gasket can cause discomfort on eye sockets after long swims
-
Lenses are easily scratched
When completing an open-water or triathlon event, you want a pair of goggles that are going to stay firmly in place on your face, even if you get an accidental whack from another participant's stray arm or foot. You'll have no issues on that front with the Special Ops 2.0 from TYR Performance, which vacuum themselves securely to your eye socket (in fact, a bit too aggressively if not optimally placed, which can cause a bit of discomfort).
Their polarized lenses offer an impressively wide field of vision, meaning you should be able to spot an oncoming limb before it's too late. You'll want to invest in a protective case, because a fabric one isn't included in the box and the lenses' coating is easily scratched if just thrown in a bag with the rest of your kit.
---
2. Roka R1
Best swimming goggles for open water
Specifications
Gasket material:
Thermoplastic Rubber (TPR)
Reasons to buy
+
Tall field of vision
+
UVA/UVB protection
+
Easily adjustable
+
Includes useful microfiber bag
Reasons to avoid
-
Gasket suction could be better
-
Fogged up during testing
At RRP, the R1 goggles from American brand Roka are one of the pricier inclusions in our round-up, but do they justify their cost? Their USP is a patented lens shape that is said to increase the height of your field of view—key when navigating in open waters. In practice, the design worked, allowing me to keep my head lower when popping it up for a quick check, minimizing wasted energy and lost momentum. The only downside I found was that the gasket suction didn't feel as strong as others tested, which could explain why my pair occasionally fogged up.
---
3. Speedo Vanquisher 2.0 Mirrored
Best goggles for pool swimming
Specifications
Gasket material:
Silicone
Reasons to buy
+
Comfortable
+
Changeable nose-pieces enable a great fit
+
UV protection
Speedo is the king of swimming goggles and even if you've never swum for fitness before, it's likely that you'd be able to pick out its logo in a line-up. The Vanquisher 2.0 Mirrored goggles are its racing-focused pool goggles and feature a low profile that helps you slice through the water, but they are a good option even if you're not thinking of getting competitive just yet.
Their main draw is how comfortable they are. They sit inside the eye socket, rather than on the bones around it, and at no point did I feel any discomfort during testing. Four changeable nose-pieces allow you to get the fit truly dialed in. Their only downside is their limited peripheral vision, but if your sole focus is the line on the bottom of the pool, this won't be an issue.
---
4. Amazon Basics Goggles
Best cheap swimming goggles
Specifications
Gasket material:
Silicone
Reasons to buy
+
Cheap
+
Interchangeable nose-pieces for a good fit
+
UVA/UVB protection
Reasons to avoid
-
Inner-eye fit not as comfortable as others
On the surface, this set of goggles from Amazon Basics looks remarkably similar to the Vanquisher 2.0 from Speedo. They even have comparable features, including UVA and UVB protection and interchangeable nose-pieces that allow you to tailor the fit. So are you better off saving yourself some money and going for the cost-conscious alternative? Maybe. The Amazon Basics set performed admirably in the pool and at no point did they struggle with leaks or fogging. They did, however, become uncomfortable during longer sessions, unlike the more expensive option from Speedo, which were so inconspicuous it felt like I wasn't wearing goggles at all.
---
5. Aqua Sphere Vista Swim Mask
Best mask-style swimming goggles
Specifications
Gasket material:
Silicone
Reasons to buy
+
Plush comfort
+
Impressively wide field of vision
+
Super simple adjustments
Reasons to avoid
-
Mask design is a bit heavy-duty for some
I've long been a fan of Aqua Sphere, and have used the brand's Kayenne goggles for everything from Swim Serpentine to triathlons over the years. I was similarly impressed with the Vistas Swim Mask. The brand's great adjustment system (where you pull the straps to the right tightness and press a button to release) ensures you can get a great fit, which is impressive for a one-size-only set of goggles.
The mask design minimizes any pressure points common with standard goggles, and it had the best peripheral vision of all the goggles on test. Although its shape might seem a bit excessive for lane swimming, it's ideal for open-water and triathlon swimming, or for anyone who struggles to find a comfortable pair of goggles.
---
6. Nike Vapor Mirrored Goggles
Best swimming goggles with oversized lenses
Specifications
Gasket material:
Thermoplastic rubber
Reasons to buy
+
UVA/UVB protection
+
Silky soft straps
+
Good peripheral vision
Reasons to avoid
-
Gasket causes some discomfort
If you're looking for a pool-focused set of goggles that don't have the inner eye socket fit of a set like the Speedo or Amazon offering, then the Vapor from Nike could be a sound option. The oversized lenses allow you to see from side to side as well as what's in front of you, while their mirrored coating reduces glare during gasps for breath. I did find the gaskets less comfortable than others I tested, but they had a good seal and didn't leak or fog up once.
---
7. BornBound Vann
Most comfortable triathlon goggles
Specifications
Gasket material:
Silicone
Reasons to buy
+
Extremely comfortable gasket
+
Great in the pool or open water
+
Quick-fit strap
Reasons to avoid
-
No adjustable nose bridge to really tailor fit
While you might not have heard of Born Bound, the USA-based triathlon upstart is aiming to go toe-to-toe with more established brands across running, cycling and swimming. The Vann is its first shot at a pair of swimming goggles, and it's fair to say that the bigger boys should be worried. I tested them in the pool and open water and couldn't really find a fault with them: They stayed clear in all conditions, had great peripheral vision and were easy to get set up straight out of the box.
Other than the Roka ones they were the only pair I tested to come with a microfibre carrying bag. Although it doesn't change the quality of the overall product, it's a nice touch and helps you to keep them box fresh and scratch-free for longer.
---
8. HUUB Altair
Best swimming goggles with prescription lenses
Specifications
Gasket material:
Silicone
Reasons to buy
+
Additional nose pieces
+
Swappable lenses
+
Anti-fog coating
Reasons to avoid
-
Prescription lenses cost extra
-
Not cheap
While the option for short-sighted swimmers to buy prescription lenses (covering -1.50 to -6.00 prescriptions) will be welcome, there are plenty of reasons for every swimmer to consider these. These goggles allow you to swap between three included polycarbonate mirrored lenses to suit low light, artificial light or bright sunlight. The goggle gaskets are made from silicone to offer a snug fit, and there are also three interchangeable nose pieces so you can customise the fit.
---
Best smart swimming goggles to replace your sports watch
Specifications
RRP:
Subscription $24/£22 a month
Gasket material:
Silicone
Reasons to buy
+
Accurate swim tracking
+
Useful on-board workouts
+
Smart display to view swim metrics
Reasons to avoid
-
Doesn't track open-water swims
-
Expensive
-
Workouts require subscription
There's no more checking your watch or guessing your pace with these smart goggles. They track swims accurately in the pool and also offer some useful features for open-water swimming. Motion sensors track metrics like number of lengths, stroke rate and can recognise when you've stopped for a rest between intervals. That data is projected on the inside of one lens so you're aware of your performance in real time.
When you head into open water, the Form goggles can be paired with Garmin watches and Apple Watches to display stats. They can also connect to some Polar heart rate monitors to add your pulse to the data available, and Form has added new structured workouts to follow too. The goggles themselves are built to last and the clear lenses have the same anti-fog coating used in diving masks. As well as having their own app that offers detailed stats, the goggles are compatible with apps like Garmin Connect and Strava. They're expensive but as wearable tech for swimmers goes, these smart swim goggles are the best money can buy.
Read more in our Form review
Buying Advice To Help You Choose The Best Swimming Goggles For You
You know what they are primarily built to do: keep the water out of your eyes. All the goggles above will do that, but there are design elements and features that can make them better suited to your preferred type of swimming.
Types Of Swimming Goggles
Leisure goggles put a bigger emphasis on comfort with a larger gasket (the normally silicone part that fits into your eye socket) and usually have more adjustable straps. These will be the cheapest options.
Racing goggles have a lower profile with harder-feeling lenses that reduces the drag to make sure you're not losing any speed in the water.
Open-water goggles will offer UV protection, and can also offer polarised or mirrored lenses. Some goggles offer interchangeable lenses.
Design Features To Watch Out For
Switchable nose bridges help to customise the fit. If you've struggled to get a tight, long-lasting seal in the past, it may be worth buying a pair with this extra means of tailoring the fit.
Anti-fog treatments can help avoid your vision becoming obscured as you build up a sweat. They're common on all types of goggles but can be especially helpful in open-water ones where you need to sight regularly. These apply to all goggles, so if you can find ones that offer some form of anti-fog treatment or element in the design, this can help to make sure your vision remains clear for plenty of swim time.
Sign up for workout ideas, training advice, reviews of the latest gear and more.
Charlie Allenby is a journalist with a passion for pedalling. He contributes features and buying advice about cycling, and is Coach's dedicated turbo trainer reviewer. He is also Coach's chief whey and casein protein powder tester, trying as many brands as possible.
Charlie's first book, Bike London, is out now. He has written for The Guardian, The Independent and BikeRadar, among others.