The Best Swimsuits For Pool Swimming
Choose comfort and performance over frills: what to look for when buying a swimsuit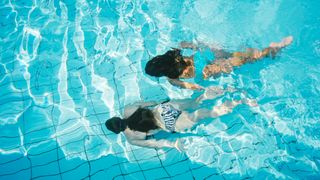 (Image credit: Claudio Stocco / Shutterstock)
Buying women's swimwear comes with some challenges. Brands often focus their marketing on how women look in their swimsuits rather than on the technical details of how they perform in the water. While swimsuits can be picked up cheaply with your supermarket shopping, it's worth spending time and money finding one that suits your body shape and swimming style. Swimwear that makes you feel good in and out of the pool is key—you should feel comfortable and supported when wearing it so you can perform better in the water.
The Best Swimsuits For Pool Swimming
1. Zoggs Gemini Zip Front Swimsuit
Best value swimsuit
Reasons to buy
+
Great freedom of movement
+
Sustainably made
+
Affordable
+
Chlorine-resistant
Reasons to avoid
-
Fabric pattern distorts when stretched
The open-shoulder/racerback style of this suit gives you ultimate freedom for shoulder rotation when swimming front crawl, while the high neck ensures you don't scoop water as you swim, causing drag. The zip front is ideal for getting the suit on and off with ease, and the high neck offers great chest support. The leg height is modest, but still enables freedom of movement.
Made from durable Ecolast fabric, the suit is eco-friendly and hard-wearing. The material washes well and is quick-drying, as well as being ultra-resistant to chlorine. I loved pool swimming in this suit—I found it super-comfortable and there was no drag when pushing off the pool wall.
---
2. Deakin & Blue X-Back Swimsuit
Most elegant swimsuit
Specifications
Sizing:
UK8-24 (US4-20), AA-HH Cup
Reasons to buy
+
Inclusive size range
+
Sustainably made
+
Supportive and comfortable
+
Durable fabrics
Reasons to avoid
-
Limited prints and designs
Ever evolving, researching, and listening to its customers, Deakin & Blue is always reviewing its designs and this X-Back suit is the result of that process. The soft, supportive fabric is ideal for serious swimmers who like to get their head down and swim as well as those who are seeking something for dipping or holidays. It feels lovely and light to swim in and I particularly like the open back and the scoop neck, which gives great freedom of movement while still offering bust support.
Made from recycled ECONYL fibre, the fabric is highly resistant to chlorine, salt water and oils which means the suit is built to last, even if you swim in it several times a week. It comes in a range of colours and each design is available in three different sizing types (called Hepburn, Monroe and Hendricks) to suit your body shape, with sizes UK8-24 (US4-20) available in each.
---
3. Usual Objections Royal Blue Check Scoop Back Swimsuit
Best swimsuit with a choice of lengths
Specifications
Sizing:
UK4-24, Petite, Regular or Long
Reasons to buy
+
Excellent service
+
Supportive and comfortable
+
Made in small batches, low waste
Reasons to avoid
-
Takes 5-10 days to arrive after order
There's a common frustration among female swimmers, especially those who are tall or require larger sizes, with suits that aren't long enough in the body. Usual Objections has solved this by offering three different lengths: petite, regular and long. You can visit its east London Studio to try the suits before you buy, or try dummy suits at home before ordering the pattern and style you want.
The suits are well made, comfortable and supportive, and the fabrics are high-quality. You can choose between this scoop back design or a suit with thin straps that exposes more of your back, and there are a range of colourful designs as well as more neutral colours. This suit performed brilliantly in the water with great support across the bust and the soft stitching ensures no chafing.
---
4. Batoko Jellyfish Scoop Back Swimsuit
Best swimsuit with fun designs
Reasons to buy
+
Fun designs
+
Quick-drying
+
Sustainably made
Reasons to avoid
-
Might not suit longer body types
These are popular suits with outdoor swimmers and Batoko has recently extended its size range to be more inclusive. The fun, simple suits are fully lined and made from GRS-certified 100% recycled post-consumer plastic waste. The digitally printed designs are bright and colourful and don't distort when stretched.
I found the suit too short in the body, so it felt revealing around the bust and tight on the shoulders. In the water this eased, but the shoulder straps moved as I swam. Great for fun dips and holidays, rather than longer swim sessions.
---
5. Finisterre Anella Reversible Swimsuit
Best reversible swimsuit
Reasons to buy
+
Reversible
+
Great value
+
Sustainably made
+
Good under a wetsuit
Reasons to avoid
-
Bigger sizes might not suit bigger body
I have longed for a Finisterre suit and now they come in a more inclusive size range, I was thrilled to give one a try. This suit is reversible, so you get two for the price of one. The fabric is light, soft and seriously comfortable. It is a simply made suit with no zips or ties, which minimises chafing but also means it is ideal for wearing on longer swims or under a wetsuit.
The sporty racer-style back does enable greater movement, but the sizing up didn't consider the difference in shape of a bigger swimmer, so a lot of body at the back was exposed. Finisterre is a B-Corp business, so you know you are buying quality with sustainability in mind.
---
6. Swimming Seamstress: Make Your Own Swimsuit
Best for learning a new skill
Reasons to buy
+
Learn a new skill
+
You get a bespoke swimsuit
+
Choice of fabrics
+
You can make more using the same pattern
Reasons to avoid
-
You have to make it yourself
This might sound extreme, but if you can't find anything you like, have you ever thought of making something yourself? Amanda Bowden, long-distance swimmer and seamstress, offers two-day courses at her home sewing school, both online and at various locations across the country.
I don't own a sewing machine, nor did I have any experience in making clothing, but after two days with Amanda I had completed a suit that fit my body better than any other suit I own. I got to choose the fabric, adapted the pattern for my body and the finished product holds up well in the water and is a joy to wear.
You also get to go home with the pattern, skills and experience to make further suits. It was an incredibly fun experience and I got to meet other swimmers too.
What To Look For When Swimsuit Shopping
You want your swimwear to be snug but not tight. It should feel like a second skin, but not leave red marks on your skin when you take it off. If it's too loose it will fight with the water causing drag and discomfort.
Whether you go for a high-cut or low-cut leg is mostly down to personal choice, but be aware that a high-cut leg offers greater freedom of movement in the water. Racerback styles are designed for greater flexibility and movement in the shoulders, which enables you to swim faster. Again, it's a matter of personal preference, but it's essential that the swimsuit is comfortable.
Higher necklines are generally a lot better for pool swimming, ensuring water doesn't plunge down your cleavage as you push off, tugging the swimsuit down with it. Regardless of breast shape or size, your chest should be supported but not squashed by your swimsuit. If your breasts move too much it can cause chafing on the nipples and under the arms. Some brands like Deakin & Blue will adapt a suit with a pocket if you have had breast cancer and use a prosthetic. Padded swimwear is best avoided because the padding acts like a sponge and makes it harder to swim.
Many brands now offer fabrics made from recycled waste. These are not only better for the planet but often more chlorine-resistant too. Softer fabrics or trim will ensure less chafing. However, it's best to save the frills and strings for the beach. When heading to the pool, decorative additions to a swimsuit just become sodden and increase drag. Details can rub and catch; you're better off choosing a sleek design.
More About Swimming
Sign up for workout ideas, training advice, reviews of the latest gear and more.
Ella Foote is a freelance journalist, swim teacher, open water coach, open water lifeguard and year-round outdoor swimmer. She is the founder and director of Dip Advisor, an outdoor swim guiding business, and you can follow her swims on @ellachloeswims.