The UK's Best Triathlons To Enter In 2023
Fill your sporting calendar with these exhilarating multi-sport events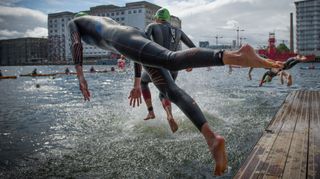 (Image credit: London Triathlon)
Triathlons might seem daunting to the newcomer, but at the core of these events are three types of cardio exercise that most people can manage individually. Consisting of a swim, cycle, and run, the multi-sport discipline is actually a lot more accessible than it seems. And if you're already cycling to work or are a regular at parkrun, the shortest type of triathlon (a super sprint, which is made up of a 400m swim, 10km bike ride and 2.5km run) probably wouldn't require too much training. Browse our sprint triathlon training plan, Olympic triathlon training plan and half Ironman triathlon training plan to see if you can fit in the appropriate amount of training to your schedule.
The UK has a great variety of races throughout the season (April-September) that cater for all experiences and fitness levels—from super sprints through to full, official Ironman events (3.9km swim, 180km bike, 42km run). But there are a handful of triathlons that are heads and shoulders above the rest, and these should be on your bucket list.
Whether it's the world's biggest mass participation triathlon in the center of London or a unique take on the multi-sport discipline that sees competitors toil their way from Windsor to Brighton under their own steam, here are the best UK triathlons to sign up for.
Royal Windsor Triathlon
Next event: 11 June 2023
Entry fee: From £85 (Sprint and Olympic)
It doesn't get grander than this Berkshire-based event, which takes place in the shadow of Windsor Castle, with Sprint (750m swim, 20km cycle, 5km run) and Olympic (1,500m swim, 40km cycle, 10km run) courses on offer for both individual and team competitors.
Visit the Royal Windsor Triathlon website
---
Castle To Coast
Next event: 22 July 2023
Entry fee: £195, £215 with return bus
Participants in this point-to-point event start with a 1.2-mile (1.9km) swim in Dorney Lake in Windsor, then embark on a 66-mile (106km) bike ride through the Surrey Hills down to Hassocks in East Sussex, rounding off the day with a 14-mile (22.5km) trail run through the South Downs to Brighton. The route means you can expect significantly more ascent than in most triathlons, with over 1,000m of climbing in the saddle and just shy of 400m on the run, but that work will be rewarded with both epic views and long downhill stretches as you return to sea level. Once there you can choose to stay in Brighton and toast your achievements all night long, or enjoy a shorter celebration before jumping on a bus back to the start in Windsor.
Visit the Castle to Coast website
---
London Triathlon
Next event: 6 August 2023
Entry fee: £70 (Super sprint), £77 (Sprint), £109 (Olympic), £116 (Olympic plus), £205 (Warrior)
The world's largest triathlon sees more than 11,000 participants make their way around the central London course while being cheered on by 30,000 spectators. There are Super Sprint (400m swim, 21.2km cycle, 5km run), Sprint, Olympic (1,500m swim, 42.4km cycle, 10km run) and Olympic Plus (1,500m swim, 80km cycle, 10km run) races, as well as a Weekend Warrior pass if one of those alone won't suffice. The swim is held in the Royal Victoria Dock and the run section also takes place in Docklands, while the longer cycle legs take you along the Thames to Westminster and back.
Visit the London Triathlon website
---
Blenheim Palace Triathlon
Next event: 3-4 June 2023
Entry fee: £106 (Super sprint), £107 (Sprint)
This popular triathlon enjoys about as pleasant a setting as you could ask for: Blenheim Palace in Oxfordshire, a Unesco World Heritage site. There are Super Sprint (400m swim, 13.2km cycle, 2.9km run) and Sprint (750m swim, 19.8km cycle, 5.4km run) options available, and its relatively flat bike and run legs make it a great choice for those new to multi-sports.
Visit the Blenheim Palace Triathlon website
---
Outlaw Nottingham
Next event: 29-30 July 2023
Entry fee: £325
Looking to take on a full-distance Ironman triathlon (3.9km swim, 180km bike, 42km run) without having to stump up the entry fee for an official, branded event? The Outlaw has been offering an alternative for ultra-distance athletes since 2010, and its numerous awards suggest that it knows what it's doing. Setting off at the National Water Sports Centre's Regatta Lake, participants are then tasked with an undulating ride (featuring two calf-burning climbs) before two out-and-back loops along the banks of the River Trent for the run. Breathtaking views and support are guaranteed throughout, whether you're going for a PB or just looking to finish.
Visit the Outlaw Triathlon website
---
Superfeet Sandman
Next event: 9-10 September 2023
Entry fee: £89.99 (Sprint), £105 (Standard), £199 (Legend)
Not many triathlons can claim to take place on their very own island, but in the Sandman series participants swim, cycle and run their way around Anglesey in north Wales. The event hosts Sprint, Standard and Legend (70.3) races, and the latter is the best pick for those who want to experience Anglesey fully with a cycle leg that circumnavigates the island. It's worth noting that the bike and run legs of each event are slightly different from "official" distances if you're targeting a new PB, but the epic backdrop should more than make up for it.
Visit the Sandman Triathlon website
---
Ironman 70.3 Weymouth
Next event: 17 September 2023
Entry fee: £339
It would be remiss not to include at least one Ironman-organized event in a round-up of the UK's best triathlons, and this 70.3 half-distance (1.9km swim, 90km bike, 21.1km run) event is probably its most accessible—and, importantly, still has availability for 2023. Although an ocean swim does come with the risk of the swim leg getting canceled if the sea is choppy, the cool, late summer conditions and a rolling cycle with only one monster climb make this Dorset-based event a real winner.
Visit the Ironman website
---
Dorney Lake Triathlon
Next event: 18 September 2023
Entry fee: £54.95 (First Timers), £79.95 (Novice), £89.95 (Sprint), £99.95 (Olympic)
A range of distances is available to competitors of all abilities and ages at this event held in the environs of Dorney Lake in Berkshire, which was known as Eton Dorney when it was used to host the rowing at the 2012 Olympics. Triathlon newcomers can pick from First Timers (200m swim, 5.3km cycle, 2.5km run), Novice (400m swim, 10.6km cycle, 2.5km run) and Super Sprint options, while more experienced triathletes can opt for an Olympic distance event. Its September date makes it a great season-ender or gives you time to start training if you only decide to give triathlon a go halfway through the summer.
Visit the Dorney Lake Series website
Sign up for workout ideas, training advice, reviews of the latest gear and more.
Charlie Allenby is a journalist with a passion for pedalling. He contributes features and buying advice about cycling, and is Coach's dedicated turbo trainer reviewer. He is also Coach's chief whey and casein protein powder tester, trying as many brands as possible.
Charlie's first book, Bike London, is out now. He has written for The Guardian, The Independent and BikeRadar, among others.