Theragun PRO Vs Hypervolt 2 Pro: How Do They Compare?
These are the top-of-the-line massage guns from two leading brands, but which one deserves top billing? We pit the Theragun PRO vs Hypervolt 2 Pro to crown the ultimate winner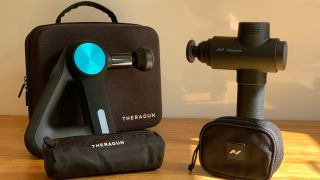 (Image credit: Sam Rider / Future)
Massage guns have increased in popularity in recent years, largely driven by two frontrunners in the percussive therapy game. Therabody (formerly Theragun) and Hyperice make several of the most popular – and expensive – devices on the market.
Each claims its premium recovery tool can relieve muscle pain, boost post-exercise recovery, enhance range of motion and improve sleep quality. But which is the best massage gun? We got our hands on both devices and took a pummelling to test the Theragun PRO vs Hypervolt 2 Pro in a winner-takes-all shootout.
Theragun PRO vs Hypervolt 2 Pro: First Impressions
Arguably, the price of an item shouldn't be the first thing you flag in a head-to-head comparison, but when the difference is this considerable it's worth noting early. At £549/$599, the Therabody Theragun PRO is almost 50% more expensive than the Hyperice Hypervolt 2 Pro, which costs £379/$399.
That gap is more glaring when comparing the specifications of each model. The Theragun PRO has five preset speeds ranging from 1,750 to 2,400 percussions per minute (PPM), while the cheaper Hypervolt 2 Pro's maximum is 2,700 PPM.
Similarly, while the Theragun PRO's rechargeable battery lasts 2.5 hours, the Hypervolt 2 Pro will keep firing for three hours. At 2.9lb (1.3kg) the PRO is also heavier than the 2.6lb (1.18kg) 2 Pro, and it's noisier on full power, making it less practical to use in front of the TV.
Theragun PRO vs Hypervolt 2 Pro: Notable Features
While the Hypervolt 2 Pro may win on speed-to-weight ratio, the Theragun PRO's major point of difference is also its USP. Theragun's triangular multi-grip handle helps target hard-to-reach spots, such as the mid and upper back, while reducing strain on the hands and wrists.
By contrast, Hypervolt's pill-shaped handle can be awkward to hold at times. I often found myself grabbing the top of the massage gun to hold it in place, negating the handle altogether.
Theragun's design is further enhanced by an adjustable arm, which means the barrel of the gun can be set in four positions. While this is clever, I rarely found it necessary to use, given the versatility of its three-way grip.
A more useful feature is Therabody's dual external batteries. While the Hypervolt might last half an hour longer on one charge, the PRO comes with a second 16V rechargeable lithium-ion battery that can be swapped in, providing a combined five hours of power.
Each battery takes 75 minutes to charge, so you can use them interchangeably for virtually continual all-day use. Hypervolt's battery pack can also be reloaded but doesn't come as standard with the device.
Theragun PRO vs Hypervolt 2 Pro: Added Extras
The Hypervolt 2 Pro comes with five head attachments (fork, ball, cushion, flat and bullet) in a compact carry case, along with a universal plug adapter. Therabody has gone one further, including six (standard ball, dampener, thumb, cone, wedge and supersoft), along with a charging stand, extra battery cartridge and a plush carry case to protect the device in transit.
Each attachment for the PRO has been built for a particular purpose, like the supersoft head to treat sensitive injuries like tennis elbow and the bullet or cone to target the soft tissue of the hands and feet. However, the standard ball will do a job most of the time.
A greater point of difference can be seen – and felt – when using the apps that come with both devices. Both house a vast library of guided routines, are Bluetooth-enabled for automated speed adjustments and can sync with apps such as Apple Health, Google Fit, Strava and Garmin to suggest routines based on recent activity.
However, while Hypervolt has opted for simple video tutorials, Theragun's app features an intuitive dashboard that coaches you through each session, dictating the exact attachment, grip, force, frequency and technique you should use for optimum results. It's a simple but helpful feature that many rival brands overlook.
Theragun PRO vs Hypervolt 2 Pro: Verdict
The Theragun PRO and Hypervolt 2 Pro are, undoubtedly, finely crafted machines. Each has been calibrated for high performance, although the 2 Pro is perhaps better suited to the most muscular of specimens, given its extra 300 PPM of firepower.
By contrast, the PRO's five-plus hours of battery life has made it a popular choice for massage therapists. At-home massage provider Urban, for example, now offers a Muscle Therapy With Theragun treatment for that reason.
Whichever device you choose, you'll be armed with a reliably engineered, beautifully built, premium massage gun that could take your recovery game to new heights. One might just sting that bit more keenly when it comes to parting with your cash.
Sign up for workout ideas, training advice, reviews of the latest gear and more.
Sam Rider is an experienced freelance journalist, specialising in health, fitness and wellness. For over a decade he's reported on Olympic Games, CrossFit Games and World Cups, and quizzed luminaries of elite sport, nutrition and strength and conditioning. Sam is also a REPS level 3 qualified personal trainer, online coach and founder of Your Daily Fix. Sam is also Coach's designated reviewer of massage guns and fitness mirrors.