What Is SpO2 And Can Fitness Trackers Measure It Reliably?
A doctor explains how SpO2 levels are used in a medical setting and what normal levels are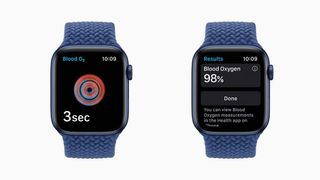 (Image credit: Unknown)
Many fitness trackers are now able to measure your blood oxygen saturation using an SpO2 sensor. This hardware first appeared on multisport watches designed for adventurous types who spend time at altitude, where saturation can drop, but it became more common after Fitbit began including it on some devices in 2017 (although only turning it on as a feature in 2020). You'll now find it on many Garmin devices, the Withings ScanWatch and the latest Apple Watch. It's been touted as a way to detect sleep apnoea and during the COVID-19 pandemic the sensors have taken on new importance.
We spoke to Dr Luke Powles, associate clinical director at Bupa Health Clinics, about the significance of your blood oxygen saturation and whether fitness trackers can be used to measure it accurately.
What is SpO2 and why is it important?
SpO2, also known as oxygen saturation, is a measure of oxygen carried inside your blood cells. The body needs a certain level of oxygen in the blood or it will not be able to function properly.
What is a normal SpO2 level?
SpO2 levels are expressed in percentages and, for most people, a normal level should be about 95-100%. However, for those with a chronic lung disease such as chronic obstructive pulmonary disease (COPD), normal levels can be between 88-92%.
Why and how would it be tracked in a medical setting?
Most often oxygen percentage is measured and monitored when someone is seriously unwell in an ambulance or in hospital. It can help identify a range of serious conditions including sepsis, pneumonia and lung clots.
Most people don't need to monitor their blood oxygen levels at home unless they have a specific condition such as a chronic lung problem.
There are different ways that blood can be tested to ensure it contains normal oxygen levels, with the most common being to use a pulse oximeter. When measuring using a pulse oximeter, you place it on your finger and a percentage will be displayed on the monitor.
How does SpO2 relate to COVID-19?
If you are experiencing moderate to severe symptoms of COVID-19, then your SpO2 reading will help doctors and paramedics decide if you require urgent admission to hospital.
These symptoms might include breathlessness, chest tightness or pain, wheeziness, feeling dizzy or faint, a severe headache, confusion or passing urine less often than normal.
If a fitness tracker or smartwatch shows you have a low SpO2 reading, should you see a doctor?
It's important to note that sometimes the lower reading can be due to the device not being used or calibrated appropriately. However, if you have a fitness tracker or smartwatch which is showing you have low SpO2 readings, it is always a good idea to seek prompt medical advice if you are feeling unwell or breathless.
Sign up for workout ideas, training advice, reviews of the latest gear and more.