The Best Spin Bikes For Home Training
Bring the spinning experience home with these bikes to fit every budget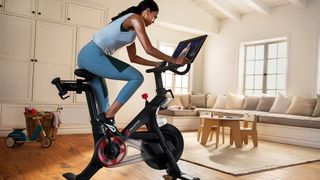 (Image credit: Peloton)
Spinning is an efficient and pretty enjoyable way to get fit, and while using a home spin bike can't completely recreate the atmosphere of a studio class full of fellow riders, it's still a great way to exercise at home – and over time it can save you money if it means you avoid shelling out for expensive classes in boutique gyms.
If you look at our round-up of the best exercise bikes you'll see that spinning at home requires a certain kind of bike, which is called an indoor cycle. These provide a different riding position from upright exercise bikes – you'll be leaning forwards as you would on a racing bike – and they are better at mimicking the feel of outdoor cycling. Some have clip-in pedals, some have trainer-friendly toe cages, and many are hybrid, with both options on the pedal. The resistance can be adjusted quickly by turning an easily accessible knob.
We've picked the best home spinning bikes to suit a range of budgets below, and you'll also find a buyer's guide to help you narrow down your choice.
How We Test Home Spin Bikes
Why you can trust Coach Our expert reviewers spend hours testing and comparing products and services so you can choose the best for you. Find out more about how we test.
When Coach tests spin bikes, a member of the team usually has the equipment on loan for several weeks to get a proper feel for living with the bike and to allow time for a variety of workouts. We use the bike as part of our general training routine, doing some easy rides on it as well as tackling intense spinning sessions, and testing anything else offered by any partner app alongside live and on-demand classes.
The Best Spin Bikes
(opens in new tab)
Affordable British-made Peloton alternative
Specifications
RRP:
£599, monthly unlimited classes £30
Flywheel weight:
4kg / 8.8lb
Size (HxWxL):
122 x 61 x 122cm / 48 x 24 x 48in
Connectivity:
Connects to Apex App (iOS users only)
Pedal type:
Shimano Pedals 50/50 for SPD or trainers
Reasons to buy
+
Connects to partner app for workouts
+
Easy to move bike around
+
Cheaper than many home spinning options
Reasons to avoid
-
Lightweight flywheel
-
No built-in screen
-
App less impressive than rivals
-
Only available in the UK
With this British rival to Peloton you save on both the cost of the bike and the subscription to the app, which is £30 a month rather than the £40 you pay for Peloton or Echelon's services (it is iOS only, though). The bike has a tablet holder and a handy phone holder – which also wirelessly charges your phone – to follow the classes on. The flywheel may be light at just 4kg, but I found the bike still offers a fairly smooth ride at high speeds, and there are 30 levels of magnetic resistance controlled by a dial on the frame. The RRP of the bike was slashed in 2022 from £1,200 to £599.
Read more in our Apex Bike review
---
(opens in new tab)
Best home spinning bike
Specifications
RRP:
£1,350 / $1,445, monthly unlimited classes £39 / $44
Flywheel weight:
18kg / 40lb
Size (HxWxL):
135 x 58 x 149cm / 53 x 23 x 59in
Max user weight:
135kg / 298lb
Connectivity:
Bluetooth, WiFi, ANT+ wireless, uses Peloton app
Pedal type:
SPD-SL cleat system
Reasons to buy
+
Built-in HD screen
+
Enjoyable workouts in partner app
+
Cheapest Peloton option
Reasons to avoid
-
Still expensive
-
Can't connect to third-party apps
The bike that has become synonymous with home spinning, Peloton offers a truly excellent all-round experience. The bike itself is an impressive bit of kit, with a solid build, a quiet ride and more resistance that I could ever need. You need the app to make it worthwhile, which means a monthly subscription, but the live and on-demand classes really do deliver the feel of a studio session and I've not yet tested another bike that matches the standard of Peloton's classes.
If you want to bring the spinning experience to your home there is no better option, but it comes at a hefty cost: the bike will set you back well over a grand and there's a hefty monthly subscription fee on top of that. If your budget will stretch beyond that, Peloton also offers the Bike+, which costs from $2,495/£1,995 and has a few upgrades on the original Bike like a bigger screen and auto flow resistance, which means it will rise and fall in line with the instructions in the classes.
Read more in our Peloton review
---
(opens in new tab)
Best all-round exercise bike for spinning
Specifications
RRP:
£2,990, monthly membership £29
Flywheel weight:
17.4kg / 38.3lb
Size (HxWxL):
138.2 x 58.9 x 121.4cm / 54.4 x 23.1 x 47.8in
Max user weight:
160kg / 353lb
Connectivity:
Apps and streaming, WiFi and Bluetooth
Pedal type:
Look Keo / SPD compatible cleats plus toe cages
Reasons to buy
+
Built-in HD screen
+
Enjoyable workouts
+
Screen can use apps like Netflix
Reasons to avoid
-
Expensive
-
Can't connect to Zwift
As one of the biggest names in cardio machines Technogym will no doubt have viewed the popularity of relative upstarts like Peloton with interest, and it has now responded with a spinning bike that offers the most impressive alternative to Peloton I've come across.
The Technogym Bike has a 22in (56cm) HD touchscreen on the handlebars, allowing you to take part in live spinning classes streamed from London studio 1Rebel or Milan studio Revolution as long as you pay the £29 monthly subscription. If you don't, you still get access to Technogym's library of on-demand spinning workouts, which I found pretty much as good as live studio sessions for getting you fit, even if they lack the atmosphere of live classes.
Technogym has also made access to the bike's screen impressively open: not only can you use popular apps like Netflix on it, but you can even plug in a Chromecast and stream content from other devices. In short, you'll never have to cycle without some form of guided class or entertainment being broadcast on the large, immersive screen, and you get that for £10 less than the monthly Peloton subscription.
Read more in our Technogym Bike review
---
(opens in new tab)
UK home spinning classes with a communal feel
Specifications
RRP:
£649, app subscription £30 a month
Flywheel weight:
3.6kg / 8lb
Size (HxWxL):
112 x 66 x 130cm / 44 x 26 x 51in
Max user weight:
136kg / 300lb
Connectivity:
Bluetooth connected, uses Digme At Home app
Pedal type:
SPD system with toe cage
Reasons to buy
+
Zoom classes give more communal feel
+
Smooth, quiet ride
Reasons to avoid
-
Expensive, complicated membership
-
No built-in screen
-
Less slick than Technogym, Peloton, Echelon and others
-
UK only
London boutique gym Digme launched its At Home service during the COVID-19 lockdowns, and it proved popular enough to be kept on even after the chain's eight studios reopened. The service involves a monthly fee to hire a bike and access the Digme At Home app, which contains a library of on-demand workouts plus a daily schedule of live classes to join.
The bike is the excellent Keiser m3i Lite, a studio-quality bit of kit with a hefty flywheel that ran smoothly and quietly no matter how hard I was pushing. The classes are typical spinning fare, but the live sessions are Zoom calls with just a handful of other people and I found this made them feel more engaging and personal than, say, Peloton's live classes, which draw huge audiences. A little too personal at times, if you're the shy type or don't wish to show off the dismal state of your garage on a Zoom call.
As with other spinning services, Digme At Home does not come cheap, and the process of signing up is complicated by the excessive number of options. You pay a monthly fee (from £39 with a 36-month contract) to rent the bike, plus £30 a month for the app subscription, and then there are other fees like delivery and collection charges that come and go depending on the length of the contract. The simplest option is to buy a refurbished bike from £649, and in doing so you'll get a three-month subscription to the app thrown in.
Read more in our Digme At Home review
Spin Bikes Buyer's Guide
What are the key features of home spin bikes?
Indoor cycles are generally used for HIIT sessions so you have to be sure they are sturdy enough for you to go all-out on them, with a high max user weight and stable design. You also need enough resistance to challenge yourself during short sprints. The weight of the flywheel is important for all this, and in general a heavier flywheel creates a smoother ride when working at high speeds.
If you want some guidance for your home spinning then look for smart bikes that can link up with partner apps with guided classes. Several companies like Peloton and Echelon have their own apps, but others will use third-party apps like iFit and Kinomap for classes and other in-ride entertainment. Some bikes have built-in screens to display the workouts, while others will have a tablet holder.
How much do home spin bikes cost?
You can find study indoor cycles that work for spinning for around £250-£300. These will be no-frills affairs with fairly light flywheels and limited resistance options. If you can stretch to the £500-£1,000 range your options become more impressive and varied, with heavier flywheels, more resistance and smart bikes that can connect to partner apps for guided workouts.
From there the price of an indoor cycle can rise to dizzying heights. The best connected spinning bikes with built-in screens cost anywhere from £1,000 to £2,000, and if you're looking for an especially realistic ride experience to help you train for outdoor cycling then the bikes that do that cost £3,000.
Sign up for workout ideas, training advice, reviews of the latest gear and more.