The Best Hydration Packs For Runners
Stay hydrated on your long runs with these lightweight backpacks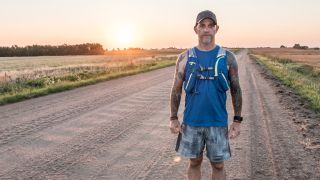 (Image credit: Getty Images / Alasdair Turner / Aurora Photos)
There's no getting around it: running is thirsty work – and when you start tackling longer events, like marathons, a tall glass of water when you get in from your training is no longer going to cut it. You need something to drink on the go.
There are few solutions to this. You could plan every route you run to pass shops where you can buy water at the right moment. Or you could get a refillable water bottle and carry that, or stash it in a running belt, or a full running backpack.
The most efficient solution, however, is a hydration vest. With one of these it's easier to carry and access water than shoving bottles in a belt, and they aren't as large and heavy as a full rucksack. They often have some extra pockets to store essentials and nutrition in but they are primarily designed for carrying fluids, either in bottles in the straps or in a bladder in a main pocket on your back.
Here are our top picks of the best hydration vests for runners.
Osprey Duro/Dyna 1.5L
Best hydration vest for fit
Reasons to buy
+
Comfortable fit
+
Different designs for men and women
+
Handy pockets
Reasons to avoid
-
Not the largest capacity
-
Quite expensive
Fit is central to the appeal of these vests: the Duro is designed specifically to fit men and the Dyna for women. The vest hugs the body snugly and comfortably, and you adjust it using the two chest straps. There are also large 6L and 15L Duro and Dyna backpacks available, if you're looking for more capacity.
The lighter 1.5L vest is roomy enough to meet all your hydration needs, though. It comes with two 250ml soft flasks that fit into the rucksack straps, but you can fit 500ml bottles in the pockets instead, or use a larger hydration bladder in the main pocket on the back, which in our experience bounces a lot less that vessels loaded into the front straps. There are also small pouches on the straps for nutrition and other essentials like keys and headphones, and a large zip pocket you can pop a smartphone in.
---
Camelbak Octane Dart
A slim and lightweight pack
Reasons to buy
+
Slim, comfortable fit
+
On/off valve to prevent leaks
Fun fact: camels store fat in their humps, not water. Despite this, Camelbak is one of the biggest names in hydration and its packs are always an excellent option for runners looking to carry water.
The Octane Dart has a slim design that sits securely against the back and remains comfortable no matter how long your run is. The lightweight pack is somewhat lacking in storage space outside the main bladder compartment, but there are small pouches on the straps for ready access to gels, bars and other essentials. It should certainly keep you going until the next oasis.
---
Evadict Trail Running Bag
Best-value hydration vest
Reasons to buy
+
Great value
+
Works with bladder or soft flasks
+
Multiple pockets
Reasons to avoid
-
No way of adjusting the fit
Decathlon's range rarely disappoints when it comes to great-value running gear, and this lightweight backpack is no exception. It comes with a 1L bladder that fits in the main pocket on the back, but you can also use 250ml soft flasks (not included) in the strap pockets if you want some extra fluid on board.
There is also a drop-in pouch pocket on the right strap, and a zipped pocket on the left that can accommodate a smartphone. Along with the bladder compartment the back has two other pockets, with a kangaroo pouch you can stash clothing in for easy access. The only fly in the ointment here is that there aren't different sizes and fits, but if it works for you, the Evadict Trail Running Bag is a great bargain.
---
Salomon Adv Skin 5
Expensive but excellent
Reasons to buy
+
Pockets everywhere
+
Excellent fit
+
Waste pocket
Salomon's range of running vests is extensive and the prices at the top are eye-wateringly high – in fact there are three more expensive options than the £120 Adv Skin 5. However, if you're willing to splash the cash, they offer incredible comfort thanks to the secure second-skin fit.
The Skin 5 can accommodate a bladder on the back and soft flasks in the strap pockets, and there are so many clever pockets built into such a small backpack that you'll start to feel like Mary Poppins unpacking it all at the end of the run. One smart feature that stands out is the waste pouch built into one strap pocket, where you can store used gel wrappers and other sticky rubbish that you don't want touching your other gear.
---
Nathan VaporKrar 2.0 Insulated 12L
A great large-capacity hydration vest
Reasons to buy
+
Capacious
+
Comfortable fit
+
Easy-access pouch pockets
Reasons to avoid
-
More expensive than others
The VaporKrar 2.0 has the happy knack of feeling like a sleek and small vest while actually having the capacity of a rucksack. Even if you load up a large water bladder and stuff the kangaroo pouches full of gear and nutrition, it sits comfortably against the back and doesn't bounce even when you're pounding down hills.
As well as having small pouch pockets for quick access to gels and the like, the straps have water-resistant zipped pockets to store your phone and headphones safely. Although it might seem like too much space for you to use most of the time, even when you just have water in the VaporKrar 2.0 it still fits securely against your body, unlike some vests that can bounce more when nearly empty.
Sign up for workout ideas, training advice, reviews of the latest gear and more.