The Best Women's Running Tops
Browse a great selection of running tops for women, including short-sleeve T-shirts, race-day vests and looser tanks, as well as long-sleeved tops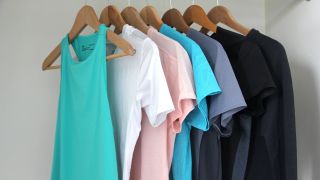 (Image credit: Camilla Artault / Future)
A great running top should be forgettable. The worst ones bother you from the first step to the last, while the right one fades into the background and allows you to enjoy your run. What counts as the right one will be unique to you, but I've pulled together a wide range of options for you to peruse. Rest assured they will all keep you as cool and dry as possible, while being soft and comfortable. You just need to decide on style (long-sleeved, short-sleeved, vest), fit and colour.
These days many running tops are made from recycled materials. If that's the sort of thing that appeals, I'd recommend also investing in a mesh washing bag (like Guppy Friend, £29.99 from Lakeland (opens in new tab)) to catch the microplastics that are shed from synthetic materials – even recycled ones – in the washing machine so they don't pollute rivers and oceans.
How I Test Running Tops
Why you can trust Coach Our expert reviewers spend hours testing and comparing products and services so you can choose the best for you. Find out more about how we test.
I am continually testing new running T-shirts, long-sleeved tops and tanks in my search for the best running tops for women. You'll find contributions from other Coach writers who are keen runners too. Most of our recommendations are based on our personal experiences testing the products, although we do include some options we haven't tried. If you see the writer's byline or initials after the text you'll know it's been tested.
The Best Long-Sleeved Running Tops For Women
Whatever the season, it's good to have a few workhorse long-sleeved tops in your running wardrobe. As well as being an essential warming layer in winter, a long-sleeved top can be worn on its own during transitional weather and shield you from the sun in summer.
(opens in new tab)
1. Montane Blade Long Sleeve
Warm base layer for long days on the trails
Specifications
Sizing:
US: XS-XL/UK: 8-16
Reasons to buy
+
Flat seams to avoid chafing
+
Anti-odour properties
+
Warm base layer
Reasons to avoid
-
A little clingy to wear on its own
Designed for trail running, this long-sleeved top works well as a base layer or can be worn on its own. Form-fitting but not too clingy, it's sweat-wicking and has low-profile seams to avoid chafing. It's also treated with Polygiene which means you can be active all day and won't have to worry about your T-shirt getting whiffy. It's available in two choices of colour: paprika or stratus grey.
---
(opens in new tab)
2. Runderwear Running Base Layer
Base layer to help regulate your temperature
Reasons to buy
+
Good temperature control
Runderwear is best known for its comfy underwear for runners. This soft and stretchy long-sleeved base layer has all the moisture-wicking qualities you'd expect, but there are also targeted breathable panels where you most need to let off steam. The sleeves have built-in fold-over mitts to keep your hands warm on cold days. – CA
---
3. Soar L/S Merino And Silk T-Shirt Base
Close-fitting, temperature-regulating base layer
Reasons to buy
+
Flat-locked seams
+
Temperature regulating fabric
+
Natural anti-odour properties
Reasons to avoid
-
Tight-fitting cut won't suit all body shapes
-
Expensive
Soar pairs temperature-regulating Merino wool with silk for a sleek, comfortable feel in this lightweight base layer. It's a fast-drying, sweat-wicking top that's designed to be worn close to the skin to trap air and keep you warm. Merino wool is naturally antibacterial so it stops smells from developing, and I can confirm you can get several runs out of this top before it needs a wash. While this top is meant to be close-fitting, it runs pretty small – I'd recommend sizing up if you're between sizes. – CA
---
4. BAM Novea Crew Neck Base Layer
A quick-drying nature-based alternative to synthetics
Specifications
Sizing:
UK 8-16 (US 4-12)
Reasons to buy
+
Alternative to synthetics
+
Soft, breathable fabric
+
Naturally anti-odour
Bamboo fibre is known for its softness and natural feel against the skin, but normally it's not nearly as lightweight or as effective at wicking away sweat as polyester. This new fabric from BAM combines bamboo viscose with a fibre made from wood pulp, which BAM says is responsibly sourced and made with a low-impact process – a great alternative to synthetic fibres. I loved the silky softness of the Novea base layer, which is lightweight and breathable, quick-drying, and less prone to whiffiness than untreated polyester. This long-sleeved base layer has generous sleeves with thumb holes. – CA
---
(opens in new tab)
5. Lululemon Swiftly Tech
Soft, stretchy long-sleeved top in a generous length
Reasons to buy
+
Soft, stretchy fabric
+
Generous length
+
Good temperature regulation
Reasons to avoid
-
A little clingy
-
Expensive
Extra soft and form-fitting without being skin-tight, this long-sleeved number is expensive but I reckon it's worth it for the excellent quality and feel. The longer length should ensure it won't ride up above your waistband, and your hands and wrists will stay warmer thanks to longer cuffs with thumb holes. Subtle perforated sections allow for extra breathability in high-sweat areas: the back, armpits and even the oft-overlooked underboob zone. – CA

---
Nathan Dash Long Sleeve
A soft, breathable top
Reasons to buy
+
Soft, lightweight fabric
+
Stylish colours
+
Not too fitted
When I first wore the Dash tee I was immediately struck by the softness of the fabric. Made with a combination of nylon, polyester and elastane, it's one of the most comfortable long-sleeved tops I've tested, yet it's really breathable – there's none of that sweaty, sticky feeling. My only gripe is that there are no thumb holes to keep your wrists and hands warm. – Alice Ball
The Best Short-Sleeved Running Tops For Women
(opens in new tab)
1. Rockay Tech Tee
Lightweight, comfortable running top
Reasons to buy
+
Very lightweight fabric keeps you cool
+
Comfortable
+
Flattering cut
+
Not clingy
This Danish sock brand has branched out into sustainably made running gear and are off to a flyer with this winning tee, which is nicely cut, figure-skimming and light as a feather without being see-through. You can feel the excellent quality of the fabric, and the use of flatlock seams means it's unlikely to chafe. This tee is made entirely of recycled fabrics, 50% standard recycled polyester and 50% Seaqual, a polyester yarn which actually includes some plastic waste from the ocean (most recycled yarns don't, somewhat surprisingly given the ubiquitous ocean-saving marketing). This running top is also treated with anti-odour technology, so in theory you don't have to wash it as often. There's a choice between four colours, including forest green and the delightfully named dolphin blue. – CA
---
(opens in new tab)
2. New Balance Impact Run
Lightweight tee that's a running wardrobe staple done well
Reasons to buy
+
Thin, light fabric that's not transparent
+
Comfortable and well cut
Reasons to avoid
-
Not the best colour selection
This may look like a fairly standard T-shirt, but I found it to be extremely well cut, comfortable and flattering, with mesh panels across the top of the shoulders to help keep you cool. It's a running wardrobe staple that's available in four colours: black, red, pale blue and sulphur yellow. – CA
---
(opens in new tab)
3. On Running Performance T
Featherlight high-performance tee
Reasons to buy
+
Very lightweight, great for hot weather
+
Flat seams
+
Hangs nicely
Ideal for a warm-weather race, this lightweight tee feels barely there in the best possible way. The figure-skimming cut is flattering but not clingy, using floaty fabrics that are highly breathable and quick-drying, while the back panel is made of a non-opaque mesh fabric. I liked the pleats between the shoulder blades which allow the top to drape nicely, encouraging more airflow. – CA
---
(opens in new tab)
4. Arc'Teryx Quadra Crew Neck Shirt
Lightweight and comfy trail-running tee
Reasons to buy
+
Lightweight
+
Non-clingy
+
Soft feel
This T-shirt is designed for trail running, with minimal seams that have been positioned to let you wear a rucksack without irritation. It's lightweight, breathable and fast-drying, with a cut that's comfortably roomy and fabric that's soft against the skin. I tested it on some sweaty runs, and while it's stretchy enough for full freedom of movement it doesn't cling. It's a great running top for almost all conditions – you won't want to keep it just for days in the mountains. – CA
---
(opens in new tab)
5. Inov-8 Base Elite Short Sleeve
Reasons to buy
+
Lightweight, quick-drying fabric
+
Anti-odour properties
+
Made from recycled fabrics
This eco-friendly option is made from recycled technical fabrics. The material is light and breathable, with mesh panels for ventilation. An anti-bacterial treatment suppresses stinkiness, while the welded hem and cuffs mean less chafing.
---
(opens in new tab)
7. Artilect W-Sprint Tee
Lightweight, breathable Merino blend T-shirt
Reasons to buy
+
Temperature-regulating tech
+
Lightweight and stretchy
+
Breathable and fast-drying
Reasons to avoid
-
Expensive
-
Clingy
-
Limited colour choice
Even though we've all heard Merino wool praised to the heavens for being breathable, moisture-wicking and naturally odour-resistant, the reality is that 100% woollen garments can end up holey, misshapen and don't tend to dry as fast as polyester. Artilect's Nuyarn fabric, however, combines untwisted Merino with polyester, and we tested the Artilect W-Sprint T-shirt during a period of hot weather.
The lightweight, super-stretchy tee does have more of a woollen texture than your average running T-shirt and is slightly clingier, but it's breathable and dries fast on the run. It felt like it might chafe but happily didn't, and it remained reasonably smell-free after the run. The current colour choice may not be for everyone, though. – CA
---
(opens in new tab)
8. Asics Icon SS Top
Boxy, loose-fitting tee
Reasons to buy
+
Lightweight
+
Body-skimming cut
+
Bum-covering shaped hem
Reasons to avoid
-
Short length
-
Boxy cut won't suit everyone
A well executed and affordable staple, the Asics Icon is a lightweight tee that's highly breathable and wicks sweat to keep you cool and comfortable. The cut is boxy and figure-skimming, with raglan sleeves for greater freedom of movement and a shaped hem at the rear.
---
(opens in new tab)
9. Ashmei Merino Icon
Running T-shirt with the benefits of Merino wool
Reasons to buy
+
Temperature-controlling properties
+
Soft and comfortable
Reasons to avoid
-
Expensive
-
A little clingy
This high-performance tee is made from a Merino wool-polyester blend to combine the fabled temperature and sweat-wicking properties of the natural fabric with a softer feel. Ashmei has supercharged those wicking properties by embedding active carbon particles in the fabric, rather than using the chemical treatments employed by other wicking tech. The result is a supremely comfortable, breathable and quick-drying T-shirt with anti-odour properties. It doesn't come cheap, but you'll be wearing it for the next decade.
---
(opens in new tab)
10. Proviz Reflect 360 Short-Sleeve Top
Best reflective running top
Reasons to buy
+
Highly reflective elements for safety at night
+
Soft, stretchy fabric
Reasons to avoid
-
A little clingy
-
On the warm side
This is a comfortable and flattering running T-shirt that has the added bonus of making you visible around traffic after dark. What looks like a subtle pattern of grey blobs on the raglan sleeves is in fact a subtle pattern of highly reflective blobs made up of tiny glass beads that gleam astonishingly brightly when a light is shined on them. The effect is bright when you need it, but quite unnoticeable otherwise. The T-shirt itself is body-skimming and fairly long, with a feminine cut, and the material is lightweight but densely woven – so there's no chance of it being see-through. It's available in seven colours including sky blue, teal, purple, hot pink and even a fluorescent yellow, if you wish to be even more visible. – CA
---
11. Under Armour Iso-Chill 200 Laser T-Shirt
A tee to keep you cool
Reasons to buy
+
Fabric feels cool to the touch
+
Flattering cut
+
Extra ventilation on the back
+
Has had anti-odour treatment
Reasons to avoid
-
Cut-outs are not for everyone
If you're running in hot conditions, this is a good top to reach for. Under Armour's Iso Chill fabric feels cool to the touch, drawing heat away from your skin. The fabric is very stretchy but hangs nicely, allowing for extra airflow. While the front is plain, the back features laser perforations all over, mesh panels on the shoulders and two cut-outs on the shoulder blades. It provides plenty of ways to feel extra ventilated and helps you avoid getting a clammy back. – CA
---
12. Saysky WMNS Combat T-Shirt
A running tee with urban style
Reasons to buy
+
Breathable and lightweight
+
Unusual designs
Danish brand Saysky makes running gear with an urban minimalist aesthetic, often with graffiti-style slogans. This Combat T-shirt is a staple in the brand's collection, and new colourways and collaborative designs are released regularly. The soft and breathable waffle-style fabric is partly made with recycled polyester. It hasn't been given the anti-odour treatment, though, so it's not one for multiple uses between washes.
---
13. Brooks Sprint Free Short Sleeve
Boxy lightweight tee
Reasons to buy
+
Breathable and lightweight
+
Boxy cut gives it fashion appeal
+
Anti-odour treatment
Reasons to avoid
-
Boxy style won't suit everyone
This featherweight running tee is supremely breathable and quick-drying, giving a "barely there" feeling. The cut is cute and boxy, with cap sleeves and side splits, and the shorter length means it's perfect with high waisted leggings or shorts. Bonus: the fabric's been given an antimicrobial treatment to keep smells at bay.
---
14. Presca Conscious Capsule Tee
Recycled and recyclable T-shirt
Reasons to buy
+
Takes sustainability seriously
+
Comfortable against the skin
Reasons to avoid
-
Slippery fabric is a little clingy
-
No antibacterial treatment
We are always sceptical of environmental claims, but sportswear brand Presca really does seem to be going above and beyond, while producing comfortable sportswear. This T-shirt is made with 100% recycled polyester and Presca promises to take it back and recycle it – the company is working towards circularity, too. The fabric feels silky-smooth and the cut is figure-skimming. There's a slit on the collarbone so you can keep your headphone cables out of the way, which is useful if you remain wary of wireless running headphones, while breathable panels and armpit gussets help keep things cool and comfy.
The two-colour panel design wasn't to my taste, but there's a choice of colourways: teal, purple and black. The company offers "ecowash" tips on reducing your environmental impact (opens in new tab), although there's no antibacterial treatment on this T-shirt so you may not get multiple wears out of it between washes. – CA
---
(opens in new tab)
15. New Balance Q Speed Fuel Short Sleeve
Flattering tee with an unusual jacquard weave
Reasons to avoid
-
Thick fabric can feel too warm
This jacquard top is soft and stretchy, and a little thicker than most of the running tops on this list. With its perforated pattern it's well aerated without being see-through and there's a vent between the shoulder blades for extra airflow. The cut is feminine and body-skimming rather than skin-tight. I found it reasonably long in the body, and flattering, with curved hems and small side slits. It's available in a range of colours, including a bold orange and a bright turquoise as well as the standard black, white and navy. – CA
---
(opens in new tab)
16. CEP Wingtech Short Sleeve
Posture-enhancing top
Reasons to avoid
-
Skin-tight style isn't for everyone
Compression specialist CEP has created this Wingtech running top to help you run as efficiently as possible. The stripes running down over the shoulder blades like wings promote better posture and therefore better lung function and minimise the chances of posture-related injuries (at least according to CEP). Better posture means a stronger back too, so this top might be a good choice for runners with back problems. However, if you don't like clingy T-shirts, steer clear of this. – CA
The Best Running Vests For Women
(opens in new tab)
1. On Running Tank-T
Super-lightweight tank for running in hot weather
Reasons to buy
+
Very lightweight, airy fabric
+
Flattering draped cut
+
Taped seams to avoid chafing
Meet your new favourite race vest. It's airy and hangs nicely, with taped seams and a slightly longer hem at the back. Made from a Japanese technical fabric, it's soft, super-light, and extremely fast-drying.
---
(opens in new tab)
2. Sweaty Betty Breathe Easy Running Vest
Flattering vest in a range of colours
Reasons to buy
+
Flattering cut
+
Great choice of colours
Reasons to avoid
-
Light colours are slightly see-through
This lightweight running vest features a mesh racerback and generous armholes to keep you cool and allow for maximum freedom of movement. The curved hem offers a little more coverage front and back without getting in the way of your stride, and the soft fabric is made from recycled polyester. Take your pick from a delicious array of colours.
---
(opens in new tab)
3. Soar Running Race Vest
Aerodynamic performance vest for race day
Reasons to buy
+
Fabric keeps you cool and dry
+
Good freedom of movement around shoulders
+
Made with 100% recycled fabric
If you're looking for a race top to help shave seconds off your race time, consider this vest from Soar Running, which has returned to making women's running gear after a brief spell focusing on men's kit. It can be hard to find race gear that's designed to fit the female form and that doesn't flap around or distract. The four-panel construction of this vest allows room for female anatomy without relying on stretch. It's designed to be close-fitting so as to be aerodynamic, so the cut won't appeal to everyone.
The vest's stand-out feature is the featherlight fabric: it's silky soft, breathable and excellent at wicking sweat away. It looks like it's made of mesh but isn't see-through when worn. Seams are bonded to avoid chafing and the hem is slightly elasticated to keep it from riding up. The armholes allow for plenty of room for movement around the shoulders, although the sizing is on the snug side – if in doubt, size up. – CA
---
(opens in new tab)
4. Women's UA Rush Energy Tank
Figure-skimming tank for summer running
Reasons to buy
+
Opaque, non-clingy fabric
+
Flattering, figure-skimming cut
This body-skimming tank is perfect for summer weather: the racerback shape with large armholes allows heat to escape, while the high neckline keeps the sun off your chest. The thin fabric manages to keep you cool without being see-through or clingy. It's available in black, green and pink.
---
(opens in new tab)
5. Reebok Speedwick Tank
Great-value simple, lightweight vest top
Reasons to buy
+
Lightweight fabric
+
Mesh panel for extra airflow
+
Affordable
Reasons to avoid
-
Straight hem is less flattering than curved
An airy top that will keep you cool on a humid day, this is a racerback tank with a mesh panel on the lower back for extra airflow. The armholes are generously cut so there's nothing to distract you from your speed work.
---
(opens in new tab)
6. Sundried Piz Fora
Great-value eco-friendly vest top
Reasons to buy
+
Excellent value
+
Made from recycled consumer plastic
+
Good for tall runners
Reasons to avoid
-
Long length and large armholes won't suit everyone
I'm a big fan of this British brand, which makes eco-friendly sportswear – this lightweight number is made from recycled plastic bottles – and sells it at affordable prices. Quick-drying, soft, stretchy and breathable, it's well suited to taller runners because it's long in the body. The relaxed fit and racerback design will also help to keep you cool in summer.
More Women's Running Gear Recommendations
Sign up for workout ideas, training advice, reviews of the latest gear and more.
Camilla Artault is a writer and keen runner. She has covered women's running gear – testing leggings, jackets, running bras, tops and shorts – for Coach since 2018, as well as interviewing experts and writing about a range of health and lifestyle topics.