The Best Running Shorts For Women
Whether you prefer form-fitting or loose, you're sure to find a great pair in our run-down of women's running shorts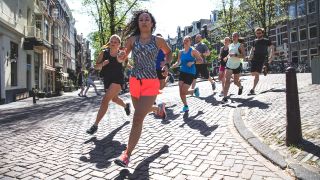 (Image credit: Getty Images / Leo Patrizi)
Whether you love or loathe summer running, there's a glorious moment every year when it's finally warm enough to ditch the leggings and switch to running shorts. However, finding shorts that are comfy, flattering, breathable and chafe-free, preferably with a secure pocket, can be tougher than hill sprints in a heatwave.
There are three types of running shorts: the traditional, looser-fitting type, often with a side split which allows for ease of movement (and breeziness); the cycling shorts-style ones—skin-tight numbers that will minimise chafing and offer support; and finally two-in-one shorts, which combine the two types above.
I've sorted the selection below into those three categories, beginning with the shorts I've tested in order of preference, then included the best of the rest—from least to most expensive—to broaden your options.
To round out the rest of your running wardrobe, browse our selections of the best running bras, best running shoes, best women's running tops, best running leggings and best running jackets for women.
How I Test Running Shorts
As a keen runner who races out the door as soon as the sun comes out, I am continually testing out the latest running shorts in all categories, paying careful attention to breathability, comfort, style and storage. I also test how well the shorts fare when put through the wash. In order to offer as wide an array as possible, I've also included some options that we haven't tested—check the specifications for each pair to see whether it's been tested by us.
The Best Two-In-One Running Shorts For Women
On Running Women's Running Shorts
Lightweight shorts combining minimalist style and comfort
Reasons to buy
+
Comfortable, supportive waistband is adjustable
+
Very lightweight and quick-drying
The clean, simple look of these ultra-light shorts won my approval. The skin-tight inner layer helps avoid chafing, while the racing shorts-style lightweight top layer is flattering. The wide waistband is supportive and comfortable, with a drawstring to keep it firmly in place. You'll find a fold-over pocket at the back of the waist with a key loop.
---
On Active Shorts 2-in-1
Supremely comfy long skin-tight shorts with a flattering top layer
Reasons to buy
+
High level of comfort
+
Good storage options
+
Hems don't ride up
Reasons to avoid
-
Could get too warm on hot days
-
Expensive
These are true two-in-one shorts. You detach the two layers, and each of them works as a standalone pair of shorts. I find the combination of long skin-tight shorts and loose shorts over the top looks a bit odd, but it works well if you want more coverage than skin-tight shorts offer.
The supremely comfy inner pair of legging-style shorts have a 9in inseam, a flattering high waist and two thigh pockets, plus a hidden pocket at the back of the waist with a key loop. The quick-drying fabric is sleek and cool to the touch, and it works hard to wick sweat. Thanks to the longer length, I found these shorts didn't ride up at all, when worn alone or with the outer layer on top.
The top shorts are very lightweight and minimalist, with a flattering cut, although the fabric does rustle a bit. They're fastened onto the inner shorts with a button on each hip. Although the top shorts can be worn on their own, the waistband is minimal and there's no drawstring, or pockets here. If you're looking for standalone loose shorts, I'd recommend On's Race Shorts, which I find more comfortable.
---
Rockay Women's Shorts
Comfy combo shorts with eco credentials
Reasons to buy
+
Flattering
+
Comfortable
+
Capacious hidden pockets hold items securely
This 5in (13cm) pair from sustainable sportswear brand Rockay will keep you cool and comfortable in hot weather. The stretchy inner lining sits comfortably against the skin to prevent chafing and wick away sweat, while the perforated outer layer helps with airflow. The wide waistband sits fairly high, and there are two large and cleverly hidden pockets on the inner shorts, which can fit your phone and any other essentials.
These shorts cost a pretty penny, but they feel high-quality and are flatteringly cut. And you can tell everyone Rockay donated part of the proceeds from your purchase to the ReSea project—which actually makes a demonstrable difference by removing plastic from the ocean.
---
Brooks Chaser 5in 2-in-1
Versatile shorts with all the pockets
Reasons to buy
+
So many pockets
+
Versatile waistband can be worn two ways
Reasons to avoid
-
Waistband divides opinion
These lightweight shorts have a 5in (13cm) skin-tight liner with anti-chafe seams, and Brooks' Chaser shorts on top. The waistband is quite high, but according to Brooks it can also be worn folded down if you prefer a low-rise fit. As well as a secure zip pocket at the back, there are two drop-in interior pockets at the front, one of which has a key loop, and two phone-sized pockets on the outer leg of the liner shorts, tucked under the top layer. Now you just need to remember which pocket you put your keys in.
---
Columbia Endless Trail 2-in-1
Mid-rise shorts with lots of storage
Reasons to buy
+
Lots of storage
+
Elastic hem helps stop legs riding up
+
Secure waistband
Reasons to avoid
-
Inner shorts can ride up
These shorts have a soft mid-rise waistband, which has an internal drawstring to ensure it stays where you want it. The silky soft inner shorts have a 5in inseam, and an extra strong ring of elastic around the lower edge to stop the legs riding up, which I found reasonably effective—the legs only rode up a small amount during my test runs.
There's a mesh pocket on the right thigh of the inner shorts, keeping your phone secure and out of sight. A zip pocket below the waistband at the back will keep your keys safe, and stretchy drop-in pockets either side of this are perfect for gels and other bits and bobs. The top shorts are lightweight and flatteringly cut. I'd have preferred the waistband to be higher, but that's a matter of personal preference.
The Best Loose-Fitting Running Shorts For Women
Brooks Chaser 5in Running Shorts
Shorts to keep you cool and comfy on summer runs
Reasons to buy
+
Cooling, breathable fabric
+
Comfortable waistband with drawstring
These loose-fitting lightweight shorts offer plenty of room for movement, with a wide, comfortable waistband that you can secure with a hidden drawstring. They have built-in underwear made from a soft jersey fabric, and the slightly flared outer layer has hidden side slits to allow for a greater range of movement. The fabric is designed not to cling to you even when you're mega-sweaty. Just one drawback for me: there's no zip pocket. There is a fold-over pocket at the back of the waistband, but I didn't want to risk putting my phone in it.
---
On Running Race Shorts
Featherlight shorts with soft, wide waistband
Reasons to buy
+
Incredibly light, quick-drying fabric
+
Comfy waistband stays put
Ideal for training in hot conditions or pushing your limits during a race, these shorts are both comfortable and lightweight. There's a soft and stretchy hidden inner brief, and the outer layer is made from a perforated quick-drying fabric that drapes nicely—it's a flattering cut. The wide, soft waistband stays where you want it and there's a fold-over pocket at the back that has an elastic loop inside, which means that even without a zip you don't risk losing your keys.
---
Soar Marathon Shorts
Long-distance shorts prioritise comfort and storage
Reasons to buy
+
Very lightweight
+
Extremely comfortable
+
Anti-chafe features
+
Lots of storage for nutrition
Reasons to avoid
-
Expensive
-
Doesn't suit curvier body types
These featherweight shorts have plenty of storage space for gels, making them excellent for long-distance runners. The lightweight woven-mesh fabric is stretchy but holds its shape well, allowing for airflow, and laser-cut hems reduce the chances of chafing. The stretchy inner brief is supremely comfortable with bonded hems rather than elastic edges and it's infused with anti-inflammatory aloe vera. The mid-rise waistband has a hidden drawstring and gel loops on the front. Two generous rear pockets can hold more nutrition, and on one side there's a zip pocket that fits a phone easily. The design is highly functional with a cut that's best suited to lean, athletic body types. The main downside is of course the hair-raising price.
---
New Balance Q Speed Fuel
Feel the breeze in these eye-catching shorts
Reasons to buy
+
Lightweight fabric and airy design
+
Drawstring waistband stays put
Reasons to avoid
-
Waistband is not the most comfortable
-
No zip pocket
These breezy and stylish shorts are great for runs in humid summer weather. Loose and lightweight, they're made with sweat-wicking fabric that doesn't cling and feels barely there. Although the cut is higher at the sides to keep you extra cool, the 3in (7.6cm) inseam means these shorts are not actually as short as they look, while the interior brief ensures you're not flashing anything. The toggled drawstring allows you to adjust the waistband easily and I loved the colorful elastic detail at the hip. There's a fold-over pocket at the back of the waistband and a tiny drop-in pocket at the front.
---
Under Armour Fly By Elite 3in Short
Lightweight shorts with a classic cut
Reasons to buy
+
Lightweight
+
Cooling fabric and cut
+
Secure pocket
Reasons to avoid
-
Pocket won't fit a larger phone
-
Internal brief not the most comfortable
Ideal for fast running in warm weather, these breezy shorts are made with very lightweight fabric that's cut in a classic style with a side split and curved hems. There's a narrow mid-rise waistband with an internal drawstring for extra security, and the shorts are lined with a lightweight internal brief. A zip pocket at the back fits a key or card.
---
Montirex Fly Shorts
A simple, comfortable pair of lightweight shorts
Reasons to buy
+
Classic look
+
Airy and breathable
+
Drawstring waist tie
I liked the classic track look of this lightweight pair of shorts and found the length and cut flattering and practical. The fabric is non-clingy and allows for airflow, with mesh side split sections that help with breathability. There are no inner briefs on these. The waistband has a hidden drawstring and when tightened this stopped the waist from riding up.
The two hand pockets are useful when not running but couldn't be used on the run. There's a long inner pocket at the front on the right side. It does fit a phone, hanging vertically, but the odd placement at the front of the thigh crease makes it uncomfortable to have anything in there while running. As long as you're happy to stash your keys somewhere else, these are a useful, good-value pair of shorts.
---
Kalenji Women's Running Shorts Dry
No frills shorts with a pocket at a great price
Reasons to buy
+
Amazing value
+
Stretchy fabric keeps you cool and dry
+
Comfy waistband
Reasons to avoid
-
Pocket not large enough for a phone
-
Only available in black
If you're on the hunt for a bargain, snap up a pair of these basic but extremely functional running shorts from Decathlon. The fabric, which is made with recycled polyester, is stretchy, lightweight and quick-drying, and the wide, soft waistband with a drawstring sits comfortably where you want it. There's a zip pocket at the back of the waistband for your keys, although it's not quite big enough for a smartphone. There's no built-in underwear in these.
---
Nike 10K
Simple, lightweight shorts
Reasons to buy
+
Affordable
+
Lightweight, breathable fabric
A firm favourite among many runners, these classic black shorts are basic, but will be comfortable whatever warm-weather running you do. There's a small drop-in pocket at the front, but no zip pocket—at this price we can forgive that.
---
Janji 3in AFO Middle Short
Limited run lightweight shorts
Reasons to buy
+
Limited edition appeal
+
Nice prints and colours
+
Flattering and well cut
+
Great for hot, humid conditions
Boston-based running apparel brand Janji sells limited runs of its gear, giving it an hard-to-come-by, in-the-know appeal. But while the color or print may change, the brand sticks with what works, and the 3in AFO Middle Short is extremely popular. Made with quick-drying, lightweight fabric, these mid-rise shorts will keep you cool even in very hot, humid conditions. There's a comfortable waistband with a drawstring and a zip pocket at the back, and built-in briefs made of sweat-wicking fabric.
---
Lululemon Speed Up
Lightweight low-rise short shorts giving full freedom of movement
Reasons to buy
+
Zip pocket at the back of the waist
Reasons to avoid
-
A lot of money for not much fabric
If you like to keep your shorts short, you'll love this super-lightweight pair with a 2.5in (6.4cm) inseam and a cross-over on the outside leg. The wide, low-rise waistband has a drawstring to tighten if needed, and there's also a loose inner lining. Stash your valuables in a secure zipped pocket at the back of the waistband, while the long pocket at the front of the waistband is perfect for your gels.
---
Nike AeroSwift Shorts
Super-light race shorts for maximum airflow
Reasons to buy
+
Very lightweight fabric
+
Pleated back panels increase airflow
+
Side split allows for greater freedom of movement
If you're in the market for race shorts that will keep you cool, these will certainly do the job. The fabric has received the sweat-wicking treatment, and the back panel is made of pleated material which stops them clinging and promotes airflow. Even the waistband is breathable. They are cut for a slim fit, with a 3in inseam and cross-over side split for maximum freedom of movement. In line with the stripped-back style there are no pockets at all. The barely-there feeling won't be for everyone, however.
The Best Skin-Tight Running Shorts For Women
Arc'teryx Essent High-Rise 8in
Comfy, practical shorts in a choice of colours
Reasons to buy
+
Two large pockets
+
Good color selection
+
Inclusive sizing
Strokably soft, with a matt finish, these flattering high-waisted shorts are made with fabric that's supportive yet thin enough to keep you from overheating. There are two large, secure leg pockets that will easily fit a phone. Best of all, the shorts come in five colors including four that are not black. Note that the numerical sizing (00 to 16) corresponds to US sizing.
---
Brooks Method 8in
Supportive skin-tight shorts with lots of pockets
Reasons to buy
+
High, supportive waistband
+
Plenty of pockets
+
Range of colors
Reasons to avoid
-
Less breathable than thinner fabrics
If you like your shorts high-waisted and supportive, you'll like these. The fabric is smooth and soft and offers support without feeling like a corset. The high, wide waistband has a hidden drawstring and I found it was shaped in such a way that it never threatened to roll down. The 8in (20cm) inseam reaches mid-thigh which is insurance against any inner thigh chafing. Brooks has been exceptionally generous with the pockets: There's a phone-sized pocket on each leg, one of which has a key loop, as well as a large fold-over pocket at the back of the waist.
---
Runderwear High-Waisted Legging Shorts
Supportive shorts that won't budge on the run
Reasons to buy
+
High-ribbed waistband
+
Stay-put silicone strips
+
Hidden pockets
The company behind everyone's favourite running underwear has launched skin-tight shorts, and they lived up to my expectations. High-waisted, with a wide, ribbed waistband, they're supportive and squat-proof with a 6in (15cm) inseam and hidden pockets at the back of the waist. There's a silicone strip around the legs and the top of the waistband that keeps everything in place, so there's no need for awkward readjusting mid-run. Despite being fairly thick, the soft fabric wicks sweat away effectively. They're not the most lightweight shorts out there partly because the waistband is heavy-duty ribbed fabric, but they offer great support and don't budge. The seams are well placed to avoid chafing or any unfortunate camel-toe appearance.
---
New Balance Impact Run Fitted Short
Mid-rise shorts with storage options
Reasons to buy
+
Lots of storage
+
Supportive level of compression
Reasons to avoid
-
Waist not high enough
-
Hems ride up
-
Nowhere comfy to put phone
These skin-tight shorts have a 6in inseam and lots of storage options. Mesh pockets high on the hip can be used for gels and the like—they do fit a phone but it's not the most comfortable place to keep it while running. There's a zip pocket at the back of the waist that's too narrow for a phone but perfect for keys, as well as a clothing loop so you can slide an extra layer in there.
The sweat-wicking fabric is sleek, supportive and comfortable, and the waistband is flattering with curved panels; I'd have liked it to come up a touch higher—it's more mid-rise than high rise—but that's just a personal preference. A hidden drawstring allows you to secure the waist. I found hems on the legs rode up a little, but I've come to expect that on any skin-tight shorts with an inseam of less than 8in.
---
North Face Movmynt 5in Tight Shorts
High-waisted shorts with useful pockets
Reasons to buy
+
Comfortable, secure high waist
+
Useful pockets
These sleek, smooth shorts have a wide, high waistband with a hidden drawstring for extra security—the waist was comfortable and didn't budge at all during my testing. The fabric did a good job of wicking sweat and drying quickly.
A zip pocket at the back of the waist offers a secure place to put your keys, while the rectangular pocket on the right thigh fits a smartphone perfectly, and I found it comfortable to run with my phone there. The 5in inseam is on the short side for my taste, and the legs did ride up a little for me.
---
Soar Speed Shorts
Ultra-lightweight shorts for racing in hot weather
Reasons to buy
+
No excess weight
+
Breathable
+
Stretchy and comfortable
Reasons to avoid
-
Lacking support
-
No storage
-
Expensive
A truly minimalist pair of shorts for speedy running in hot and humid race conditions, these shorts feature laser-cut edges to reduce weight, and you certainly won't find any pockets here. The ultra-lightweight, stretchy woven fabric is more breathable than any other skin-tight pair of shorts I've tried. Although there's no actual waistband to speak of, inside the waist and around the bottom edges of the legs there are tiny rubbery dots that grip your skin, so the shorts stay where you want them. This is a fairly effective way of stopping the legs riding up.
Soar describes these as half tights but with a 5in inseam I'd say they're more like ⅛ tights. Although they were comfortable, breathable and didn't stray much in any direction, I prefer a little more support from skin-tight shorts—these felt a little too like "spray on" shorts for my liking, but if you're on the hunt for top-quality aerodynamic shorts that keep weight to a bare minimum, then these are surely the ones.
---
Tribe Endure Pro
Medium-compression shorts made with recycled fabrics
Reasons to buy
+
Lightweight fabric with compression
+
Secure zip pocket
These skin-tight medium compression running shorts don't ride up or roll down. They're made with Econyl recycled yarn, which creates a fabric that's lightweight and breathable as well as sweat-wicking. The mid-rise waist secured with a drawstring is comfortable and flattering, and there's a zip pocket at the back of the waistband that fits a standard smartphone. These would be a great choice for long-distance training or racing if you find that looser shorts tend to chafe over longer distances.
Sign up for workout ideas, training advice, reviews of the latest gear and more.
Camilla Artault is a writer and keen runner. She has covered women's running gear – testing leggings, jackets, running bras, tops and shorts – for Coach since 2018, as well as interviewing experts and writing about a range of health and lifestyle topics.