The Best Running Compression Socks
Compress yourself with these high-and-tighty calf-coverers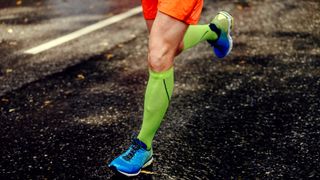 (Image credit: Real Sports Photos / Shutterstock)
When you're feeling down, sometimes all you need to feel better is a big bear hug. So when you put your legs through their paces with a tough run, it makes sense to think a little squeeze might just help them out too. The best compression socks deliver just that.
That's a none-too-scientific way of looking at it, of course, but there is good evidence that compression can aid recovery after tough physical exploits. The jury is still out on whether compression socks can help improve performance during a run, but enough people are hailing their benefits to assume you might benefit from a placebo effect at least.
You'll need to get the right fit, though, and some people find this easier to achieve by just going for compression calf guards rather than full sock. You'll also have to make your peace with the fact everyone will see you in knee-high socks. For keen runners with lower-leg niggles like shin splints and plantar fasciitis, that will be a small price to pay if compression socks seem to help at all.
Does compression gear work?
While there's no hard evidence on whether compression gear works, proponents of compression clothing claim that it has a number of benefits. It is said to increase blood circulation, and decrease lactic acid and muscle fatigue, resulting in improved performance during a run and faster recovery afterwards.
The recovery element is backed up by the research: Multiple studies have indicated that using compression gear speeds up your recovery, decreasing muscle soreness and perceived fatigue. On the other hand, the supposed performance benefits of compression during running are yet to be proven.
However, that isn't to say your performance won't benefit from wearing compression socks. As any keen runner knows, the placebo effect of wearing gear that you feel is helping can genuinely improve your performance. Many athletes, both amateur and pro, swear by compression socks for both running faster and reducing injury risk based on their own experience.
There's also no proven downside unless you find them extremely uncomfortable, so giving compression socks a try during your runs is certainly worth trying. Even if you don't take to wearing them while running, you'll have a handy tool to help with your recovery.
How I Test Compression Socks
I am a keen runner who usually logs 50-70 miles a week, generally while marathon training. I have used compression socks for many years to aid recovery after hard runs, and will often wear them during runs as well when dealing with niggles, in the hope they might do something to help.
Here are some of the best calf-compressing socks to consider.
The Best Compression Socks
1. CEP The Run Compression Tall Socks 4.0
Best overall
Reasons to buy
+
Odour-resistant
+
Temperature regulation
+
Range of colourful designs
Reasons to avoid
-
More expensive than others
In the opinion of most of those who slipped on a pair, CEP pretty much nailed it with its first-generation compression sock. But the company wasn't satisfied, so it refined the formula with the CEP Run Sock 2.0. And then the 3.0. Both of these were also great, but was CEP happy to stop there? No, sir!
The fourth generation of the sock is even more comfortable, even better at managing moisture and even more effective at keeping your feet warm or cold as the external conditions demand. It's also treated with silver to reduce smells, which is good news for those who want to wear the socks during and after their run. I've logged a lot of miles in the CEP 4.0 socks, including one 51km trail run, and they are comfortable and supportive for any distance.
---
2. 2XU Vectr Cushion Full Length Compression Socks
Best for high-level compression
Reasons to buy
+
High level of compression
+
Anti-blister design
+
Comfortable padding
Reasons to avoid
-
Maybe too intense for some
-
Hard to get on
Two things are true of almost all compression socks. They will provide a tight squeeze and they will be difficult to put on. However, the 2XU Vectr socks go further than most on both fronts. I found them so hard to pull on that it was frustrating, but once you manage it they are comfortable to wear during exercise, and an appealing option for those who want to really feel the compression effect from their socks. The padded heel and forefoot make them more comfortable, while the seamless toe box reduces the risk of blisters in that area.
---
3. CEP Infrared Recovery
Best compression socks for recovery
Reasons to buy
+
Infrared tech in yarn
+
Comfortable for long periods
Reasons to avoid
-
Less compression than thicker socks
According to CEP, the infrared tech in these socks is designed to trap the heat emitted by your body and reflect it back into your muscles to improve circulation and boost recovery, adding to the similar benefits that you get from the compression. A medium level of compression makes these socks more comfortable to wear for long stretches, which I have done after several marathons, when I was very glad of the subtle support for my aching calves.
---
4. Rockay Vigor Compression Socks
Best lightweight compression socks
Reasons to buy
+
Lightweight and breathable
+
Anti-blister guarantee
+
100% recycled materials
Reasons to avoid
-
Less durable than others
The Vigor compression socks are made from recycled materials and are backed up by guarantees that you won't get blisters on your first run, and also Rockay's Rocksolid guarantee, which states you can get a new pair of socks should the Vigor "fail". It's a useful guarantee and in my experience the lightweight fabric used on the socks, which does make them breathable and great for hot-weather runs, is more prone to tears than the material on other socks I've tested. Even with a couple of minor rips, however, these socks are still performing well for me, and they are a great option that cost less than many alternatives.
---
5. Kiprun Running 500 Compression Socks
Best value
Reasons to buy
+
Cheaper than others
+
High level of compression
There is always value to be found at Decathlon when buying new running gear, and that's the case with these compression socks, which are cheaper than most you'll find elsewhere and deliver a tight squeeze. They are a little thicker than other options on this list, and I found they were a bit warm at times, but if you like a high level of compression while running they are certainly a great option at an appealing price.
---
6. CEP Ultralight Socks
Best for racing
Reasons to buy
+
Thin and lightweight
+
Comfortable for hours of running
Reasons to avoid
-
More expensive than others
The Ultralight socks are even more expensive than CEP's 4.0 socks, but they have become my go-to pair for racing, and I've used them for a range of events including a road half marathon and a 50-mile trail ultra. The thin fabric means they are comfortable and breathable while still delivering some supportive compression, and they don't feel flimsy or prone to tearing like some thin socks. There's a small but varied range of colors available, and you can also get an ultralight calf sleeve from CEP if you prefer that to a full sock.
---
Sign up for workout ideas, training advice, reviews of the latest gear and more.